Since 1905 Rolex has been standing as an undisputed market leader in the world of luxury watchmaking. It has been sailing swiftly since its inception for its exquisite and rarest of the rare collections. One such featured timepiece which sharing its long-dated history in the Rolex expedition is the Rolex Air King.
In 1945, Rolex created Oyster Perpetual Air King to honor The RAF pilots who participated in the Battle of Britain. The Rolex Air King is regarded as one of the Rolex classic watches as the Air King prices are more affordable. It has been the choice of many pilots and is considered as one of the best pilot watches.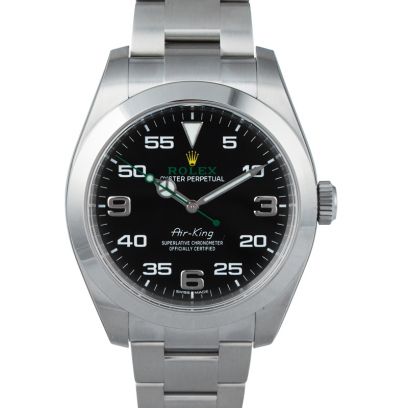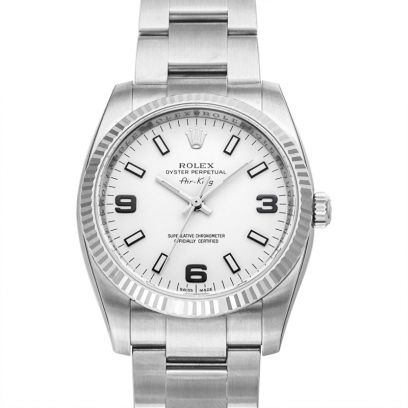 History of Rolex Air-King
Since 1905 Rolex has been standing as an undisputed market leader in the world of luxury watchmaking. It has been sailing swiftly since its inception for its exquisite and rarest of the rare collections. One such featured timepiece which sharing its long-dated history in the Rolex expedition is the Rolex Air King.

Released during the World war II, this Rolex Air King is the only series of models from Rolex which has covered a long haul distance, competing with its modern lineups Rolex Datejust and Rolex Oyster Perpetual. The Rolex Air King struck the market in 1945 along with the Datejust gaining feet the same year. Inspired by the air warriors, these were named so as to honor the Royal British Air Force for their exemplary service during 1930's and 40's. During the same duration, Rolex also came up with a series of aviation theme based watches such as Air lion, Air tiger, and Air giant. Even after World war II, a number of air models were released. These were the 34 mm, less expensive simple watches without the date mechanism. Trespassing the back to back evolutions the Air King swiftly flowed through the market till the 1960s carrying same features with some visual refinements to make it suitable to use in any sort of harsh conditions. These were available in gold plating with dual toned bracelets and bezels. Featuring only time, this Rolex Air King covered long haul voyage contributing its unique and rich history in Rolex catalog. For several years it kept on evolving offering slight changes from its original design in spite the fact being it is the only model from Rolex which still continues to be in production.

Here are a few things to justify that why the Rolex Air King still remains an undisputed choice despite the reason that it carries minimalist feature-set.

The vintage Rolex Air King featured a dial size of 34 mm which was the smallest men's watch one could ever look for. However, it not the same anymore. Now in terms of size, it has left behind the Explorer and Oyster Perpetual collections. The new Rolex Air King features 40mm wide dial encapsulated in a lustrously polished bezel with a solid oyster caseback.

One of the fascinating features about the new Rolex Oyster Perpetual Air King is that it has one of Air King the most active dials from Rolex. It has a chroma light triangle marked at 12, white gold touched Arabic numerals at 3,6 and 9 separated by minute markers over the full dial. The design is a true inspiration from aviation observations which gives it a feel of being an air warrior to every Rolex Air King lover. The unique dial design still remains the subject of discussion for many Rolex admirers.

With repeated efforts by Rolex to continue to associate its Air King 14000 to its history of aviation, the latest Rolex Air King 116900 model features the Mercedes hour and minute hand in scintillating white gold and lollipop shaped second hand, overshadowing the baton hands out. This dial constellation even features into the signature Rolex green color.

Sturdier than before, the new Rolex Air King now promises better shielding than before. Sharing the exactly 40 mm stainless steel case with the Milgauss and identical internal movement shielded from ferromagnetic alloys , providing it a remarkable anti-magnetic property making it an ideal tool watch for pilots.

The movement inside the newer incarnation of Air King Rolex has also received an upgrade. It is powered by calibre 3131 movement which is similar to the Rolex Milgauss version. The caliber 3131 movement features anti-magnetic blue parachrom hairspring and an escape wheel and pallet fork made from nickel -phosphorous, these features inclusively increase the efficiency of the watch to withstand greater resistance to magnetic forces. This in-house calibre has an accuracy of 28000vph and power retention for 48 hours, which makes it an accurate and reliable choice for individuals who desire for reliability with simplicity.

Rolex has been clasping its models with superlative chronometers to ensure that they cover every extra mile to meet the standards that are higher than those set benchmarks by industry in COSC testing. According to set benchmarks by Cosc the uncased movements provide accuracy of +4/-6 seconds a day. Rolex, on the other hand, tested their cased watches, holding itself to higher standards and in 2016 they announced that all of their timepieces would guarantee an accuracy of at least +2/-2 seconds a day and will guarantee each superlative chronometer for five years. So this the new Rolex Air King with improved and enhanced benchmarks, with first Superlative Chronometer badge.

The altercations for this tool watch doesn't end here. Many Rolex lovers argued that polished finishing off the center line of links on an oyster bracelet with high polish killed its very essence of being a tool watch. So if you desire for comfort with rugged looks and antimagnetic properties, then this is an ideal choice.

Thus this was the roller coaster ride of the Rolex entry-level, simple yet robust a timepiece. So if you are in love with retro fashion and have a deep admiration for the aviation theme, then this is the first choice of Rolex for you.






Timetable about Rolex
Rolex, since its inception in 1908, has brought various innovative technological revolution to the wristwatch industry and is still evolving. Rolex, which is popular as a mechanical watch also in Japan, has value, functional beauty and reliability supported by the high technical force of skilled technicians is not found in other brands.

Stainless steel
904L stainless steel

Perpetual Movements
Rolex does not offer any parts or movement to other companies. Only Movement Panelai is the brand that was supplying it.

Crown Mark
The meaning of the crown mark which is a symbol of Rolex is said to be the hands of watchmakers.

Etymology of Rolex
Since the official opinion of Rolex is not announced, it can not still specify it
Related Articles of Air King