New & Feature
Citizen Chronomaster: Your High Accuracy Quartz Watch
Sep 25, 2020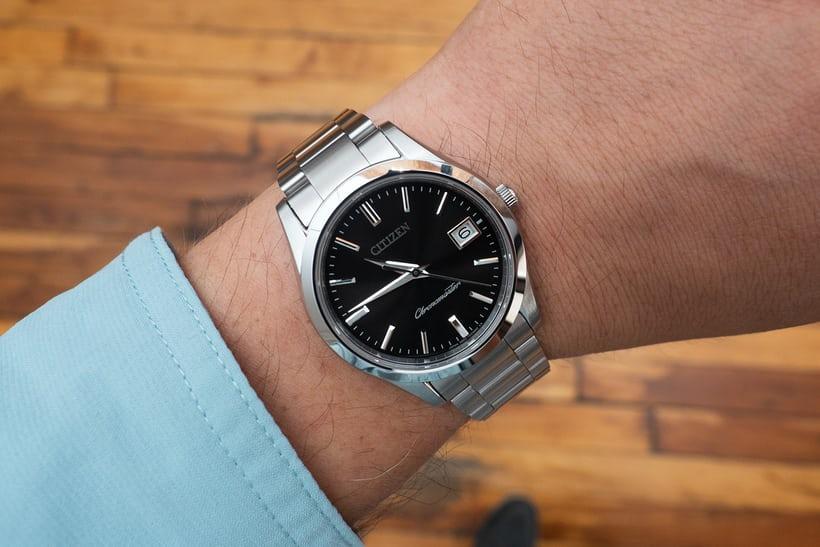 In the world of horology, the Citizen Chronomaster is undoubtedly iconic for its accuracy and impeccable timekeeping. There are multiple reasons why watch collectors and enthusiasts would love to get their hands on this remarkable timepiece. In that regard, we're here to spill you everything you need to know about the proverbial Citizen Chronomaster.
Citizen Chronomaster Up Close
The Case and Strap
At first glance, you'd probably think the Citizen Chronomaster is just another classic stainless steel watch. However, it's actually streets ahead than the average stainless steel watch available nowadays in the market. Aside from its iconic Eco-Drive Technology, Citizen unveiled yet another amazing innovation from under its sleeves: the Citizen Super Titanium. Notably, the Citizen Chronomaster capitalises on this new Citizen technology for its case and strap.

Around the time the Citizen Super Titanium Technology was subject to development, not much was revealed about the metal yet, especially in the realm of horology. Titanium, however, was already known as among the highly regarded metals on Earth –and Citizen wanted to look into this untapped resource. Despite initial difficulties in handling the metal, Citizen was able to perfect it eventually, creating what is now called the Citizen Super Titanium. In 1970, Citizen released the first solid titanium watch in the world and would continue to use the metal in its collections to this day.

Moreover, you don't have to worry about your Citizen Chronomaster case and strap breaking since Super Titanium is in effect five times harder than the usual stainless steel. Citizen was able to achieve this by combining solid titanium and Duratec — one of Citizen's proprietary surface-hardening technology. Notably, Super Titanium's incredibly hard material gives it the knack of scratch-resistance. And despite its rigidity, Super Titanium remains quite light and feels gentle on the wrist. This will assure you of superior comfort even if you wear your Citizen Chronomaster watch for a length of time.
The Dial
Since the Citizen Chronomaster was first released decades ago, it underwent seeral transformations. However, it was able to retain a lot of its key design elements, especially as seen on the dial. Nowadays, the watch dial you are most probably familiar with is the one in the vibrant blue color. However, Citizen has also released limited-edition Citizen Chronomaster models in both red and green. Since these models weren't meant for regular production, there are only about 200 pieces out there.

Dial Design
For the design of the dial, Citizen decided to keep it straightforward and minimalistic. It comes with a numberless dial with simple three-dimensional silver-tone hour markers along with much smaller and thinner minute markers. The hour and minute hands start quite thick at the centre but grow thinner as it reaches the sharp, beveled tips. Its second hand, however, is long and thin with rounded features. As an additional feature, the Citizen Chronomaster has a square date window at the 3 o'clock position. Lastly, the watch has the word "CITIZEN" right below the 12 o'clock position, and the word "Chronomaster" in cursive above the 6 o'clock position. 
Washi Paper Dial
Another interesting fact about the Citizen Chronomaster is that it uses a Washi paper dial. For those unfamiliar with the brand, Citizen is a Japanese watch company. In Japan, Washi paper is the material commonly used in traditional Japanese walls and doors. Washi paper is noted for being a tough paper that won't get ripped when in contact with the breeze, at the same time allowing light to enter a room with its translucence. 

The choice for using a Washi paper dial was not for mere aesthetic or gimmick. Since the newer Citizen Chronomaster models run on solar power, Citizen needed a way to let the sunlight reach the watch's solar panel. Because of the Washi paper's translucence, light can still pass through the dial to power the movement. So, underneath the watch's crystal, you'll have a layer of plastic protecting the paper, followed by the Washi paper itself, and then the movement. The smart move to use Washi paper for the dial not only acts as an ode to the traditional craftsmanship in Japan but is also quite practical and effective.
The Movement
Watch enthusiasts out there would clearly agree that the most impressive aspect of the Citizen Chronomaster is its movement. The Citizen Chronomaster is a beast in watch accuracy. How accurate is it? Well, Citizen Chronomaster only deviates from the actual time for about five seconds per year. As accurate as most watches are when it comes to telling the time, no watch is categorically perfect. Oftentimes, watches would tend to deviate for a few seconds each day. So, for a watch to only deviate for a couple of seconds in a whole year is definitely a noteworthy feat. This capability exalts Citizen Chronomaster as among the most accurate watches in the world to date.

Although the original Citizen Chronomaster was battery-powered, the most recent models have the Citizen Eco-Drive technology. Citizen Eco-Drive watches harness energy from any light source — solar or artificial — and use that to power the watch. As mentioned when discussing the dial, the Citizen Chronomaster decided to go for a Washi paper dial to make sure that enough light can make its way to the built-in solar panel. Exposure to light will recharge the power cell without the fear of overcharging.
Citizen Chronomaster's Selling Points
If you're not yet sold on the awesomeness of the Citizen Chronomaster, here are a few qualities we'd like to highlight.
1. High Accuracy
This perhaps is the main thing that draws collectors and enthusiasts alike to this watch. The Citizen Chronomaster is one of the few High Accuracy Quartz watches in the world. It is incredibly accurate at plus or minus five seconds per year. For regular individuals, watch accuracy isn't that big of a deal as long as it tells the correct time. However, this is quite consequential in the world of horology because it exhibits a level of technical expertise and craftsmanship that is hard to beat.
2. Solar-Powered Quartz
The Citizen Chronomaster runs on Citizen's iconic Eco-Drive technology. This feature is very efficient since the watch only requires exposure to light in order to work. And it's not even just sunlight. Any light source — whether solar or artificial — would be sufficient to charge the watch. However, charging times will vary depending on the source.

One thing about owning a solar-powered watch is that you don't have to worry about your battery life or having to change it time and again. Instead of a typical battery, the Citizen Chronomaster uses a rechargeable cell that stores the solar energy collected. It is also considered eco-friendly since you won't have to change batteries anymore, resulting in less contribution of waste watch batteries in the environment.
Basically, Citizen Chronomaster belongs to the quartz watch family. And notably, servicing a quartz watch is relatively cheaper than servicing a mechanical one. Since quartz watches are less gear-heavy compared to mechanical watches, frequent servicing will be lessened. Also, quartz watches don't need to be constantly wound. So, basically, it's less maintenance.
3. Traditional Japanese Craftsmanship
Ultimately, we have to appreciate the ode to traditional Japanese craftsmanship. The use of a Washi paper dial enormously adds a layer of interest to this watch. It employs an overall simple design but does not lack in quality and accuracy.
What is High Accuracy Quartz?
We've stated earlier that the Citizen Chronomaster is among the most accurate watches in the world. Because of its insane accuracy, the Citizen Chronomaster belongs to an elite group of what is known today as High Accuracy Quartz watches (HAQ). To be classified as a HAQ, a watch should be accurate up to at least plus or minus ten seconds per year. 
Normally, a watch would encounter a few seconds of deviation per day. If you wind your mechanical watch daily or at least regularly, this wouldn't really matter since the seconds lost or gained are not that significant for this time frame. However, the seconds do add up. So, in a month, your watch could end up being a few minutes ahead or behind. Therefore, it is a watch maker's goal to lessen that window of error and cut down the seconds of deviation. 
To put things in perspective, the standard deviation for watch accuracy in quartz watches is plus or minus one second per day. The worst-case scenario would be losing or gaining two seconds in a day. Meanwhile, a deviation of plus or minus 0.5 seconds is already considered to be quite accurate. So, for the Citizen Chronomaster to be accurate up to plus or minus five seconds per year — when the standard is one second per day — just shows how insanely accurate this timepiece is. 
How Does a Quartz Movement Work?
To better understand the technical expertise needed to create a High Accuracy Quartz watch, we must first get the idea of how a typical quartz movement works. First, let's put this question out there. What makes a watch tick? Well, typically, a timepiece requires an oscillating and regulating element in its movement. For a mechanical watch, this would be a balance spring and wheel. But for a quartz watch, you can actually get a hint from the name itself. A quartz movement uses a small quartz crystal, in the shape of a tuning fork, to provide an accurate resonator. Naturally, quartz vibrates at a precise frequency, giving out constant electronic signals.

Basically, quartz has piezoelectric properties which enable it to generate a small electric charge when you exert mechanical pressure on it. Inversely, if you charge it with electric current, the quartz will vibrate. The vibration frequency will depend on the size of the quartz and the way it was cut. With this in mind, watchmakers would aim to cut the quartz in a consistent size and shape to make the quartz a more stable resonator thus providing added accuracy. 
To put things in perspective, while the standard quartz watch deviates for about a second per day, the deviation for mechanical watches is actually larger with a standard of five seconds per day. Additionally, the accuracy of a mechanical watch is severely affected by several aspects such as gravity and lubricants. However, this doesn't mean that quartz watches are not affected by anything.
What Affects Watch Accuracy?
Unlike mechanical movements, a quartz watch is not affected by gravity. So, in testing the movement for accuracy, quartz watches are not subjected to varying positions. Notably, quartz scores a higher tolerance against shocks as compared to mechanical watches. So, what affects a quartz movement? Well, here are some major factors:
Cut and Size of Quartz Crystal
As stated earlier, the size and cut of the quartz crystal mainly affect its stability as a resonator. Although quartz movements are typically more accurate than mechanical ones, that really just depends on whether or not the cut and size of the quartz are consistent. A poorly cut quartz crystal could lead to a great amount of inconsistency. This clearly highlights the technical expertise and craftsmanship of a watchmaker when it comes to the accuracy of their quartz watches.

Temperature and Humidity
Apart from the actual cut and size of the quartz crystal, two major factors that also affect quartz movement are temperature and humidity. For COSC-certified quartz chronometers, the standards and testings are different compared to those of the mechanical movements. Quartz chronometers undergo testing for a total of 13 days. They are only tested in one position but must be subjected to three different temperatures and four different humidity levels. This is to ensure that no matter the temperature or humidity, the quartz watch must still remain accurate according to the minimum allowed requirements. Since quartz is heavily influenced by temperature and humidity changes, HAQ watchmakers take this matter into account by incorporating thermo-compensation and rigorous encapsulation. By doing so, they are able to work around the temperature and humidity problems, resulting in a more stable and accurate quartz movement.

High Magnetic Fields
The last factor that affects accuracy in quartz watches is magnetism. High magnetic fields will throw off your watch's movement, either losing or gaining time. Magnetic fields are also considered detrimental to watches in the long run. Exposure to high magnetic fields could mean damage to your watch's movement. Luckily, your quartz watch will be perfectly fine as long as you don't expose it to high magnetic field areas or equipment such as MRI or X-ray. In case you're required to undergo tests in such facilities, simply remove your quartz watch and you're good to go.

Final Thoughts
The Citizen Chronomaster is indeed a legendary timepiece in terms of craftsmanship and technical expertise. Overall, this watch really delivers on every aspect and benchmark. With its impeccable accuracy, Citizen Chronomaster will definitely remain among the best quartz watches in the history of horology.
If you want to know more about watch accuracy, check out our article on the COSC certification.
Photo Credits: Featured | 1 | 2 | 3 | 4 | 5 | 6 | 7 | 8 | 9 |10