New & Feature
Flieger Watch: Get to Know the German Version of a Pilot Watch
Feb 28, 2020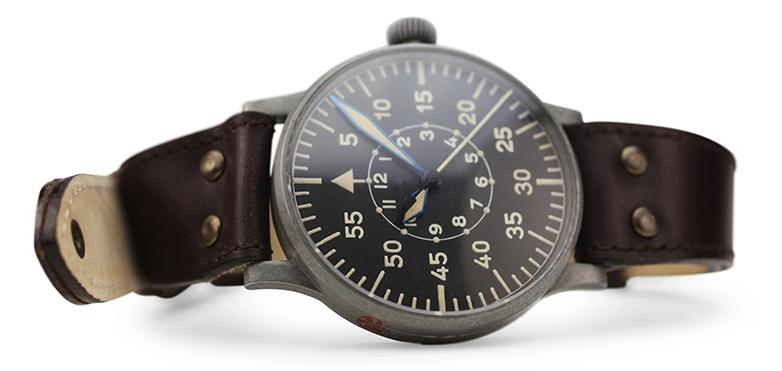 It's no secret that aviation and horology have been intertwined for the longest time. This necessity for accurate timekeeping produced a whole genre of watches called the pilot watch. But did you know that there's a special kind of pilot watch called the Flieger watch?
What is a Flieger Watch?
When you look up a German dictionary, you'll see that Flieger means 'pilot'. True enough, a Flieger watch is Germany's own version of a pilot watch. In fact, those were the timepieces issued to the German Luftwaffe.
It all started in the '40s when German airmen needed a reliable timing instrument. They needed something accurate to use as a backup for navigation if ever the cockpit clock fails.
Among all the famous watch brands, five were commissioned to produce the famed Flieger watch. These watchmakers were A. Lange & Söhne, Stowa, Laco, Wempe, and IWC. All of them, except IWC, are German brands. However, it is important to note that IWC is based in Schaffhausen, a German-speaking part of Switzerland.
The Two types of Flieger Watch

Type A (Baumuster A)
The first one, and the more common one, is Type A. These watches are known for their simple time-only dial layout. No date and no chronograph.
Type B (Baumuster B)
The Type B watch is the more complicated of the two. The chapter ring shows the numerals 5 up to 55. This indicates the minutes. A smaller circle can be seen inside the minute markers. This time, it shows the hours.
Requirements of a Flieger Watch
Not all pilot watches are created equally. However, Flieger watches are created almost the same. Like the military men whose wrists they adorn, these watches also follow a strict 'dress code'.
The Reichluftfahrtsministerium (RLM) or the "Imperial Air Ministry" made a list of guidelines in making the watches. Here are the requirements to be considered a Flieger watch. These are applicable for both Type A and Type B watches.
1. The case diameter has to be 55mm.
German fighter pilots were already busy manoeuvring their aircraft. And to fly safely, it's important to always keep their eyes on the path. That's exactly why RLM required the watches to have a large case diameter of 55mm to be exact.
The large case allows the airmen to read the time clearly without having to remove their hands from the control column.
2. The crown is larger than usual.
The watch's crown had to be large and onion-shaped. This allows the wearer to adjust the time easily even when wearing gloves.
3. There should be a triangle at 12 o'clock.
This is perhaps the most distinguishable characteristic of a Flieger watch. Its hour markers are indicated by Arabic numerals except for the 12 o'clock. Instead, it has a triangle with a dot on each side.
The reason behind this was so that the wearer could easily determine which side of the dial points upward.
Even though it's not as important today, modern Flieger watches have continued the tradition and retained the triangle. Just take a look at IWC's pilot watch for example.
4. It has to be readable in the dark.
There are times when pilots find themselves in dark areas. To keep the dial readable, the RLM required strong radium (226Ra) paint for the watch's lume. It had to be applied to the hour markers, as well as the hour, minute, and seconds hands.
5. The strap should be longer than usual.
In modern times, we try so hard to hide our watches under our shirt's cuffs. The opposite is true back then. The watch had to be visible at all times. Which means, it had to sit on top of their thick flight jacket sleeve. To make this possible, the strap should be extra long and riveted.

From Airport Runway to Fashion Runway
The war is long over, but how come the Flieger watch is still a thing? Military fashion seems to be making rounds in style forums. While some are drawn to camo printed pants or shirts, others prefer the simple utilitarian side of it. 
It is important to remember that military-spec items were born out of necessity. And the convenience from those pieces of clothing extends to civilians. The MA-1 bomber jackets, for example, are known to be durable, thanks to their material. On the other hand, cargo pants make it easy for the wearer to store items in its pockets.
Aside from convenience, there's no denying that the military aesthetic is pleasing to look at. Our guess is that it evokes a feeling of nostalgia. Can't imagine what we're saying? Just take a look at how people feel about vinyl records and handwritten letters. There's an unexplainable charm that comes with anything vintage.
And just like that, the Flieger watch became a trend as easily as how bomber jackets became a wardrobe staple.
Our Top Picks for Flieger Watches
If I had written this article decades ago, it would be pointless to know which Flieger watch is best. As mentioned before, these timepieces had to follow a set of guidelines. Hence, they all look identical to one another. You would not be able to tell them apart as they also had no company markings.
But, this isn't the 1940s and some of the original Flieger watch manufacturers have stopped producing them. On the other hand, a few of them continued the legacy. Not only that, but they also tried to modernize and give their own take on the watch.
Whether you like a 1:1 copy of the vintage watch or prefer the upgraded one, there's a Flieger watch that's right for you. Here are some of them that have caught our attention.

Stowa Flieger Klassik
The Flieger Klassik is Stowa's most classic pilot watch. And being one of the five original manufacturers of Flieger watches, this model has a reliable pedigree behind it.
The best part is that Stowa gives you a very unique experience by letting you customize your watch. You can choose whether you want an automatic or hand-wound movement. It also comes in two sizes: 36mm and 40mm.
When it comes to the design of the dial, you can opt to add a date complication without an additional charge. It's also up to you if you'd like to have the logo plastered on the dial.
If you want to get as close to a vintage Flieger watch as possible, we suggest the following configuration:
No logo
No date
Hand-wound
40mm (this is a lot smaller than the standard 55mm; however, this is the biggest size that this model is available in)

Stowa Flieger Contemporary
"Modern problems require modern solutions." With that said, Stowa released a modernised version of their Flieger watch while still staying true to its roots — the Stowa Flieger Contemporary. The watch retains its simple and legible dial as any Flieger watch is expected to have. 
A new bionic-shaped bezel that is more ergonomic and the addition of TESTAF and DIN certifications are among its upgrades.

IWC Big Pilot's Watch
The IWC Big Pilot's Watch stays true to its name. It features a 46.2mm large diameter. It's still a few millimetres shy from a vintage Flieger watch's size requirement. But still, it's one of the largest watches on the market.
It features a small date display right above the 6 o'clock marker and a power reserve indicator beside 3 o'clock. But other than those, the model looks like a classic Flieger watch. 
It still has big, readable Arabic numerals and a high-contrast black-and-white dial. The crown is large and the strap has the same rivets as seen on vintage Flieger watches.

Laco Pilot Watch Original
Laco is one of the brands with a long tradition in making Flieger watches. In fact, it is one of the original manufacturers that made Flieger watches for the German Air Force.
Now, their timepieces are available in different styles. Of course, they have the traditional Flieger watch. If you want a bit of a character to your timepiece, they have the Erbstück. This collection features watches with an artificial patina for that antique look.
With Laco's Pilot Watch, you're not just wearing a timepiece. It's like you're also wearing a piece of history.

Steinhart Nav B-Uhr 47 Titan A-Type Central Second
Steinhart may be the young one in the market, but they still pack a punch. While they're mostly known for creating a homage for the Rolex Submariner, they also make nice pilot watches. The Nav B-Uhr 47 Titan A-Type Central Second, for instance, was based on historical models of the Flieger watch.
It boasts a simple, high-contrast dial that's typical of a Flieger watch. Its strap is also a good copy of the vintage ones. If you ask me, I would have a hard time identifying which is which if you place it right beside an original Flieger watch.
Final Notes
Flieger watches were originally tool watches used by German Airmen. While its original design is now outdated, watchmakers have redesigned it to fit today's standards.
If you're big on collecting watches with an interesting history behind them, you can never go wrong with a Flieger watch.
Can't get enough of watches with interesting backstories? Check out the Ultimate Guide to the Iconic Rolex Day Date!