Watch Reviews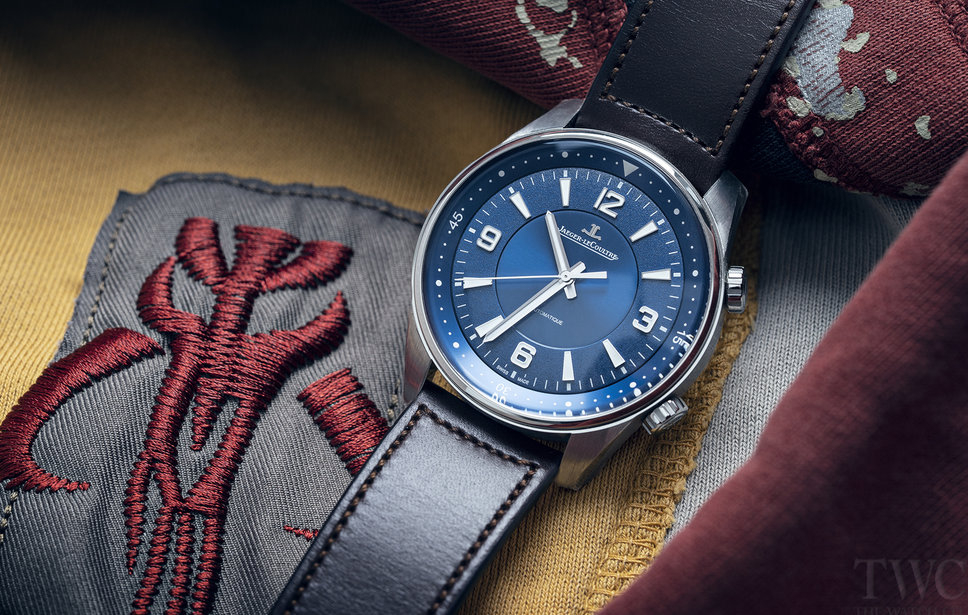 Founded in the year 1833 by Antoine LeCoultre, Jaeger LeCoultre is a popular Swiss watch as well as clock manufacturer. Jaeger LeCoultre is based in Le Sentier, Switzerland and has been inventing hundreds of watches and over thousands of calibres including the world's smallest calibre.With so many watches, let's take a look at their notable Jaeger LeCoultre Polaris Collection: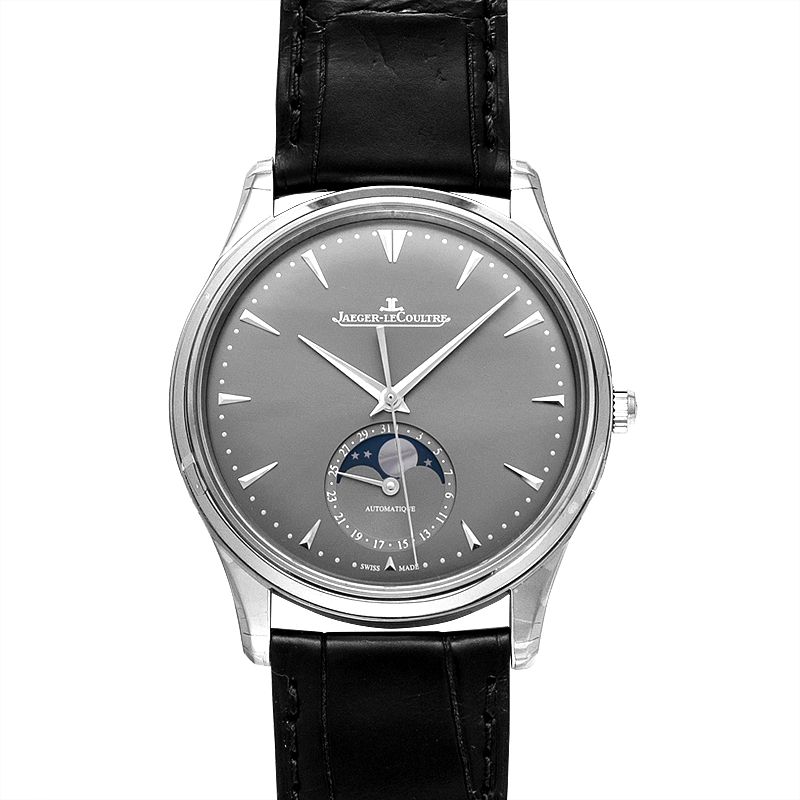 Jaeger LeCoultre Master Q1363540
Jaeger LeCoultre Master Ultra-Thin
Introduced in 2013, this Jaeger LeCoultre Master Ultra-Thin features a beautiful black Sunray-brushed dial in stainless steel. It has a case diameter of 39mm (which is comparatively bigger than the ones that were produced in the late 1990s and early 2000s) and is 9.2mm thick with sapphire crystals on both sides. It is equipped with a dial layout that has been rotated 180 degrees and features the JLC calibre 868.
Jaeger LeCoultre Moon phase
A family member of the line Jaeger LeCoultre master ultra-thin, this Jaeger Lecoultre Master Ultra Thin Moon was introduced in 2012 at the SIHH. This Jaeger LeCoultre watch is equipped with beautiful dials and is made available in three variants – rose gold with an eggshell beige dial, rose gold with a slate dial and in stainless steel with a silver dial. The case size of the JLC watch is 39mm and has a height of 9.9mm. The feature that distinguishes it from the other JLC watch models is its moon-phase sub-dial that is present at its 6 o'clock. With a Calibre 925, it delivers 43 hours of power reserve and comprises of 30 jewels.
Among all the JLC watch collections, one such is the all-new Jaeger LeCoultre Polaris collection that is perfect to fill the gap existing between a sports watch and a dress watch. The collection is based on the Memovox Polaris watch which came out in the year 1968, but this one is of course blended with modern specifications and characteristics.
Jaeger LeCoultre released five new models in their new JLC Polaris collection at the 2018 SIHH exhibition. Among them is their limited edition watch that celebrates Memovox's 50th anniversary. Let's take a quick glance at these swiss automatic watches: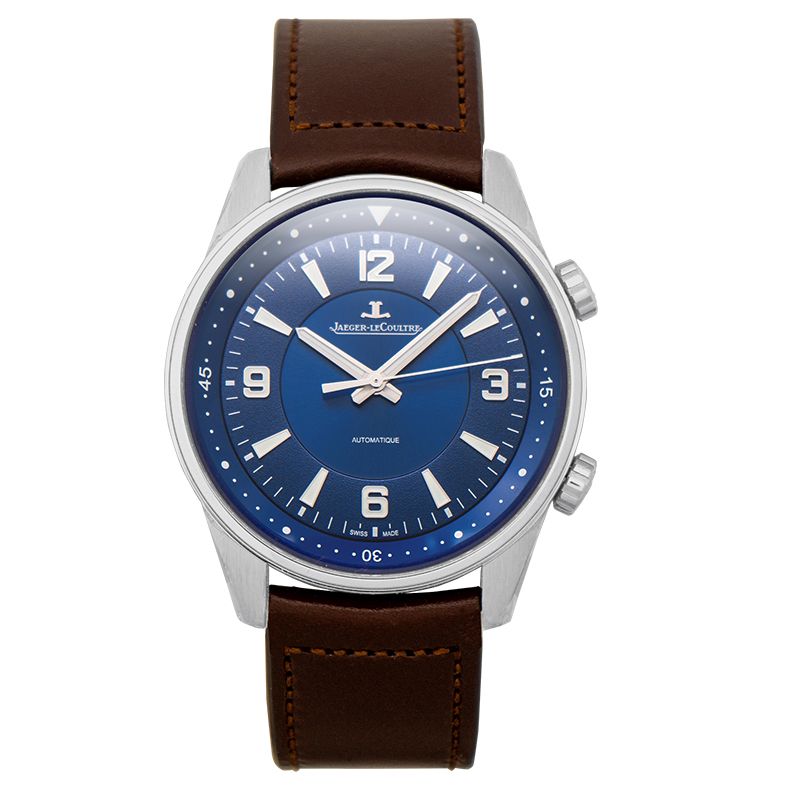 Jaeger LeCoultre Polaris Q9008480
Jaeger LeCoultre Polaris Automatic
Blended with timeless elegance and athletic spirit, the Jaeger LeCoultre Polaris Automatic assures the wearer with an assertive personality. It features two crowns, one is for the setting of time and the other for rotating the inner bezel. Although it comes with no date, but the dial is equipped with three hands. And the model is also made available with a stainless steel bracelet.
The case size of the JLC watch model is 41mm and it features an automatic mechanical movement with Jaeger LeCoultre Calibre of 898/1. The power reserve of the Jaeger LeCoultre watch can last up to 40 hours and is water resistance tiIl 100m. The dial of the Jaeger LeCoultre watch is available in black and ocean blue with sunrayed, grained and opaline finishes.
Jaeger LeCoultre Polaris Chronograph in Steel
The Jaeger LeCoultre Chronograph version is one of the models that has come closest to a true sports watch. It is considered a winner in terms of sales as the JLC chronograph is amongst the most famous complications in the mechanical watches.
With a dial size of 42mm, the JLC Polaris model is made available in precious metal. It is equipped with an automatic mechanical movement that carries calibre 751 movements, which of course is developed and manufactured by Jaeger-LeCoultre in Le Sentier. Its power reserve can last up to 65 hours and is water resistant till 100m.
Jaeger LeCoultre Polaris Chronograph WorldTimer
The Jaeger-LeCoultre Polaris Chronograph WorldTimer comes with the perfect combination of a chronograph and a worldtimer complication. It is ideal for the people who travel often as it allows you to keep a track of two time zones.
Along with the crown and two pushers, the Chronograph WorldTimer features a second crown that helps in the operation of the rotating city disc. This crown allows you to set the time of the city you are currently present in and lets you read the time of other 23 cities located around the globe.
The JLC watch comes with a large case size of 44mm which makes it easy to use as well as readable. It is equipped with Jaeger LeCoultre's Calibre 752 movement and has a power reserve that lasts up to 65 hours.
Jaeger LeCoultre Polaris Date
The Jaeger LeCoultre Polaris Date looks very much like the original model which was released in 1968. It features a triangle along with the trapezoidal index, and the dial has Arabic numbers for 6, 9 and 12 with a date window present at three o'clock. To retrieve its original look, its sapphire box crystal mirrors the plexi crystals from the model that was made 50 years ago and on the back of its case, you can find an engraving of a SCUBA diver watch which is almost identical to that of its 1968 model.
This JLC watch model has a case size of 42mm and is made available in rubber strap as well as on a stainless steel bracelet. It features the Jaeger LeCoultre automatic mechanical movement of Calibre 899/1 and has a power reserve of 38 hours along with being water resistant up to 200m.

Jaeger-LeCoultre Polaris Memovox
Jaeger LeCoultre Polaris Memovox is the original version of the 1968 Polaris watch and is limited to only 1000 pieces. Now given the resemblance of the 1968 version, you will come across a lot of vintage elements present on this Jaeger LeCoultre watch, for instance, the use of faux-patina as Jaeger LeCoultre puts it – "vanilla Super-LumiNova".
The Jaeger LeCoultre watch is equipped with no less than three crowns, with each of them having a distinct function. One is present to operate the inner bezel, the second one is for appropriating the correct time on the watch and the third for setting the alarm.
With Jaeger-LeCoultre automatic mechanical movement of Calibre 956, it poses a striking mechanism for the alarm and is also a successor of the Jaeger LeCoultre's very first automatic watch which was introduced in the 1950s. With a power reserve of 44 hours and water resistant up to 200 m, this watch is made available on a rubber strap.
Thus go ahead and add these perfectly balanced classy watches to your best watch collection and groom up your looks.