Watch Reviews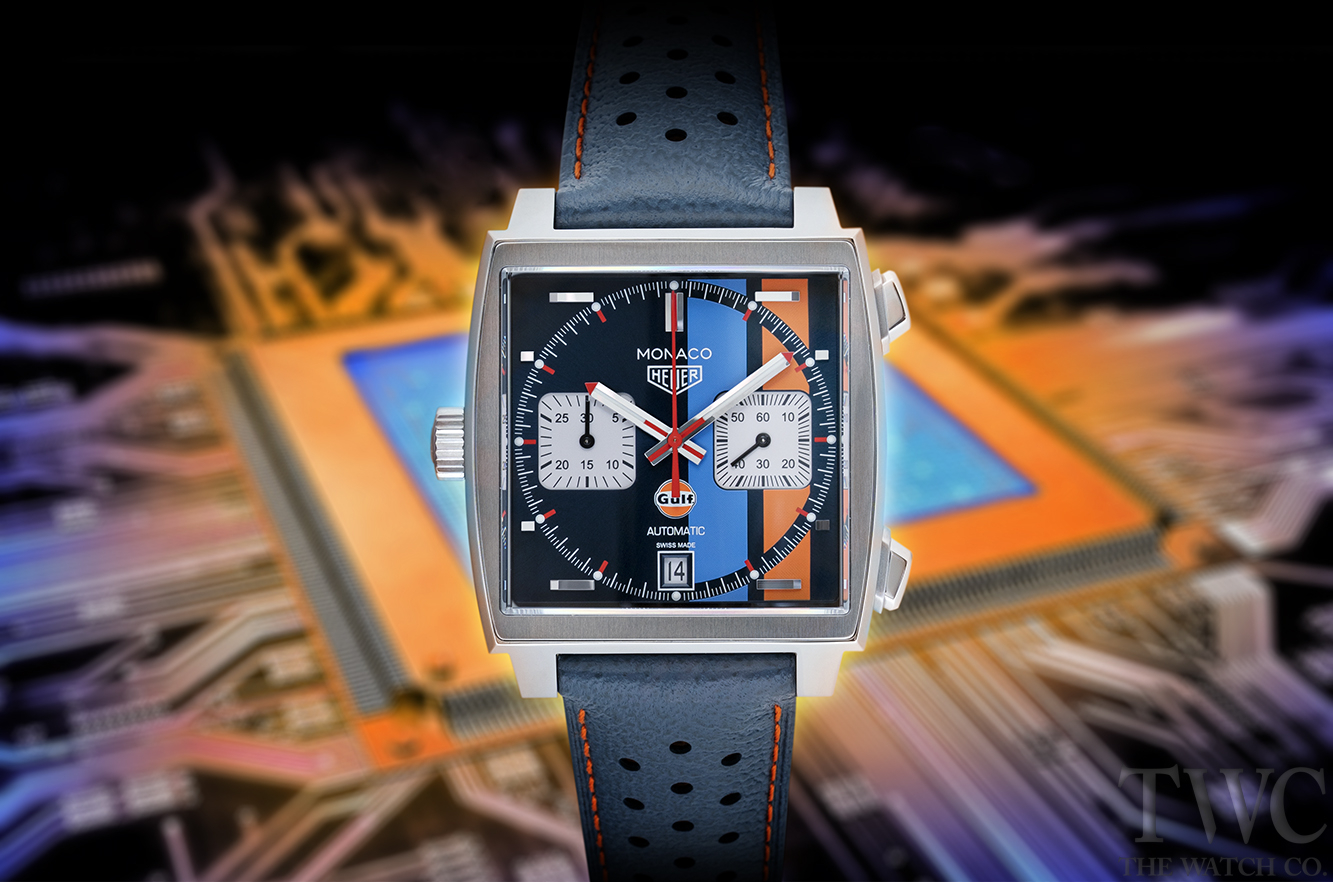 For over 150 years, TAG Heuer has set a benchmark as a manufacturer of high-quality timepieces. Blending with the world of sports, TAG Heuer has launched its iconic instruments for measuring the short term of time. With its legendary models such as TAG Heuer Formula 1 and TAG Heuer Monaco, it has delighted the watch lovers all across the world.
It all started in the year 1860 when Edouard Heuer established Uhrenmanufaktur Heuer AG (translated as Heuer Watchmaking Inc) in St-Imier, Switzerland.
In 1882, Heuer built its very first Heuer chronograph and by 1887 it patented an "oscillating pinion" which till date is used by major watchmakers of mechanical chronographs.
Now one of the renowned models of TAG Heuer is its Monaco watch which was originally named as the Heuer Monaco. Introduced in the year 1969, the TAG Heuer Monaco is a series of automatic chronograph wristwatch which was built in the honor of the Monaco Grand Prix. It is well known for not only being the first automatic watch, but it is also their very first square chronograph watch that was water resistant.
Original Monaco came with a 'Chronomatic' lettering which was designed at top of the dial and 'Monaco' at the bottom. The crown of this version is placed at the 9 o'clock position on a square casing. The watch basically was equipped with a pair of push buttons at 2 o'clock and 4 o'clock position, whereas the dials for the minute and hour counters were placed at 9 o'clock and 3 o'clock respectively.
The production of this Monaco watch model was discontinued in the mid-1970s but with a new design it was reissued again in 1998 and reintroduced with completely new mechanisms in 2003.
Some of the famous TAG Heuer watches in this family line include Monaco 1133, Monaco 1533, Monaco 73633, Monaco 74033, Monaco CS2110/1 "Heuer Re-Edition", Monaco Twenty Four and many other. Each of them was introduced with a distinguished feature that grabbed everyone's attention across the world.
Very recently the Heuer Monaco watch family line was added with a new member TAG Heuer Monaco Gulf 2018 Special Edition. The beginning of this beautiful collaboration was announced right in the middle of the Geneva car show. In this, TAG Heuer has made a partnership with the Gulf Oil International which is one of the most prominent sponsors of motorsports. Although the unofficial link between Heuer (was not named as TAG at that point) and Gulf dates back to 1971 when the movies 'Le Mans', starring Steve McQueen was released. In the movie, Steve McQueen insisted on wearing this blue dial Heuer Monaco 1133B when he drove the famous Porsche 917K. The car, of course, bore the Gulf colors, combined with light blue, orange and dark blue stripes.
When it comes to the automotive industry, Gulf has been a famous player for over 115 years. It is the first company to drill for oil below the sea and the first to open a petrol station in 1913.

TAG Heuer Monaco Gulf CAW211R.FC6401
With the partnership of these two well-known brands, the TAG Heuer has released the best of two in a single watch. Based on the 2015 TAG Heuer Monaco Calibre 11 "Steve McQueen" Ref. CAW211P, the TAG Heuer Monaco Gulf 2018 Special Edition is a bold and colorful variant. The Monaco watch features an exemplary 39mm x 39mm square-shaped case and has an updated dial combined with a dark blue sunray and white sub-counters with two contrasting stripes – a bright blue and a vivid orange color. The captivating logo of the Gulf is placed at 5 o'clock right above the date window. The hands of the TAG Heuer watch along with the 5-minute markers are tinted with bright red lacquer and to further bring out the "Gulf-inspiration", it is delivered on a blue perforated leather strap blended with orange stitching.
The TAG Heuer Monaco watch is equipped with a modern movement that is based on ETA built with a chronograph module on top and its operations are made visible using the sapphire crystal on its back.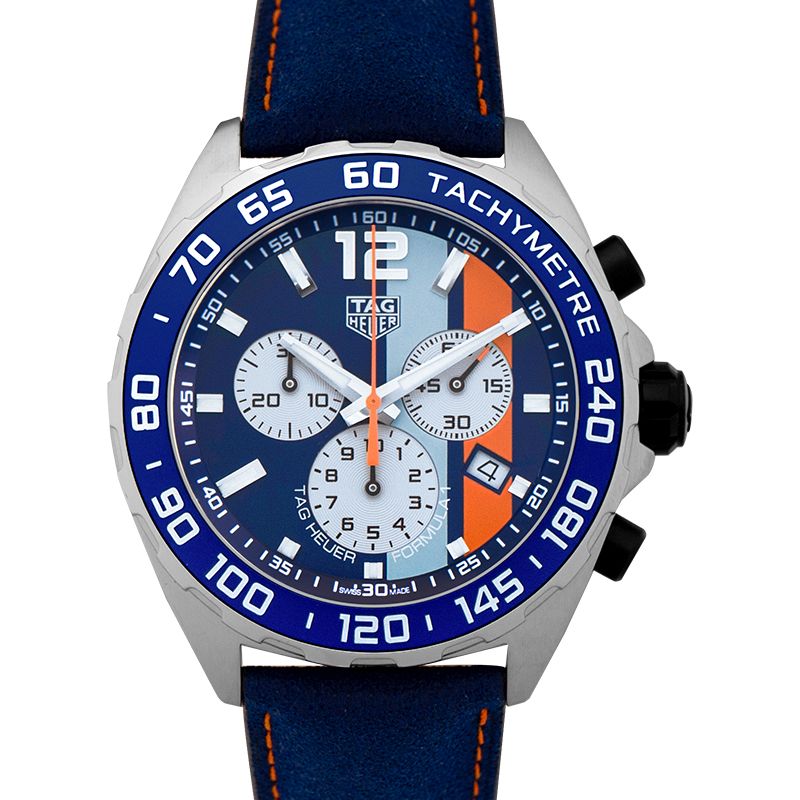 TAG Heuer Formula 1 Gulf CAZ101N.FC8243
TAG Heuer Formula 1 Gulf Special Edition
Another drool-worthy collection from the brand is its TAG Heuer Formula 1. It is the sports watch with a dynamic Motorsport look plus it is combined with a sporty design and holds strong performance capabilities. Undoubtedly, the harmony of the TAG Heuer brand along with the world of motorsports is represented in this racing watch model.
Now let's review its latest TAG Heuer Formula 1 Chronograph that has amazed everyone across worldwide.
TAG Heuer Formula 1 Chronograph CAZ1010.FT8024
It is amongst the sports watch models that comes with a perforated black rubber strap. The contrast found between its black band, the black titanium carbide coated bezel along with its stainless steel lugs is just impeccable. And the further contrast is enhanced with its metallic raised tachymeter scale. The black chronograph pushers present on the watch have a finishing of semi-matte and gives an ideal look against the brushed stainless steel 43mm case.
The black of this TAG Heuer Chronograph model is nicely set with stainless steel luminous hour markers and holds three sub-dials present at the 3, 6, and 9 o'clock positions along with a date window at the 4 o'clock position.
TAG Heuer Formula 1 Chronograph CAZ1010.BA0842

This is the similar Formula 1 watch like the above-mentioned model, just with a metal strap instead of a rubber one. This TAG Heuer F1 watch shares all the same features, but instead, it is equipped with a stainless steel bracelet that closes with a folding clasp and has a safety latch. Its astonishing metal band has a brushed finish that goes well on the 43mm wide case size.
TAG Heuer Formula 1 Chronograph CAZ1014.BA0842
The distinguishing factor about this F1 chronograph watch is its burst of added color with the striking blue dial. The hour markers of this TAG Heuer watch are made of stainless steel and are filled with luminescent and competition orange is being used for the 5-minute intervals track along with white seconds markers that are present in between. The orange color is also used for the central chronograph hand as well as for the tips of the sub-dial hands.
Hence all of these TAG Heuer watch models come in a case size of 43mm and carries the TAG Heuer quartz movement and are water resistant up to 200m.
So if you are looking for a watch that would make a statement on your wrist and is not really a discreet timepiece, then the TAG Heuer is a must-have to your best watch collection.