New & Feature
Knowing the Citizen Super Titanium Collection
Mar 21, 2022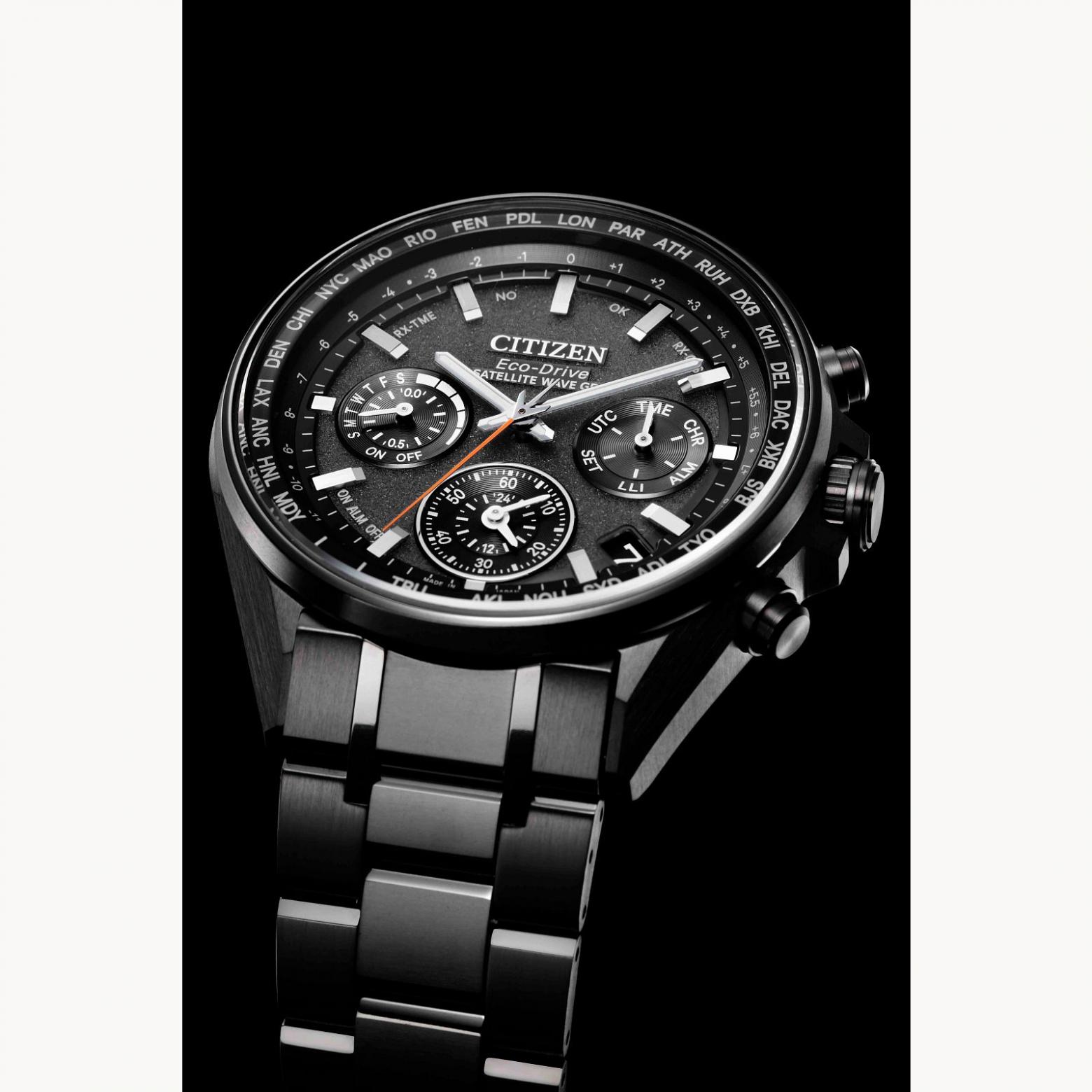 Those familiar with the watch industry know that stainless steel is the most conventional metal used for making watch cases. Apart from having an attractive lustre, the material is durable, non-toxic, and resistant to corrosion.  The examples of many watch brands have shown that stainless steel makes for sleek and robust watch cases. Nowadays, however, we see watchmakers also resorting to other innovative materials to spice up their watches.
One material that the brand Citizen utilises frequently is titanium. In fact, Citizen has a notable collection of titanium-based timepieces known as the Citizen Super Titanium series. Today, we will be taking a closer look at this beautiful selection of watches and everything it has to offer. Who knows, you might find a Citizen Super Titanium model that is just right for you. 
The Citizen Super Titanium Collection
Citizen has a history of being a highly innovative watch brand. In the 1970s, it unveiled the world's first commercial titanium watch, the X-8 Chronometer. This watch featured a case that was sleek, lightweight, rust-resistant, and hypoallergenic.
While titanium is already a very capable metal in itself, Citizen was able to make the material even more robust. The brand developed a type of titanium surface coating known as Duratect. With Duratect, Citizen is able to improve the strength of titanium, making it five times sturdier than stainless steel while still retaining its lightweight build. The invention of Duratect was a huge milestone for the brand, as it allowed Citizen to create new timepieces with nearly unmatched durability. Citizen decided to name this new coating "Super Titanium".
Fifty years after creating the X-8 Chronometer, Citizen's use of Super Titanium has produced a collection of various Citizen Super Titanium timepieces. Today, the Citizen Super Titanium series contains standard analogue watches, chronographs, and limited edition models. All of these timepieces are equipped with handy Eco-Drive movements that ensure the timepiece will be there for its wearer whenever they need it the most.
The Citizen Super Titanium collection also features models with exclusive timekeeping functions such as atomic timekeeping and GPS signal reception. If you are looking for a powerful watch that has some of the latest horological technologies, why not get a Super Titanium model from the pioneers themselves?
Best Super Titanium Watches
The Citizen Super Titanium series consists of 21 watches, including models from the brand's Attesa and Promaster collections. While all models from the Citizen Super Titanium selection possess remarkable qualities, it would be difficult and tedious for us to elaborate on each timepiece. Instead, we have narrowed it down to the top five Super Titanium models currently available in the market. 
1. Citizen Super Titanium Satellite Wave GPS Ref. CC4004-58E

Sometimes, a watch offers the wearer more than just telling the time. As a result, many have grown fond of models that come with multiple complications. Citizen has an extensive selection of such multi-functional timepieces. But for one made using Super Titanium, only one model truly stands out. For the first entry in this list, we will be looking at the Citizen Super Titanium Satellite Wave GPS Ref. CC4004-58E. 
Hailing from the Citizen Attesa series, this sophisticated satellite wave GPS watch comes in a 44mm Super Titanium case, with a matching Super Titanium bracelet. On the right side of the case is a stout titanium crown, along with two pushers that wearers can use to control the watch's different functions. The back of the case is sealed shut with a solid titanium caseback. Although this model is not a dive watch, it possesses a solid water resistance capacity of 100m. 
The dial of this Citizen Super Titanium watch shows off a textured gray surface decorated with three chapter rings, luminous sword hands, applique indices, and a date window. The outermost chapter ring displays world time in 27 different cities and is followed by a second chapter ring showing the Universal Coordinated Time (UTC).
As befitting its busy dial, this high-utility watch also has several other advanced functions. These include GPS Satellite timekeeping reception, a chronograph, perpetual calendar, dual time zones, power reserve indicator, light level indicator, and daylight savings time display. Underneath this watch face is the Citizen Eco-Drive Calibre F950. It allows wearers to charge this watch using any light source, including pure solar power. 
You can get the Citizen Super Titanium Satellite Wave GPS for an approximate price of $1,780 USD. 
2. Citizen Super Titanium Paradigm Ref. BM7431-51L

While multi-functional watches bring their wearers all sorts of conveniences, some would prefer something that is more simple and more elegant in its design. Though there are numerous classic titanium wristwatches in the market, most tend to ask for very high prices. Fortunately for us, Citizen has a Super Titanium timepiece with a refined look and an affordable price tag — the robust Citizen Super Titanium Paradigm Ref. BM7431-51L. 
The Citizen Super Titanium Paradigm is presented in a 43mm Super Titanium case fitted with a layer of sapphire crystal on its front. This is paired with a three-link bracelet and a rear case that bears the logo of the Citizen Eco-Drive, both also made out of Super Titanium. Located on the right of the case is a regular-sized crown with guards on its flanks to protect it. This watch is also water-resistant up to depths of 100m.
As you gaze upon its dial, the Citizen Super Titanium Paradigm greets you with a dark blue dial sporting different textures on its inner and outer sections. The outer section of the watch face has ring-like grooves and holds the dial's applique hour indices. The centre of the dial, on the other hand, flaunts an alluring blue honeycomb pattern and is adorned with luminous sword hands and an outlined date aperture at 3 o'clock. When looking at this watch face as a whole, it is reminiscent of various blue dial models from the Tissot T-Classic series. 
Driving this watch is an Eco-Drive Calibre E111. Like the Calibre F950, the Eco-Drive Calibre E111 harnesses the power of any light source to charge this watch, eliminating the need to have its battery replaced.
This Citizen model retails at just $475 USD. 
3. Citizen Super Titanium Promaster 1000M Professional Diver Ref. BN7020-17R

Bringing your watch underwater can be risky if it does not have a good depth rating. There have been horror stories of wearers bringing their watches to depths beyond what they can handle, causing water to seep into these timepieces and damage them. These stories all end up the same, with the wearer paying a considerable amount of cash to get their timepiece fixed. To avoid encountering this situation, it is recommended to get a wristwatch with a depth rating you can trust. That is where the Citizen Super Titanium Promaster 1000m Professional Diver Ref. BN7020-17R. This model contains everything an avid diver needs for their sub-aquatic adventures.
This Citizen Super Titanium watch is housed in a chunky 53mm case, coupled with a black polyurethane strap. Despite its large size, its titanium build actually makes this watch very lightweight and comfortable to wear. Because the case is cylindrical in design, it can fit surprisingly well on different wrist sizes, even with its bulky profile.
Fitted on top of the watch is a unidirectional elapsed time bezel with pronounced indicators, a luminous pip at 12 o'clock, and a lock that ensures the bezel does not have any form of back play. On the underside of the watch, its Super Titanium caseback displays an engraving that indicates this timepiece can be used for mixed-gas diving. With an incredible 1000m of water resistance, your confidence in the Citizen Super Titanium Promaster 1000m is well-placed.
The dial of this watch is simple and highly legible, consisting of thick applique indices, stout white and orange sword hands, a compact date window at 3 o'clock, and a power reserve indicator at 9 o'clock. Thanks to its substantial, round build, rugged looks, and loaded dial, wearers frequently mistake this timepiece for the bulkier Seiko Prospex models. Ticking underneath the watch face is the Citizen Eco-Drive Calibre J210, which also comes with solar charging. 
This powerful Citizen Super Titanium watch fetches a price of $2,300 USD. 
4. Citizen Super Titanium Promaster Skyhawk A-T Ref. JY8101-52L

Citizen's Atomic Timekeeping technology is arguably one of the most advanced timekeeping systems in the world. By using a radio tower to send out time signals generated from an atomic clock, any Citizen timepiece with a built-in receiver can calibrate its time to the atomic clock, guaranteeing precision down to the second. The brand has five radio towers worldwide, allowing wearers to synchronise their watches' time wherever they go. Several timepieces in the Super Titanium collection feature atomic timekeeping. But no model is as bold and striking as the Citizen Super Titanium Promaster Skyhawk A-T Ref. JY8101-52L.
Boasting the colours of the U.S. Navy Blue Angels flight squadron, the Citizen Super Titanium Promaster Skyhawk sports a 45mm Super Titanium case. Its titanium strap has curved links that resemble the bevelling on the Rolex Day-Date's President bracelets. Inserted on top of the timepiece is a pilot's rotating slide rule bezel, also made of Super Titanium, and with hints of vibrant yellow all over. Flipping the timepiece over, the matching titanium caseback of this watch is engraved with a coloured crest of the U.S. Navy Blue Angels. Although the Promaster Skyhawk is not a dive watch, it has a substantial depth rating of 200m. 
The watch's blue dial is also chock-full of handy features. It is adorned with applied white indices, Arabic numeral markers, a UTC sub-dial at 12 o'clock, and large luminous sword hands, along with a bright yellow seconds hand. Other capabilities of the Promaster Skyhawk include an alarm, a countdown timer, chronograph, perpetual calendar, dual time, power reserve indicator, and digital backlight. Running this watch is the Citizen Eco-Drive U680 movement. Hardy and packed to the brim with useful functions, this watch is frequently compared to the robust Casio G-Shock. 
The Citizen Super Titanium Promaster Skyhawk sells for around $895 USD. 
5. Citizen Super Titanium Armor Ref. CA7050-57H

There is just something about a clean and lustrous dress watch that never gets tiring no matter how many times you look at it. This is certainly true of the fan-favourite Citizen Super Titanium Armor Ref. CA7050-57H. Hailing from the Citizen Super Titanium Armour sub-collection, this watch indeed looks like a shiny piece of armour, albeit for the wrist.
Coupled with a Super Titanium bracelet, this exclusive Citizen watch comes in a 44mm silver-tone Super Titanium case. The construction of this piece is also quite unique. You will notice that the crown and chronograph pushers of this watch cannot be seen from the image above. This is because they are actually tucked in below the rotating ratchet bezel. Turn the bezel, or flip the timepiece around, and you will be able to see where the pushers and crown hide. The bracelet of this watch also showcases clean rivets on the flanks of its links, mimicking the design of the riveted bracelets on Tudor Heritage Black Bay models. 
This watch comes with a two-layered dial, which is protected by a layer of sapphire glass. It comprises an inner bezel that functions as a tachymeter dial, along with a matte grey dial surface. This dial is furnished with slim applied indices, slender sword-shaped hands, two chronograph sub-dials, and a date window outlined in silver at 3 o'clock. This watch is driven by an Eco-Drive Calibre B642, which can charge itself using any ample light source, essentially allowing this watch to stay active constantly. 
This titanium-armoured watch fetches an approximate price of $650 USD. 
Reasons to own a Citizen Super Titanium Watch
Citizen's Super Titanium collection is versatile, in the sense that it offers a variety of models made for different purposes. But when compared to other watches in the market, is there any real benefit to owning a Super Titanium timepiece? Here are a few great reasons that justify your purchase of a Super Titanium wristwatch.
1. Duratect Technology
Contrary to popular belief, titanium is not actually more durable than steel in terms of strength. If anything, titanium is just on par with stainless steel. However, with the brand's patented Duratect surface-hardening technology, Citizen is able to bolster the strength of titanium, transforming it into Super Titanium. Now more durable than ever, Citizen's Super Titanium is said to be five times stronger than stainless steel. Since these timepieces use Super Titanium cases, you can rest assured that their dials and inner mechanisms are safe and secured from any external damage. 
2. Lightweight, Hypoallergenic, and Comfortable
Another reason why some people prefer titanium watches over stainless steel is because of how comfortable they are to wear. This is because, firstly, titanium has a very lightweight structure, being only half as dense as stainless steel. As such, titanium watches are also much lighter and easier to tote around than stainless steel timepieces. In addition, titanium, like gold, is hypoallergenic. This allows wearers with sensitive skin to wear titanium timepieces without experiencing any skin irritation or rashes. 
3. Citizen Eco-Drive Movements
Since its creation, the Eco-Drive calibre has been the brand's go-to movement for its timepieces. It showcases innovative technology that allows the calibre to charge itself with any light source, including solar power. This allows any Citizen Super Titanium model to stay active for several months before ever needing a charge, as long as you wear it during the day. Apart from removing the need for battery replacement, the Eco-Drive movement also benefits the environment by reducing waste. And since Eco-Drive calibres are quartz-based, their accuracy is unparalleled. 
4. Neat and Stylish
While this reason is more dependent on personal tastes, titanium also offers an attractive lustre that many are a fan of. Its grayer tone and slightly duller sheen make the Super Titanium timepieces look more durable and more serious. Super Titanium watches also offer very versatile designs, so you can don them with virtually any attire.
5. Variety of Choices
Currently, the Citizen Super Titanium is home to a total of 21 watches. Whether you are looking for something elaborate, sporty, or classy, there is bound to be a Super Titanium timepiece that can match your preferences.
Other Titanium Watches You Might Like
Each model from the Super Titanium assembly features the brand's signature Eco-Drive movement. While this Citizen-exclusive calibre is extremely convenient, some enthusiasts prefer watches with classic automatic movements. If you are one such watch fan, stick around as we check out some excellent alternatives to the Citizen Super Titanium.
1. Mido Ocean Star 200 Ref. M026.430.44.061.00

The Mido Ocean Star is an extensive and underrated collection that offers a diversity of dive watches with various attractive designs and colourways. For a top-notch titanium dive watch from this series, there is none better than the Ocean Star 200 Ref. M026.430.44.061.00.
The Mido Ocean Star 200 utilises a grey-tone 42.5mm titanium case paired with a matching three-link titanium bracelet. On its case front is a dark grey elapsed time bezel with bright orange numerals and gradations that nicely contrast against the darker backdrop. The crown on the right side of the case is securely screwed-down, contributing to the timepiece's 200m depth rating. Covering the back of the Mido Ocean Star 200 is a solid titanium caseback, with a carving of the signature Ocean Star starfish logo.
The dial of the Mido Ocean Star showcases a beautiful anthracite finish that perfectly matches the dark grey bezel. It is decorated with a combination of square and rectangular hour markers, luminous skeletonised hands, and a day-date window at 3 o'clock. Adding a splash of orange to this watch face is the timepiece's arrow-headed seconds hand and the Calibre 80 print. This dial is also protected by a sapphire crystal which has been coated on both sides with anti-reflective material.
A Mido Calibre 80 powers this sleek dive watch. This self-winding movement holds 25 jewels and comes with a lengthy power reserve that can run for up to 80 hours.
This Mido watch retails at around $1,045 USD.
2. Grand Seiko Heritage Ref. SBGA415

For a titanium timepiece that serves as a stylish dress watch, let us head over to the Japanese luxury watch brand Grand Seiko. Grand Seiko has a wide range of brilliant dress models. Within its various collections is the outstanding Grand Seiko Heritage Ref. SBGA415.
Also known as the Grand Seiko Taisetsu, this timepiece comes in a 40mm titanium case with a relatively slim thickness of 13.2mm. The bevelling on its surfaces is expertly done and displays the brand's signature Zaratsu polishing technique, giving the watch an unmistakable lustre. On top of this watch's case is a box-shaped sapphire crystal that shelters the dial while also adding to its luxurious feel. Bearing a screw-down crown and a screwed-in transparent caseback, this watch has a depth rating of 100m. Grand Seiko also couples this timepiece with a well-made titanium bracelet. 
While the Grand Seiko SBGA211 is inspired by the soft and delicate snowflake, the Grand Seiko Taisetsu is designed to evoke the compactness and frigidity of heavy snow. Its hand-finished stick indices and watch hands meld with the different tones and textures on the dial, turning this watch face into a simple yet grand spectacle. The two complications on the dial include a date aperture outlined in silver at 3 o'clock and a small power reserve indicator, crafted to look like a traditional Japanese fan. 
Beating beneath this beguiling watch face is the Grand Seiko Spring Drive Calibre 9R65. This high-tech Japanese calibre boasts a high-beat balance frequency of 36,000 vibrations per hour (5Hz) and an impressive 72-hour power reserve. It also has an impeccable accuracy rate of -1/+1 seconds per day.
You can purchase this Grand Seiko Heritage model for around $6,055 USD.
Final Thoughts
From the very first X-8 Chronometer to the numerous modern timepieces that make the Super Titanium Collection, there are not many brands that can showcase the beauty and properties of titanium like Citizen. And with the addition of the brand's innovative Eco-Drive movements, these watches can charge themselves with any light source, allowing the Super Titanium watches to always stay active on your wrist. Although there are a variety of models for wearers to choose from, the five Super Titanium watches shown above are what we consider the best, and are definitely worthy of a spot in any collection.
Featured Image By: Citizen Watch
Need a German-made dive watch you can always count on? How about taking a look at this review on the Glashutte SeaQ and see if this is the kind of watch you're looking for?