New & Feature
Suunto Core: The Utilitarian Watch for Outdoor Enthusiasts
Mar 28, 2022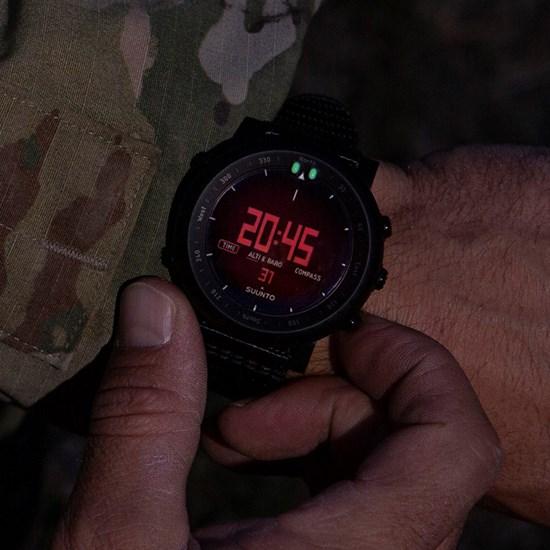 When talking about the best tactical outdoor watches, Suunto is one of the first brands that come to mind. This Finland-based company has led the industry in designing and crafting robust outdoor smartwatches for years now. One sought-after Suunto watch that has made a special impression is the sleek and sturdy Suunto Core. 
The Suunto Core collection consists of durable outdoor pieces equipped with a multitude of handy functions. Indeed, those searching for a powerfully-built timepiece that can meet all your needs will often find the Suunto Core being recommended to them. Without further ado, let us take an in-depth look at the Suunto Core, including its specifications, the features it offers, and some of the best Suunto Core models available today.
Anatomy of the Suunto Core
The Suunto Core is a powerful sports watch equipped with high-end practical features. This timepiece is designed to withstand any sort of harsh conditions, making it the perfect, ultra-reliable timekeeping device for all your outdoor adventures. For this section, we will be looking specifically at the Suunto Core All Black Classic Ref. E1638415958316. 

Case, Bezel, and Strap
Suunto has done an impressive job crafting the Suunto Core to be sturdy enough to survive the brutal outdoors. The Suunto Core All Black Classic comes in a 49.1mm black composite case, which is actually a fairly standard size for sports smartwatches. For comparison, Suunto's own Baro 9 is housed in a 51.6mm case, while the Garmin Fenix measures 47mm in diameter. Despite its bulk, however, you will find that the Suunto Core is not too hefty, and is quite easy to tote around all day. This is thanks to the composite material used to craft its case, which is quite lightweight and ergonomic while still being very resistant to scratches and impacts. 
Fitted on top of the Suunto Core is a fixed bezel, also in black, with patterned grooved lines. Crafted from scratch-resistant aluminium, the bezel of the Suunto Core shows off a lovely, alluring lustre when placed under light. The inner bezel bears markings in white for the compass scale, which you can use to traverse out of any difficult situation. It also comes with a layer of mineral crystal, which keeps the watch's dial protected from the external environment.
On the sides of the case, you can also find five textured push buttons, which are used to navigate the functions of the Suunto Core. These push-buttons are small and not too long, so they will not dig uncomfortably into the skin of your wrist when you are wearing the Suunto Core.
Paired with this Suunto Core's black case and bezel is a matching ridged silicone strap in black. The watch's all-black exterior enhances its powerful and sporty looks, issuing a clear challenge to the vast outdoors.
Display and Performance

The Suunto Core has a clean and straightforward digital display, with a dark aesthetic that can go well with any style or outfit. Its interface is very user-friendly, with a large screen that bears pronounced letters and numerals for better legibility. Its different modes and functions are also all clearly labelled, which makes it easier to navigate this watch. One weakness of the Suunto Core, however, is that the layer of mineral glass used to protect the digital dial is quite reflective. As a result, when the watch is exposed to high-intensity light, this can cause light glares that distort the watch face and make it harder to read.
As an outdoor smartwatch, the Suunto Core also comes with an array of features meant to make your outdoor adventure easier, all of which can be controlled using the watch's push buttons. For instance, if you want to use the altimeter, barometer, or digital compass, simply press the centre button on the right side of the case. You can also lock the watch's screen whenever you want by pressing and holding the bottom button on the right side of the case. This 'lock-screen' ability is something most other smartwatches do not offer, making it unique to the Suunto Core.
Other than the ABC sensors, this outdoor watch is also equipped with sunrise/sunset time date, day/date of the week displays, and temperature measuring capabilities. You can even use this watch to keep track of the weather, since using the watch's barometer mode will present you with a display of pressure trends on the upper lefthand corner of the dial. If the air pressure drops abruptly, the watch's barometric mode even comes with a handy storm alarm. Thus, you will never have to worry about being caught off-guard by sudden heavy rains or storms with this watch.
Additional Features

The Suunto Core comes with a water resistance rating of 10 metres, which means that it can withstand a few light splashes or even a trip to the shower. However, as an outdoor watch, this depth rating is actually quite a disappointment, especially compared to other smartwatches, which typically offer water resistance ratings that range between 30 metres to 100 metres. You will have to remember to remove your Suunto Core if you are engaging in any deep diving activities, or when taking a trip to the pool.
This multi-functional watch also delivers a battery life of up to 12 months when in time-only mode, so you never have to worry about it running out of charge while on an adventure. And if you remember to keep your screen locked when you are not using the watch, this battery life can even be extended up to an incredible three years. Finally, the Suunto Core comes in a total of four different languages — English, German, French, and Spanish — which makes it incredibly handy for global users.
Affordable Price
The Suunto Core sells at an estimated price of $229 USD. This is quite a reasonable price considering its robust build and multitude of useful functions.
Best Suunto Core Models in 2021
1. Suunto Core Lime Crush Ref. SS020693000

Of the models in this collection, the Suunto Core Lime Crush Ref. SS020693000 is exceptionally popular with younger audiences. It comes in a quirky combination of a 49.1mm high-quality composite case, a bulky ion-plated stainless steel bezel in black, and a vibrant lime green silicone strap. It has the same standard digital dial display as the other Suunto Core watches, along with an electro-luminescent backlight that can illuminate the watch face in dark environments. 
Aside from its ABC (altimeter, barometer, and compass) sensors, this Suunto watch also comes with a storm alarm and temperature tracking, date and time functions, and sunrise/sunset time data. Like the other watches in this series, it is also accessible in four different languages: English, German, French, and Spanish.
As the most budget-friendly option on this list, this Suunto watch has an estimated price of just $198 USD.
2. Suunto Core Brushed Steel Ref. SS020339000

For a sleeker, more robust-looking Suunto Core model, check out the Suunto Core Brushed Steel Ref. SS020339000. Unlike the other models in this series, this watch stands out with its 40.1mm case forged from polished stainless steel, giving it an exceptional lustre. This is paired with a smooth black silicone strap, a digital dial display, and a fixed bezel, also made from silver stainless steel. Unlike the previous models of the Core, this watch comes with a luxurious sapphire crystal. This is the hardest, most scratch-resistant watch glass you can get, providing the dial with exceptional protection.
This Suunto watch retails at approximately $297 USD, making it one of the more expensive models in this collection.
3. Suunto Core Alpha Stealth Ref. SS050504000

Last but not least, the Suunto Core Alpha Stealth Ref. SS050504000 is a durable, well-rounded outdoor watch that makes for a perfect companion for your outdoor adventures. It is jam-packed with all the essential functions such as ABC sensors, a storm alarm and temperature tracking, date and time displays, and many more.
This timepiece is actually quite similar to the Suunto Core All Black Classic, with the same 49.1mm composite case and all-black exterior. However, this watch differs in having a comfortable black textile strap and a digital dial with a red backlight instead, giving it a stealthier, more military-inspired look. 
You can get your hands on this watch for $229 USD.
Alternative Models to the Suunto Core
The Suunto Core is fitted with numerous excellent features that any outdoor watch should have. However, everyone has their own preferences and factors to consider when it comes to purchasing watches, and it might not suit the tastes of all. As such, we have curated some of the best alternatives models that are on par with the Suunto Core. 
1. Casio Pro Trek Ref. PRG-330-1JF

Casio is home to some of the toughest outdoor watches on the market. In particular, the Casio Pro-Trek Ref. PRG-330-1JF is our top recommendation for the best alternative to the Suunto Core. This robust timepiece has a multitude of capabilities, including ABC sensors, a thermometer, a pressure change indicator, a chronograph a perpetual calendar, and many more. It is housed in a sizeable 47.1mm black case made of lightweight polymer and aluminium, along with a matching black silicone band.
This Pro-Trek watch is also powered by a solar quartz movement with a rechargeable battery. Despite its name, this battery can actually be charged by any light source, including artificial light, and not just solar power. When fully charged, this battery can last up to an impressive five months.
This Casio watch has a price tag of $729 USD.
2. Luminox Bear Grylls Survival Land Series Ref. XB.3782.MI

Next up, we have the Luminox Bear Grylls Survival Land Series Ref. XB.3782.MI, which is the consummate survivor's watch. It is presented in a 45mm ion-plated black stainless steel case and paired with a black rubber strap that has a small, handy compass attached to it. The black dial of this Luminox watch shows off a Grande Tapisserie design. It is furnished with small Arabic numeral markers in white, black and orange sword hands, two chronograph sub-dials, and a compact date window at 6 o'clock. This orange lume coated on the hands and numeral markers provides superb legibility in low-light conditions and is capable of glowing for up to 25 years. 
This Luminox Bear Grylls watch comes with functions including a countdown time zone, compass, walking speed calculator, and more. Driven by a RONDA 5021.D movement, this watch has a 50-month battery life and an impressive 200-metre depth rating, which far surpasses what the Suunto Core offers. 
Be prepared to shell out around $595 USD to get your hands on this watch.
3. Garmin MARQ Captain Modern Tool Ref. 010-02006-07

If you are looking for a more high-end outdoor watch, then this Garmin MARQ Captain Modern Tool Ref. 010-02006-07 is the right one for you. This timepiece is designed as a modern all-rounder tool for individuals with active lifestyles. It comes with an altimeter, barometer, a three-axis electronic compass, a functional GPS for easy navigation, and even a regatta function for those who enjoy yachting. This Garmin watch comes in a 46mm lightweight titanium case, with a handsome blue ceramic bezel and a matching blue textile strap. 
This Garmin MARQ watch is also equipped with an array of smart functions. These include a heart monitoring app, a hydration detection function, wireless connectivity to Bluetooth and Wifi, and ClimbPro, an app that gives you instant data on the climbs and gradients that await you on your route. All of these can be viewed on the watch's colourful digital dial, which showcases legible numerals in red and blue hues along with blunt white hands for the time display.
The Garmin MARQ Captain Modern Tool Ref. 010-02006-07 retails at $1,850 USD. 
Final Thoughts
The Suunto Core is one of Suunto's most famous collections, thanks to its sturdy, stylish, and highly functional characteristics. As a tool watch, it comes with almost everything you need to challenge the great outdoors. If you are preparing for an adventure into the wilderness in the near future, then you should definitely consider this watch.
That said, there are some downsides to the Suunto Core, especially for those who frequently engage in water sports. If so, take a second look at the alternative timepieces we have listed above, all of which are top-tier outdoor watches in their own right. Each and every model certainly deserves a spot in your collection.
Photos are credited to Amazon unless otherwise stated. 
Featured image courtesy of Suunto's official website.
Looking for another impressive tactical and rugged watch in the market? Check our article on the Luminox Recon: An In-Depth Review of the Brand's Best Tactical Watch.