New & Feature
Seiko Naruto: A Ninja-Step to Seiko's Animated Watch Series
Jan 24, 2022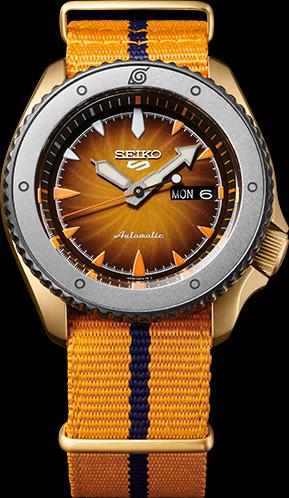 At times, serious watch brands like to show their playful side by collaborating with entertainment companies and creating some truly unique timepieces. While many watchmakers partake in this kind of activity, it is Seiko that seems to do it most frequently. From their hard-hitting Seiko Street Fighter collection to their street style, Japanese comic-inspired One Piece series, there is ironically no shortage to the number of limited-edition models Seiko has to offer.
One particular collaboration that has gotten the attention of many watch enthusiasts is the vivid, animated Seiko Naruto collection. Inspired by the 2002 Japanese ninja-themed anime series, the Seiko Naruto line features a handful of outstanding watches that embody the qualities and colour schemes of the most popular characters in the series. Join us as we explore this vibrant collection of tough and striking watches.
The Seiko Naruto Collection
The Seiko Naruto collection was introduced in 2020 as part of the Seiko 5 Sports lineup. The timepieces in this collection capture the attributes and design features of fan-favourite characters from the anime series. When purchasing a Seiko Naruto piece from a Seiko dealership, the watch will come in an exclusive box that mimics the design of the Earth and Heaven Scrolls seen in Naruto's ninja Chunin Exams.
Compared to Citizen's massive Star Wars collection, the Seiko Naruto line consists of just five models. With all that said and done, let us have a closer look at the five wristwatches that make up the Seiko 5 Sports Naruto collection.
1. Seiko 5 Sports Naruto Uzumaki Ref. SRPF70K1

Born in the hidden leaf village, Naruto Uzumaki is a cheerful and boisterous child whose number one ambition is to become the village leader — the Hokage. He is often shunned by villagers for being the host of a nine-tailed demon fox. However, that does not stop him from being confident and training hard to reach his aspirations. Perfectly capturing the likeness of Naruto's character is the Seiko 5 Sports Naruto Ref. SRPF70K1.
Measuring 42.5mm in diameter, this brightly-coloured Seiko Naruto timepiece comes in a gold-tone stainless steel case, much like the one seen on the Seiko Street Fighter Zangief. It is topped with a silver unidirectional rotating bezel, marked with the Hidden Leaf symbol to match the headband Naruto received after graduating from the ninja academy. The micro-knurling of the bezel is quite noticeable and makes for easy gripping.
Located at the back of the Seiko Naruto is a see-through rear case that bears the Uzumaki clan logo as well as the serial number of the model. The Seiko 5 Sports Naruto has a depth rating of 100m, allowing wearers to take this ninja-themed watch for a swim. Furthermore, the model also comes with an orange and blue nylon strap that evokes the character's signature ninja outfit.
Protected by a layer of Hardlex glass, the dial of the Seiko Naruto shows off an orange spiral pattern that resembles Naruto's iconic Ninjutsu technique, "Rasengan." With a day-and-date window as its only complication, the dial features pointed luminescent indices, with the first nine indices coloured orange to represent the nine-tailed fox that resides in Naruto's body. The 12 o'clock hour marker also resembles the pendant given to Naruto by the fifth Hokage. The watch's silver syringe hands are treated with Lumibrite to ensure readability in the dark.
Underneath this boyish watch face is the Seiko Calibre 4R36. This automatic movement showcases manual-winding and hacking capabilities and a 41-hour power reserve. Rugged, dependable, and always there when you need it, this watch is the ideal timekeeper for wearers who believe in Naruto's ninja way.
The Seiko 5 Sports Naruto retails at approximately $540 USD.
2. Seiko 5 Sports Sasuke Uchiha Ref. SRPF69K1

Sasuke Uchiha is a calm and collected individual whose goal is to avenge his clan that was decimated by his older brother Itachi. Fueled by his hatred, Sasuke is willing to achieve power through any means necessary. Luckily, he has friends like Naruto, Sakura, and Kakashi who watch out for him. With its cool silver and blue tones, and a sharp lightning-patterned dial, the Seiko 5 Sports Sasuke Ref. SRPF69K1 is the ultimate watch for fans of the cold and calculating ninja.
The timepiece utilizes a 42.5mm stainless steel case paired with a blue and white nylon strap. A stainless steel bezel is fitted on top of the case. The ridges of the bezel are tinted in a cool blue shade, and it bears a slashed-through Hidden Leaf symbol, harkening back to Sasuke's headband which Naruto hit during their fight. Fixed at the lower right side of the case is a pull-out crown engraved with the "Sharingan", a unique characteristic that only members of Sasuke's clan possess. Flipping the Seiko 5 Sports Sasuke over, you can see a transparent rear case that is marked with the Uchiha clan crest at its center.
The dial of this Seiko Naruto watch shows off a metallic blue surface embossed with the lightning pattern of the "Chidori", Sasuke's signature ninja art. Printed on the chapter ring is the kanji used to perform various ninja techniques. In particular, the symbols at 1, 3, and 8 o'clock are highlighted bright white, to emphasise how these are the kanji Sasuke uses to perform his ultimate move. The dial is also adorned with luminous hour indices shaped like pointed kunai blades and a submerged day-date aperture at 3 o'clock. This watch is powered by the Seiko Calibre 4R36, complete with its 24 jewels and 41-hour power supply. 
This model from the Seiko Naruto series will cost you around $540 USD.
3. Seiko 5 Sports Shikamaru Nara Ref. SRPF75K1

Lazy, tired, and always sleeping during class, Shikamaru Nara is easily the least motivated character in the series. However, do not let his relaxed demeanor fool you. While he does not look the part, Shikamaru is actually one of the most quick-witted characters in the entire series. He possesses the ability to control the movement of others using his family's signature Shadow Possession Jutsu. Like Shikamaru, the Seiko 5 Sports Shikamaru Ref. SRPF75K1 demonstrates an understated toughness and durability you can always count on. 
Paired with a subtle grey and dark green nylon strap, the Seiko 5 Sports Shikamaru is presented in a 42.5mm stainless steel case that is treated with a layer of hard coating for extra durability. This Seiko Naruto watch is fitted with a unidirectional rotating bezel, with a steely grey insert bearing symbols that mimic Shikamaru's earrings and the mark on his outfit. On the underside of the watch, the Seiko 5 Shikamaru utilises a transparent rear case printed with the Nara clan emblem. This watch also has a solid depth rating of 100m.
The dial of this Seiko Naruto watch also boasts a quiet power, showing off a metallic grey surface decorated with applied silver indices and stout arrow hands. The dial ring that encloses the dial has an unusual mesh-like pattern that emulates the design of Shikamaru's clothes. In addition, the silver hour markers are shaped to resemble Shikamaru's favourite Shogi game pieces. Numerous black lines can be found running across the dial, replicating the character's signature move, the Shadow Possession Jutsu. A day-date window is also located at 3 o'clock. This timepiece runs on a Seiko Calibre 4R36, which has a frequency of 21,600 vibrations per hour (3Hz).
You can purchase this Seiko Naruto timepiece for approximately $540 USD.
4. Seiko 5 Sports Rock Lee Ref. SRPF73K1

The fourth model in this collection draws inspiration from everyone's favourite martial artist, Rock Lee. Although he is not capable of performing ninja techniques, Rock Lee is a talented Taijutsu, specialising in body techniques and martial arts. With his bowl-cut hair, bushy brows, orange leg warmers, and energetic attitude, there are not many characters who stand out more than Rock Lee. If you are looking for a sporty and robust timepiece that will help you stand out from the crowd, have a look at the Seiko 5 Sports Rock Lee Ref. SRPF73K1.
Sheltered in a 42.5mm stainless steel case, the Seiko 5 Sports Rock Lee has a unidirectional rotating bezel with a striking dark green insert. This insert is marked with eight Japanese numerals representing the "Eight Inner Gates", a forbidden technique Lee uses to dramatically increase his power. Amongst the eight symbols, the first five come in a brighter white shade, marking the number of gates Lee has unlocked during his training. The left portion of the bezel, on the other hand, is occupied by white bars inspired by the bandages on the character's arms. 
On the back of this Seiko Naruto watch is an exhibition-style caseback imprinted with the kanji for "guts". This inscription is the same one seen on the ankle weights Lee removed during his fight against Gaara in the Chunin Exams. Fortunately, unlike the ankle weights, the Seiko 5 Sports Rock Lee weighs just 93g, so you will not have any trouble toting this watch around all day long. 
Compared to the case and bezel, the dial of this watch is much more straightforward. It has a green sunburst surface decorated with rectangular applique hour indices, arow hands, and a day-date complication at 3 o'clock. Below the dial is a Seiko Calibre 4R36 equipped with 24 jewels, a power reserve that can run for up to 41 hours, and a 100m water resistance capacity. 
This Seiko Naruto model fetches an approximate price of $540 USD.
5. Seiko 5 Sports Gaara Ref. SRPF71K1

Gaara is a red-haired ninja from the Hidden Sand Village. Like Naruto, Gaara is feared by villagers for being the host of a tailed beast. Growing up, Gaara despises the world and only cares for himself, wiping out anyone who dares get in his way. By using his mysterious ninja techniques, Gaara is able to manipulate sand and transform it into any shape he desires. Reflecting the sand ninja's qualities and characteristics is the striking Seiko 5 Sports Gaara Ref. SRPF71K1).
The Seiko 5 Sports Gaara uses a 42.5mm stainless steel case treated with a layer of hard coating for added strength. The front of the timepiece is topped with a layer of scratch-resistant Hardlex glass and a unidirectional, two-toned rotating bezel. The rear of this watch is sealed with a transparent caseback engraved with the unique marks seen on Gaara's sand gourd. Paired with a masculine grey and red nylon strap, the Seiko 5 Sports Gaara has a substantial depth rating of 100m. 
The dial of this Seiko Naruto watch boasts a grainy light brown finish that perfectly replicates the texture and looks of sand. It is also adorned with a day-date window at 3 o'clock, pointed hour indices, and thick arrow hands, all coated with Seiko LumiBrite for optimal readability in poor lighting conditions. Replacing the 1 o'clock marker is the kanji for "love". This symbol is an essential part of Gaara as it is actually etched onto his forehead. Driving this watch is the Seiko Calibre 4T36. This automatic movement runs at 21,600 vibrations per hour (3Hz) and has a power reserve that, when fully wound, can last for up to 41 hours. 
The Seiko 5 Sports Gaara is worth an estimated price of $540 USD.
Boruto: Next Generation Naruto Watches
Released alongside the Seiko Naruto series was the Seiko Boruto line. Based on the sequel to Naruto, the Seiko Boruto is a collection of its own, with two timepieces to its name. These two fascinating wristwatches represent the next generation of characters that the new series focuses on. 
1. Seiko 5 Sports Boruto Uzumaki Ref. SRPF65K1

As the son of the 7th Hokage, the villagers expect many good things from Boruto Uzumaki. While he is already considered an elite ninja prodigy by his peers, he still has a long way to go before he arrives at his full potential. Unlike Naruto, Boruto aspires to become a powerful ninja, like Sasuke Uchiha. Just like his father, Boruto is a boisterous and headstrong individual. His energy, attributes, and fashion sense are all faithfully recreated in the Seiko 5 Sports Boruto Ref. SRPF65K1.
The Seiko 5 Sports Boruto comes in a 42.5mm stainless steel case fitted with a layer of Hardlex glass on top. Much like the Seiko 5 Sports Naruto, the watch has a unidirectional rotating bezel marked with the Hidden Leaf Village symbol, representing the head protector worn by Hidden Leaf ninja. The caseback of the Seiko Boruto is also transparent and displays the Uzumaki clan symbol in red, while the black and pink strap that the timepiece comes with follows the colour scheme of Boruto's jacket. 
The dial of this watch shows off a "Rasengan" spiral pattern in black, symbolising Boruto's inheritance of his father's signature Ninjutsu art. Unlike the other circular hour markers on the dial, the 12 o'clock index is represented by a bolt figure, referencing the symbol present on the franchise's logo. A day-date window also takes the place of the 3 o'clock marker. Ticking underneath this watch face is the Seiko Calibre 4R36 with its 24 jewels, 3Hz beat frequency, and 41-hour power supply.
You can purchase the Seiko 5 Sports Boruto for an estimated price of $540 USD.
2. Seiko 5 Sports Sarada Uchiha Ref. SRPF67K1

Sarada is the daughter of Sasuke and is one of Boruto's closest friends. Inheriting the physical strength of her mother and the ninja prowess of her father, Sarada is an intelligent and technically-gifted ninja who aims to be the next Hokage of the Hidden Leaf Village. In contrast to Sasuke's stoic personality, Sarada is much more kind-hearted and polite. Taking inspiration from her character traits and design is the Seiko 5 Sports Sarada Ref. SRPF67K1.
This ninja-themed timepiece uses a 42.5mm stainless steel case which Seiko pairs with a striking red nylon strap. Its unidirectional rotating bezel features a two-tone black-and-red appearance, which represents Sarada's inheritance of her mother and her father's differing ninja characteristics. Like the Seiko 5 Sports Sasuke, the caseback of this watch also bears the Uchiha family crest.
The red sunburst gradation dial of this Seiko watch captures the intense heat of Sarada's signature move, the Fire Style: Fire Ball Jutsu. This dial is furnished with applique indices of varying sizes and applied arrow hands, all coated in LumiBrite for optimal legibility. The 4 o'clock marker takes the shape of an exclusive "Tomoe" symbol, which represents the first mark of Sarada's awakened Sharingan. Positioned where the 3 o'clock index is supposed to be is a day-date complication with neat white text and a black background. This watch is powered by the same Seiko 4R36 Calibre used in all the Seiko Naruto watches.
You can get your hands on the Seiko 5 Sports Sarada for approximately $400 USD. 
Final Thoughts
In its entirety, the Seiko Naruto is a phenomenal anime-inspired collection. This colourful selection showcases five memorable timepieces that wearers can use to express their love for the world-renowned Japanese franchise. Apart from being robust and reliable, each model is also incredibly stylish, featuring the smallest of details that would instantly remind fans of their favourite characters. Without a doubt, Seiko has done this iconic series justice, and it would be great if it added more to this line.
If you consider yourself a Naruto fanatic trying to find exclusive merchandise, you definitely cannot go wrong with any watch from this wonderful Seiko 5 Sports sub-collection. Make sure to get your hands on a Seiko Naruto watch as quickly as you can, as each model is limited to just 6,500 pieces.
Featured Image By: Seiko Watches
Looking for something more elegant and sophisticated? Have a look at the breezy Grand Seiko Rikka and see if this is the refined timekeeper you've been searching for.