New & Feature
Sinn Watches: German Precision at Its Finest
Apr 27, 2020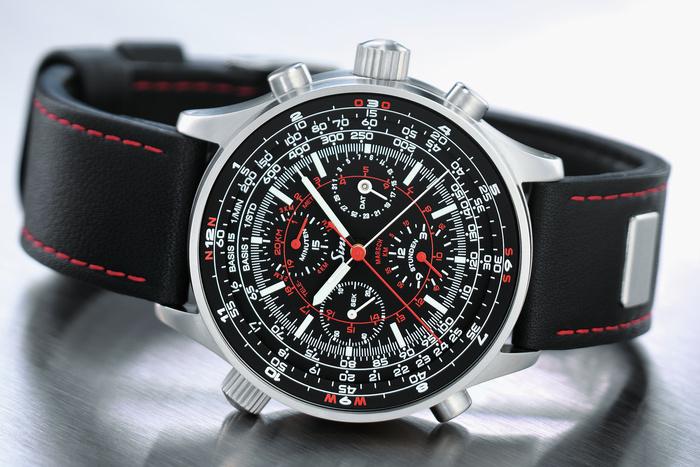 When it comes to German watches, it would be a sin to leave out Sinn Watches (pun intended). The company has had a rich history filled with innovation and recognition. In its almost 60 years of existence, it has garnered a valuable reputation for itself in the watchmaking industry. Let's uncover the story behind Sinn Watches and see what the brand has to offer.
Sinn Watches: What You Need to Know
Sinn is a German watchmaking company that is famous for producing reliable and durable pilot watches. Let's take a look at the brand's story — from its founder's journey to becoming a watchmaker to the numerous innovative technologies the company has developed.

Helmut Sinn: A Watchmaker's Legacy
It is, perhaps, one of the greatest achievements in human life to reach the age of 100. And it is even more amazing that Helmut Sinn, founder of the eponymous watch brand Sinn Watches, has lived quite a life in his 102 years on Earth. We dedicate this section to the legacy of a remarkable watchmaker.
Life in the Air
Helmut Sinn was born in 1916 in Metz, Lorraine. Although the place is now under Northern France, at the time, Metz was under German rule. Helmut Sinn lived a pretty normal childhood. As he grew older, he began to train as a pilot. And eventually, he flew for the Luftwaffe when the Second World War commenced. But his time in the air would soon be put to a halt. While he was flying over Russian territory, Sinn's plane was shot down and this led to him losing a few fingers. Because of this, he could no longer fly.

However, Sinn could not be fully kept away from flying, and instead found a career as a flying instructor for the remainder of the war. However, this would also be put to an end as a result of an imposed ban from the Allied authorities post-war.
Life on the Road
One would think after living through something as traumatic as war, one would opt for a quiet and simple life, away from the fuss. But not Helmut Sinn. Helmut Sinn's next endeavor was in the exciting world of car racing. He even raced from Algiers to Cape Town in 1953, and in a Volkswagen Beetle of all things.

A Life in Watchmaking
Although racing could be pretty exciting, it did not pay the bills for Helmut Sinn. He needed to make a living off something in order to support himself. He decided to sell cuckoo clocks to a bunch of Americans who were stationed in Germany at the time. And thus begins his life in the watch industry — a life he began in his 40s, after flying in a war and racing on the tracks.
History of Sinn Watches
In 1961, Helmut Sinn decided to set up his own watchmaking company in Frankfurt am Main. The eponymous company, Helmut Sinn Spezialuhren, specialised in the production of pilot watches and navigation clocks — an ode to Sinn's background in aviation.
Watches that Survive the Outer Space
Sinn had a goal, and that was to create watches so durable that they could survive in extreme conditions. This goal was actualised in 1985 when Dr. Reinhard Furrer, a German astronaut and physicist, wore a Sinn 140 S on the D-1 Spacelab mission. The self-winding mechanism of the watch proved to function perfectly fine in zero gravity.
In fact, the watch brand proved to be a reliable one for astronauts as another astronaut by the name of Klaus-Dietrich Flade decided to take with him a Sinn 142 S during a mission in 1992. And a year later, the same watch model would be taken aboard the Columbia, a NASA space shuttle.

A New Era for Sinn Watches
Sinn Watches began a new era on September 1, 1994, when certified engineer, Lothar Schmidt, took over the company. Schmidt had a vision for the company which required some major strategic reorganisation. Under Schmidt's leadership, the company felt new, even sporting a new name, Sinn Spezialuhren GmbH.
Besides the new name, the company's new era was marked with the creation of a new model, the Sinn 244. The watch was made from titanium, which is an ideal material for watches since it reduces shock and absorbs body temperature. This watch also had an upgraded Magnetic Field Protection which even surpasses the DIN standard for anti-magnetic watches. With its technology that minimises magnetic disruption, the watch proved to be ideal for pilots who would often experience magnetic disruptions while flying.
A Leader in Innovative Technology
Sinn Watches was quick to move when it came to innovation. Just a year after the production of the Sinn 244, Sinn Watches introduced a new technology, the Ar-Dehumidifying Technology. This technology solved two issues that watches often experience. One, the technology prevented fogging in the crystal, especially when exposed to sudden drops in temperature. And two, it slowed down the aging process of watch components that were caused by trapped moisture in the timepiece.
In 1996, Sinn Watches yet again developed a new technology, the HYDRO technology. This technology proved to offer divers the best experience in watch technology. The HYDRO technology eliminated fogging, provided water-resistance even at great diving depths, and offered optimal readability underwater. 

Two years later in 1998, Sinn Watches perfects its Ar-Dehumidifying Technology and creates the Temperature Resistance Technology. This technology allows for the watch to operate in temperatures as low as  –45 °C (–49 °F) and as high as 80 °C (176 °F). The technology was put to the test at the Yukon Quest, the most demanding dogsled race in the world, where the 303 KRISTALL chronograph passed with flying colours.
Jumping to 2001, Sinn develops the DIAPAL Technology. The technology ensured long-term precision movement by using a special combination of materials for internal components that did not need any lubrication to function. This technology was first introduced in the Frankfurt Financial District Watch (6000 Jubilee) which featured 18K white gold.
In 2003, Sinn Watches develops the TEGIMENT Technology. This pioneering technology hardens the stainless steel used in watch cases to prevent scratching on the case.
Achievements Under its Belt
From 2004 to 2010, Sinn Watches had achieved many things. In 2004, the limited edition Sinn chronograph 958 survived the Fulda Challenge which many regarded as "the most demanding adventure in the world." The following year gave Sinn Watches the title of being the first watch company to have its dive watches be certified by the DNV GL Group for complying with European diving equipment standards.
In 2006, the white gold Frankfurt Financial District Watch wins the Goldene Unruh Award, with the 956 Classic Sinn Watch coming in second. Another Sinn Watch, the REGULATEUR 6100 Rose Gold, wins the Goldene Unruh Award in 2008.
Jumping forward, 2010 became a year of awards for Sinn Watches. In that year, the 6100 Rose Gold and the 900 PILOT take first place while the Frankfurt Financial District Watch in platinum scores second in the Goldene Unruh Awards. 

The Standard for Pilot Watches
Prior to 2012, there were no suitable standards for pilot watches. However, on June 12, 2012, Sinn, along with Aachen University of Applied Sciences, presents the Technischer Standard Fliegeruhren (TESTAF), which was the first technical standard for pilot watches. This standard essentially ensures that pilot watches meet the requirements for watches during a flight which is also in accordance with the visual and instrument flight regulations. 
Best Sinn Watches Collections
In its almost 60 years of existence, Sinn Watches has produced several great watches. Here, we take a look at some of their collections and the best watches under each one.
Instrument Chronographs
The Sinn Instrument Chronographs have been with the company since its very beginning. And through the years, the brand has established its reputation as a prime manufacturer of instrument wristwatches and instrument panel chronometers. And thus, a proud tradition of instrument chronographs for aviation was born.
103 St: The Traditional Pilot Chronograph
The Sinn 103 series is made for functionality. This watch offers the best in durability with its shock-resistance acrylic glass. It is made with polished stainless steel and can survive depths of 200 meters. It has a beautiful pilot bezel, reminiscent of the instruments found in a plane's cockpit.

Instrument Watches
The origins of the Sinn Instrument Watches lie in the cockpit navigation clocks which were part of a long tradition in Sinn. These watches uphold the highest standards of accuracy and offer impeccable readability. 
104 St Sa A: The Classic Pilot Watch
The 104 St Sa A is a classic pilot watch made in the Sinn tradition of watchmaking. Its dial is thoughtfully designed as it offers optimal readability. It sports a polished stainless steel case paired with a classic brown leather strap. The transparent back of the case is made of sapphire crystal and allows the watch owner to admire the intricate movement of the watch.

Diving Watches
Sinn has made a reputation for itself when it comes to diving watches. Putting a great investment in research and development, Sinn was able to develop technologies that addressed the problems that dive watches experience, such as fogging and water-resistance. The quality of Sinn Diving Watches is truly impeccable, being the first watch company to create dive watches that comply with European diving equipment standards. 
206 ARKTIS II: A Contemporary Take on the Traditional Diving Chronograph
The 206 ARKTIS II is an ode to the classic 203 ARKTIS with a contemporary twist. Its predecessor was the first diving chronograph that featured Sinn's Temperature Resistance Technology. As a celebration of the watch's 20th anniversary, Sinn presents the 206 ARKTIS II. Mirroring the original, this watch sports a beautiful blue dial with sunburst decoration and features a screw push-piece look, since actual screwable push-pieces are functionally outdated and no longer required for the 206.

Where to Buy Sinn Watches
If you're planning to purchase a Sinn watch at a physical store, it's best to make a quick Google search on the nearest authorised dealers in your area. You may also call up some of the local watch stores to check if they sell Sinn watches. However, it is important to make sure that the store you are buying from is an authorised retailer, to avoid getting a fake Sinn watch.

The easier way, however, is to purchase them online. You can check out Sinn's official website to see what watches are available. And if you're living outside of Germany, don't worry because they ship internationally. 
Sinn Watches' Selling Points
What lies behind Sinn Watches that make them so popular? Well, Sinn's success in the watch industry can be attributed to many factors. This could include their change in management or their company culture. However, these are internal factors we can't really judge for ourselves. What we can see, however, are certain selling points the brand consistently offers for its customers. These could be boiled down to three points: durability, innovation, and reliability. 

Durability
There is no question when it comes to the durability of Sinn Watches. When Helmut Sinn created the brand, he envisioned creating watches that could withstand even the most extreme conditions. Sinn Watches are trusted by pilots, divers, military men, and even astronauts. If Sinn Watches could survive being in space for days in a weightless environment, then what couldn't it survive?
Innovation
With the different technologies Sinn Watches has developed in its history, there is no doubt in its capability to deliver innovation. As a brand, they continue to improve what they have to deliver the best quality to their customers. They put in a lot of investment in research to create innovative solutions to problems such as fogging and scratching.
Reliability
Sinn Watches is a reliable brand. Looking at the technical side of things, they are very keen on not only meeting the standards required in watchmaking but also surpassing those. They even presented the TESTAF which was the first standard for pilot watches. There is no doubt about a Sinn Watch's functionality. In fact, even astronauts have great trust in the brand to deliver what they need as they go on missions in space.
As a brand that can survive the extremes and is trusted by those who live that lifestyle, Sinn Watches are sure to be a reliable choice for the everyday man.

Final Thoughts
With such a rich history rooted in research and development, Sinn Watches have become the standard in pilot watches. They have continuously delivered innovation in their goal to create the ideal watch that can survive even the most extreme conditions. And their innovative ideas have come far, winning awards and breaking records. When it comes to German watchmaking, Sinn Watches is up there with the champions.
For more reviews on German watch brands, check out our guide on Montblanc watches.