New & Feature
8 Best Zenith El Primero Watches Worth Investing In
Mar 25, 2021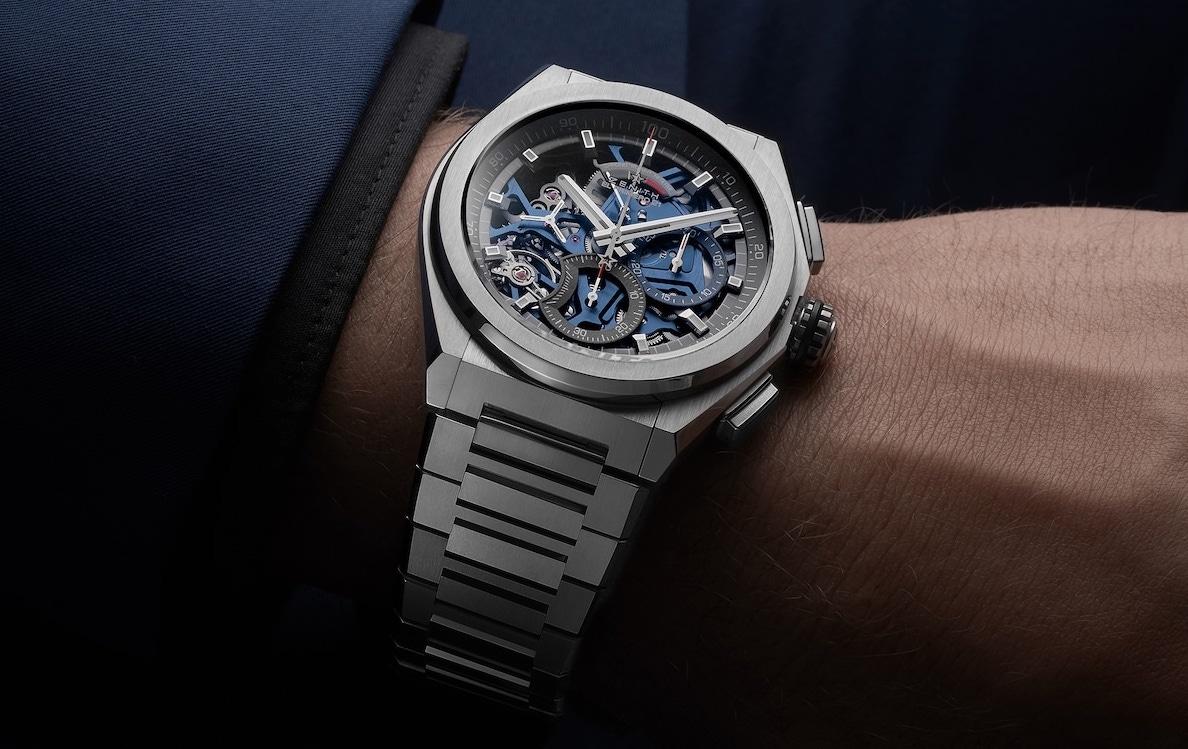 It is no doubt that Zenith is one of the highly-trusted luxury watchmakers to ever exist. Aside from the fact that it came from the land where horology thrives — Switzerland, the brand takes pride in its rich history and dedication to innovation. Time and again, Zenith introduces modern and innovative designs while remaining true to its DNA, incorporating authentic Swiss watchmaking craftsmanship with classic and polished aesthetics that have been loved by many since its establishment in 1865.
Over the past decades, Zenith has proved its prestige in the watchmaking industry, not just by creating premium timepieces but also through its several momentous achievements. From earning the top spot in several horology events to developing and eventually creating fully-functional pieces such as dashboard clocks, altimeters for planes, and wristwatches that fit every line of business you could think of, Zenith has made it clear that its timepieces are reliable, functional and worth its price. The company also ensures that any wearer would be able to carry a beautiful and timeless piece around that personifies the extensive journey of the brand itself.
Zenith boasts a diverse collection that is perfect for every watch lover. From classy and opulent pieces to models that carry a strong and sporty vibe, the company has undeniably produced a lot of notable models throughout its 156-year run. However, none will ever compare to its diverse range that is fueled by the groundbreaking movement, the El Primero. In this article, we will take a look at what the Zenith El Primero is all about, particularly how it flourished and what it has to offer.
Zenith: A Pioneer of Automatic Chronographs

If there is one word that can be associated with Zenith, it is the chronograph. When it comes to chronograph watches, the brand is one of the names that immediately come to mind. Zenith is known as the first watchmaker to announce the development of the world's first automatic chronograph movement in January 1969. Notably, the brand first worked on the idea way back in 1962 with the goal of publicising the movement in 1965 during its centennial anniversary but was postponed for 7 years due to technological hindrances.
This event is iconic up to the present day to the point that it still prompts numerous debates among watch enthusiasts regarding who paved the way for the introduction of the above-mentioned mechanical calibre.
Some said that Seiko, a Japanese-grown watch and technology giant, pioneered the innovation through its Calibre6139. Meanwhile, others claim that the Hamilton-Buren, Breitling, Dubois-Dupraz, and Heuer-Leonidas coalition achieved the milestone with the Chronomatic invention, also known as the Calibre 11 movement.
However, when analysed closely, all three watchmakers have significantly contributed to the automatic chronographs saga, each with a different purpose and timing. It all depends on how you look at it and which perspective you choose to delve into.
Discussions aside, what is important is the irrefutable fact that Zenith was able to set the bar higher with the El Primero. Other famous luxury brands such as Rolex, Dunhill, and TAG Heuer have also incorporated the El Primero system in their watches with of course some alterations on the side. While the aforementioned competitors of Zenith in the '60s have already discontinued the production of their automatic chronographs years ago, Zenith attained glory by continuously incorporating this precise movement to both its traditional and modern pieces, all thanks to its dedication to enhancement.
The Zenith El Primero Trademark
Translated from Spanish as "The First", the El Primero stands out simply because of its sleekness and finesse. Its structure is well-executed to the point that one may feel intimidated at first glance. However, this movement is an instant show-stopper as it contains major qualities that would make you want to hoard all of the brand's watches that have this kind of mechanism.
First composed of two calibres namely the 3019PHC and 3019PHF, the El Primero has a distinct column wheel, an attractive date display, a head-turning moon phase, and a horizontal clutch, allowing a much more suave functionality. Demonstrating its serviceability in the long run, this automatic chronograph has a maximised power reserve and a refined look, proving Zenith's detailed attention to creating a well-crafted design.
Its speed and accuracy are also a major plus as this particular type is rich in frequency. Notably, the 278-component and 6.5 mm-thick initial chronograph movement boasts 36,000 vibrations per hour ("vph"), compared to its competitors Chronomatic and Seiko 6139 with 19,800 vph and 21,600 vph, respectively. This makes it possible to have time intervals measuring up to 1/10 of a second.
Over the years, the El Primero continuously appears in the Zenith lineup in many different forms and variations. Continuing its legendary streak, watch connoisseurs can easily identify the movement through the brand's infamous lines such as the Zenith Pilot, Zenith Chronomaster, Zenith Defy, and the Zenith El Primero 50th Anniversary. While the original blueprint for the model has already been tweaked and improved with the addition of calendars, time zones, and tourbillon, to name a few, the El Primero stays superior as it celebrates Zenith's mastery and rigor.
8 Best Zenith El Primero Watches to Consider
With these facts presented, below is our curated list of ideal, solid, and dependable Zenith watches that incorporate the luxurious feel and technicality of the El Primero movement.
1. Zenith El Primero Pilot Big Date Special

Just one look at the Zenith El Primero Pilot Big Date Special and you will realise that it is, indeed, a breathtaking piece. This release is simple yet it garners attention with its striking composition, making it a perfect fit for your collection. The 42mm round and satin-brushed case, along with the stunningly aged Barenia calfskin strap, adds a rather vintage vibe to it. Meanwhile, the black dial follows a congruous layout, with hands and indexes all in silver colour. The chronograph seconds display at 9 o'clock, the 30-minute counter at 3 o'clock, and the straightforward telemeter all create a more high-tech aesthetic. Since its glass exterior is made from sapphire, durability, high resistance to scratches and impacts are also guaranteed with this one.
However, what makes this watch prevail is its double-digit big date component, placed at the 6 o'clock position. With such an accessible feature, any wearer could track dates without experiencing any difficulties at all. Beneath its gracious surface is the renowned El Primero 4010 movement adorned with 31 jewels and approximately runs for 36,000 vph, as mentioned earlier. The 50-hour power reserve of the watch also makes it a closet staple. Although this specific model from the Zenith El Primero Watch Pilot Line hails from the year 2012, it still has that nice flair and a lustrous ambiance. Above all, this stellar watch with good in-house movement can accompany you for many more years to come.
2.  Zenith 50th Primero Anniversary El Primero Revival 

Next up, we have a bold and heritage piece, more complicated-looking than the previous one. Heralded as a powerhouse watch during the 1960s, the A384 is considered one of Zenith's quintessential watch pieces. Fifty years later, its intricate details are still evident on its latest revival, proving the brand's loyalty to its hallmark. The 50th Anniversary El Primero A384 Revival is not just a mere revamp of the first-ever watch to receive the iconic El Primero chronograph standard. Instead, it is a clear-cut re-edition with the usage of sapphire crystal exterior as its main distinction. Wearing this piece is like carrying a part of Zenith's prosperous timekeeping history.
The El Primero Revival A384 comes in a 37mm steel case and a strap made out of alligator leather. The dial is in crisp white colour, embellished with the revered Zenith chronograph logo, stainless hands, and hour markers coated with Super-LumiNova. Furthermore, the back of the watch is intentionally bare, allowing wearers to admire its mesmerising and nicely-decorated movement. The model is also equipped with a black-coloured 12-hour totaliser, coupled with the power to withstand strong water pressures of up to 50 metres.
Peeking through the middle of its 4 o'clock and 5 o'clock position, a sculpted date indication is also considered a focal point of this particular watch. While this one has a black strap, it is also available in a ladder bracelet variant, which was under the care of famous watch jewellery and chain maker Gay Freres. This striking timepiece is an excellent choice for those who want something that has a touch of sophistication yet relatively easy to use.
3. Zenith El Primero Chronomaster Grande Date Full Open 

It is no secret that one can never go wrong with elegant black leather watches. However, if you want something with a bit more character, try this brown calfskin leather watch from the Chronomaster collection. The Zenith El Primero Chronomaster Grande Date Full Open has a 45mm stainless steel case, with the 332-component El Primero movement as its very core. Matching the handsome brown strap with rubber lining, we have an overt dial with playful blue and orange moon and sun phase indication at 6 o'clock and domed sapphire crystal glass with an anti-reflective coating on both sides. It is hard not to fall in love with this piece as it has an 18ct rose gold-colored bezel, hour-markers, and hands that contrast the industrial feel of the lug, crowns, and buckle.
Not a fan of leather straps? Don't fret because this one also comes in an integrated steel bracelet, giving you a much graceful look. Initially released in 2017, the hands and the hour-markers of this watch also feature luminous elements, powered by the SuperLuminova SLN technology for better visibility in dim light conditions. Almost unnoticeable unless inspected closely, the watch has a date window sitting nicely between the 1 and 2 o'clock positions. Indeed, this is another great option for modern and dapper men — perhaps even women — out there.
4. Zenith Defy El Primero 21 

Looking for something to pair your loud and quirky look? The Zenith Defy El Primero 21 with reference number 95.9002.9004/78.R584 might just be for you. This timepiece is an actual stunner, thanks to its very visually appealing colour. It may not be everyone's cup of tea but the uniqueness of this watch is definitely unrivaled. Unlike the other El Primero watches mentioned earlier, this model has a 44mm case made out of brushed titanium and a transparent sapphire crystal. The watch is also water-resistant up to 100m, which makes it suitable for casual watersports like sailing and snorkeling in shallow water. What's more, its dial is wide open with blue and black counters as well as red accents, making it more attractive than other watches discussed before. It also comes with a black rubber strap with a blue leather exterior, which is quite comfortable on the wrist.
Despite not having a date indicator, this watch is potent on its own as it runs on a 53-jewel El Primero 9004 automatic movement with a minimum power reserve of 50 hours. The focal points of this mesmerising watch are the 1/100 second chronograph movement, as well as the central chronograph hand's powerful capacity to make one turn per second.  If you prefer pieces that would make you stand out without jumping on the bandwagon, then this is an excellent candidate.
5. Zenith El Primero Chronomaster Sport 

If leather is not your thing at all, you should consider getting the 03.3100.3600/21.M3100 variant of the Zenith El Primero Chronomaster Sport. Right off the bat, this is a conversational piece that would go well with any outfit you are planning to wear it with. Simple as it may seem, this new watch effortlessly fits the phrase "you can never go wrong with classics".
This piece from the renowned Zenith El Primero Chronomaster collection comes in a 41mm steel case and a bracelet made out of metal. The clean white dial consists of numberless hour markers and tri-coloured sub-dials for the 60-minute counter, the 60-second counter, and the small seconds counter. Moreover, it boasts a shiny black ceramic bezel that complements the platinum-coloured and rhodium-plated hands. Bringing the sporty and lavish look of the watch together, it also has a brushed deployment buckle and a minimalist-looking signature with the classic star logo that indicates the frequency that goes with it. As if the design isn't enough, this chronograph watch runs on the 3600 version of the El Primero with an increased power reserve of approximately 60 hours. Lastly, this masterpiece is one of Zenith's newest releases, so expect it to be on the bit pricier side.
6. Zenith Pilot Type 20 Chronograph Adventure 

Here we have another piece from the Zenith Pilot Collection that further attests to Zenith's reputation as a top Swiss watchmaker. The overall appearance of this novel aviation model is a reflection of Zenith's versatility. The Zenith Pilot Type 20 Chronograph Adventure 29.2430.4069/63.I001 watch suits folks who are always up for challenges. Despite its daring trait, you won't need to hesitate to get this one as it fits most of the clothing you have in your wardrobe, especially the basic ones. Moreover, this rustic-looking wristwatch lives up to its name of being the fitting companion to any voyage. Design-wise, this watch will make you feel as if you are in a Jurassic Park or Jumanji movie.
This timepiece has a stylish khaki green leather strap, protected by durable rubber. The dial also matches the colour of the calfskin strap, with additional grainy details. Moreover, this dial also exhibits the Pilot Collection trademark of having clear numbered hour markers. Not to mention, the hands and numerals are also coated with SuperLuminova SLN C1, giving you a much better view of the time when in dark areas. Aside from these exquisite characteristics, the watch's case is in pretty bronze material, while its caseback is in titanium that is also decorated with the brand's esteemed flying instruments emblem. Since its crown is created larger than the usual, changing the time is never a problem with this model.
6. Zenith Chronomaster El Primero Open 

The Zenith Chronomaster El Primero Open looks a lot like the fifth model on the list. The only difference is that the dial has a darker ambiance. Instead of white, it sports a black-toned hue that is calming to the eyes. It can spice up any ordinary look with the contemporary aura of the 42mm stainless steel case. Unlike the Chronomaster Grande Date Full Open watch mentioned above, this one has a more reserved look with only a bit of the gold-toned calibre El Primero Automatic 4061 movement and its amazing performance exposed. Unique in appearance, the hands and hour-markers are all in bright silver colour. Furthermore, there is also a seconds sub-dial next to the 9 o'clock marker.
Countless other features are also present in this elegant model. Other than it has the capacity to hold a minimum of 50 hours of power, this watch also has a detailed tachymetric scale and an escape-wheel made out of the finest silicon. Plus, this beauty has its signature and counters swept to the right side, providing a more symmetrical illusion. Like any other El Primero variants in the market, the Chronomaster El Primero Open beats at an impressive frequency of 36,000 vph. Those who will purchase this watch will certainly get their money's worth as its movement is a COSC-certified one.
8. Zenith El Primero 21 Boutique Edition 

Lastly, are you the type of person who always goes for an all-black ensemble? This charming timepiece will probably suit your fancy taste. As its name suggests, you can only get this rare gem at physical Zenith stores. Moreover, it is the chicest and most extravagant piece on this list.
This watch packs a lot of great features. For one, it has a 1/100 second chronograph function with two sub-dials. The top right part contains the 30-minute tracker, while the central bottom part has the 60-second tracker. Furthermore, it has a power reserve indicator at the 12 o'clock position.
With the incorporation of blue accents that Zenith is practically known for, this piece sets the brand to greater heights. Like the afore-noted second model, this watch comes in a black alligator leather strap. The only difference is that this one has black rubber, paired with royal blue stitchings on both sides. Its ceramic case transforms the watch into an aesthetically-pleasing yet robust structure. Moreover, the hour-markers and hands make use of both SuperLuminova black SLN and ruthenium components.
For fans of complex watches with a high-level of functionality, the Zenith El Primero 21 Boutique Edition 49.9001.9004/78.R915 is an extremely must-have. Aside from the fact that this watch was produced only in 250 pieces, its modern and unconventional layout is also one of the main reasons to get it.
Final Thoughts
Overall, the El Primero is the living proof of Zenith's continuous brilliance when it comes to legendary watchmaking. Despite hurdles in its production back in the days brought by the Quartz Crisis, the El Primero movement showed us how frequency plays an integral part in producing well-founded and accurate chronograph watches that truly exceed expectations. Through its continuous efforts to show innovation and jaw-dropping designs in each collection, Zenith will always be a brand we could all rely on.
Interested in knowing more about Zenith and its amazing range of products? Take a look at this list of iconic watches the company has ever released.
Photos from Zenith's Official Website.