New & Feature
Cartier Roadster: A Look at Cartier's Discontinued Sports Watch
Mar 02, 2021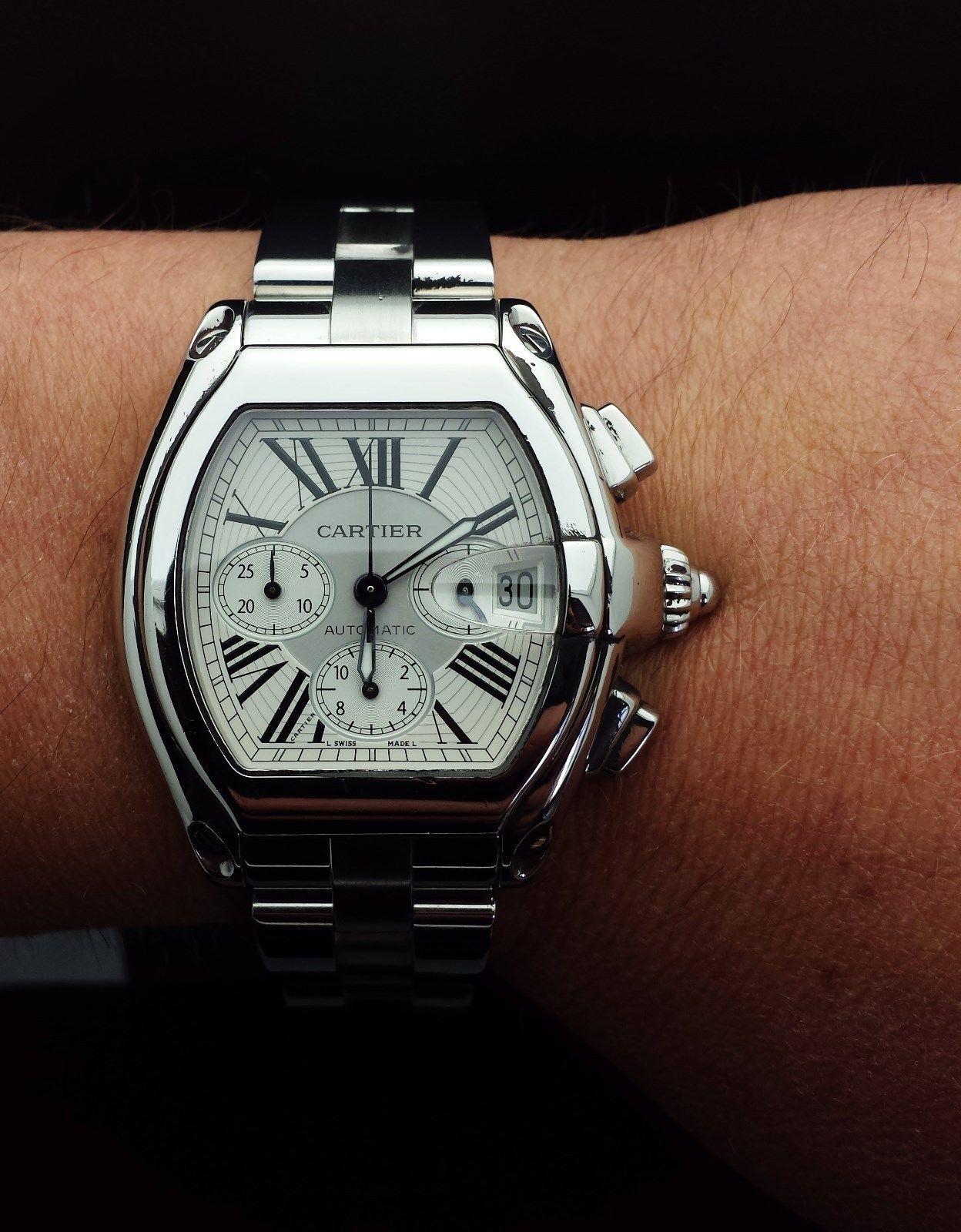 When it comes to luxury products, there are always certain brands that come to mind first. This may be because of the sheer popularity of the brand or because they've contributed so much to the luxury industry that they are just often associated with it one way or another. Regardless, there are specific names, in different categories, that immediately pop up when the word luxury is involved.
For example, Gucci is one of the most popular stores for high-end bags, shoes, and apparel. Meanwhile, when it comes to timepieces, there is no denying that Rolex is at the forefront of the luxury watchmaking world. On the other hand, in terms of jewellery, Cartier is one among the many well-recognised top-tier manufacturers out there.
Nowadays, Cartier is often affiliated with high-end jewellery, given the immense popularity of their products like the Love Bracelet or the Trinity de Cartier ring, and a whole lot more. With their unwavering reputation in the jewellery industry, people often overlook their impact and contributions in watchmaking. In this article, we'll be tackling more about Cartier as a timepiece manufacturer and one of their iconic collections, the Cartier Roadster. 
Cartier: More than a Century of Heritage 
Cartier's history dates back to as early as the 1800s. It was founded in 1847 by Louis-François Cartier who took over the jewellery workshop of his master. It would eventually become a family business in which Louis' own grandchildren (Louis, Pierre, and Jacques) spearheaded the expansion of the brand overseas while simultaneously cultivating its reputation in France.
Through the years, many people of high status, including royalty and aristocrats, would travel all the way to Paris just to purchase jewellery from Cartier. This would further expedite the brand's extension to other countries. Shortly after opening a shop in London, Cartier was given the title 'Jeweller of Kings, King of Jewellers' by King Edward VII of England. This was obviously a high honour that would ultimately lead to one of the reasons behind Cartier's prestigious reputation at present.
One of the first timepieces Cartier created was for the aviation legend, Alberto Santos-Dumont. He asked for a watch that he could wear without worrying about the additional weight while flying his dirigible. In the end, Cartier manufactured a wristwatch paired with leather straps for Santos-Dumont, which also boosted the popularity of wrist-worn timepieces back then. In 1911, they would launch the Santos de Cartier based on the piece designed for Alberto Santos-Dumont years prior. Soon after, Cartier came out with one of their most popular models called the Cartier Tank. This watch took inspiration from war tanks used during the First World War. From then on, Cartier would continue to design and create innovative timepieces even after the death of the man behind the iconic watches, Louis Cartier (the first grandson). 
Cartier's Notable Collections
Moving on to more modern times, Cartier stayed true to its roots by launching modern-day versions of pieces they created decades prior. 
In 1978, they released a new Santos de Cartier watch that featured a steel and gold bracelet. This piece got mixed reactions from people as some said that it was Cartier's attempt at offering more "affordable" watches in comparison to their previous ones. Regardless, the Santos de Cartier remains to be a consistent line in Cartier's array of collections today.
In 1983, Cartier launched the Panthére de Cartier, which revolves around the concept of jewellery watches. It has a very unique yet flexible design that is heavily inspired by the animal it's named after. Moreover, this watch was a rather successful attempt at creating a piece that is equally sharp and delicate. 
In 1985, Cartier launched the Pasha de Cartier, which also originally dates back to the 1940s. It is based on a previously commissioned piece for Pacha of Marrakech, which included a waterproof feature and the iconic Canteen crown. As of now, this series consists of quintessential yet uniquely-Cartier watches that aim to exceed the realm of watchmaking. 
In 1989, only four years after releasing Pasha de Cartier, they released a new version of the Cartier Tank called the Tank Américaine. This watch is a representation of Cartier revolutionising a classic piece in order to entice more people. The elongated structure and use of geometrical components made it a very distinct timepiece. At present, there are multiple variations of the Cartier Tank, aside from the Tank Américaine, such as the Tank Française, Tank Louis Cartier, and Tank Solo. 
All About The Cartier Roadster
Moving on to the star of the show, the Cartier Roadster was launched in the early 2000s. It was one of the youngest models in Cartier's timepiece portfolio, but it is also among the most well-known watches they've released. Spoiler alert for those who are not aware yet, the Cartier Roadster was discontinued by the brand back in 2012. However, there are still pieces out there, mostly pre-owned, that you can check out if you find yourself interested in the collection by the end of this article. 
Just based on its name, you'll be able to tell that the Cartier Roadster is a series inspired by automobiles. This is not something uncommon in the luxury watchmaking world especially with the existence of brands like TAG Heuer. There are many different watches out there that take inspiration from the beauty and excitement that comes with racing, cars, motorsports, and the like. However, Cartier's goal with the Roadster was to present a luxury timepiece that was versatile, sophisticated, and undeniably sporty. 
What makes the Cartier Roadster such a fun and innovative line is that the pieces are evidently based on certain vintage automotive parts that just bring a sense of nostalgia to anyone who recognises it. The most iconic feature in one of the Cartier Roadster models would probably be the Porsche-like dial, which clearly drew inspiration from the 1950's Porsche 356 speedometer.
If you haven't noticed yet, one of the things that make Cartier timepieces so distinct is their use of more defined shapes for their watches as opposed to the usual round ones. Even the first few wrist timepieces they ever launched had relatively boxy cases. It eventually became a Cartier thing which was also reflected in the Cartier Roadster models. What's more, it also comes in a variety of sizes, materials, and dial components, which all have a reminiscent feel to it.
The Cartier Roadster series included watches for both men and women. Generally, the smaller pieces were catered to the ladies, while the larger and bulkier ones were for the gentlemen. Although, I would say it just really depends on one's preferences, to be honest. Furthermore, the Cartier Roadster line came in different case and bracelet materials namely steel, gold, and two-toned. Aside from that, there are also other versions featuring other (possibly more luxurious) materials and some limited-edition releases through the years. 
Best Cartier Roadster Models 
After delving more into the Cartier Roadster, let's take a closer look at some of the best pieces in the said collection.
1. Cartier Roadster Automatic Chronograph (W62019X6)

This Cartier Roadster Automatic Chronograph (Ref. W62019X6) dates back to around 2005. It is a good piece for those who want a simple and classic Roadster watch. The exterior includes a barrel-shaped stainless steel case paired with a stainless steel bracelet in triple links. The dial, covered by a scratch-resistant sapphire crystal glass, has a distinct pattern and three sub-dials, all inspired by automobiles. Moreover, it features luminescent hands and a date component at 3 o'clock, enhanced by a magnifying glass. This model runs on a Cartier Calibre 8510 Swiss automatic movement.  You can also use this watch for swimming and snorkelling as it has a water-resistance of up to 100 metres. You can find this Cartier Roadster Automatic Chronograph online, costing around USD 9,500.
2. Cartier Roadster Automatic Limited Edition (W62048V3)

If you're one to prefer vibrant-coloured pieces, then this 2008 Limited Edition Cartier Roadster is a great option for you. It comes in a stainless steel case paired with a bracelet of the same material. The electric blue dial follows both sunray and automotive-inspired patterns. It has large Roman numerals, luminescent hands, and a magnified date component at 3 o'clock. This watch runs on a Cartier Calibre 3110 Swiss automatic movement and is water-resistant up to 100 metres. Again, this is a perfect option for vintage-lovers who prefer a bit more colour than usual. You can get this piece for about USD 7,200 on Amazon. 
3. Cartier Roadster Automatic Chronograph (W6206019)

This 2012 Cartier Roadster Chronograph watch is very similar to the first one mentioned in this selection. It comes in a stainless steel case paired with a bracelet of the same material. The dial follows the ever-distinct car-inspired pattern and sub-dials for the chronograph, protected by a sapphire crystal. It also features large Roman numerals and luminescent hands. One notable difference is that this model does not include a magnifying glass for the date component at 3 o'clock. Lastly, this Cartier Roadster Automatic, priced at over USD 6,800, has a water-resistance of up to 100 metres. 
4. Cartier Roadster Quartz (W62016V3)

This 2004 Cartier Roadster Quartz is a very straightforward and dainty model for the ladies. It also shares many similarities to the previous models mentioned. The exterior features a 31mm stainless steel case and a matching bracelet. The dial, covered by sapphire crystal glass, has the race car component pattern with large roman numerals and luminescent hands. It also features a magnified date component at 3 o'clock and a circular crown in steel. This Cartier Roadster follows a Swiss quartz movement and has a water-resistance of 100 metres. This simple yet innovative Cartier piece is priced at USD 5,500 online. 
5. Cartier XL Roadster Automatic (W6206020)

This2011 Cartier XL Roadsteris definitely a perfect candidate for those who like bulky and rugged watches. The exterior showcases a 50mm stainless steel case paired with a rubber strap in black. The dial follows the typical automotive-inspired design featuring large Roman numerals, luminescent hands, and three sub-dials for the chronograph functions. In addition, the dial is covered by scratch-resistant sapphire crystal. Lastly, it follows an automatic movement and has water-resistance up to 100 metres. This piece gives off a very masculine and durable vibe especially given the colour and size. You can cop this watch for about USD 7,550. 
6. Cartier Roadster Two-Tone (W62026Y4)

Here we have another elegant and classic piece for the ladies. This Cartier Roadster W62026Y4 comes in a two-toned (steel and yellow gold) case paired with a bracelet of the same materials. The dial, protected by sapphire crystal, has the quintessential Roadster design, along with Roman numerals and luminescent sword hands. It also has a magnified date component at 3 o'clock and a steel crown. This ladies' watch has a very sophisticated and refined feel to it mainly because of the colour combination. Again, this is a great option for the ladies who enjoy a mix of luxury, sports, and vintage in their watches. 
7. Cartier Roadster Leather (W62018Y5)

This Cartier Roadster offers a more delicate and elegant look to it. When I first laid my eyes on this model, I immediately felt a sort of regal and almost antique vibe oozing from the said piece. It comes in an 18K polished gold case, paired with a white crocodile leather strap. Again, the dial follows the typical car-themed pattern along with Roman numerals and luminescent sword hands. It also has a date component at 3 o'clock enhanced by a magnifying glass. This timepiece runs on a battery-operated quartz movement and has a water-resistance of up to 100 metres. This watch is a perfect piece for leather enthusiasts and lovers of anything vintage and prestigious.
The Cartier Roadster Then and Now
As I have mentioned, unfortunately, the Cartier Roadster has been discontinued for about nine years now. This means that the brand does not release new designs anymore nor do they still manufacture existing ones. However, Cartier does have a more recent collection called Drive de Cartier, which is not really similar to the Cartier Roadster but is regarded by some as the line that replaced it. Regardless, you can easily find pre-owned Cartier Roadsters online. However, always be cautious as there are a lot of fakes out there.
Why Buy A Cartier Roadster?
Since it is discontinued now, it makes for a great vintage piece to own. There's not really much to it aside from the first sentence. I think the Cartier Roadster line holds so much character in every model that it is sure to pique the interest of watch collectors and vintage fans out there.
It has a very distinct design. If you are the type of person who enjoys very unique and eccentric watches, then you definitely won't regret getting a Cartier Roadster. The reason behind its popularity, even until now, lies in the fact that this collection is so strikingly different compared to other sports watches that take inspiration from automobiles. As mentioned, Cartier was not shy in the use of automotive imagery in its designs.
It's a pretty good investment. Since Cartier is already such a well-recognised brand at present, it is only logical that their pieces remain of a high value even as time goes by. In terms of the Cartier Roadster, even until now, there are still a lot of people interested in getting one. Also, if you check the prices online, you will find that most Cartier Roadsters are still pretty expensive (even used ones).
Final Thoughts
Overall, the Cartier Roadster is a functional and creatively unique collection that definitely deserves the hype. The beauty behind it is that this series was a product of a rich heritage and a strong commitment, creating eccentric and innovative timepieces. Even though the collection has been discontinued, the Cartier Roadster has made its impact in the luxury watchmaking industry by being regarded as one of the most distinct sports watches to ever exist. If you're a watch lover, an aspiring collector, or a long-time connoisseur, then make sure to check out this iconic line.
Interested in other luxury sports watches, check out this article on the Tag Heuer Link.