New & Feature
German Watches: 10 Outstanding German Watch Brands To Look Out For
Apr 27, 2022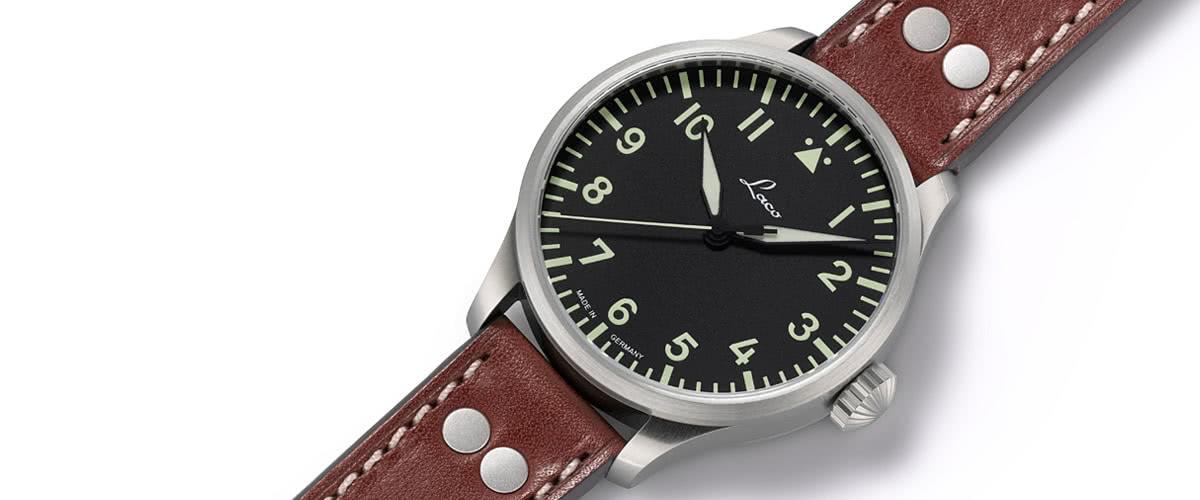 When people think about top-of-the-line, high-quality timepieces, chances are Swiss watches would usually come to mind first. While Swiss watches have certainly earned their right to such an iconic reputation, we should also bear in mind that there are other exceptional timepieces made from different parts of the world.
An excellent example of exquisite watchmaking can be found in numerous German watches. Known for their Bauhaus-inspired designs and Flieger-style pilot models, German watches are first-rate timepieces that deserve a special place in any enthusiast's collection. Stick around as we go through some of the best German watch brands you need to know about, and the top-notch German watches they offer.
German Watches: 10 Best German Watch Brands To Look Out For
1. A.Lange & Sohne

Initially founded in 1845 by Ferdinand Adolph Lange, A.Lange & Sohne stands as one of the oldest watchmakers in both Germany and the world. Although the original brand was nationalised by the Soviet Union, A. Lange & Sohne was relaunched in 1990 by the founder's great-grandson, Walter Lange. Currently a subsidiary of the Richemont Group, A. Lange & Sohne is known for making Glashutte-style prestige German watches.
A handful of A.Lange & Sohne's most renowned collections include the Lange 1, 1815, and the Saxonia. Striving for excellence, day by day, for more than 170 years, A.Lange & Sohne has dedicated itself to perfecting the art of German watchmaking and precise timekeeping.
For you to get a better understanding of its watches, let us take a look at one of their most coveted models, the A. Lange & Sohne Saxonia Datograph Up/Down (405.035). Paired with a classic black alligator leather strap, the Datograph is a luxury dress watch that showcases a 41mm lustrous platinum case and a gorgeous black chronograph dial. The dial itself has a base plate made from silver and features exquisite gold and steel hands, a large date window, solid-gold hour indices, and two silver sunray sub-dials.
Viewable through its open caseback is the chronometer-rated L951.6 hand-wound movement, which has a 60-hour power reserve. In all its mechanical glory, the L951.6 is a spectacle to behold and is a trademark of the brand's mastery over Haute Horlogerie. This classy and elegant A.Lange & Sohne watch fetches an extravagant price of $106,100 USD.
2. Tutima Glashutte

As one of the top brands of the Uhrenfabrik AG (UFAG), Tutima Glashutte is a watchmaker responsible for creating one of the most iconic Glashutte watches, the Tutima Glashutte 1940s Pilot's Chronograph. Established in 1927 by Dr. Ernst Kurtz, Tutima is known for making quality, precision-driven watches for German military and air force units.
At one point, Tutima watches were considered a rarity due to being exclusively assigned to military personnel. But nowadays, Tutima watches have become more accessible than ever. With their heritage, reliable movements, and eye-catching designs, Tutima Glashutte watches are exceptional German watches that you can bring for any and every occasion.
Having given a preface of its skill in making superb pilot watches, it would not be right if we did not see, close-up, what Tutima Glashutte is capable of accomplishing. As such, let us have a look at the modern reinterpretation of Tutima's legendary 1940s pilot's chronograph: the Grand Flieger Classic Automatic (6102-03).
Although it is designed as a pilot's watch, its striking tobacco-brown sunray dial, fluted bezel, and polished 43mm stainless steel case enable this Grand Flieger piece to pass for an outstanding dress watch too. Cathedral hands and white Arabic numeral markers in a neat typeface, all applied with lume, make the dial highly legible in any situation. Despite being a pilot watch, the Grand Flieger Classic Automatic (6102-03) has a handy depth rating of 200m and comes with a see-through sapphire caseback that gives a clear view of its Tutima 330 Caliber. Wearers can purchase this Tutima timepiece for just $1,465 USD.
3. Glashutte Original

The roots of Glashutte Original date all the way back to 1845, when the first batch of watchmaking artisans arrived in the town of Glashutte, creating a heritage of watchmaking that would last to the present day. Although the brand was only founded in 1994, today, Glashutte Original is acclaimed for its traditional watchmaking values and unparalleled craftsmanship, which is not something you would expect from a relatively new company.
With its marvellous engineering, innovative concepts, and dressy designs, Glashutte Original's watches easily stand out from the competition, reflecting the brand's rigorous standards. Whether it is the classy Pano collection or the sturdy timepieces from the Spezialist line, you can expect nothing less than high quality from this brand's German watches.
One of the brand's best-selling timepieces is the Glashutte Original Senator Excellence Panorama Date Moon Phase in blue. Housed in a 42mm stainless steel case, this Glashutte Original watch boasts a galvanised blue sunburst dial with a printed minute track, slim applied triangular indices, Lancette hands, and an exquisite silver moon phase display. Along with a white panorama date window at 4 o'clock, this Senator timepiece shows off an alluring minimalistic aesthetic in accordance with the philosophies of Bauhaus design.
This watch is driven by an automatic in-house Caliber 36.04, which has a beat frequency of 28,800 vibrations per hour (4Hz) and an impressive 100-hour power supply. It has an estimated price tag of $7,880 USD. 
4. Sinn

The German watch brand Sinn Spezialuhren, or Sinn for short, is highly distinguished for its technological innovations. Founded by former World War 1 pilot and flight instructor Helmut Sinn in 1961, the brand started its watchmaking journey by making pilot chronographs and navigational clocks in Frankfurt, Germany.
With its continuous pursuit of developing new technology for its mechanical timepieces, Sinn promises incredibly durable and accurate German watches that can function reliably in both regular and harsh conditions. Sinn is best known for its aviation-themed Instrument Watches collection. However, it has also demonstrated a skilled hand in crafting Diving Watches and Classic Timepieces.
One exceptional watch from this brand is the award-winning Sinn Model 105 St Sa UTC. Powered by a Sellita SW200-1 automatic calibre, this sporty and versatile timepiece possesses an exclusive, modern design. Its 41mm bead-blasted stainless steel case is fitted with a rotating bezel that has a black 24-hour time scale. The watch is also equipped with Sinn's TEGIMENT technology, which bolsters the scratch resistance of the case by hardening its surface.
The dial of this Sinn timepiece consists of luminous rounded hands and hour markers, along with a vibrant orange UTC hand for the 24-hour function and a rectangular date window at 6 o'clock. In addition, it has a 200m depth rating, which makes it a great companion for all your watersports adventures. You can purchase the Sinn Model 105 St Sa UTC for approximately $2,050 USD.
5. Nomos Glashutte

Established in Glashutte two months after the fall of the Berlin Wall, Nomos Glashutte is the largest manufacturer of mechanical watches in all of Germany. Although its timepieces are exclusively assembled in Glashutte, Nomos designs all of its models in Germany's capital, Berlin.
Expertly crafted and beautifully done, Nomos Glashutte has an extensive arsenal of manual-winding and automatic German watches that boast fashion, elegance, and minimalistic designs. Through its non-stop cultivation of watchmaking art, Nomos stands at the front lines of the German horology industry. If you are looking for Bauhaus-inspired German watches that will look good on you no matter the occasion, there's no better option than Nomos. 
As mentioned, Nomos has a wide selection of minimalistic dress watches. One of their latest works is the Nomos Glashütte Tangente 50 Ans De Medecins Sans Frontieres. A limited-edition model with only 2,021 pieces produced, this Tangente watch comes in a slender 37.5mm bipartite stainless steel case, topped with a layer of luxurious sapphire glass.
The highlight of this Nomos Glashütte Tangente watch is, without a doubt, its galvanised white silver-plated dial. This dial is decorated with a combination of stylised Arabic numerals and thin hour indices, with a bright red 12 o'clock marker that adds a splash of colour to this otherwise monochrome watch face. Positioned underneath its oxidised black stick hands is a submerged sub-dial that displays the small seconds of the watch. This timepiece runs on an in-house Calibre Alpha that has been modified to meet chronometer standards. It is worth approximately $1,875 USD. 
6. Muhle Glashutte

Muhle Glashutte stands as the only watch manufacturer in Glashutte that is still owned by a long-established German family. It was founded in 1869 by Robert Muhle as a company that initially focused on developing accurate measuring instruments for the watchmakers of Glashutte. Later, the German brand started focusing on making high-quality nautical systems, marine time systems, and, of course, wristwatches.
Over its 149 years of labour and mastering its craft, Muhle Glashutte has built a reputation for scarily accurate measurements and precise timekeeping. The Lunova, the Terrasport, and the 29er are just a few of Muhle Glashutte's best collections.
From the Terrasport series, we have the Muhle Glashutte Terrasport I Chronograph (M1-37-74-LB). With its brushed stainless steel case, transparent caseback, and secure screw-in crown, this Muhle timepiece has a total water resistance capacity of 100m. It is paired with a comfortable black buffalo leather strap and uses an anti-glare sapphire crystal to protect its dial.
With its jet-black surface, overlapping subdials, silver Feuille hands, and clean white numerals and indices, the dial of this watch come together to form a vintage-inspired look that is both appealing and easy to read. Running this timepiece is an in-house MU 9413 automatic calibre. It has a beat frequency of 28,800 vibrations per hour (4Hz) and a power reserve that can last for up to two days. The Muhle Glashutte Terrasport I retails at around $2,250 USD.
7. Montblanc

The brand Montblanc is well-known for its specialty in producing luxury pens. However, the brand is also capable of creating other quality luxury goods such as bags, accessories, and, most importantly, luxury watches. Montblanc has been around since 1906 and took its first step into watchmaking in 1997. Though it is based in Hamburg, Germany, the brand assembles its timepieces in Switzerland.
Praised for their craftsmanship and quality, Montblanc watches are durable, accurate, and elegant to the eyes. The brand prides itself in upholding the spirit and mentality of its three pioneering founders by completing its products with the utmost care and passion.
Montblanc is home to many impressive German watches. However, if we had to choose a specific watch, it would be this classy timepiece, the Montblanc Legacy Star (MB117577). Hailing from the brand's Legacy Star series, this Montblanc watch features a 39mm stainless steel case with a fixed 18K rose gold bezel. Its classy brown strap is made from alligator leather, which is coveted for its comfort, luxury, and unique pattern.
With its stylised Arabic numeral markers, rose gold Feuille hands, and miniature date window at 6 o'clock, the dial of this Legacy Star watch has a vintage look resembling the watch faces of some early 20th-century pocket watches. This timepiece is driven by an MB 24.01 automatic calibre, which is based on the ubiquitous ETA 2892-A2 movement. It sells for around $3,160 USD.
8. Junghans

Since its founding in 1861, Junghans has stood for minimalistic designs, precise timekeeping, and long-standing traditional watchmaking values. The company is headquartered in the beautiful town of Schramberg, located in southwest Germany.
Junghans watches possess a remarkable reputation, not just in Germany but also around the world. Over the years, the brand has developed a large assembly of gorgeous, high-class minimalistic timepieces fit for everyone to wear. Its most notable collection is the Max Bill. The Max Bill range was launched in 1962 when the brand created a new selection of elegant wristwatches in collaboration with Swiss architect and Bauhaus protege Max Bill. Fun fact — Junghans was even the official timekeeper for the 1972 Summer Olympics held in Munich. 
One lovely timepiece from the Max Bill line is the Junghans Max Bill Hand-Winding (027/3702.04). From its slender 34mm stainless steel case to its distinctly rounded Arabic numerals and thin stick hands, this timepiece carries a pristine and no-nonsense look all over. The domed plexiglass on top of the case protects this watch's simple black dial from scratches and impacts, while also giving the watch some vintage charm. Accompanied by a black calfskin leather strap, this Junghans watch utilises a J805.1 automatic movement, complete with its 42-hour power supply. It also comes with an incredibly affordable price tag of just $600 USD.  
9. MeisterSinger

Formed in 2001, the watch brand MeisterSinger is renowned worldwide for its unique, single-hand timepieces. Inspired by the design of old-fashioned sundials and clock towers, the single-hand watch is MeisterSinger's most distinguished innovation. Working with this concept for decades, the brand has developed a sizable collection of single-hand wristwatches for everyone to choose from. Whether it is a simple yet classy dress watch or one with a day-and-date feature, all timepieces from MeisterSinger have an innovative way of telling time using only one dial hand. Currently, the headquarters of MeisterSinger is located in the German city of Munster.
Many people have their own favourite MeisterSinger piece, but one model we would like to highlight today is the MeisterSinger N°01 Sunburst Blue from its prestigious Classic selection. Housed in a slim 43mm stainless steel case, this MeisterSinger piece shows off a blue sunburst dial with double-digit Arabic numeral markers and, of course, a single, long dial hand. The rim of this minimalistic dial is filled with white minute indices that allow the watch hand to tell both the minutes and the hours simultaneously.
On the underside of the MeisterSinger N°01 Sunburst Blue,  you will see a caseback that is engraved with a fermata pattern. This is a signature found in multiple MeisterSinger watches. Powering this timepiece is a Sellita SW210 hand-wound movement fitted with 19 jewels and a power reserve that can run for up to 42 hours. This watch from MeisterSinger is worth approximately $1,125 USD. 
10. Laco 

Also known as Lacher & Co., Laco is a watch manufacturer founded in 1925 in Pforzheim, Germany. Over the years, Laco has crafted a well-regarded reputation with its line of authentic, first-rate Flieger watches. In fact, Laco was one of five brands to manufacture B-Uhr Watches for German pilots during World War II.
Laco has achieved a number of milestones since its founding. One of its most impactful achievements is the creation of the first electronic wristwatch in Germany. Laco ensures that each exclusive watch it makes carries a timeless and robust design paired with modern-day watchmaking innovations.
For an outstanding Laco model, let us turn our attention to the iconic Laco Augsburg. Available in either a 39mm or 42mm stainless steel case, the Laco Augsburg is a timekeeper that works as a reliable travel companion and a stylish fashion accessory. It is driven by a Laco 21 Calibre, which is an automatic movement based on the Japanese Miyota 821A calibre.
The dial of this watch displays simple Arabic numeral markers, hour indices, and Losange hands all generously coated in Super-LumiNova C3 for optimal legibility, whether day or night. Coupled with a riveted brown calf leather strap, the Laco Augsburg has a water resistance capacity of 50m, which makes it suitable for deflecting raindrops and splashes of water. As the most affordable timepiece on this list, the Laco Augsburg sells for around $380 USD. 
Final Thoughts
With Germany's reputation for skillful and meticulous watchmaking, it is no wonder why these brands are capable of bringing forth watches with excellent physical and technical designs. Some of these companies have been manufacturing German watches for decades, while others are slowly but surely getting the popularity and recognition they deserve. Although there are several other German watchmakers out there, the watch brands listed above have proven that they are the best that German watchmaking has to offer. 
As you explore the wide selection of German watches on the market, expect no less than an abundance of highly capable timepieces with exclusive designs and brilliant technical prowess. With so many German watches to choose from, you are bound to find the one ideal timepiece that surpasses all your expectations.
Featured Image By: Laco
Looking for something more retro? Check this article about the 15 Best Calculator Watches for all your Dress-Down days.