New & Feature
Omega Dynamic: A Guide to the Brand's Most Radical Series
Mar 05, 2021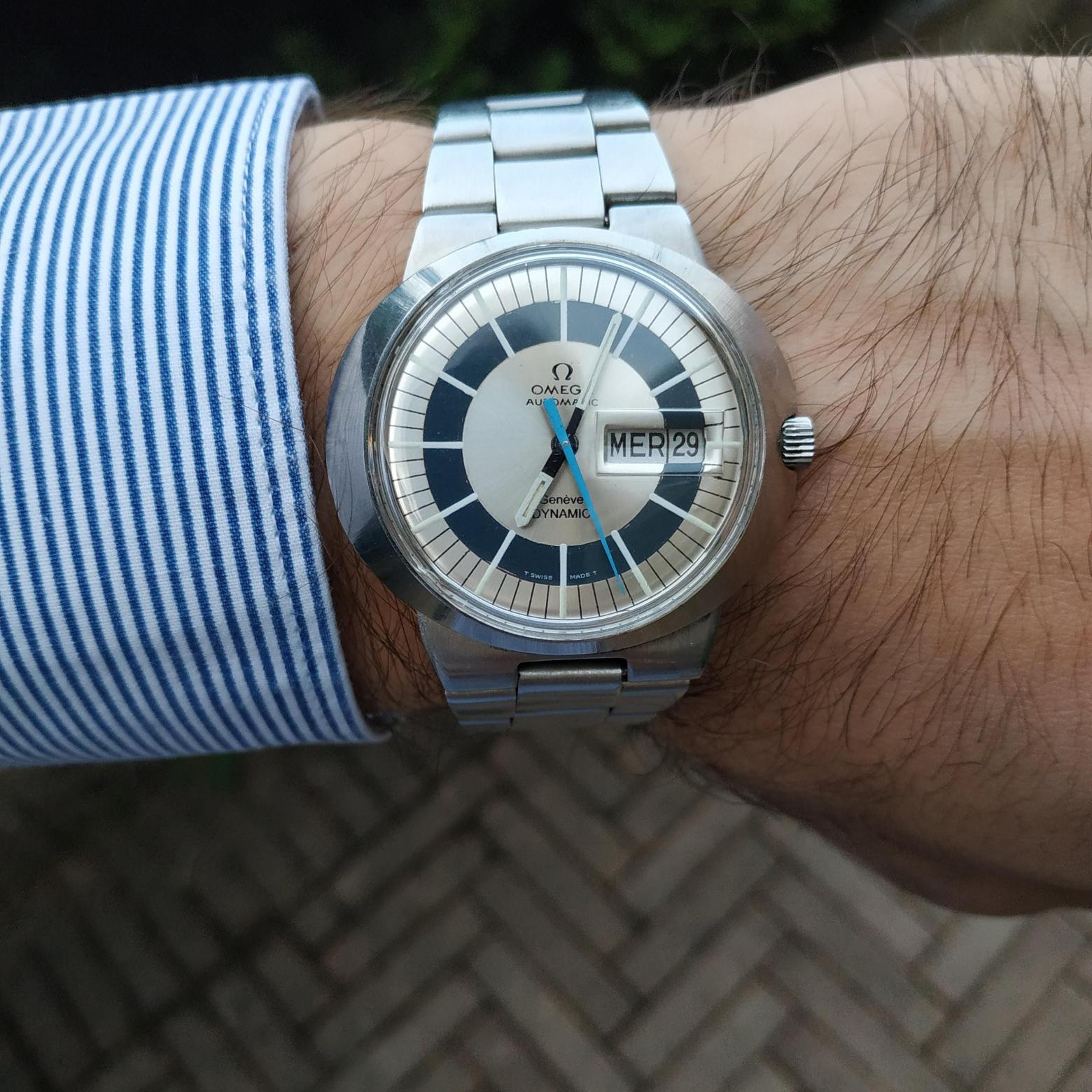 It's no secret that Omega is among the top luxury watch brands in the market today. They are a high-end watch company that is well-recognised by both timepiece connoisseurs and regular watch lovers alike. Omega is often associated with some of their most popular collections, such as the Omega Seamaster and the Omega Constellation. However, years ago, they released one of their most unique collections: the Omega Dynamic. Although many decades have passed since Omega last released a piece from this collection, it is still regarded today as a vintage must-have. In this article, we will find out more about the Omega Dynamic, its history, and some additional modern-day details.
All About The Omega Dynamic
The Omega Dynamic series was first released back in the 1960s as a specific model under the Prix de Ville de Genève collection. The concept behind the line was to create a contemporary piece that would allow the wearer to freely express themselves through the accessory. This series was Omega's way of embracing the modernity that comes with the present time which is what makes it such a great vintage today. They really did well in incorporating the essence of the '60s and '70s into the whole line. 
Omega Dynamic 1st Series 
The exterior of the Omega Dynamic Series 1 had an oval-shaped case that fit perfectly on the wrist. When it was first released, it came in various colour combinations, sizes, and strap material. One of the key features of this series is that it is very customisable —  it is easy to interchange the straps and bracelets. Many people were enticed by the cool and radical design of the Omega Dynamic, which resulted in it becoming one of the brand's best-selling lines. The first generation of the Omega Dynamic ran from around 1968 to the late 1970s.
Omega Dynamic 2nd Series 
The Dynamic Series 2, on the other hand, was launched in 1984. This line also featured interchangeable straps and bracelets, much like the first generation. However, the key component of the Omega Dynamic Series 2 is the better visibility of the dial (without having to exert much effort) through the added case inclination feature. This range shared many similarities with its predecessor, but it was also discontinued after a couple of years.  
Omega Dynamic 3rd Series 
Lastly, the youngest generation of the Omega Dynamic series was released 24 years ago, back in 1997. This piece was quite reminiscent of Omega's history with the military. However, while their previous collaboration with the armed forces brought out more technical advancements, this model showcased military-inspired aesthetics and design. This series came in two variations, which will be tackled later on, and was also discontinued in 1999.  
Best of the Omega Dynamic Collection 
Below you will find a selection of Omega Dynamic pieces and a more in-depth discussion of each piece. 
1. Omega Genève Dynamic I (CD 566.0015) 

This model of the Omega Geneve Dynamic 1 definitely screams vintage and antique. It has the aforementioned radical and eccentric design, especially with the shape of the case. The exterior of this watch comes in a 30 x 26 mm unishell, made out of gold-coloured stainless steel and paired with a Corfam bracelet in blue. The dial is designed with the same colours as the case and the strap but with white indexes and hands. In terms of technical specifications, the Omega Dynamic 1 watch runs on an automatic calibre 681 movement and has a water-resistance of up to 30 metres. 
Judging by the look of this particular model, it has that '60s and '70s feel to it. The vibrancy brought about by the colours shows that it really is catered to a more youthful generation, specifically young adults, back then. Overall, it is an excellent piece, considering when it was made.
2. Omega Genève Dynamic I (ST 166.0039)

This model of the Geneve Dynamic 1 offers a simpler and more mature look in comparison to the one above. Since the Dynamic series is known for being interchangeable, this model can be customised in two variants: either with a leather strap or a steel bracelet. Moreover, it is paired with stainless steel case, featuring the iconic unishell/oval-like shape. The dial comes in different colour variants as well, but both have luminescent hands and indexes plus a date component at 3 o'clock. This model runs on an automatic Calibre 565 movement and has a water-resistance of about 30 metres. 
Much like the other Dynamic I model, the vintage vibe will hit you right away with this one. However, because of the more neutral colour combination, it offers a more modest and refined overall look, along with the '60s-'70s vibes. 
3. Omega Dynamic III Automatic Chronograph (5290.50.40)

Among the previous watches listed, this model of the Omega Dynamic III Automatic Chronograph is the most contemporary-looking (which makes sense obviously). Right off the bat, it has quite a rugged and rustic feel to it, especially with the screw-ins and crown. This piece can come in either a leather strap or a steel bracelet, paired with a round case made out of stainless steel. There's quite a lot going on in the dial area, featuring a black background with an outer circle outline for the seconds. Additionally, there are large luminescent numerals and hands along with 2 sub-dials for the chronograph feature. This watch runs on an automatic calibre 1138 movement and has a water-resistance of up to 50 metres. 
Again, among the other Omega Dynamic pieces, this would probably be the most familiar-looking one. It has a bulky and masculine structure and design but still has that modern (and slightly futuristic) look that was aimed to appeal to the younger generation. 
4. Omega Dynamic III Automatic (5203)

This particular piece is slightly similar to the previous one, except it does not have a chronograph feature and other slight changes in the design. This Omega Dynamic III Automatic also has a lesser degree of ruggedness compared to the chronograph version. I would say this watch would be really appealing to people who enjoy simple, functional, and vintage watches. As mentioned, the Omega Dynamic III took inspiration from the brand's military involvement in the past, which can clearly be seen in this model. The exterior comes in a stainless steel case, paired with a bracelet of the same material. The black dial displays luminescent circular markers, numerals, and hands plus a date component at 3 o'clock. This timepiece is powered by the automatic Calibre 1108 movement and has a water-resistance of up to 50 metres.
I would say this is one of the most versatile pieces in the Dynamic line, especially since it blends well on any occasion. Indeed, the Omega Dynamic III Automatic is a great "modern-day" version of a line of watches that have been around for decades. 
5. Omega Seamaster Dynamic II "Spider" (SE 796.0860)
The Omega Seamaster Dynamic II Quartz gives you a glimpse of its purpose just with a single look. This particular model shows a case that almost reminds me of a seashell, rather than a spider, which still fits well with the name. The exterior boasts a circular, stainless steel case paired with either a steel bracelet or a leather strap. Meanwhile, the dial also has a variety of colour combinations. Generally, it features luminescent indexes and hands with a date component at 6 o'clock. This watch runs on the quartz calibre 1426 movement and has a water-resistance of up to 30 metres. 
What makes this model really special is the incorporation of functionality in the eccentric-ness of the whole series. The angled case gives a really unique look to the watch, which gives off a really cool vibe. Although it may not be everyone's cup of tea, the Omega Dynamic II Spider is still an ingenious innovation that strangely fits well with the concept of the Omega Dynamic series. 
Where can I get one?
Unfortunately, the Omega Dynamic series has been discontinued since 1999, so chances of getting a brand new one are zero to none. However, much like most vintage items out there, you can do a simple search on Google and you'll find many authorised websites that sell pre-loved pieces from the Omega Dynamic series. In terms of the price range, it depends on the site and the condition of the watch, but the typical range would probably be from around USD 700 to over USD 1000.
A Brief Look at Omega's Past

To fully understand the heritage of the Omega Dynamic collection, let's take a brief look at Omega's past. The brand's history began when Louis Brandt opened a small workshop in the village of La Chaux de Fonds in Switzerland back in 1848. The then 23-year-old man was a simple watchmaker who had a commendable dedication to creating the most precise and accurate timepieces. This philosophy of his would be one of the main reasons behind the continuous success of Omega in the next decades to come. After his death, Louis' sons continued the family legacy and made great contributions to the watchmaking world as well. Only a little over 30 years after opening, the brothers would release their first in-house calibre called the Labrador. It was an incredible feat in watchmaking that was way ahead of its time and would eventually be the foundation of the brand's future technological innovations.
In 1892, Louis Brandt's sons created a minute-repeating wristwatch that was a first of its kind. It made use of impressive movements similar to that of a pocket watch, making it a piece highly regarded by many. Two years later, they would make yet another incredible development in the form of the 19-ligne calibre. The brothers dubbed this breakthrough as the Omega, a very fitting name for such a revolutionary and futuristic advancement in watchmaking. The immense success that came with the 19-ligne calibre movement led to the company officially changing its name to Omega Watch Co. Shortly after that, Omega would be at the forefront of luxury watchmaking.
Omega in the 1900s

The 1900s came with even more accomplishments and discoveries for Omega. The brand delved into the realm of sports as early as 1905 by serving as the official timekeeper in numerous athletic events (including balloon racing). This explains why, to this day, Omega remains to be a steadfast and unwavering entity when it comes to sports watches. Furthermore, in 1925, Omega was awarded the Grand Prize in the Exposition Internationale des Arts Décoratifs et Industriels Modernes. Besides securing their title as a pioneer in technical innovations, they also proved that they were just as masterful when it came to designing.
The following decade was a busy yet well-rewarded time for Omega. From leaving a great impact in the Geneva Observatory trials to becoming the Official Timekeeper in the Olympics and releasing one of the world's first divers' watch, the 1930s definitely came with numerous revolutionary developments in all aspects of watchmaking for Omega.
If you still don't consider Omega as an all-rounder brand, you probably will after finding out how some of their pieces were used in the military. Back in 1940, they were given the crucial task of supplying timepieces for the British Armed Forces and its allies. This honour came with equally great responsibilities in which Omega had to expedite certain processes to ensure the best results.
Moving forward to 1948, Omega released one of their most well-known collections today: the Seamaster. The principle behind this piece took inspiration from Omega's military background. It was made to handle extremely harsh circumstances and has become a great representation of what Omega is today. Starting from the 1950s, Omega would only continue to create more pieces and collections that are still around at present. The brand's consistent commitment to manufacturing high-quality, precise, reliable, and accurate innovations is still clearly felt and present even after a century in the industry.

One of the events that I personally found amusing (but was also a true testament to this) was Omega's Polar Flight Test in 1956. The great engineers behind the brand decided to strap an Omega Seamaster to a certain component of the plane (Canadian Pacific Airways), which was bound to take flight from Canada to Amsterdam. After the long-haul flight, the Seamaster was found to be in perfectly functional and good condition. This particular event clearly shows Omega's dedication and unconventional way of doing things.
Honestly, there are still so many more important events and breakthroughs in Omega's history, but it would take a long while for us to go through it all. What's important is that we have a gist of how Omega has evolved over the years. At present, it is an esteemed company that can easily compete with other top luxury brands in the industry. Besides the Omega Dynamic, the brand offers a variety of collections and models like the Omega Seamaster, Omega Speedmaster, Omega De Ville, and Omega Constellation which, to this day, remain iconic and sought after.
Final Thoughts
The Omega Dynamic series came with a lot of great pieces that really intrigued and attracted people. The unorthodox aesthetics, from the designs to its customisability, make it such a distinct yet versatile line. The idea of being able to express yourself in different ways through a single watch is one of the key essences of the Omega Dynamic series. Ultimately, this vintage series is a great one to check out if you're the type to experiment in your daily style.
If you're interested in vintage items, make sure to check out this article on the Tudor Ranger.
Photo credits: Images courtesy of Omega