New & Feature
Affordable Luxury: Get To Know Maurice Lacroix and Their Watches
May 13, 2020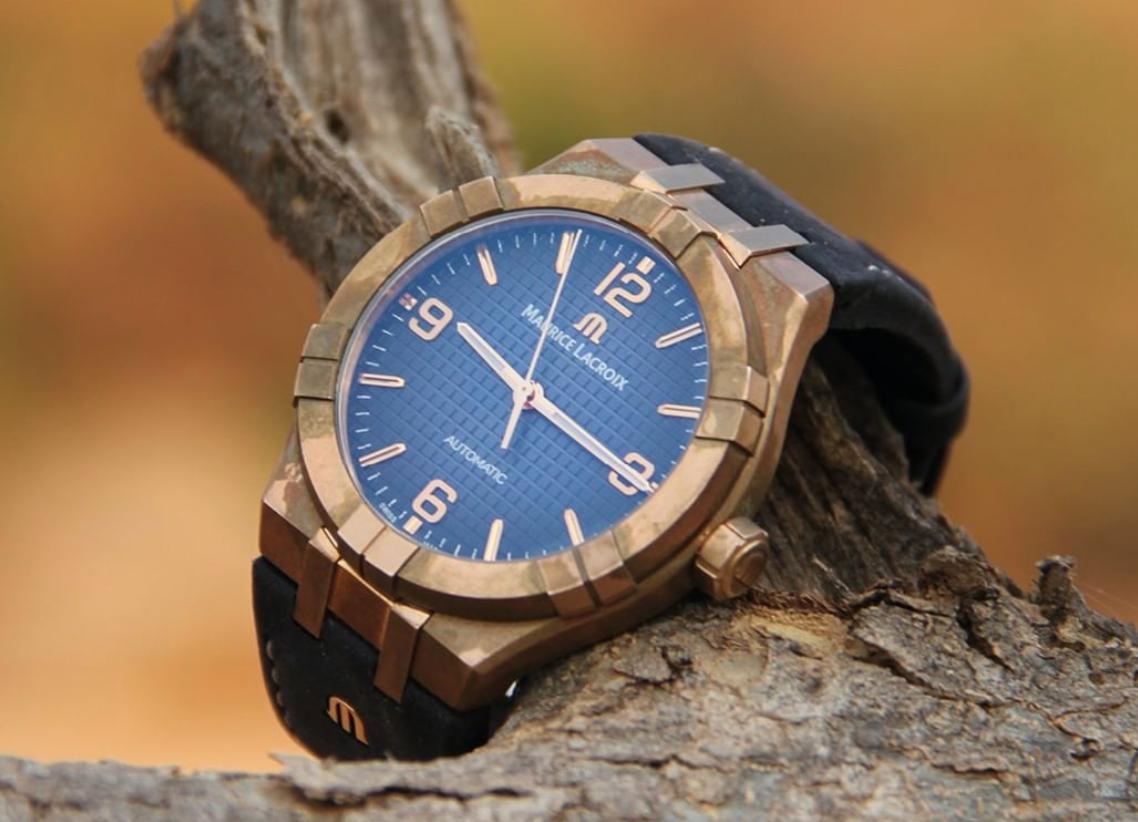 Looking to level up your watch-wearing game? Well, we're here to introduce to you some of the best brands in watchmaking. For this particular piece, we'll be taking a look at the Swiss watch brand Maurice Lacroix. We'll cover their story, their best watches, and everything else you need to know about the brand. 
Maurice Lacroix's Legacy
With headquarters located at the heart of the Swiss Jura mountains, Maurice Lacroix has continuously produced outstanding watches for 45 years. It has made a reputation for itself in the affordable luxury watchmaking game, and its success relies on the commitment to the craft and a profound sense of quality. Let's take a look at the brand's story.

Outstanding Brand Values
The focal company philosophy of Maurice Lacroix lies in its commitment to upholding the long tradition of high-standard Swiss watchmaking craftsmanship. Achieving this requires the active pursuit of certain factors such as extensive knowledge in watchmaking, industrial expertise, skilled craftsmanship, technological capability, and an overall sense of quality. Maurice Lacroix's success relies on a formula consisting of reliability, determination, ingenuity, and, of course, quality.
A Rich Watchmaking Heritage
We begin in Zurich, Switzerland, in 1889 with the Desco von Schulthess Company, the parent company of Maurice Lacroix. The company had roots in trading silk internationally, but mostly had a focus on the Asian market. Eventually, the company diversified its business to include other goods and expanded its reach geographically.
In 1946, Desco von Schulthess started to represent various luxury brands, some of which include Swiss-made watches. The company's involvement in the watch industry did not stop there. In 1961, Desco von Schulthess put up a watch factory in Saignelégier which focused on producing private label watches. The company's investment in watchmaking eventually led to the founding of Maurice Lacroix in 1975.

Jumping forward a bit to 1989, Maurice Lacroix decided to produce their own in-house watch cases and acquired Queloz S.A., a case manufacturing plant in Saignelégier. With a watch and case-making factories, both located in Saignelégier, Maurice Lacroix was able to launch its first collection, the Calypso, in 1990. Two years later, Maurice Lacroix launched the first Masterpiece Cinq Aiguilles, a high-end line formerly called Les Mécaniques. With this collection, Maurice Lacroix started gaining traction in the high-end Swiss watchmaking world. 
It was becoming serious for Maurice Lacroix, and eventually, in October 2001, the company became an independent legal entity. It set up workshops of its own that produced complicated components for the brand's mechanical calibres. In 2006, the company launched the ML-106 movement, its first mechanical calibre made completely in-house. From the 2010s up to the present, Maurice Lacroix has produced and launched quite a few outstanding collections. We'll be taking a look at some of them in the next section of this article. 

Best Maurice Lacroix Collections
If you're interested in getting your own Maurice Lacroix watch, then you're in luck. We've compiled this shortlist of their best watches that are currently available for purchase online. We made sure to include one watch from each of the current Maurice Lacroix collections. These include the Masterpiece, Aikon (Automatic and Quartz), Pontos, Fiaba, and Eliros. Without further ado, let's check these watches out.
1. Maurice Lacroix Masterpiece
For the Masterpiece collection, we have the Maurice Lacroix Masterpiece Worldtimer. This watch is here to wow with its impressive design. But let's start off by covering its basic features. The watch has a sleek brushed stainless steel case and polished stainless steel bezel. Its face is made of a strong sapphire crystal which prevents scratching on the surface and also has an anti-reflective coating for optimal visibility in direct sunlight. The watch's strap is made of elegant black leather with an embossed crocodile pattern to add to its classy aesthetic, which is paired with a push-button deployment buckle. This watch functions under a Swiss automatic movement, has a sweet 40-hour power reserve and is water-resistant up to 50 metres. 

Now, let's take a look at the watch's stunning dial. The watch has a silver guilloche dial with blue shorelines. Its watch hands and Roman numeral hour markers are in a vibrant blue whose contrast against the silver dial makes it fairly easy to read the time. The watch also has another arrow hand, this time in gold, which points at the 24-hour display. There are also 24 timezone cities located around the watch. The watch also features a sun and moon indicator at the 9 o'clock position and a date sub-dial at the 6 o'clock position. Lastly, the inner circle of the dial displays a beautiful map design with a dotted texture pattern, perfectly tying together the theme of world time.
2. Maurice Lacroix Aikon Automatic
Up next, we have the Maurice Lacroix Aikon Automatic Chronograph. The watch has a classic stainless steel case paired with a beautiful blue calf leather strap and black PVD butterfly buckle. It runs on an automatic movement and is water-resistant up to 200 metres. The watch features a 12-hour chronograph counter at the 6 o'clock position and a 30-minute chronograph counter at 12 o'clock. At the 9 o'clock position, there's a small second subdial, and at 3 o'clock, there's a day and date window. 

The watch has a beautiful and clean design with a blue and silver colour combination. The dial is in silver with a horizontal line pattern. The chapter ring around the edges of the dial and the subdials are also in blue to match the blue calf leather strap. 
3. Maurice Lacroix Aikon Quartz
Here's another watch from the Aikon line, the Maurice Lacroix Men's Aikon Stainless Steel Swiss Quartz Watch. The watch has a traditional stainless steel case and brown leather strap with an embossed crocodile pattern and neat stitching on the side. This watch also comes with a stainless steel butterfly buckle, perfectly matching the stainless steel bezel. 

This sophisticated watch runs under a quartz movement and has a 100m water-resistance. It features a beautiful grayish-brown dial with horizontal lines spanning across it for added aesthetic. This watch makes use of Roman numeral hour markers in gold, which match the gold watch hands. It also features a small date window in the 3 o'clock position. This is definitely a watch that would look good with a casual tee and jeans or a fancy suit and tie.
4. Maurice Lacroix Pontos
For the Pontos collection, we have the Maurice Lacroix Pontos Day Date Automatic Men's Watch. This is a very cool and sleek watch in black with a dash of silver. It has a gorgeous black sun-blasted and sun-brushed dial. This is wonderfully paired with a black calf leather strap with a stainless steel folding clasp buckle. 

On the dial, the watch incorporates silver accents, especially with the hour markers and hands. With only a small date window at the 6 o'clock position and a day window at the 12 o'clock position adorning the dial, the watch looks clean and minimalist. Lastly, the watch is equipped with automatic movement, 100m water-resistance, and a 38-hour power reserve.
5. Maurice Lacroix Fiaba
Moving on to the Fiaba collection, we've got the Maurice Lacroix Fiaba Women's Wristwatch. This timepiece is a beautiful ladies' watch that mixes together the classic stainless steel with a splash of rose gold for both the case and the bracelet. It comes with a butterfly buckle in stainless steel. The dial is silver with a\\ water drop guilloche pattern and the hands are rose gold plated. 

On the dial, you'll see Roman numeral hour markers in black print, which perfectly stand out against the silver background. In addition, this elegant watch also features a small date window that is enclosed in a rose gold ring and positioned at 3 o'clock. Powered by a Swiss quartz movement, this watch is also water-resistant up to 100 metres. 
7. Maurice Lacroix Eliros
For our last collection, we have the Maurice Lacroix Men's Eliros Chronograph Watch. This is a beautiful chronograph in blue and gold. The case is made out of rose gold PVD and the strap is a handsome blue calf leather with a rose gold pin buckle. It runs on a quartz movement and is water-resistant up to 50 metres.  

Now, let's talk about its stunning dial. The dial is in a blue sun-brushed design and has three chronograph sub-dials with gold accents. The mix hour markers of Roman numerals and indexes, as well as the hands, are also in rose gold. Lastly, to keep the design interesting, the watch has a small date window that sits between 4 o'clock and 5 o'clock position.
Where to Buy Maurice Lacroix Watches
Now interested in purchasing your own Maurice Lacroix watch? Well, you could easily check their website to see if there are any Maurice Lacroix authorised dealers near you. The site has a store locator function that allows you to input a location or select from the dropdown choices for the continent, country, and city.
Or, if you want a more convenient shopping experience without leaving your own home, Maurice Lacroix watches are also available online on their official website. You could also check out Amazon or The Watch Company for more options and discounts.

Maurice Lacroix Selling Points
A company's success relies on different factors. Here, we'll analyse what customers see in Maurice Lacroix. We've picked out a few of the brand's top-selling points that make them appeal to their market and gain them the good reputation they've sought after.
1. Watchmaking Know-How
Having extensive knowledge of watchmaking is definitely essential for a watch company's success. Watchmaking isn't just another manufacturing gig. It is an art. It is a craft that has been practised and well-polished throughout the century. Really understanding the mechanisms behind a watch and what makes it tick (pun intended) is what makes some watchmaking companies better than others.
Being located in Switzerland, the heart and soul of watchmaking, Maurice Lacroix has gained the century-old knowledge required to make the best timepieces around. So, when it comes to the nitty-gritty technical stuff behind each component, you can be sure that Maurice Lacroix delivers. 

2. Skilled Craftsmanship
What best pairs with watchmaking know-how? Well, being able to execute it correctly, of course. Although knowledge is extremely important, it will only go to waste if not done right. What's great about Maurice Lacroix is that their watches are made from skilled hands. The craftsmanship behind Maurice Lacroix watches is, indeed, outstanding. In fact, the company even produces in-house movements, which only a few watch companies are able to do. This is proof of what Maurice Lacroix is capable of achieving in terms of craftsmanship.
3. High Quality
There is no doubt behind the quality that goes into creating a Maurice Lacroix watch. In fact, the company proudly features its high sense of quality in its brand values. This goes beyond just the end product. With their sense of quality, their commitment to producing high-standard timepieces begins at the conception phase. This includes deciding what materials to get for a particular watch and the complications involved in its movement. To ensure the utmost quality, Maurice Lacroix even has its own in-house movements. All throughout the process of creating a Maurice Lacroix watch — from conception to assembly — the top priority is quality.
Final Thoughts
Maurice Lacroix stands with its commitment to uphold the tradition and high standard of watchmaking craftsmanship at reasonable price points. Their innovative spirit, along with their brand values, ensures that each watch under their name meets their standard of perfection. Maurice Lacroix has made a name for itself in the watchmaking industry and it is a name that will stay high up in the ranks for many years to come.
For more watch brand guides, check out our guide to Sinn Watches.