New & Feature
6 Longines Heritage Watches For Your Vintage Collection
Jan 17, 2021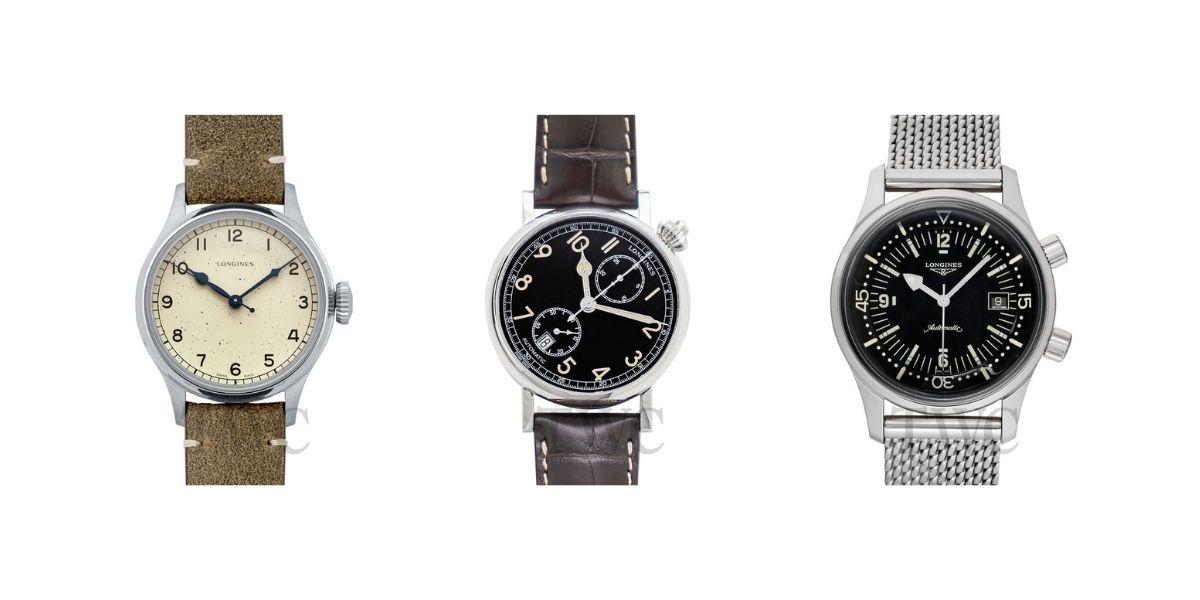 There seems to be a trend on reviving vintage watch models — from Swiss brands' iconic collections to the Japanese best-sellers. But the lineup that caught our attention the most is the Longines Heritage collection.
Simply put, Longines aims to reintroduce long-forgotten watches from their archives by equipping them with modern technology. These new models pay tribute to watches that made Longines the company it is today, which is why many, if not all of these models, copy the exact design of their vintage counterparts. The difference is that they revamped them to better suit modern needs.
Let's take a look at some of the Longines Heritage top models that appeal most to vintage watch enthusiasts.
Best Longines Heritage Models
1. Longines Heritage Legend Diver L3.774.4.50.6 

Specs:
Case material: Stainless steel
Case dimension: 42mm
Movement: Automatic
Power reserve: 64 hours
Water resistance: 300m
Back in the 50s and 60s when demand for dive watches was peaking, Longines was one of the brands that entered the market. Longines had to compete with other big names like Rolex with its Rolex Submariner and Blancpain with its Blancpain Fifty Fathoms. And to stand out from the competition, they had to create a distinct aesthetic. With that, they did away with the usual round hour markers and chunky bezels. The result was an elegant dive watch called the Longines Diver Reference 7042.
To relive the good ol' days, Longines decided to create a revamped version of their beloved dive watch. When comparing side by side, the old and new versions look very much alike except for the added date window for the latter. Well, except for the fact that the older model has developed some patina, the Longines Heritage Legend Diver L3.774.4.50.6 that we have here has the same handset and hour markers. Furthermore, it has two hatched crowns at the side like the previous generation.
At the back is a picture of a diver that you'll also see on the original version. And if you pry it open, you'll find the self-winding L888 calibre. This upgraded movement can keep your watch ticking for up to 64 hours when fully wound. For most users, this amount of power reserve is more than enough.
Lastly, the Longines Heritage Legend Diver L3.774.4.50.6 comes in a Milanese mesh strap that is a good fusion of dressy and sporty. In addition to being versatile, it gives the watch an old school charm that attracts various vintage lovers.
2. Longines Heritage Military

Specs:
Case material: Stainless steel
Case dimension: 38.5mm
Movement: Automatic
Power reserve: 64 hours
Water resistance: 30m
Another successful revival of a classic watch is the Longines Heritage Military watch. This watch is reminiscent of the timekeepers used by the British Royal Air Force pilots. Although it was used by pilots, it lacked the characteristics of a typical aviator watch. For one, it is small at 32mm, whereas vintage pilot watches are usually bigger than 40mm. Another is that it did not feature luminescence. Despite those differences, this watch became successful and was even revamped by Longines decades after its release.
Looking at the new Longines Heritage Military watch, you can say that it is a true replica of the older model. The resemblance of the two versions is uncanny, and you would be hard-pressed to differentiate one from the other. Same cream dial, same font, same crown, and even the same hands! The only difference that Longines found difficult to retain was the 32mm size. I personally think that the new 38.5mm size was a good call because a too-small case might look weird today.
Inside, the Longines Heritage Military received a new movement. Instead of a hand-wound calibre, it now sports a self-winding one. To be specific, it uses the same L888 calibre that the Legend Diver uses. With that, it also has a power reserve of up to 64 hours.
To wrap it all up, this watch comes with a green distressed leather strap. Apart from being comfortable, it certainly completes the watch's vintage look. The Longines Heritage Military watch certainly deserves a spot in your vintage military watch collection.
3. Longines Heritage Avigation BigEye Chronograph

Specs:
Case material: Stainless steel
Case dimension: 41mm
Movement: Automatic
Power reserve: 54 hours
Water resistance: 30m
The Longines Heritage Avigation BigEye Chronograph has a perplexing history. In fact, some of Longines' watchmakers didn't even know of the model's existence. That was until a fan showed them a model of the Avigation BigEye from his collection. Turns out, the folks from Longines were enamoured by the watch's design and decided to create a modern version of it.
In 2017, the brand launched the new edition of the Avigation BigEye. It was a chunky chronograph watch that still had a few hints of vintage military in the design. The watch's 41mm case becomes more magical the longer you look at it. It has parts that have a nice brushed finish to it that looks interesting in various lighting conditions. With its appealing design, the BigEye even won the "Revival" Prize at 2017's GPHG Awards.
Unlike the two previous watches, this one uses the L688.2 Column-Wheel Chronograph movement. It beats at a frequency of 28,800 vph and can power the watch for up to 54 hours. While it is significantly less than the power reserve of the other watches, it will suffice for a lot of people. Furthermore, it is a reliable movement and will keep accurate time for years.
To conclude, the Longines Avigation BigEye is another successful vintage iteration. It is definitely the watch to get if you're looking for a daily driver that has a chronograph function.
4. Longines Conquest Heritage

Specs:
Case material: Stainless steel
Case dimension: 35mm
Movement: Automatic
Power reserve: 38 hours
Water resistance: 30m
To celebrate Longines' 60th anniversary, they released a new interpretation of their vintage dress watch from 1954. Don't be fooled by its name, though. While they have been using the name Conquest for their sporty models, it comes from one of their elegant models of the past. In fact, it looks exactly like the modern version pictured above.
This Longines Conquest Heritage model holds on to the features that made the vintage Conquest unique. It has the same thick hour markers paired with dauphine hands. Another thing to notice is how well the gold accents contrast against the black background. And if you look more closely, the subtle minute track just below the markers also have a gilt hue. Moreover, the date window is located at 12 o'clock, which is unusual yet striking.
To match the dressy look of the watch, Longines paired it with a black leather strap. In addition, its black colour perfectly matches the dial. This watch will surely elevate your outfit so don't miss this if you're in the market for a vintage-inspired dress watch.
5. Longines Heritage Avigation Watch Type A-7 1935

Specs:
Case material: Stainless steel
Case dimension: 41mm
Movement: Automatic
Power reserve: 54 hours
Water resistance: 30m
No, you're not looking at a factory defect. The Longines Heritage Avigation Watch Type A-7 1935 is supposed to have an off-centred dial. To explain, this watch is a reissue of one of their vintage pilot watches. They purposefully tweaked the layout to help aviators read and operate the chronograph. With this type of dial, they didn't need to remove their hands from the plane's control wheel.
The watch's crown sits above the 12 o'clock marker. According to Longines, it helps the wearer determine the correct alignment of the dial. I'm no expert when it comes to design, but it's based on a chronograph that's sold to the US Army Air Corps so it must be ergonomically better.
Aesthetics-wise, there is so much to love about this watch. It uses a classic black and white dial that is versatile. To add to the vintage effect, the Arabic hour markers have a slight patina. Likewise, they used a set of cathedral hands that are common in military watches. It definitely looks the part of a watch worn by the military from decades ago.
It might take a while for people to get used to the Longines Heritage Avigation Watch Type A-7 1935. But when you finally get over its weird layout, this watch will prove to be a great and reliable daily driver.
6. Longines Heritage Twenty-Four Hours Single Push-Piece Chronograph

Specs:
Case material: Stainless steel
Case dimension: 47.5mm
Movement: Automatic
Power reserve: 48 hours
Water resistance: 30m
Last on our list is the Longines Heritage Twenty-Four Hours Single Push-Piece Chronograph. This watch revives another pilot model from the '50s. The old version of the watch is even displayed at the Longines museum in St. Imier. While the new edition doesn't fully copy the features of the original model, it still shares the same overall look.
As its name suggests, this watch displays a 24-hour layout with the scale displayed at the inner part. Meanwhile, the outer part of the dial contains the minute scale. In addition, a small sub-dial is located at the 9 o'clock position while a date window is at 6 o'clock. This may all seem cluttered at first, but for some reason, it remains legible due to the spacious real estate of the dial.
To keep the spirit of the '50s, it carries the same size as the vintage model which is 47.5mm. And with it comes a large onion-shaped crown you often see in old-school pilot watches. If you're in the mood for a retro tool watch, this watch is definitely something to consider.
Final Notes
The Longines Heritage collection lets people enjoy the great watches of the past without sacrificing functionality. While the watches in this lineup look very much like their vintage counterparts, inside, they are up to date with today's technology. These watches exhibit a perfect mix of form and function.
Looking for more vintage field watches? Check out our review of the Tudor Ranger!