New & Feature
Nordgreen: A Complete Guide to the Sustainable Watch Brand
Jul 29, 2020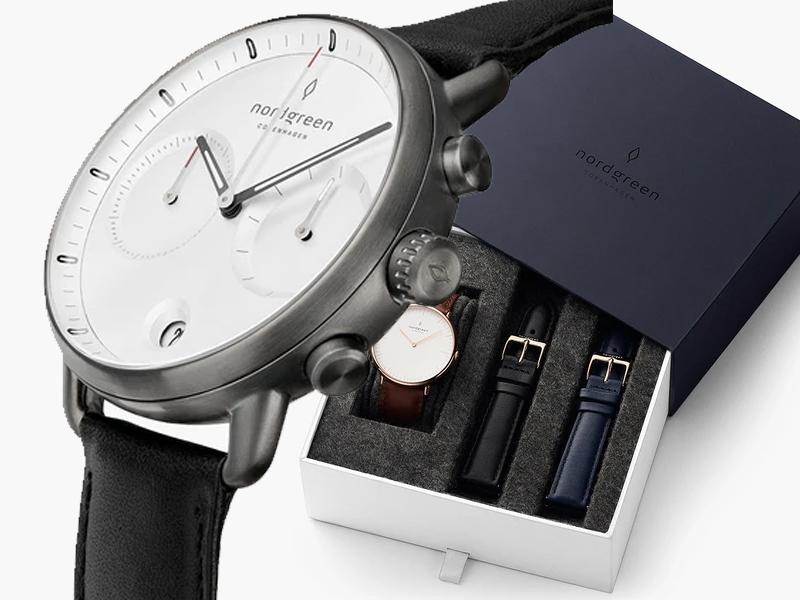 Nordgreen is a new Scandinavian watch company with a significantly strong stance on sustainability. It is, after all, a part of the brand's identity. Their designs are mostly minimalistic with a straightforward approach to timekeeping. But what exactly is Nordgreen all about? What makes this brand stand out in the industry?
What is Nordgreen?
Founded in 2017, 'Nordgreen' is a Danish watch brand that is true to its roots. Two friends, Pascar Sivam and Vasilij Brandt, started the brand through Kickstarter. They released their first few collections via the crowdfunding site and met with huge success. With its headquarters in Central Copenhagen, Denmark, the company functions primarily via its online store.
The Meaning Behind the Name
When we said that sustainability and minimalism are part of the brand's identity, we meant literally. 'Nord' comes from the company's Nordic identity. With understated designs, it puts sophisticated minimalism at the forefront of their design philosophy. Minimalism is, after all, deeply-rooted in Scandinavian design. On the other hand, the word 'green' comes from their perspective toward sustainability. Incorporating their Danish values into the brand, Sivam and Brandt made sure to incorporate honesty, sustainability, as well as selflessness into the brand. The brand takes necessary and cautionary steps into making sure that their products and production methods are as sustainable as possible.
These can be seen through the by-product of the company's efforts such as recyclable packaging and sustainable partnerships. Therefore, in essence, Nordgreen values social responsibility and minimalism with great importance.

Designs by Jakob Wagner
About seven months since the establishment of the company in 2017, acclaimed Danish designer Jakob Wagner joined the Nordgreen team. Wagner has 25 years of experience, working with brands such as Cappellini, Hay, and Bang & Olufsen. With Nordgreen's truly Danish approach to environmental issues, Wagner took on the critical designer post at the company. According to him, the brand's conscious concept is important to any project he takes on.
Wagner has a design approach that is quintessentially Danish. They're as elegant as they're simple. His designs are balanced and timeless with a form that serves a function. With a background in mechanical engineering, Wagner crafts his designs around 'user experience'. An object can't only be aesthetically pleasing, according to Wagner. He designs his creations with consideration of how the user will interact with the object. With this philosophy, Nordgreen saw Wagner as the key to incorporating the Scandinavian lifestyle into their products' designs.
As proof of Wagner's effective design discipline, the Red Dot Design Award recognised his Pioneer Chronograph design. This is the designer's fourth Red Dot award and a first for Nordgreen's.
The Quintessential Nordgreen Design
Following a Scandinavian principle of design, the quintessential Nordgreen design is as minimal as it's functional. It possesses a quality that puts the need first before any glitz. It focuses only on the necessary without having to sacrifice its simplistic beauty.
Their iconic design comprises the following elements. It has to have a clear, austere view of time on its dial, with markers and hands that don't overwhelm. The watch must also have a 316L stainless steel case that anyone can take and wear with just about anything. Each watch must be water-resistant for up to 3 atmospheres (ATM); that's equivalent to 30 metres or a hundred feet. Also, the authentic Italian leather strap may be interchangeable with a mesh or nylon design.

Sustainability Promise & Giving Back Program
Nordgreen aligns its business structure with its social responsibilities. As a Danish company, they observe these from the core of their business operations to a bigger picture.
The Nordgreen team in Copenhagen aims to be 100% carbon neutral with actual efforts to do this. Employees ride bikes to work, use 100% recycled paper, use renewable energy, and even use eco-friendly products. They've also extended their hand in offsetting their carbon emission by planting trees in the Latin American rainforests. Moreover, the company partners with NGOs and manufacturers to push through their sustainable mission to their production arm. This may also be experienced by customers through their recyclable packaging solutions. In addition, the user experience on their website is as good as shopping in person to minimise the carbon footprints online shopping usually costs.
Nordgreen also partners with charitable institutions all around the world. The brand's giving back program continues to allow it to provide in the areas of food, education, and more. For instance, they helped provide 23,200 months of drinkable water to the Central African Republic with the help of Water for Good. How do they do it? With every watch you purchase, a portion of the proceeds will go to a charitable institution of your choice. Primarily, you may be able to choose where your part of the donation goes. However, with the pandemic, the company focuses on providing meals for frontline workers.

Tailormade for Users
When purchasing a watch from Nordgreen, the customer has a lot of options for customisation. They, in fact, uphold this idea for a more fitting choice tailor-made for the user. Anchored with their social responsibility, this also helps with the customer in their purchasing journey. There are various possibilities that a customer may opt for.
Dial Colour
Customers may opt for any available dial colour on the site. The variation of colours may not be a lot, but they critically align with the minimalist design concept of their watches. Pick between 'navy, black, and silver' dial colours, available for most models.
Strap Material
Straps of Nordgreen watches are interchangeable. With its design, one may swap one for another with great ease. With their customisation offers, customers may choose either leather, vegan leather, stainless steel mesh, nylon, or rubber materials. These, of course, depend on your style and needs. This option alone makes their watches even more flexible to any user.
Case Colour
Having stainless steel cases doesn't necessarily mean that it only has a gray hue. The brand also offers various colors for their cases. Customers can opt for either gold, rose gold, silver, or gunmetal gray.
Customisable Bundles
If you love customising your watches, this could be the best option for you. Nordgreen allows for any online buyer to make their experience as if they're buying in-store. Customers have a choice between the brand's four main models — Philosopher, Native, Infinity, and Pioneer. After picking a watch head, the customer then picks a case diameter of their choice. All in all, the models offer four sizes — 32mm, 36mm, 40mm, and 42mm. Then, the customer may pick the case and dial colours of their choice. Finally, the customer may pick one strap for the watch and up to 2 more interchangeable choices. The more straps you choose, the more savings you get. There are also pre-made bundles to choose from, but for a more interactive experience, you may do the customisation yourself.
The Four Main Nordgreen Watch Models

1. The Pioneer
Pioneer is one of the newer designs from the brand. It has a striking simplicity for a chronograph. According to the company, this watch "shows off Danish ingenuity at its very best". The Pioneer Chronograph has two sub-dials. The main dial shows the hour, minutes, and seconds. The sub-dials serve as a stopwatch. This type of timepiece definitely suits someone who has the need for an extra accurate time reading, down to the split-second. It also has a date window at 6 o'clock with a straightforward design.
The Pioneer has a 42mm stainless steel case as well as a domed sapphire crystal for better legibility. Customers have the choice between three dial colours — blue, black, and white — and three case colours — gunmetal, silver, and rose gold. Its sunken dial adds dimension to the design. The case stands at 11.9mm and sits comfortably around the wrist. It functions with a Japanese Quartz movement with up to 50m water resistance. Yes, you may take it for a spin under the rain but can't be taken for a swim.
A Red Dot Awardee
Honoured by the 2020 Red Dot Design Awards, Jakob Wagner takes pride in this design. Through this timepiece, he upheld the Danish tradition of 'Science for Humanity'. This philosophy aims for a greener future and a positive change for humankind. Denmark, in itself, is a pioneer in sustainable technological advancements. In turn, they inspired nations to do just the same. This reflects the watch's minimalist design. The chronograph dial that serves as a stopwatch has a red-tipped hand. This design aspect represents the red tips found on wind turbines. This forefront of the company's sustainability stands as well as promotes renewable energy already observed by Denmark.

2. The Native
The Native is one of the first models by the brand. They hit impeccable harmony with refined details and motif. This watch truly captures the quality of life in Copenhagen. Wagner made sure to incorporate classic looks with a modern finish. Given these points, the Native has a round case and a clean dial with invisible minute marks. It also has rounded lugs for a sleek finish.
This model is suitable for men and women and may also be shared by couples. It has four case colours to pick from including silver, rose gold, gunmetal gray, or gold. In addition, the cases also vary in sizes from 40mm, 36mm  to the Native Lille that is 32mm. With this, the case thickness also varies in thin 6.8mm, 7.5mm, and 8.35mm heights. Like other Nordgreen models, this watch also has interchangeable straps. Customers may choose between all strap choices of various sizes. The straps for Native are available in either 16mm, 18mm, or 20mm widths. Just as the Pioneer Chronograph, a Japanese Quartz movement powers the watch. However, the Native only has about 30m water resistance.

3. The Philosopher
Devil is in the detail for the Philosopher. It pushes its user to look beyond the minimalist details and understand how each little differences matter. This is a celebration of Nordgreen's ability to think differently. For a company that is resolute with their values, they also consider user experience with each design. With every release, the company listens to the feedback from the customers and makes improvements as necessary. The Philosopher observes this trait and embraces it.
The second hand is noticeably asymmetric, which reminds the user that the watch is merely an instrument of time. It doesn't indicate the flow of time and of life itself. As with the Pioneer Chronograph, this watch has a conical shape inside that allows the eye to dart right to the middle of the dial. Moreover, the elevated case gives the Philosopher more dimensions and a clean brushed look. The Philosopher is one of the classic designs with interchangeable straps and two selections of case sizes. It comes in either a 36mm case for more delicate wrists or a bigger 40mm case . The case sizes also come in 7.2mm and 7.84mm case thickness, respectively. In element, the smaller case size also has thinner straps at 18mm while the bigger one has thicker ones at 20mm.

4. Infinity
Jakob Wagner takes nature as inspiration for the Infinity. Aiming to remove all complicated parts of a watch, the Infinity only tells time. Nothing more, nothing less! Wagner removed the date windows and lugs. It's the most straightforward design of wristwatches from the brand. It's ideal for the stylish woman who needs a watch for everyday use. One of its most delightful design aspects would be the sleek curve on the dial. This deep curvature smoothly transitions a dimensional intensity to its classic look. It fits just about any lifestyle and transitions easily from day to night with tremendous ease.
Unlike other watch models from Nordgreen, the Infinitydoesn't have other dial colours but white. This makes it more refined and resolute as its inspiration. It also only comes in a delicate 32mm case that comes in either gold, rose gold, or silver. The interchangeable strap also applies to this model, so you may easily opt for a different material whenever you feel like it. The case stands at 7.34mm in thickness and has a water resistance of up to 30 metres.

Refurbished Watches
With their sustainability promise, Nordgreen does its best to reduce the carbon footprint they leave in all facets of the business. From their operations down to the production process, they aim to be as eco-friendly as possible. With this in mind, Nordgreen offers refurbished watches. The brand takes previously used watches that have been sent back for specific issues. Nordgreen fixes these watches up and restores them to the same condition as the new watches. After that, the watches are put up for sale for them to find a new owner.
The reason for these refurbished watches lies with their promise to reduce waste. As much as possible, Nordgreen wants to lessen and even obliterate its contribution to the watch industry's problem with carbon emissions. This company makes an initiative to re-use and re-sell its own products. While usual discount codes are not applicable to these products, they definitely are cheaper. Anyone who purchases refurbished watches from Nordgreen doesn't have to worry about the warranty as well. All refurbished products offer the same 2-year warranty as new watches.
A Conscious Choice for Watches
Nordgreen is one of the most — if not most — sustainable brands not only in the watch industry but in fashion, in general. The company's stand can be seen in any and all aspects of their business. Owners Pascar Sivam and Vasilij Brandt truly know how to run a brand with conscious efforts. On the other hand, designer Jakob Wagner only further proves his dominance in the design industry. Nordgreen only proves that any brand may be able to look at their social responsibility and learn from it. For a fairly young brand, a lot of bigger, much older companies have a lot to learn from them.
---
Searching for more minimalist watches? Check out these minimalist Nomos, Skagen, and Chopard watches.