New & Feature
A Complete Guide to Ultra-Cool Omega Ultraman
May 19, 2022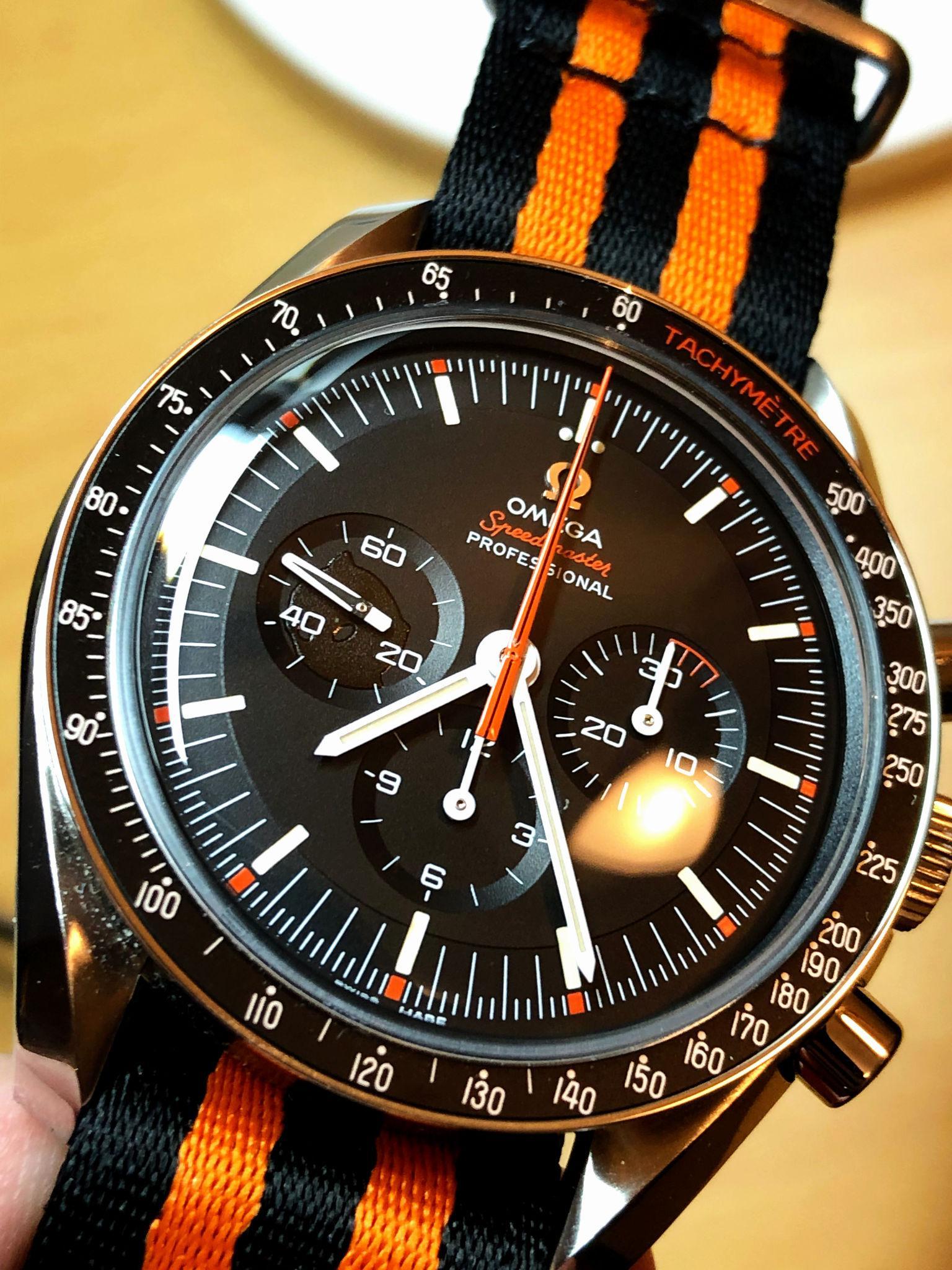 Since its first release, the Omega Speedmaster collection has grown exponentially, with Omega releasing new Speedmaster models every couple of years. On top of being one of the brand's flagship series, the Speedmaster line is also an icon in its own right, offering some of the most highly-regarded chronographs you can find in the modern watch market. These include pieces such as the Speedmaster Racing, the Speedmaster Professional, the Speedmaster Reduced, and more.  
One of the best yet most underrated watches in the Speedmaster family is the Omega Ultraman Ref. 311.12.42.30.01.001. Created in tribute to the animated Japanese superhero, Ultraman, this is an understated and robust chronograph watch that possesses all the fantastic specifications of its Speedmaster peers. Without further ado, let us take a closer look at the Omega Ultraman and everything it has to offer.
Anatomy of the Omega Ultraman

Case, Bezel, and Caseback
As a Speedmaster watch, the modern Omega "Speedy Tuesday" Ultraman Ref. 311.12.42.30.01.001 serves as a homage to the brand's own iconic, limited edition 1968 Ultraman model. While it inherits some distinctive, vintage features from that retro Speedmaster piece, the Omega Ultraman is not just a replica of a past model. Instead, Omega has also upgraded this watch, giving it state-of-the-art specifications and a more youthful design that appeals to modern audiences. 
The Omega Ultraman is presented in a 42mm stainless steel case with alternately polished and brushed surfaces, just like the classic Speedmaster Moonwatch. This interplay of surfaces gives the Ultraman a lustrous, gleaming exterior that plays will light extraordinarily well. Fitted on top of the case is a striking black tachymetric bezel made of highly scratch-resistant aluminium. This bezel bears white indicators for its tachymeter scale. On the upper right side of the bezel, you can also find the word "tachymeter" in bright orange, adding a burst of colour to this watch face.
On the right side of the case, you can find a stout crown, surrounded by two short pushers. The case itself also protrudes slightly, forming small crown guards around the crown and pushers. Whereas the pushers have smoothly polished sides, the edges of the crown are slightly grooved, providing wearers with a better grip so they can turn the crown more easily.
If you flip the Omega Ultraman around, you will see that the back of this watch is sealed shut with a solid stainless steel caseback. This caseback is reinforced with an anti-vibration and anti-magnetic dust cover, bolstering the watch's resistance against impacts, shocks, and strong magnetic fields.
Inspired by the Speedmaster Professional Moonwatch, this timepiece shows off the "Flight Qualified by NASA" and "The First Watch Worn On The Moon" engravings borne by that watch. What makes the Omega Ultraman distinct, however, is that it also has an additional "#SpeedyTuesday" engraving on its caseback. This has led to this watch being commonly referred to as the Omega "Speedy Tuesday" Ultraman amongst watch enthusiasts.
Dial

Complementing the Omega Ultraman's black bezel is a matching matte black dial with a grained surface. This dial is quite straightforward, with all of its components neatly spaced out to make up a clean and highly legible layout. It comprises slender sword hands, luminous white rectangular hour indices, and smaller hour markers in bright orange. In addition, it also has a sweeping orange seconds hand — the ultimate signature of the Omega Ultraman.
At the centre of the dial, you can find three submerged chronograph sub-dials for the 60-second, 30-minute, and 12-hour counters. In particular, the 30-minute and 60-second sub-dials both bear fun and incredibly subtle homages to Ultraman. Avid Ultraman fans may know that the animated hero can only stay in superhero mode for 180 seconds or 3 minutes. As a tribute to that, the first three minutes of the 30-minute counter are indicated in bright orange, standing out sharply against the other white stick indices.
The 60-second counter, on the other hand, is coated in black Super-LumiNova. This Super-LumiNova coating is painted in the shape of Ultraman's distinctive helmet. As such, when viewed in the dark, the 60-second sub-dial will light up in a vibrant orange hue, giving you a clear view of Ultraman's helmet. This unusual feature truly sets the Omega Ultraman apart from other Speedmaster watches.
On the whole, the dial of the Omega Ultraman looks quite a lot like the dials of vintage Speedmaster models. That said, it differs in bearing more orange accents, adding to the watch's charming, youthful vibe and further honouring the orange Ultraman superheroes.
Movement
Powering the Omega Ultraman is a robust in-house Omega Calibre 1861. This manually-wound movement beats at a frequency of 21,600 vibrations per hour (3Hz) and has a solid power reserve of 48 hours. This means that you can easily leave this watch aside for a whole weekend without having to worry about it running down.
Although Omega states that this movement has an accuracy rate of -1/+11 seconds per day, wearers of the Omega Ultraman have reported experiencing more precise rates of around +/-3 seconds per day. As such, with the Omega Ultraman, you will never have to worry about imprecise timekeeping.
Strap

The Omega Ultraman is offered with a 20mm NATO strap in black and orange, which perfectly complements the dial and bezel. It is also equipped with a stainless steel pin buckle, engraved with Omega's brand name, which keeps the strap securely fastened to your wrist. This NATO strap enhances the watch's sporty, robust vibe, making this a wonderful companion for your everyday routines.
Price
As a limited edition watch, there are only 2,012 pieces of the Omega Ultraman that were produced. Considering its rarity and its value as a high-end chronograph piece, it is no surprise that the Omega Ultraman retails at a relatively expensive price of $7,100 USD. Nevertheless, if you are looking for a fun, durable, and stylish racing chronograph, then the Omega Ultraman is definitely worth the price.
Original Omega Ultraman Ref. 145.012-67 (1968 Model)

Released in 1968, the original Omega Ultraman Ref. 145.012-67, upon which the modern Omega "Speedy Tuesday" Ultraman is based, features a quintessential, timeless appearance. As opposed to the Omega "Speedy Tuesday" Ultraman, this watch has a more classic, mature look. It comes in a 42mm stainless steel case and three-link stainless steel bracelet, with alternately brushed and polished sides. It also comes with a black pulsation scale bezel made of aluminium and a flat, chunky crown that sits on the right side of the case.
Like the Omega Ultraman, this watch also comes with a matte black dial. It is decorated with cream-tone sword hands and rectangular hour indices, all of which are generously coated with tritium lume. This dial also showcases three sunken sub-dials with clean white indicators and the vibrant orange seconds hand that is the signature of every Omega Ultraman piece, which adds a pop of colour to this monochrome watch face.
The 1968 Omega Ultraman Ref. 145.012-67 is driven by the brand's Calibre 321. As with the modern Omega Ultraman's Calibre 1861, this movement delivers a 48-hour power supply. However, considering it was developed a few decades ago, the Calibre 321 does not have quite the same resistance to shocks or magnetic fields as the Calibre 1861. 
Ultimately, the 1968 Omega Ultraman is a rare, special edition that continues to be one of the most highly sought-after models in the vintage world today. It has been part of several auctions held across the world and is typically valued at around $45,000 USD.
Final Thoughts
The Omega Speedmaster is home to some of the best and finest racing chronographs in the industry, catering not just to watch enthusiasts, but also to racing fans and casual wearers. Omega truly deserves to be applauded for its expertise in crafting top-notch watches such as the Omega Speedmaster "Speedy Tuesday" Ultraman.
The limited Omega Ultraman manages to be both remarkably durable and uniquely stylish, while also serving as a respectful tribute to the animated Japanese hero. Whether you are an Ultraman devotee or just looking for a reliable chronograph piece, the Omega Ultraman will surely fulfill your every need. 
All photos are credited to TheWatchCompany.com.
Featured image courtesy of (u/xaykogeki)n on Reddit
Searching for the best, unique men's watches in the market? Spare some time to read our article about 20 Unique Men's Watches.