New & Feature
Orient Sun And Moon: A Guide to the Affordable Complicated Watch
Jun 01, 2021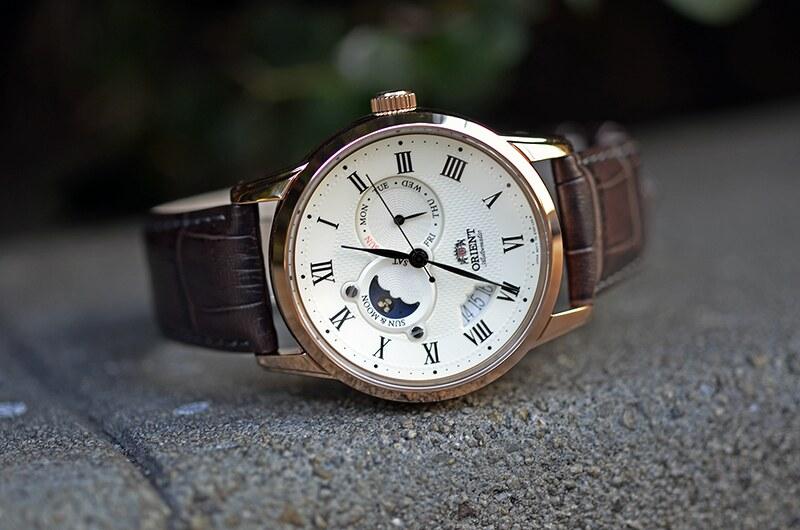 When talking about Haute Horlogerie and superb watchmaking in general, it is no doubt that a lot of people immediately bring up Switzerland. It comes off as a no-brainer, considering that it is home to many acclaimed and celebrated watch brands, both luxury and middle-range ones. Amidst all of these, what many people, even novice collectors, do not often realize is that Japan also excels in the said niche, given the level of mastery it dedicates to the creation of fully functional timepieces that could last for a really long time.
Among the well-known brands in the Japanese watchmaking industry that has been making waves is Orient. Out of all the iconic timepieces being offered by the company to the general public, aside from the iconic Orient Bambino and Orient Mako, the Orient Sun and Moon stand out the most. Just as its name suggests, this dress watch packs multiple complications, including a day and night indicator that serves as its focal point. Aside from this, it is also stylish and extremely pleasing to look at, no matter what angle. What's great about it is that it also bears a price tag that is not too overwhelming and burdensome on the pocket.
To help you navigate through the complex world of Orient watches, allow this guide to be your starting point in getting to know each model carefully and deeply. Specifically, this article will shine the spotlight on the Orient Sun and Moon, particularly its history, what it has to offer, as well as its amazing specifications. We will also delve into the notable watches from the series that will provide thrill and colour to your style, wardrobe, and way of life.
Up Close with the Orient Sun and Moon
Many connoisseurs and watch lovers are fond of dress watches, not only because they are easy and pleasing to the eyes, but also of their ability to amp up any style even if you are just wearing your trusty jeans and a simple shirt. Due to their slim profile and sleekness, dress watches would even make your suit-and-tie look classier and dapper, considering how they embody the minimalism trend. Not to mention, they also instantly pass as the perfect everyday accessories because of how versatile and adaptable they are to any kind of situation. Considered smart and fashionable, these pieces will always be wardrobe must-haves as they never fail to bring a unique touch to anyone's character.
As an ever-evolving watch brand, Orient wanted to create an ultramodern version of a dress watch, guaranteed to make your jaws drop. Since there are many competing brands, both Japanese and Swiss, that are not afraid of exploring many possibilities, the company's focus was also to stand out among the crowd without losing their traditional and meticulous methods that were developed in the last 120 years. Instead of sticking with the straightforward time-only concept you usually see in most dress timepieces, Orient decided that it is time for them to incorporate complications that are not only aesthetically pleasing but also useful especially if you like exploring technicalities. The brand wanted to be a remarkable trendsetter in the industry, which is why they decided to produce timepieces with amazing attributes, specifically a day and night display.
Called the Orient Sun and Moon, this eccentric and daring timepiece was first released in 2007 as a way to attract more consumers who want watches coupled with rare and gorgeous complications, but do not have enough budget for a high-end one. It can be the best substitute for those watches with a fascinating moon phase feature, which you typically see on luxury brands. The only difference is that the timepiece in question sports a 24-hour indicator that uses a sun and moon theme rather than the typical 12 AM and 12 PM format. Newbies will surely have a hard time telling them apart and distinguishing their main components without actually inspecting both pieces closely or opening the casebacks to see the actual movement. What's more is that Orient Sun and Moon also has a built-in date display and a day window that is extremely beneficial to those of you who like keeping things in order. Since the company is all for releasing models that are affordable yet reliable, they made sure that all of you would have an access to the Sun and Moon series without having the need to break your budget. With that being said, all watches under the collection are your best options if you are a fan of well-designed and budget-friendly complicated dress watches that still look good and perform really well.
Designed to make many heads turn, the watch sports a clean image, all thanks to its neutral-coloured dials. Despite this, the hands create a balance by embodying a colourful characteristic. The addition of bold tones also helps in easing the timekeeping process altogether as it gives emphasis to the overall movement of the hour and minute hands. Moreover, the Orient Sun and Moon also comes with a fantastic in-house calibre, which is quite uncommon to see in watches with a reasonable price. It is the epitome of the perfect dress watch that does not stick with the bandwagon but goes beyond the ordinary.
Introduction to the Different Orient Sun and Moon Generations
The Orient Sun and Moon range has already expanded and evolved ever since its inception in the early 2000s. From carrying only vintage elements in terms of the design, the watches now sport either classic, sporty, or contemporary details with either textured or neat dials and hour-markers in Arabic or Roman numeral style. In fact, some are already numberless, which adds a sophisticated and glamorous appeal. Aside from this, some members of the modern collection sport a robust and upgraded movement, while some have quartz calibres in their cores. Adding a unique charm to the line, a lot of watches also give customers a glimpse of their movements by adding a dial that is transparent and in skeleton style. No wonder the series receive lots of love and praises up until the present day. With that being said, here is a lowdown of the Orient Sun and Moon generations, including their characteristics and special features.
Orient Sun and Moon Version 1

The first of the numerous Orient Sun and Moon watches to emerge, the Version 1 remains unparalleled because of its looks that are reminiscent of the retro timepieces. It is impossible not to fall in love with this piece as it comes with baton-style indexes that are placed against a sunburst dial in champagne or gold colour. Considered the smallest watch among the collection with a case size of exactly 41.5mm and a thickness of around 13.29mm, this one will surely suit modern men's tastes. However, women can also easily wear and rock it if they want to, all thanks to its refined poise and layout.
Complimenting the defined edges of the date display at 6 o'clock position, the sub-dials dedicated for the sun and moon and day indication and also embody a graceful vibe, along with an overlapping arrangement that does not create a massive distraction at all. The texts are huge to be read by someone who is standing a bit far from the actual wearer, making it truly outstanding and special. Aside from the fact that their signatures are swept to the left side, all Version 1 models have dauphine-style hands that sport bold colours ranging from royal blue, gold, silver, and black. When it comes to the movement, this watch boasts great performance for its time due to its powerful Calibre 46B46 movement. The only downside of this mechanism is that it does not have a quick-set setting. Despite this, it still looks good when worn on the wrist and delivers great results even if you use it on a daily basis.
Orient Sun and Moon Version 2

The second version of the Orient Sun and Moon watch came to life in 2012 when Orient decided to give it modern yet subtle changes to fit the lifestyle of consumers who are seeking adventurous and daring pieces. Although unnoticeable at first glance, a lot of upgrades have been incorporated into the watch, making it an overall enticing piece to own.
Sticking to the larger blueprints, this watch comes in a 42.5mm case, with a strong Orient Calibre 46B40 powering its core. While it still sports the same sub-dial arrangement corresponding to the day and night indicator and the day display like its predecessor, the date window now features a peculiar shape, while replacing the original position of the signature. Placed just between the 7 o'clock and 8 o'clock marks, the same indication somehow overlaps the upper edges of the hour-markers it is close to. What's more is that it also displays the preceding and the upcoming dates, making it look like a real calendar. Matching the fancy concept behind a dress watch, the whole dial is now more ornate with three different guilloche patterns gracing its surfaces, while the hands are in a leaf shape with colours matching the rest of the texts. Aside from this, the case is shiny rather than completely polished, giving the watch a majestic and incomparable feel. Instead of using numberless indexes, the hour-markers are now in Arabic style for easier reading of the time. With lots of hue combinations to choose from ranging from brown and white to black and blue, the Version 2 series of the Orient Sun and Moon is definitely diverse and beautiful.
Orient Sun and Moon Version 3

At first glance, you would probably mistake the Orient Sun and Moon Version 3 models for the ones under Version 2 because of their similar structure. From the case and sizing of the lugs down to the composition and tones of the gorgeous straps, everything somehow looks identical. However, when inspected closely, you will notice that there were a few tweaks added to maximize the wearer's timekeeping experience.
Much like the aforementioned models, the Version 3 watches bear all the same functionalities such as the sun and moon complication as well as day and date displays. The only difference is that their layouts were slightly altered to remove the awkwardness found in its direct predecessor — Version 2. In this 2017 model, you will see that the day and night indication is now placed to the bottom right part, while the sub-dial dedicated for tracking the day is found in the top left while touching the edges of the 9 o'clock, 10 o'clock, and the 11 o'clock marks and retaining the same design found of the Version 1 and Version 2. Returning to a classic look, all Version 3 pieces also have a clean dial, while both the minute and hour hands are in a leaf shape with thin ends. While the hands dedicated for the seconds movement are in Breguet-style, they still sport the same colour with the other hands and hour-markers. When it comes to functionality, this model comes with a Calibre F6B24 movement, which is considered its major upgrade. Aside from having a quick-set function for the date, this piece will also allow you to hand-wind the movement for the adjustment.
Orient Sun and Moon Version 4

Popular for all the great reasons, the Orient Sun and Moon Version 4 attests to how the company continues to enhance and beautify their releases and strive for glory despite being in the field for decades already. Everything about the watches under this recent series looks identical to Version 3, especially in terms of the sub-dial placements. But the major distinguishing factor can be found on the dial, specifically on the indexes. Deviating from the previous baton and Roman numeral appearance, the watches under this new series are in Arabic numeral style. Not to mention, the texts are humongous enough, which fits the size of the case perfectly. Perfect for men who are always on the go, all the Version 4 models embody a mixture of professional and sporty aesthetics despite being regarded as a dress watch.
Other adjustments you will notice are the white-coloured dial that looks crisp due to its enamel coating, as well as the case that sport a breathtaking satin finish. While other colour variations for the dial have not yet come out, the current face alone can already sweep your heart. The hue of hands still matches the rest of the texts, while the sub-dials still look amazing because of their strategic arrangement.
Orient Sun and Moon Version 1 Re-Edition

Another newly-released watch from the Sun and Moon series is the re-edition of the Orient Sun and Moon Version 1. While many people think that it is just a mere revamp of the very first watch of the series, the reborn version contains clear-cut innovations and merges all the themes of all Sun and Moon watches from Version 1 up to Version 4.
All of the elements in the dial are reminiscent of the parts of the Sun and Moon Version 1. From having baton-style hour-markers and dauphine-style hands to the square-shaped date indication, anyone could easily mistake this piece for its predecessor. However, the stunning appearance of the sun and moon complication, as well as the day display, are what makes this watch a true collectible especially for those who are fond of pieces that do not go overboard. Aside from the fact that spacings are really emphasized to create a timeless and minimalist look, the timepiece in question has become smaller, with an exact case size of 41.5mm and a strap size of 20mm. This is good since both changes make the face of the watch look less cluttered and disorganized.
Despite being a brand new addition to the whole collection, the Orient Sun and Moon Version 1 Re-edition proves that brands do not have to sway away completely from traditional practices in order to create a new and good-looking watch. Instead, they could just be inventive with their processes and think of new ways to match their releases with the current trends.
Orient Sun and Moon Open Heart
As its name suggests, the Orient Sun and Moon Open Heart let potential wearers see the movement of the watch without exposing all its parts. Released in 2018, this is a must-have piece for those who want their collection of dress watches to be distinct and out of the usual. Since it took inspiration from the Open Heart watches from the brand, you can expect that the Sun and Moon Open Heart models also exhibit the same charms that the first one have in their arsenals.
What's great about this watch is that the hour-markers combine both Roman numeral and baton styles effortlessly, while retaining the design of the sun and moon complication. Replacing the day indication, we have a refined circular hole where you can see a bit of the calibre it comes with. While it does not have a date display, the dial of the watch makes up for it because of its sophisticated textured look. Leaning towards a bigger blueprint, the Sun and Moon Open Heart watch comes with a 42mm case and a bracelet width of around 22mm, making it the perfect model for men, especially those that have slightly wider wrists.
Orient Sun and Moon Quartz Version
Ladies who want to experience the wonders of the watches from the collection will truly love the Orient Sun and Moon Petite. Aside from sporting the usual complications found in a lot of watches in the series, this 34.8mm model comes with an accessible crown just beside the 3 o'clock position. It also mimics the overall vibe of vintage watches you used to see on watch forums, especially with how the sub-dials were stunningly arranged. Since the watch runs of a quartz movement, it is only natural to see the case sporting a smaller size. Despite this, quartz calibres still provide a great level of accuracy and durability. Women who will choose to buy and eventually wear this Sun and Moon Petite model will only experience convenience, given how the movement is battery-powered. If you are worried that its image might be too plain for your liking, you can always play with its versatility by changing the strap into a more energetic and vibrant one like fabric bracelets with striking patterns.
Orient Sun and Moon Watches: Our Best Picks
If your want your dress watches to embody a classic vibe but still prefer to have unique details here and there, below is a list of the notable Orient Sun and Moon watches you should keep your eye on.
1. Orient Sun and Moon Ref. FET0P003B

Specifications: 
Case material: Stainless steel
Case dimension: 41.5mm
Movement: Automatic
Power reserve: 40 hours
Water resistance: 50m
Why Is It Good? 
It would only be right to begin this list with a flagship model from the whole series. The Orient Sun and Moon Ref. FET0P003B is one of the first few pieces from the brand that carried the game-changing day and night complication. Although this one carries a relatively low price tag, it still looks luxurious and expensive due to its flawless and revolutionary design. Hailing from the Version 1 division of the jaw-dropping Sun and Moon collection, this wristwatch has the ability to instantly bring you back to a period where all that matters is pure simplicity. This piece will make every single you spend worth it because you will be getting additional ultramodern functionalities that you only see in luxury brands.
Aesthetically, the silver colour of the outer case is a sight to behold. Aside from the fact that it is gleaming, the exteriors give off a very industrial feel, which is good if you prefer pieces that are truly handsome and robust-looking. Oozing with finesse, this 41.5mm watch also has a matte dial that matches the tint of the black leather strap. The railroad-shaped edges found at the same surface also emphasize the intervals between the main time so that you would not have to face difficulties when it comes to time tracking.
While the hour-markers are stamped in baton shapes, the hands are in dauphine style, which proves how Orient loves combining different designs to a single watch without compromising its overall cohesiveness. Nevertheless, all of them still sport the same silver tone which contrasts really well against the black background. Like any other Sun and Moon Version 1 models, this one comes with a 24-hour indicator that looks pristine with the silver-coloured stunning details. As if the design is not yet enough, this runs on the Calibre 46B46, which guarantees potency. It also bears a whopping power reserve of 40 hours, which saves you massive time and energy. Since it is a dress watch, expect that it only has average resistance levels to water pressures. Specifically, this model only boasts 30-meter water resistance. Despite this, the usage of a sapphire crystal makes this watch more worth it as it is very sturdy and hard. Not to mention, it also has the ability to withstand few scratches, all thanks to its premium compositions.
All in all, the Orient Sun and Moon Ref. FET0P003B is the rightful choice for lovers of both retro and minimalist trends. Its affordable price makes it easier for you to appreciate how Japanese mastery works as well as the watch's awe-inspiring features.
2. Orient Sun and Moon Ref. FET0T001W0

Specifications: 
Case material: Stainless steel
Case dimension: 42.5mm
Movement: Automatic
Power reserve: Approximately 40 hours
Water resistance: 50m
Why Is It Good? 
Next up, we have a piece that effortlessly sways away from the usual silver-toned watch. This release may be simple and basic yet it garners traction with its astounding composition, making it a fitting addition to your collection. The 42.5mm and the polished case of the Orient Sun and Moon Ref. FET0T001W0, along with the mahogany-coloured and patterned leather strap and eye-catching texts all add up to the vintage feel that it openly exhibits. Lug-to-lug, this one measures about 22mm, which gives it a symmetrical and well-proportional look. Furthermore, it is only about 14.1mm thick, making it the ideal watch you could carry around anywhere. This also makes it very pleasant to wear whether for short or long periods.
In terms of the exterior design, this watch comes with a faded cream-toned dial, with two sub-dials dedicated for the two out of three complications it came with, as well as hands and Roman numeral-style indices all in black colour. While it may not be as large like those you see in dive watches, the crown is still easy to operate if in any case you want to adjust the time. Since its glass exterior is made from sapphire crystal, you do not have to worry as resilience and durability is always guaranteed with this piece. Apart from that, even with few scratches, the watch can still appear as if it came straight from the store because of its robust protector.
However, what makes this watch notable is how the date component is made. Deviating from the typical blueprint you see in other brands, the date is placed inside an odd-shaped window. You can see the previous and upcoming dates as well, which is good news to those people who tend to forget things quite easily. Its colour scheme is also attractive interesting. The brown leather strap blends well with the rose gold tint of the case. To add, the logos found in the signature and the sun and moon complication are rich in contrast, which puts the overall fancy look of the watch together. Although this specific model was released years ago, it still has that nice flair, which can spice up any of your outfits whether casual or formal.
3. Orient Sun and Moon Ref. RA-AK0301S10B

Specifications: 
Case material: Stainless steel
Case dimension: 41.5mm
Movement: Automatic
Power reserve: Approximately 40 hours
Water resistance: 50m
Why Is It Good?
Not a fan of leather straps? You should consider getting the RA-AK0301S10B variation of the Orient Sun and Moon watch instead. This piece is a total stunner not just because of its rose gold-colored parts but because of how the stainless steel bracelet makes the elegant and intricate details of the watch stand out.
Aside from the fact that it comes with a 41.5mm case, the timepiece also has a clean and tidy background, with shiny numberless indices gracing its edges. Despite having two medium-sized sub-dials, the main dial does not look too messy at all. Not to mention, the texts and prints you will see around the watch are legible and easy to read despite their small font size. While the outline for the day display is thick, the sun and moon complication has a thin one. This small characteristic makes a lot of difference as it allows all components of the watch to shine on their own.
Being a dress watch, this one does not have a rotating bezel. Nevertheless, its overall structure still gives off a sporty vibe, making it an ideal timepiece for men who are always up for new challenges. While the crown does not offer any special features at all, the part where you can see the date window is well-defined. You do not have to squint your eye just to see the number as it is bold and big enough. The illustration in the day and night complication also provides a lustrous and soft ambiance. It is impossible for you not to appreciate the Orient Sun and Moon Ref. RA-AK0301S10B as it runs on the hacking Calibre F6B24 movement, with a power reserve of around 40 hours.
4. Orient Sun and Moon Ref. FAK00005D0

Specifications: 
Case material: Stainless steel
Case dimension: 42.5mm
Movement: Automatic
Power reserve: Approximately 40 hours
Water resistance: 50m
Why Is It Good?
Every closet needs a fun and colourful timepiece. Not only does it instantly elevate your lazy day outfits but it also unleashes your creativity. It will bring out a new side of your character that your acquaintances and fellow watch enthusiasts have never seen before. If you want to plunge into the trend but does not want an overwhelming timepiece, the Orient Sun and Moon Ref. FAK00005D0 is your way to go. Since the blue colour scheme of this one falls on a darker side, it will be easy for you to bring it everywhere without attracting an overwhelming amount of attention. It may not be everyone's cup of tea but it still serves its purpose. Besides, this is one of the most sought merchandise from the collection which is why owning it is like grasping the extensive history of Orient in general.
Like the Orient Sun and Moon Ref. FET0T001W0, this model has a 42.5mm case made out of stainless steel. Its blue dial is also protected by a transparent sapphire crystal. Despite not having pushers, the crown of this watch is still smooth, which perfectly matches the size of the lugs and bezel. This one also has a decent water resistance level of up to 50m, which is considered good for a stunning dress watch. This means you can bring it to your resort trips and sports activities within shallow waters. What's more is that the silver-colored hour markers and hands do not take your attention away from the complications that came with the watch. Rather, it gives them their own opportunity to shine through the wearer's eye. Matching the guilloche dial, this piece also comes with a dark navy blue-toned strap that looks dauntless and alluring.
Beneath its surface is the renowned Calibre F6B24 movement. Aside from its hand-winding and hacking attribute, it also boasts a power reserve of up to 40 hours. All in all, this timepiece is an excellent candidate if you like switching things up a little from time to time.
Where to buy Orient Sun and Moon Watches?
If the question "where should I buy an Orient Sun and Moon watch" has been lingering on your mind for quite some time now, you can simply check the list of Orient stores on their official global website. To facilitate a well-organized search, the distributors are divided per continent so that consumers would not have a hard time looking for a store that is nearest to their area. Once you click the drop-down button, you will see that all specific shops are then listed per country, which gives more convenience to the potential wearers. What's more is that the exact location, contact numbers, email addresses, and official websites are also included in the list of information provided. You can utilise them in advance in order to inquire whether they offer the specific Orient Sun and Moon model you have in your mind.
If you do not have the time to go to authorised stores especially now that we are still in the middle of a pandemic, you can always opt to shop online. As long as you are browsing on trusted and verified sites, you have nothing to be afraid of. These include the official e-commerce platform of Orient, Amazon, as well as other legit secondhand online markets that have good reviews and feedbacks. To make things easier for you, you can also check our store website from time to time to see if we have the specific Sun and Moon watch you want to add to your growing collection.
Price of Orient Sun and Moon Watches
Generally, all Orient Sun and Moon timepieces have a close and similar price range. This is good news for those who are planning to collect watches from this distinct and applaudable collection. As emphasized earlier, these pieces bear an affordable price tag in order to accommodate a wide range of consumers no matter what status they are in and what lifestyle they practice. For watches with an in-house movement and several complications serving as their focal points, this is a pretty big deal since you only usually see this kind of combination on luxury watch companies. They also typically come with a hefty price because you are not only paying for the watch itself but also the workmanship, history, and efforts behind making them. This is also the reason why all Orient Sun and Moon pieces also make perfect starter dress watches since you will be getting a lot of uncommon and useful features that will surely aid you in your daily commitments without actually having to spend a lot of money.
Most Orient Sun and Moon watches cost around $170 USD to $500 USD, depending on what version you want to get. If you prefer the functions of the Version 1 watch, expect that you will be paying a low price, considering that it was also first released more than a decade ago. However, if you like a piece that has a slightly improved movement with aesthetics that exude elegance and unparalleled tastefulness, you will surely pay around $300 USD to $500 USD. Some limited-edition models cost roughly $600 USD and above so if you need time to prepare ahead before actually getting them, you will be able to spend only a short period since the range is not too overwhelming.
Should you get an Orient Sun and Moon watch?
The ultimate answer to this question depends on your lifestyle, your preferences, your style, and the level of your affinity for Orient. If you are looking for a unique dress watch that does not limit its capacities to only telling the time, then you should not think twice about getting a piece from the collection immediately. The fact that it is also reasonably priced makes it more special and worth it, given that the most complicated watches you see around are incredibly costly. Expected to attract attention, any Orient Sun and Moon watch can instantly pass as an excellent conversation piece since there are a lot of things to praise about it from the material used for the case and the different dial construction down to the amazing tenacity of the movement as well as the numerous functionalities it came with particularly the 24-hour indication.
On the other side of the spectrum, if you want something that has a real moon phase display rather than an inspired one, then you might want to explore other options. As mentioned earlier, all Orient Sun and Moon watches only have a day or night function and its primary aim is to give everyone an opportunity to wear a complicated watch on their wrists without actually spending tons of money. The watches under this line are great and high-quality, due to the fact that their mechanisms are assembled carefully and inside the actual Manufacture rather than resorting to importing ones. Do not expect to see a real moon phase display in the collection as most of them are only found in watches being produced by luxury brands. You can try any of the Orient Sun and Moon Open Heart models for a more innovative option as they come with a power reserve indicator due to their skeleton structure.
Final Notes
Oftentimes, we associate complicated watches with lavishness because a lot of luxury brands offer them, along with their determination and passion to bring the consumers what they deserve. However, what we do not simply realise is that there are many other names in the industry that offer them for a good price, and one of them is Orient. Through its Sun and Moon collection, the company was able to reach customers from different walks of life who want a desirable timepiece that will make them the center of any conversation and gathering. While many people think that dress watches have nothing more to offer, a simple glance at a Sun and Moon watch can easily change their perspective. Aside from its exquisite appeal, any piece from the collection is a gem because of its excellent serviceability. Not to mention, its great value also makes them such a steal. This is because Orient is a legendary Japanese watchmaker who takes design, price, and performance seriously.
If you want to know more about Orient's other offerings ranging from dive watches to dress ones that exceed expectations, make sure to check out our articles about the Orient Ray II, Orient Star, and Orient Bambino.
Photos from Orient's website unless stated otherwise
Featured image courtesy of Nên Mua Đồng Hồ Orient Chính Hãng Ở Đâu Đảm Bảo Nhat on Flickr