New & Feature
Seiko 6105: A Comprehensive Review on One of Seiko's Iconic Vintage Divers
Jul 19, 2021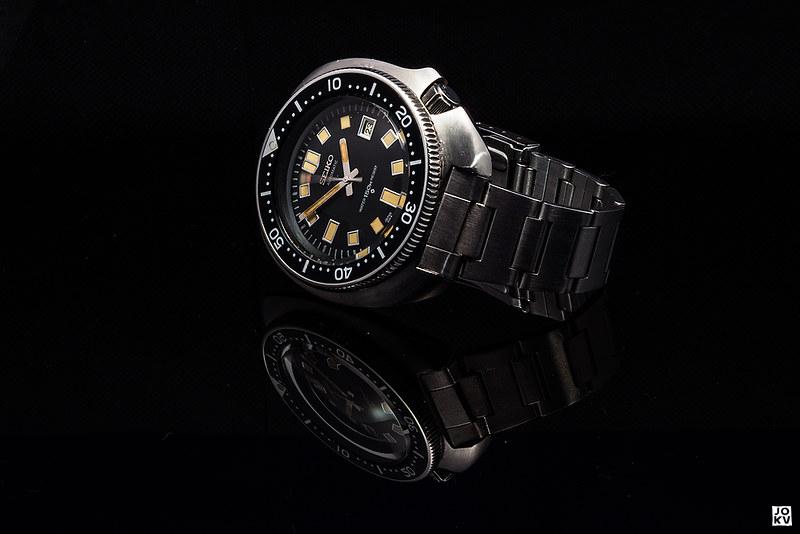 When talking about Japanese watch brands, Seiko is surely one of the first names that comes to mind. It is a brand trusted by many watch enthusiasts and established professionals in the horology industry, with its impactful engineering and unparalleled craftsmanship that few other luxury or mid-range labels can replicate.
One iconic diver that we should all pay close attention to. Called the Seiko 6105-8110, it is the epitome of a true diving watch that comes with great history and applaudable functionality to boot. Hailing from the robust yet short-lived Seiko 6105 family, it carries a minimalist and cutting-edge aesthetic, coupled with incredible features that make it a true quintessential piece. You won't find any overly fancy complications that come with it such as a moon phase display or a GMT attribute, but this watch is actually considered the major blueprint of many Seiko divers you see around this present day and an important milestone in the history of Seiko's diving watches.
In this entry, we will take a closer look at this cult-favourite timepiece. What makes Seiko 6105-8110 so recognisable and exceptional among the other sports watches released by the company? Let's find out more about the Seiko 6105-8110, particularly its roots, attributes, and composition so that we can aid you in making the right decision.
First Impressions

In comparison to other Seiko dive watches, the Seiko 6105-8110 may look a little plain at first glance. However, when you inspect its parts closely, you will realize that it surpasses others with its bulky yet appealing build and glorious finish. This is all thanks to the large cushion case, coupled with curvy and stunning crown guards that surrounds its exterior body, giving the watch more edge and personality. It is no wonder that this is one of the top choices of Seiko fans when it comes to a reliable dive watch.
One thing you'd notice right off the bat is that despite sporting a dark dial, the texts on its surface are extremely legible no matter what situation you are in. Whether you are in a place where there is excess sunlight or inside a room where there is little to no light at all, you could easily read the time on this watch with just a glance. In addition, although the hour markers are small, their thickest structures still made them easily visible. Along with the long, silver-framed hand markers, they provide convenience to the wearer since they endorse easy readability.
Finally, the minimalist and utilitarian theme the dial embodies adds an interesting flair to the watch. Depending on your perspective, this may be a hit or miss since the dial is very simple, with no vibrant colours even in the seconds hand. However, rest assured that the Seiko 6105-8110 will always look good on you whether you're wearing a plain shirt and jeans, a tuxedo, or most importantly, a scuba diving suit.
Anatomy of the Seiko 6105-8110
Now that we are done with first impressions, let us take a deeper look at what the Seiko 6105-8110 has to offer. Although Seiko halted the production of this watch in the late 1970s, the 6105-8110 is still one of the notable pieces that brought wide recognition to the company. In fact, it is known for being the first-ever Seiko model to have an asymmetrical case. The asymmetric structure is so iconic it led to Seiko utilising it for successive professional diver models such as the Seiko Turtle and SKX007.
When put alongside the leading divers from the same era such as the Rolex Submariner and the Omega Seamaster 300, you will notice that the 6105-8110 has a luxurious feel much like two Swiss-made watches. This proves Seiko's excellence when it comes to its supreme workmanship. Despite its brief run, there is no doubt that this watch holds great value and deserves to go at the top of every vintage connoisseur's must-have list.
If you are thinking of finally getting a 6105-8110 timepiece for your collection, the following are the magnificent specifications and other important details that you should take note of. They will give you an idea of why this watch remains a cult-favourite and why it deserves so much more acknowledgment than what it gets from the general public.

Case: Stainless Steel
Case dimension: 44mm
Movement: Mechanical, Automatic, Calibre 6105B
Power reserve: Approximately 32 hours
Water resistance: 150m
These numbers alone attest to the decent performance of the Seiko 6105-8110. You'll also notice that it is capable of exploring great depths of water, providing water resistance up to 150 metres.. But let us see if these details are really good as they seem on paper.
Case and Crown

As mentioned earlier, there are two major variants of Seiko 6105 watches, excluding the American versions. However, nothing will ever compare to the looks and abilities of the Seiko 6105-8110, which is why we chose to highlight this timepiece in particular. While its understated predecessor Seiko 6105-8000 was good for its era, the Seiko 6105-8110 is the one that truly changes the whole Seiko watchmaking game.
One major attribute that contributes to the Seiko 6105-8110's eye-catching profile is its striking and durable case. Measuring about 44mm in width and 47mm in length, the case features a cushion shape, coupled with an asymmetric design that gives the watch a large and voluminous appearance. Some potential wearers might think that this makes the watch a little too burdensome and overwhelming to wear, especially on a long day. However, contrary to what we see with our naked eye, this piece actually sits nicely on wrists of any size, whether slim or stout. At 13.1mm thickness, the 6105-8110 model endorses comfort above all. The 199mm lugs were made slightly bigger than usual so as to maintain a more proportional look with the overall size of the case and bracelet. On the whole, this timepiece boasts the size and weight that is just right, making it one of the ideal timekeeper options you can swiftly bring along to any of your personal endeavours.
Since its whole exterior is made out of chunky stainless steel, expect the Seiko 6105-8110 to be able to withstand a few accidental bumps and unexpected scratches. Many existing users praise how the watch is able to maintain its bold shape even after years of use. This is primarily because the stainless steel material it comes with is very well-crafted. Not only is the process of making a stainless steel case not as tedious as with other materials such as titanium and gold, but stainless steel is also very advantageous in terms of robustness and harness. Stainless steel boasts an anti-allergic component and is a great protective barrier from any kinds of moisture and corrosion that could infiltrate the delicate core of the watch.
Another remarkable feature of the Seiko 6105-8110 is the crown. Sized at a comfortable 6.3mm, it utilises a "turn and lock" mechanism rather than the typical screw-down method. This explains why the crown comes with a small engraving that reads "LOCK" on it. The "turn and lock" concept is a unique functionality of the watch wherein you have to push and turn the crown in order to release the locked catch that prevents the crown from turning and moving on its own. Just like other vintage Seiko divers, the crown is placed at the 4 o'clock position, which adds a distinctive and daring touch to the watch.
The Seiko 6105-8110 also has a set of bulging crown guards that come with rounded edges. Commonly known as "shoulders", they are the main reason why the Seiko 6105-8110 is such a sought-after piece among collectors nowadays, along with the irregular-shaped case we mentioned above. Polished down to its smallest details, the oversized crown guards shield the crowns from major threats, which makes for optimal serviceability.
Water Resistance
Since the Seiko 6105-8110 is a diver watch, one can expect that it would come with an applaudable level of water resistance. Seiko easily passes muster when it comes to 150m diving watches so it comes as no surprise that this piece has the same water resistance rating. While it is true other models of the brand have the capacity to withstand greater water pressures of 200 to up to 600 metres, this does not mean that the 6105-8110 is a bad piece at all. One must remember that it is a vintage watch, and the 150 metres of water resistance it offers is easily on par with the releases by big Swiss brands during that time. While this isn't the piece you'd opt for if you're going for a saturation dive, rest assured that the Seiko 6105-8110 is more than equipped for activities like snorkelling and all kinds of scuba diving.
Dial

This rundown will not be complete if we do not delve into the nitty-gritty details of the Seiko 6105-8110's dial. Boasting a rugged and masculine feel, the straightforward dial features the essential functions a diver will need in his explorations. This means that it does not come with fancy complications such as a moon phase display, a dual time or world time window, or a power reserve indicator. Its simple yet bold layout emphasises how Seiko wants the wearer to feel at ease while using this watch, endorsing legibility and cleanness at its finest. There is no doubt that this bad boy will provide you all the confidence you will need in facing your daily challenges head-on.
The dial of the 6105-8110 is in a cool matte black colour, while both the hour and minute hands have a baton shape and sport silver-coloured hues. The numberless square-shaped hour markers also bear the same silver-toned outlines, keeping the design of the watch consistent. Sticking with its unusual asymmetrical concept, the indices of the Seiko 6105-8110 are printed in various sizes, which contribute to the overall legibility of the dial. The mid-sized shapes replace the 3 o'clock, 6 o'clock, and 9 o'clock positions, while the rest of the hour-markers sport a smaller size. The 12 o'clock marker is the only exception, and has a bigger, inverted book-like build that comes with a partition. The aforementioned elements are all coated with the brand's signature bright lime, which always gleams and works well whether you are underwater or exploring a new place during the night.
Seiko further balanced the overall look of the dial by adding a seconds hand in a plain silver stick style. You can see a small circle sporting a pale red tint towards the end of its pointer, along with another hole filled with lime, that makes tracking time much easier.
The Seiko 6105-8110 also features a refined date display with a pretty silver frame, replacing the 3 o'clock marker. Aside from the fact that the watch's signature was also made from stainless steel—a concept you do not simply see in other watches, this timepiece also comes with several texts highlighting its important specifications. These include the watch's automatic movement and having a 150 water-resistance capacity. There are two major dial variations for the Seiko 6105-8110: the Water150mProof and the Water150Resist. Several reports say that the "Water150mProof" text was included in models released during the 6105-8110's first year. The company later changed it to the "Water150Resist" one, coupled with the "water resistant" text on the caseback. These explain why models with the "Water150mProof" dial come at a higher price.
You can also see a print just between the 6 and 7 o'clock marks, stating its specific model, 6105, along with the word "Japan" indicating the watch's origin. Moreover, there is also a text that reads "6105-8009T". This text aids in proving the authenticity of any Seiko 6105-8110 as there are a lot of replica models from fake manufacturers lurking around online websites. All of the texts that you can find on the dial of an authentic Seiko 6105-8110 are written in an uncomplicated yet impactful font, making the watch less messy.
Hardlex crystal protects the clean surface of the Seiko 6105-8110. For those who are unfamiliar with it, Hardlex crystal is Seiko's proprietary and trademark glass. Made from high-quality silica that is heated to a certain temperature, it can handle small impacts, scratches and bumps very well even when underwater. Aside from being extremely cost-effective compared to its sapphire or acrylic counterparts, Hardlex is also less reflective, which makes it easier to read the watch while in sunlight.
Movement

Every top-tier watch should also come with a good engine and this is true of the Seiko 6105-8110 as well. It relies on a premium automatic movement called the Calibre 6105B. As a modified version of the Calibre 6105A that works well with the first generation 6105 watches, this 17-jewel in-house movement beats at 21,600 vph. It supports a few useful functions such as a quick-set date and a hacking seconds feature. For a mid-tier brand like Seiko, producing its own in-house mechanisms is quite an applaudable feat. In addition, the Calibre 6105B can power your diver for approximately 32 hours.
As mentioned, the Calibre 6105B comes with a hacking function. This allows you to stop the second hand from moving when you pull the crown out so that you can set the time accurately. If you're someone who pays attention to small details and likes maintaining an organised lifestyle, this feature is your best friend. It aids you in keeping the time—from hours down to the seconds—in all of your watches synchronised. The movement also features a quickset date option, wherein all you have to do is to turn the crown to modify the date that appears on your Seiko 6105-8110 timepiece. One issue with this is that it means you cannot manually wind the seconds-hand, which is kind of a bummer. Overall, however, this movement is widely considered to be durable, reliable, and accurate.
Strap

Everything about the Seiko 6105-8110 is truly mesmerizing. In fact, even the strap it comes with embodies an exquisite feel which will make the unacquainted think this timepiece hails from a luxury brand. The band of the watch is made of rubber and comes in a lovely black colour. The pattern it boasts is extremely intricate and reminiscent of a "waffle" which matches the unorthodox look of the timepiece. This strap is just one of the original band options for the Seiko 6105-8110.
If you're looking for a more conventional strap, you can easily swap in rubber or steel ones you can find on different trusted sources both online and offline, depending on your preferences. You could even opt for a fabric strap with a more lightweight feel. All you have to do is bring the Seiko 6105-8110 to an authorised expert to have the strap replaced and you are good to go.
That being said, the original 51-year old "waffle" bracelet is highly valued as quite a rarity nowadays. As such, if you ever encounter a Seiko 6105-8110 with the original bracelet, you should not hesitate to snap it up.
Price and Availability of the Seiko 6105
If you are planning to purchase a Seiko 6105 watch, particularly in an 8005 variation, you must take note a piece in a pristine and good working condition is pretty much hard to covet nowadays due to the proliferation of counterfeit watches. A lot of vintage 6105 pieces lurking around secondhand markets, both offline and online, often bear fake parts or have signs of corrosion causing the dial to have black spots. What's even worse is that a lot of their configurations have all been altered with aftermarket items that often have poor quality. This is why research, lots of reading, and careful inspection are always recommended for potential buyers so that you all would not fall into the traps set by these exploitative manufacturers.
When it comes to price, the Seiko 6105-8110 costs around $1,000 USD to over $1,500 USD. This can still vary depending on its current state and condition. So, if you manage to find a piece that has fewer scratches and bears all original parts from the case down to the movement, then do not hesitate to purchase it before someone else does. You'll surely be getting more than what you paid for with this watch.
Seiko 6105: How It All Began
Being a brand that offers a diverse range of watches not limited to a single purpose, Seiko is, of course, not a stranger to the world of diving watches. In fact, creating them is one of the company's major expertise, together with their luscious and breathtaking lineup of mechanical watches that no one could resist. If you ask any avid fan or collector about their most prized dive watch from the label, chances are they would answer the Seiko SKX007, the Seiko Turtle, or the Seiko Grandfather Tuna. We cannot blame them, given how these three models possess unmatched precision, fantastic features, and superior levels of water resistance that make them worthy of being put on one's wrist during a dive.
However, what many of us do not realise is that the older yet still dependable divers from the brand are the ones that laid the groundwork for the modern sports watches from Seiko. This is why they certainly deserve more praise and recognition, given that a lot of horological newbies nowadays often look only at contemporary watches when choosing their first timepiece.
One of the early high-calibre diving models from the brand that often gets overlooked is the Seiko 6105. Often compared to the Seiko Turtle in terms of overall capabilities and appearance, this series takes accuracy, distinctiveness, and legibility seriously, while giving wearers from different walks of life the incomparable service that they truly deserve. But how exactly did this collection emerge and what was the concept behind it?
The Seiko 6127: The High-Performing Direct Predecessor
Before delving into the background and history of the Seiko 6105, it is important to note that this line emerged after the release of the Seiko 6217, which was Seiko's first-ever dive watch. Also known as the 62MAS or the 62MAS-010, the 6217 came out in 1965, during a time when quartz timepieces were slowly becoming a trend in the horological world. To those wondering what MAS stands for, it was derived from the word "SeikoMAtic Selfdater," which was an alternate name for the 6217  timepiece. Seiko decided to launch the 62MAS just a year after it unveiled Japan's first chronograph wristwatch equipped with a hand-wound 5179 movement, which was also the official partner watch during the 1964 Tokyo Olympics. This just goes to show how Seiko never stops pursuing glory and innovation despite the successes of their prior releases during that time.
Desiring to conquer the international market with a trailblazing invention and to join renowned Swiss brands such as Omega, Rolex, and Breitling in the race for the best diving watch, Seiko proudly introduced their contender, the Seiko 6127. The 6127 came with the powerful calibre 6127A that is also found in many other retro models from the label such as the Worldtimer. Proving its robustness, the automatic movement of the watch came with beats at a frequency of 18,000 vibrations per hour, which was considered quite impressive at the time. What's more, this dive watch was a great choice of companion for every professional diver or casual aficionado, thanks to its water resistance capacity of up to 150 metres.
Providing great efficiency, the Seiko 6127 had a bi-directional rotating bezel that is useful in measuring both short and long periods of time and a quickset date that wasn't in some of its direct competitors during that era, such as the Rolex Submariner Ref. 1680. The Seiko 6127 also came with a 38mm case made from stainless steel along with a large crown that provides wearers with an easy-grip no matter what situation they are in. For all these reasons and more, it can easily be seen why the 8th Japanese Antarctic Research Expedition team chose this timekeeper to accompany them during their journey to Antarctica from 1966 to 1969.
In 1967, Seiko launched the upgraded Seiko 6215-010, a direct improvement on the Seiko 6217 in many ways. It came with a whopping water resistance rating of up to 300 metres. The beautiful winding crown of the Seiko 6215-010 was placed at the 4 o'clock position—a trait still present in many contemporary watches from the brand.
A year later, Seiko followed up by releasing the Seiko 6159-7001. This timepiece had the same water-resistance level but with a bolder movement that boasted a frequency of 36,000 vph. It was during this time, however, that Seiko encountered a huge stumbling block with their diver watches. A professional diver from the Hiroshima prefecture of Japan notified the company that its recent inventions and its formulas and construction methods were unsuccessful in conquering deep water levels.
To fix this problem, Seiko hired Ikuo Tokunaga, an engineer of Japanese descent, to take charge of the improvement of Seiko's 150m divers, which led him to create the Seiko 6105. Little did anyone know that Tokunaga's efforts with Seiko would also have an unforgettable impact on the exterior appeal and overall robust performance of all diving watches from the brand.
Seiko 6105 as a Game-Changing Collection

The Seiko 6105 range, also known as the 6105-8xxx collection, first came out in 1968. Assuring the public that they would not make the same mistake, Seiko made sure that all watches from the line were refined and well-executed, from the physical appearance down to the smallest details in the core. The company introduced the 6105 collection in a number of variants. The Seiko 6105 came in two distinct designs, each with a pair of reference numbers pertaining to the different versions.
To quickly sum it up, the four watches can be divided into two groups: the Seiko 6105-8000 and 6105-8009 (both with cushion-shaped cases) and the Seiko 6105-8110 and 6105-8119 (both with cushion-shaped and asymmetric cases). It should be noted that there isn't much difference between the watches meant for the Japanese domestic market (6100-8000 and 6105-8110) and their counterparts intended for the United States (6105-8009 and 6105-8119).
Design-wise, the first generation 6105 watches (6105-8000 and 6105-8009) came with a 41mm case, along with a crown that displayed Seiko's prestigious signature. They ran on an automatic 17-jewel Calibre 6105A that boasted a frequency of up to 21,600 vph. It also came with a quick-set date and hacking seconds feature. Despite being a mid-range brand, Seiko made sure that the movement used in the first generation 6105 was produced in-house. These are likely the reasons why the 6105-800x pieces became the top-choice of the U.S. military troops during the Vietnam War. Reports say that soldiers would buy them at Post Exchanges near their bases and wear them while in battle. Many of these watches survived and were even brought back to the United States after the war, proving that they are indeed tough on the outside and dependable on the inside.
This first set of 6105 timekeepers graced the market up until around the 1970s. Eventually, they were replaced by the second generation of 6105 watches that came with asymmetrical cases. The 6105-800x series has remained relevant over the years, with demand for this range from dedicated collectors and experts only growing over time.
Seiko 6105-8110: The Collectible Robust Tool Watch

As mentioned above, the Seiko 6105-8110, and its American counterpart the 6105-8119, started dominating the watch market after the 6105-800x pieces went out of production in the 1970s. Due to its robustness and versatility, this timepiece bears the title of being one of Seiko's premier vintage models. It immediately made waves upon its release because of its peculiar yet charming case shape, making it a favourite among watch collectors today.
Despite the unfamiliarity of both the unacquainted and newbies with this watch, it is undeniably one of the best divers Seiko has ever produced in its entire 140-year run. The 6105-8110 possesses a rugged yet sophisticated vibe and firm and sturdy components, which makes it a valuable piece worthy of adding to your collection.
Taking inspiration from both the 6217 and the 6105-8100x series, the Seiko 6105-8110 is outstanding in all aspects. From its lovely yet straightforward dial and handsome bracelet options down to the strategic crown placement and unconventional bezel design, everything about this watch screams elegance and pure masculinity.
As a retro mid-tier Seiko diving watch, it sits just above the Seiko Turtle in terms of design, although the latter excels in terms of water resistance level. This is mainly because the 6105-8110 served as the blueprint for the Turtle's overall structure. Despite its pristine appearance, the Seiko 6105 is no Marine Master 300m or 600m. Apart from only having a bi-directional bezel, it also does not come with a sapphire crystal for better protection for the dial. Nevertheless, recreational and even professional divers still get to enjoy the Seiko 6105's 250-metre water resistance.
What's great about the watch in question is that while it embodies a very commanding and sporty feel, it can also pass as a dress watch, perfect for your daily and formal endeavours. Sticking with minimalist concepts, it sports an almost all-black aesthetic, with the exception of the case itself, which is a beautiful silver hue. The Seiko 6105-8110 can certainly match all of your outfits whether it is plain or rich in colours and textures. It is the epitome of an ideal sports watch, suitable not only for men who maintain an active and healthy lifestyle but also for those individuals prioritise style above all.
Origin of the "Captain Willard" Nickname
Seiko is known for naming its various offerings with long sets of numbers and letters. As such, Seikoholics often create quirky and fun nicknames for these collections as a better way to distinguish them and for easier clarification. This tradition is not unique to Seiko, as Rolex and Omega fans often do the same for those companies' widely-recognised products. Nevertheless, it serves as a solid testament to how influential and popular Seiko is, and how far-reaching its presence is, not only in Japan but in other parts of the world too.
For instance, the Seiko Tuna got its fun alias from its case that resembles the shape of a tuna can. Meanwhile, the Seiko Shogun sports a fierce look that is reminiscent of a set of Japanese armour. For another intriguing example, take a look at the Seiko Pogue, whose name was derived after the United States Air Force ("USAF") pilot William Pogue wore the watch on his voyage to outer space as part of NASA's Skylab 4 Mission.
Of course, the emblematic model we have been discussing in the article, the Seiko 6105-8110, is no exception to this rule. The piece was worn by Captain Willard (played by veteran Spanish-American actor Martin Sheen) in the 1979 film about Vietnam War called Apocalypse Now. Loyalists of the brand decided to name it after the character for easier recall, and this pop culture connection contributed to the Seiko 6105-8110's growing popularity in the world of horology.
Final Notes
The Seiko 6105-8110 is undoubtedly one of the best tool watches out there. This is a timepiece that is definitely worthy of being your next diving companion. It features all the features that you need to precisely track time underwater. While it falls short when it comes to the movement due to its lack of a winding component, the clean and strategic dial and the unusually stylish cushion case effortlessly make up for it. The well-built and asymmetric structure of the watch oozes with dapperness and fierceness, proving that not all big and heavy-looking watches have to be uncomfortable on the wrist.
Although the Seiko 6105-8110 is specifically made for conquering underwater activities, nothing can change the fact that it is a versatile, uncomplicated watch that you can wear on a daily basis—perhaps even all year round. If you want a vintage Seiko dive watch that does not disappoint in any way at all, the Seiko 6105-8110 is the one you should look out for.
Can't get enough of Seiko and its awesome watch lineup? Check out our guides on the Seiko Mini Turtle and the Seiko Credor as well as our reviews on the Seiko SKX013 and the Seiko Sea Urchin.
Featured image from Chez Joe on Flickr