New & Feature
Seiko 6139-6002: A Guide to the Brand's Premier Chronograph
May 14, 2021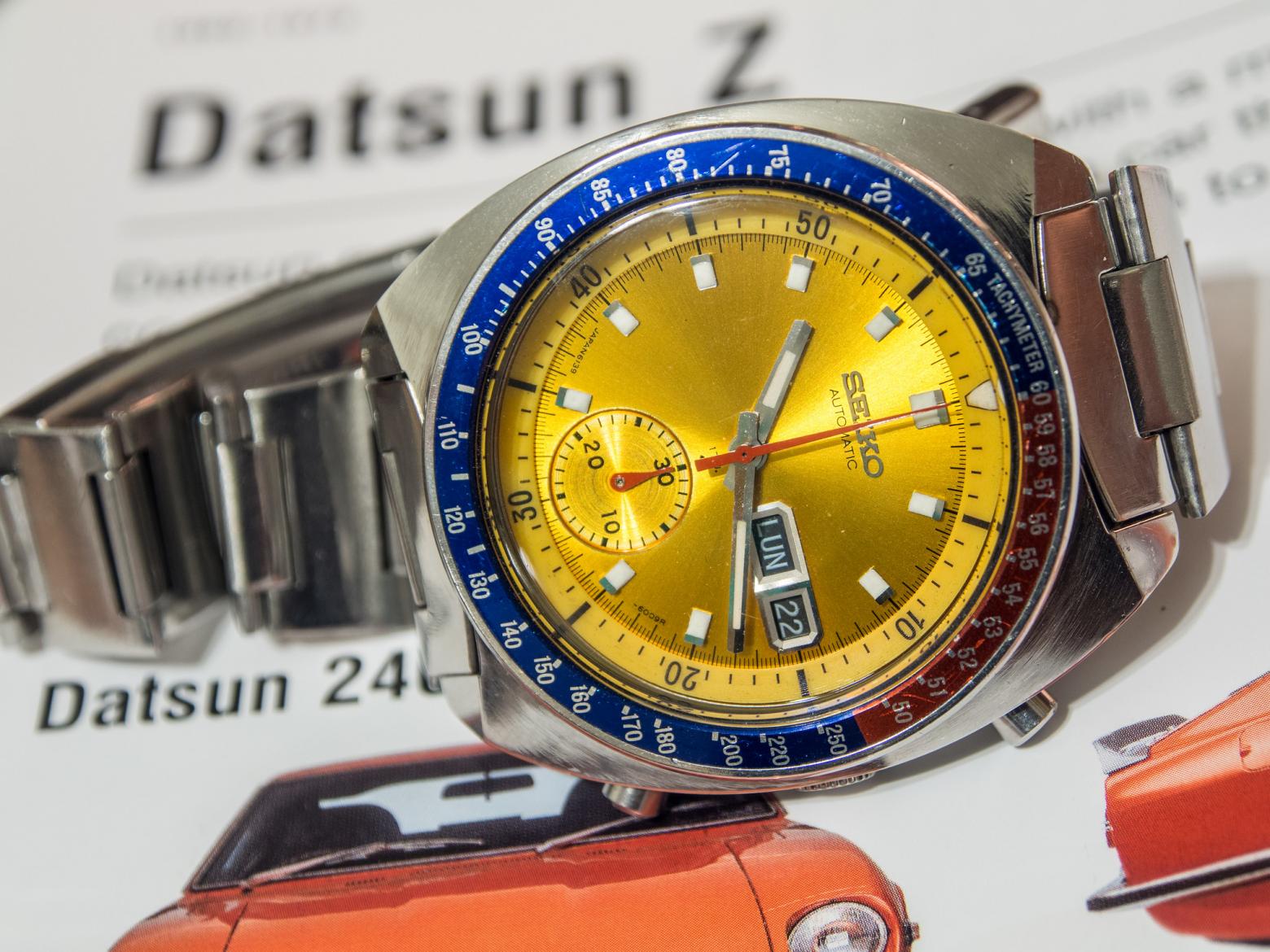 Out of all the accessories that exist in the world, a watch is undeniably the most useful and practical. Not only does it give utmost convenience to any wearer, but it also offers great functionalities that significantly improve our daily way of life. One of the functions that make a watch worth buying and investing in is keeping track of time, which leads to some people thinking that they are specifically used for timekeeping purposes only. They would think that all timepieces are technically the same except for the design, strap, and colour variations. However, in reality, watches carry a much more complex concept than we think. Case in point: chronograph watches, specifically the Seiko 6139.
Aside from telling the time, watches can also indicate the day and date, while still providing good water resistance. Meanwhile, other types can provide you an idea of what lunar moon phase are you currently in or allow you to set an alarm just in case you have to accomplish something urgent and important. Among the popular kinds of watches today is a chronograph, which is used mainly for measuring periods of time. Technically considered as a stopwatch, it specifically calculates seconds, minutes, and even 1/10, 1/20, or 1/100 of a second and hours. While GMT, minute-repeaters, or annual calendars also carry advanced technologies and a high-level of serviceability, chronographs still take the cake because of the accuracy and the unique timekeeping experience it brings to the table, coupled with a sporty look that relatively suits both men and women with active and fast-paced lifestyles. Among the most popular chronograph models in the industry is the Seiko 6139-6002.
Seiko: A Trailblazer In Chronographs
One highly-acclaimed watch brand that specifically excels in producing chronograph timepieces is Seiko. Even casual spectators recognise the name even at first glance and this is because of its long and rich history of timekeeping. The Japanese brand prides itself on having the most diverse range of watches, all with different price points that will surely fit the budget of every person from different walks of life. Not to mention, the movements they use in their watches are all carefully made with attention to detail and precision.
First emerged during the 1960s, all chronographs released by Seiko, especially the vintage ones, are a reflection of the brand's passion for continuous enhancement and innovation. Aside from having bold and eye-catching appearances, they are also highly efficient and trustworthy, making them worth every single penny. While the company enjoys fame by being the first one to ever come up with the first-ever quartz wristwatch and the GPS solar watch, the Seiko Astron, its contribution to the world of chronographs also changed the horological sphere one way or another. Among the notable chronographs Seiko has ever released is the Seiko 6139-6002, which came from the vast Seiko 6139 range. Despite being the oldest among the brand's automatic mechanical chronograph lineup, this piece remains a top-choice for true watch connoisseurs due to its classic, sleek, and well-executed look.
But what is it about this watch that makes it worthy of putting it on your wrist? In this article, we will find out what Seiko 6139-6002 is all about and why it deserves a spot in your vintage collection. Specifically, we will delve into its history, superior features as well as some important details you should note before hunting for your very own piece.
Seiko Being An Expert In Automatic Chronographs
When talking about chronograph watches, Seiko is undeniably one of the first significant names that come to mind. The brand is known for being the first one to start serial production of the automatic chronographs in May 1969, with the release of their "Speed-Timer" watches that carried the Calibre 6139 and had more advanced and innovative characteristics than the previous models they had unveiled to the public. In fact, the company is also one of the watch giants involved in the continuous numerous debates regarding which brand really paved the way for introducing automatic chronographs in the market.
While some claim that it was Zenith, a Swiss-grown watch company, who was the first watchmaker to announce and lay claim on the development world's first automatic chronograph with its El Primero movement, others said that it was the reputable Hamilton-Buren, Breitling, Dubois-Dupraz, and Heuer-Leonidas coalition who achieved the said feat with their infamous invention, the Calibre 11, also known as the Chronomatic, which was released in major retail stores in August 1969.
However, when you look at the bigger picture, you will realise that all three companies did their best and have significantly contributed to the historic creation of automatic chronographs. All of them had different timing and intentions in mind yet they all wanted to create a remarkable difference in the world of horology. The debate can be confusing especially knowing how the companies created their movements with much distinction and attention. Overall, it all boils down to how you will look at it and your opinion regarding the matter.

Discussions aside, what is important is that Seiko was able to make its name more known among watch aficionados and casual wearers alike with the Caliber 6139. Although often treated as the most underrated one among the three participants in the saga, considering that it was first distributed to the Japanese market only, the Seiko 6139 still holds great importance because of its great and trustworthy attributes and its high level of performance. In fact, it specifically runs on 21,600 vibrations per hour ("vph"), which is already considered a high rating during that time. This attests to how robust and dependable the movement is.
Despite the discontinuation of its production around 1980, the Seiko 6139 will always be remembered as a pioneering and iconic one because of how it set a great example towards the succeeding calibres that the brand released during its 140-year run. There are many chronograph watches in Seiko's collections today, particularly in the Seiko Presage and Seiko Prospex lines. However, none will ever compare to the wonders of the watches bearing the Calibre 6139. From sporting a column wheel and vertical clutch, the movement is something people, especially enthusiasts, should definitely appreciate more, just like how they rave and persistently talk about its close competitors in discussions and even in watch forums.
Seiko 6139's Voyage to the Outer Space
Unknown to many, especially to the unacquainted, Seiko 6139's reputation is expansive and incredibly historic. Aside from being the first automatic chronograph calibre of the brand, the Seiko 6139 also became known as the first-ever automatic chronograph in space.
Legend has it that United States Air Force ("USAF") pilot Colonel William Pogue, one of the few people assigned for the groundbreaking NASA Skylab 4 mission in 1973, made Seiko 6139 a companion during his expedition on space for 84 consecutive days. Six months prior to his flight to space, the NASA astronaut needed a watch for his rigorous training, particularly a piece that could actually tell how long does it take for an engine to completely run out of power and eventually burn. Although still undecided about what particular brand should he buy from, he went and purchased the Seiko 6139-6002 from PX at Ellington AFB Exchange in Texas, United States. Pogue used the watch every single day during his preparations and made a very special connection with it. The Seiko 6139-6002 that he wore on his wrists was a witness to the famous pilot's hard work and passion for his job.

Seeing how accurate, bold, and sophisticated the watch is, Pogue decided to bring the watch to his pursuit in November 1973 alongside the Omega Speedmaster Professional, which was the official partner for the said event. He found it very practical and relatively easy to use during his training, which is why his mission went smoothly as he expected. In fact, he brought it without even having prior approval from NASA, which proves that the watch is incredibly reliable and trustworthy. Not to mention, it also boasts an extraordinary yellow-coloured aesthetic that will surely steal everyone's attention. Upon coming back in 1974, Pogue was still wearing watch. Surprisingly, the specific 6139-6002 model that graced his wrist was still whole and working well, proving that it's a very outstanding watch to own and wear even on a daily basis.
Up Close with the Seiko 6139-6002
Since its travel through the cosmos, the Seiko 6139-6002 became commonly known as the "Pogue" watch because of the notable story it carries behind it. People got used to calling it by the afore-noted name not because it's easier to recall but also in order to distinguish it effortlessly from other 6139-600x variations that were issued to different markets and sport either a blue, teal, or silver dial.
While it is also referred to as the Seiko Speed-Timer, which is the nickname used by the firm to determine the chronographs meant for Japanese consumers only, the Pogue was the striking one that stuck the most among the minds of watch connoisseurs. In fact, the name Speed-Timer was used as a general term for all members of the jaw-dropping 6139 series that bear additional functionalities such as a day and date indicator and a tachymetre scale. To avoid confusion during conversations, watch lovers often choose the Pogue nickname instead when referring to the 6139-6002 model.

Other nicknames of this particular watch include the Seiko Pepsi Chronograph because of its colourful bezel that resembles the theme of the storied brand. Although it was Rolex that first came up with the concept through its GMT-Master watch, Seiko has undeniably made it more popular even to regular consumers.
Due to its interesting characteristics, the Seiko 6139-6002 is regarded as one of the premiere vintage models and highly sought-after pieces from the renowned brand today. From its unique and bright dial and a vibrant bezel, down to its well-executed crown and subdial placements, this watch is indeed an enticing and lovely piece to own especially if you are just starting out with your collection. Proving it definitely deserves to be put in the center of the spotlight, it also possesses not only an oldie and sporty vibe but strong and sturdy components, making every penny you spend worth it. Aside from the tough self-winding calibre that it comes with, the timepiece has a very masculine look, coupled with a commanding aura that makes it stand out among the crowd. It is the epitome of the perfect chronograph watch suitable for both active and urbane men who prioritize aesthetics and quality in an equal manner.
Considered one of the first 6139 models, the watch's value and capabilities are also definitely on par with those Swiss-made timepieces created from the same period. If you want something that is a product of incomparable craftsmanship and mastery and will look good in any kind of style you choose to pair it with, then this is the watch you should definitely look out for.
Anatomy of the Seiko 6139-6002 Chronograph
As mentioned earlier, Seiko halted the booming production of watches with the Calibre 6139 in 1980. The reason is still unclear up until now but these watches, specifically the Seiko 6139-6002 model, are still widely recognised as some of the trusty vintage pieces from the brand. The 6139-6002 remains a quintessential piece among the Japanese manufacturer's diversified and well-crafted lines because of its irresistible charms and refined poise. Despite its brief run, it still holds great value, considering how it contributed significantly to Seiko's rich heritage.
If you are a true watch geek, then you will know that the Seiko Pogue is pretty easy to get from vintage stores and even from selected online sites and secondhand markets. However, not all pieces that you will encounter will have the same parts, as well as the pristine condition they had years ago. Some have dysfunctional bezels, while others have different sets of hands and hour-markers. With that being said, you should definitely exercise caution whenever you see a model lurking around. Who would want a completely altered timepiece anyway, right? If you have been thinking of getting one for yourself, below are the superb specifications of the 6139-6002 variation of the Seiko 6139 you should definitely familiarise and educate yourself with before making a decision.

Case material: Stainless steel
Case dimension: 40mm
Movement: Seiko Automatic Calibre 6139
Water resistance: 70 metres
Case
What better way to start this rundown than to discuss the composition of the watch's case. It is one of the reasons why the Seiko 6139 in the 6002 variation is becoming a true collectible these days. Considered the average size of chronographs even up to the present day, this watch comes in a 40mm case, with a wide appearance that makes it stand out among the other timepieces that came from the same period.
Resembling the letter "C" in terms of shape, the case also has a lot of layers, giving you a much better view of its amazing attributes that are usually left unnoticed by many aficionados and casual wearers. At first glance, the case of the watch may seem large and hefty, adding to the fact that it has unique and sharp lug widths of 19mm. The proportions of the whole body may look like it is not exactly symmetrical with the bracelet, giving off a slightly peculiar look. However, you won't feel all the measurements at all when you start to wear it, given how thin its movement is. Not to mention, the Seiko 6139-6002 also fits all wrist types, whether you have a muscular or slender built. This makes it the ideal timepiece for those of you who want a unique and retro-looking watch; one you can proudly wear on any occasion.
When it comes to the crown, the watch has an accessible and well-structured one, sitting nicely inside the case. Despite not having any kind of markings, the non-notched main crown placed adjacently to the 3 o'clock position still looks stunning with the vertical line patterns on its side. In addition, the crown also serves as the bezel crown, which can be used to rotate the bezel. You cannot help but admire Seiko with this idea, given how they managed to come up with such an innovative feature at a time when most watch brands are struggling with the Quartz crisis. By pulling it out, you can adjust the time. You can also modify the date and day by pushing it carefully. respectively. Moreover, the polished edges of the watch as well as the protruding chronograph controls also make it more appealing than ever.
Caseback
Placed in a screw-down manner, the caseback is something you should not overlook as well. Aside from having square-shaped edges and a straightforward design brought by the tubes that allow the pushers' smooth operation, it also features some technical details like the model number, the material used, as well as the brand's official signature at the center portion. The inclusion of the serial number is also helpful in determining the production date, particularly the year and month, of the particular Seiko watch you have acquired. Since the Seiko 6139 Pogue has a "Water 70m Resist" marking on its surface, expect that the caseback also has the same "Water Resist" indication. It is important to note that there are a few other caseback styles available, considering how extensive the 6139-600x line is.
While it does not give a solid and clear view of the watch's iconic movement, you can trust that the case back will protect the core against any kinds of dirt, dust, and even moisture, considering how well-made it is. Albeit its standard presentation, the back is satisfying to look at just like its front exteriors.
In terms of water resistance, the Seiko 6139-6002 is capable of subtle water activities such as swimming. Being a vintage watch, this model can only withstand water pressure of up to 70 metres. This also means that you cannot bring it to your planned extreme water sports activities. You might want to limit its exposure to seas and pools with huge depths if you want it to last and stay longer in the list of your possessions.
Material, Bracelet, and Crystal
Just like most Seiko watches in the market, the case and the bracelet of the Pogue are made out of durable stainless steel material. You will surely get your money's worth with this one since stainless steel handles impact very well because of their hard and tough qualities. In addition, the material prevents any kind of moisture and corrosion from infiltrating the smallest details of the watch. Considering how it comes with lovely qualities, you may think that watches that use stainless steel, like the 6139-6002, come with a heavy price tag. Surprisingly, they are way more affordable compared to those timepieces made with titanium or platinum.
Sticking to simplicity, the watch has an "H-link" bracelet, with thick and polished end links, which you can easily remove just in case you want to adjust its fit to your wrist. Ensuring utmost security, this model has a folding clasp attached to its H-link bracelet that does not give any distraction at all. Aside from the fact that it sticks well, the clasp is also thin and light, leading wearers to experience utmost comfort.
While the Seiko 6139-6002 Pogue does not rely on a sapphire crystal when it comes to its main barrier, it can still resist few scratches, all thanks to its Hardlex crystal. Considered as Seiko's trademark, this kind of glass is made out of silica, which is primarily used in creating windowpanes, among others. The company decided to create this kind of material and eventually incorporate it into some of their watches, like the Seiko Samurai and Seiko Presage, since it can handle impacts very well, unlike its acrylic and sapphire counterparts. This is due to the fact that it is was heated to a high temperature to ensure optimum service. With this capacity, you can bring the Seiko Pogue when you want to go rock climbing or on a hike. Another advantage of using a Hardlex crystal is that it is less reflective than a sapphire crystal. Even during sunny days, you will be able to track time easily and with no difficulties at all. What's more is that it is also a tad cheaper than its high-end sibling, which is why most mid-range watches use this kind of component. It promotes not only reliability but also cost-effectiveness.
However, like any other material things in the world, there are also downsides to a Hardlex crystal, which you need to remember just in case you are planning to purchase your very own Seiko Pogue. For one, this material can chip when it encounters very hard impacts. This may affect the stunning look it exhibits, so you might want to avoid bringing it to your commutes and to places where contact with a lot of people is inevitable. In addition, a Hardlex cannot undergo repairs or enhancements once it attains major cracks and scratches. Your last resort would be a total replacement, which can cause a lot of fortune. To avoid this, you need to practice enough caution whenever you decide to take it out for a spin.
Dial
As emphasized earlier, the Seiko 6139-6002 model is an automatic chronograph, which means that it is equipped with a chronograph function. Replacing the index at the 6 o'clock mark, there is a 30-minute counter, which can be useful in timing separate events with the said duration. Peeking through the middle of 2 o'clock and 4 o'clock positions, you will also find a day and date indication. Considered as some of the most useful complications, the day and date display of this watch are swept to the right side while sporting a refined look. The silver-coloured casing puts more emphasis on the said features, allowing a more visible date and day tracking no matter what time of the day it is.

In terms of aesthetics, the dial of this single register chronograph timepiece is in a vibrant honey yellow colour, with a sunray finish. Meanwhile, the hour-markers, as well as the baton-style hands, all sport a silver hue, giving off a very contemporary feel. Not to mention, they are also coated with luminous elements to give you an easy time reading experience even in low-light circumstances. Despite being numberless, the indices look breathtaking simply because of their minuscule size. When it comes to the central chronograph hand, it follows a simple sword-like shape that is longer than the minute hand. Just like the teardrop-style small hand in the sub-dial, the central hand also boasts a bloody red colour that perfectly complements the bezel.
Except for the signature, all other texts on the surface of the watch, including the numbers, scale pattern in the rotating bezel, and the "Chronograph Automatic" mark just below the 12 o'clock position are in black colour. Aside from the fact that they contrast well against the vibrant look of the timepiece, the texts are engraved in a medium-sized font, making the watch more attractive to the eyes.
One thing that sets the Seiko 6139-6002 model from its close siblings is the "Water70mResist" text on the left part of the watch. The original watch worn by Pogue during his expedition has the same feature, indicating the water resistance capacity of the watch. It is important to note that there are many variations to the Seiko 6139 watch, specifically in terms of their dials, casebacks, and bracelets among others. What's more is that the Seiko 6139-600x series alone is already complex to comprehend, especially to the unacquainted. The main distinguishing factor of the Pogue watch, other than its yellow dial, is the water-resistance text.  Since this watch is one of the very first 6139 models released by Seiko along those with "Proof" dials, a lot of collectors seek for it rather than those later ones released in the late '70s to early '80s.
Bezel
While you think that the Seiko 6139 Pogue is already an enticing vintage piece to own with its dial, case, and bracelet alone, wait until you see the outer bezel. Replacing the usual blueprint of watches, the bezel of this watch serves as the tachymetric scale. Unlike the texts inside on dial, the markings found on the scale are in a crisp and neat white colour. Appearance-wise, it sports the famous Pepsi design, which first appeared on a Rolex GMT Master watch. Specifically, it is in a bright blue and red colour scheme that makes time tracking even more fun and fulfilling. This makes it more valuable to watch collectors, especially those who typically look for unique pieces that will certainly leave an impression on onlookers. Despite having a fixed characteristic, Seiko did a great job in executing the bezel's look and maintaining its original layout on all the succeeding 6139-600x models.
Another thing worth emphasizing about this watch is that it has an internal bezel that rotates firmly and smoothly. You can control it using the same crown you use in adjusting the date, day, and time. As proof of the brand's consistency, the bezel is also in a beautiful yellow colour, which is almost close to white. Some reports say that those pieces with white indicator rings are simply products of discoloration due to extreme UV exposure. This is why when Colonel Pogue sold his chronograph to an auction years ago, it had a white inner bezel. However, other people take advantage of this by painting the part in white colour and then advertising it as a Pogue watch. As a potential buyer, you might want to watch out for these kinds of modified timepieces. Other than this, a Seiko 6139-6002 is a very good piece to add to any collection, given how it delivers great results to any wearer.
Movement
Like any other successful watch models from known watch brands either hailing from Switzerland or has American roots, the Seiko 6139-6002 has a top-tier mechanism. It uses the in-house Seiko Calibre 6139 automatic mechanical movement, which demonstrates Seiko's expertise when it comes to incomparable and powerful engines. As proof of its great serviceability, you will be able to find a lot of testimonials on watch forums saying that the movement still works well despite being made more than 45 years ago. For a vintage watch with a superior movement, coupled with a good price point, the calibre in question is truly impressive.
At a diameter of 27mm and a maximum height of 7.1mm, the movement features 17 jewels in total. Its mainspring dimension is at 1.01mm in terms of height and a thickness of 0.10mm. Adding to its amazing features, it also beats at a whopping 21,600 vibrations per hour, all while sporting a column wheel that operates smoothly like modern chronograph watches. Moreover, it is also shock-resistant, all thanks to Seiko's proprietary anti-shock component called Diashock. Unveiled by the company in 1956, this feature also ensures that the watch maintains its precision even after years since its introduction to the market.
Other Versions of the Seiko 6139
One great thing about Seiko is that its collections are truly diversified. While they like trying out new concepts and ideas, the brand makes sure that all of the timepieces they release are of high quality and at the same time, visually appealing. The magnificent Seiko 6139 lineup can attest to this, given how extensive and well-crafted the collection is.
As emphasized earlier, there are a lot of Seiko 6139 watches that came out during its brief run. There are models exclusive only to the Japanese market, and there are some watches that were released only for the international audience. However, the most notable ones are those that came from the Seiko 6139-600x line, specifically where Seiko 6139-6002 originated.
As emphasized earlier, you can find the difference between the Seiko 6139-600xs mostly in their dials, markings, as well as structures. One notable version has the "Proof" dial, wherein a text that says "Water70mProof" proudly graces the left portion of the watch, just beside the 9 o'clock position, instead of the "Water70mResist" you will see in the 6139-6002 Pogue model. From the Pepsi-themed outer bezel and the white inner rotating bezel to the square-shaped and luminous hour-markers and the red-coloured seconds hand, almost everything about the watch is identical to the iconic Pogue watch. It also has a notched crown case, which is quite rare to see nowadays. Considered one of the very first Seiko 6139 models ever produced by the company, this timepiece is definitely a must-have, especially now that it has become harder to acquire this one in good condition. So, if you manage to encounter a piece that comes at a good price and has all the above-mentioned attributes, you should go and buy it immediately.

Another version called the "Speed-Timer" has a more noticeable feature. Released exclusively for the Japanese market, this one has a "Speed-Timer" text on the signature instead of the "Automatic" or "Chronograph Automatic" markings you typically see on other famous 6139 models, such as the 6139-6002. While it sports the same bezel appearance, the Seiko 6139 Speed-Timer has a blue-coloured dial and inner bezel, as well as a text that says "Sports/Water70Proof" on the left part. This is one of the rarest models from the line-up so you should expect that you will pay quite a hefty price if you want to get your hands on it.

There are many other variants of the Seiko 6139 and as mentioned above, even the 6139-600x can already act as a separate collection due to how vast and complicated it is. This is why ample research is necessary especially if you are just starting out with your vintage collection. Through constant reading, you will be able to find what timepiece suits your needs and your way of life.
Price and Availability of the Seiko 6139-6002
After going through the specifications of this gorgeous piece and you want to purchase it immediately, the Seiko 6139-6002 is readily available on secondhand markets. The reason behind this is because vintage Seiko watches are not that hard to get your hands on. However, keep in mind that there are a lot of Pogue watches bearing incorrect parts or have signs of corrosion, as emphasized earlier. What's worst is that some of them are not working at all and this could cause a major headache especially if it comes with a very suspicious price tag. That is why it is recommended for potential buyers to conduct in-depth research first before actually buying one. There are a lot of watch forums that compile information regarding these watches, as well as articles that could aid significantly when it is time for you to make a decision.
In terms of the price, the Seiko 6139-6002 Pogue costs around $500 USD to over $1,000 USD, depending on the condition. If it has more scratches or slight defects, then expect a vintage Pogue to cost lower. However, a lot of pieces lurking on trusted websites still come in pristine condition so if ever you encounter one, do not ever let go of the chance and grab it immediately while you still can. If in any case the watch you acquire needs some polishing and care from a watchmaker, do not fret because repairs would likely cost lower than the actual selling price range of the watch at this present day.
Final Thoughts
Reliability and design with a hint of uniqueness are some of the attributes that make the Seiko 6139-6002 watch stand out among the incredible lineup of Seiko vintage watches. Not only does it attest to Seiko's reputation of being a trustworthy brand, but the timepiece also proves to everyone that the company prioritizes creativity and distinctiveness, along with their passion for delivering accuracy and diversity when it comes to their collections. While all models included in the 6139 series are truly excellent in terms of overall image and composition, particularly those 6139-600x ones, nothing beats the Seiko 6139 in 6002 variation. Aside from the fact it sports extraordinary bezel and dials, it also comes with useful functionalities such as chronograph and day and date complications. With that being said, this Seiko 6139 model is the best starter piece not only from Seiko but also in the entire vintage watches realm.
Interested in knowing more about other Seiko models available in the market today? Check out our articles about the Seiko Mini Turtle, Seiko Shogun and the 12 Best Seiko Credor watches that should go on your must-have list.
Photos from Seiko unless otherwise noted
Featured image from Russ on Flickr