New & Feature
Seiko Baby Tuna SRP637: All About Seiko's Outstanding Diver
Jul 15, 2021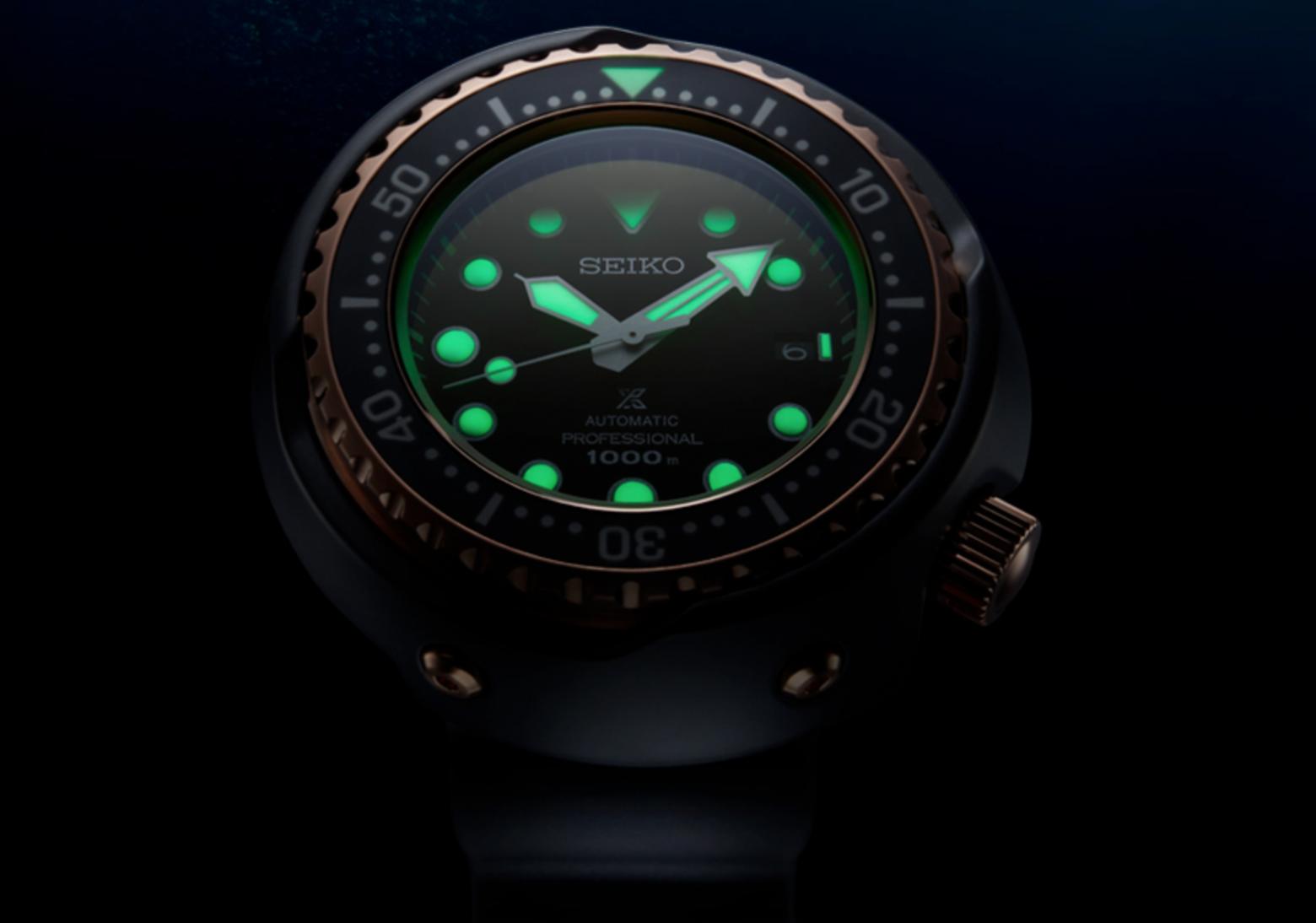 We all know that Seiko is one of the most popular Japanese watch brands out there. In an industry where Swiss craftsmanship is abundant, Seiko was able to prove that manufacturing quality timepieces is not exclusive to a certain region of the world. Since it was founded in 1881, Seiko has consistently brought about technological advancements and innovations, making steps forward for the horological industry.
Today, the Japanese brand is highly regarded by both the public and watch connoisseurs alike. With numerous models and collections in their arsenal, it is safe to say that Seiko offers a rather diverse and extensive catalogue of timepieces. Some of Seiko's most renowned models come from their Prospex collection, which boasts a series of excellent sports watches. With that being said, the Prospex SRP637, also known as the Seiko Baby Tuna, is the rugged and reliable timepiece we'll be focusing on in this article. 
What is the Seiko Baby Tuna?

The Seiko Baby Tuna, also known as the Seiko Prospex SRP637, is one of many released with the same Tuna moniker. It is a relatively young model, only introduced back in 2015. Regardless of how long it has been around, the SRP637 is known as a unique-looking sports watch with great features and is reasonably priced. Let's take a closer look, shall we? 
Seiko 'Baby Tuna' SRP637
Specs
Case Material: Stainless Steel
Case Dimension: 47.5mm x 13.5mm x 50mm
Movement: Automatic
Power Reserve: 42 hours
Water Resistance: 200 metres
Case and Bracelet
The Seiko Baby Tuna SRP637 boasts an unusually stout and rugged design. Much like its other family members, its tight and compact case features the trademark resemblance to a tuna can. In comparison to the other models, however, the Seiko Baby Tuna is ever-so-slightly thinner, given its shorter lugs. While it is referred to as a baby, there is nothing childish about this watch. Its robust and bulky exterior is largely due to its hefty steel bezel and shroud.
This watch comes in a stainless steel case with a diameter of 47.5mm, a thickness of 13.5mm, and a length of 50mm. In terms of weight, the Seiko Baby Tuna comes up to around 202.5 grams, which is definitely on the heavier side for a watch. It features a crown at the 4 o'clock position, which measures around 7mm in diameter. The crown is just the right size, as it is big enough to provide you with an easy-grip while still being unobtrusive. The Seiko SRP637 also has a unidirectional bezel with the iconic luminescent pip at the 60-minute mark. While all these numbers may seem complex and large, this watch has a reputation of fitting well and comfortably on the wrist. 
Moving on, this model is paired with a stainless steel bracelet which makes use of a pin and collar system. Living up to its name as a dive watch, its clasp has a folding expansion feature that is designed to fit securely on your wrist even in a wet suit. Lastly, the interior of the watch is protected by Hardlex and a screw-in case back with the Seiko Tsunami logo engraved, which prevents any kind of moisture from entering into the watch. 
Dial
Now on to the dial, the Seiko Baby Tuna features large markers and details in this regard as well. Right off the bat, you get the impression that it was designed with the thought of being easier to read for diving professionals when underwater. It has a matte-textured background in black, to minimise any unnecessary reflections or distortions when looking at the face of the watch. The dial has a straightforward analog layout with thick hour markers and hands coated in Lumibrite for better visibility in the dark. In addition, there is a day and date window at 3 o'clock. The day and date aperture come in a white background with clean black text. Lastly, it has a seconds track around the outer circle of the dial. 
Each and every component used in crafting the dial was chosen with the goal of ease of use in mind. Even if you're not a fan of the way it looks, you can't deny that it serves its purpose as a diver's watch exceptionally well. 
Movement and Other Specs
The Seiko Baby Tuna SRP637 is powered by an in-house calibre 4R36 which follows an automatic movement. It also consists of 24 jewels with a frequency of 3Hz, meant to reduce friction in the movement so as to avoid unnecessary amounts of wear and tear. Lastly, this model boasts an excellent power reserve of 42 hours and water resistance of up to 200 metres.
Price
Upon its release back in 2015, the Seiko Baby Tuna SRP367 retailed for approximately $575 USD. Years later, the SRP367 is now priced at over $800 USD on some e-commerce platforms like Amazon. Meanwhile, people are also selling their pre-owned Seiko Baby Tunas for an average of $300 USD to $500 USD, depending on the condition the watch is in.
Battle of the Divers: Seiko Baby Tuna SRP637 vs Seiko Tuna S23629 vs Seiko Digi Tuna SBEP005

Now that we know more about the Seiko Baby Tuna SRP637, let's compare it to some other models in the same line; the Seiko Tuna S23629 and Seiko Digi Tuna SBEP005,  for a better understanding of how these watches fare against each other. This comparison might just be what you need to find out which Seiko Tuna is best for you. 
Case & Bracelet 
As mentioned earlier, the Seiko Baby Tuna comes in a 45.7mm case in stainless steel. On the other hand, the Seiko S23629 and the SBEP005 measure at 47.7mm and 49.9mm in diameter respectively. Interestingly enough, although the Digi Tuna has the biggest case amongst the three, it is known to be rather slim-looking. Instead, it is the Seiko Baby Tuna that's famous for having the most robust exterior due to its stout metal case and shroud, despite actually having slightly smaller measurements than the other two Tuna models.
When it comes to the bracelet, all three timepieces actually make use of different materials. The SRP637 has a professional stainless steel strap, the S23629 comes with a rubber dive strap, while the SBEP005 offers a comfortable silicone strap. If you are into diving, the choice of the strap is something you should consider very carefully when looking for a watch. There are pros and cons to each material, but generally, rubber straps tend to be more ideal for water sports than steel or leather, since they are less likely to suffer from water damage. 
Face 
Moving on to the dial, all of these models have very different faces and design details. Of course, the SBEP005 Digi Tuna, with its digital display, gives off a much stronger modern vibe as opposed to the other two models, which feature more traditional analog layouts.
I've already described in detail what dial elements come with the Baby Tuna, and although both it and the Tuna S23629 have analog faces, there are still notable differences between the two. For instance, the Seiko 23629 makes use of round and triangular hour markers applied with Lumibrite, while the Baby Tuna SRP637 has rectangular ones. Moreover, the Tuna does feature a day and date aperture, but it flips the colours of the Baby Tuna's day and date window, with a black background and white text instead.
Technical Specs
The Seiko Baby Tuna is the only model among the three that's driven by an automatic calibre. The S23629 and the SBEP005 both run on quartz movements, with the Digi Tuna having an additional solar power option. Furthermore, while the Tuna does have the highest water resistance at 300 metres, the Digi Tuna beats both its fellow watches when it comes to the sheer number of functions available, which is honestly expected of a digital timepiece. Here are some of the features offered by the Digi Tuna: stopwatch, lap memory, alarm, timer, automatic calendar, world time, and lots more. 
Seiko S23629 'Tuna' Specs
Case Material: Stainless Steel
Case Dimension: 47.7mm
Movement: Quartz
Battery Life: 5 years
Water Resistance: 300 metres
Seiko SBEP005 'Digi Tuna' Specs
Case Material: Stainless Steel
Case Dimension: 49.9mm
Movement: Quartz
Water Resistance: 200 metres
Verdict
All three models are excellent diving watches that provide great qualities such as impressive water resistance and easy wearability. Personally, the Seiko Baby Tuna shines more because of how simple and straightforward it is. It does not have any fancy functions or components yet it makes for a great companion when exploring underwater. Ultimately, the choice boils down to what your preferences are. 
Pros and Cons of the Seiko SRP637 Baby Tuna 
Pros
Renowned Catalogue. Aside from being a part of Seiko's legendary Prospex collection, the Tuna series itself has garnered much acclaim since it was first released. The Seiko Baby Tuna SRP637 comes from a long line of excellent timepieces that have broken countless records over the past decades, which is a testament to this collection's overall quality as well. 
Affordable and Functional. One of the best things about the Seiko Baby Tuna is how it was clearly crafted with a purpose. The Japanese brand definitely had professional divers in mind when creating this watch because all of its components promote ease of use both on land and underwater. With this watch, you get excellent functions and features at a reasonable price.
Distinct Design. As mentioned, the Seiko Tuna gets its name from its case, which resembles a can of tuna. This is something quite exclusive to this collection, making it very distinctive and easily recognisable. 
Cons
Acquired Taste. If it wasn't clear yet, the Seiko Baby Tuna can be quite a hit or miss for many people. Some are not fans of its rugged look and stouter case, while others absolutely adore it. It is definitely an avant-garde piece, bound to catch the attention of people. 
All About the Seiko Prospex
If you're reading this article, you probably already know that Seiko's Prospex collection is home to the brand's Tuna models. The name "Prospex" is derived from the words "professional specifications", which should already give us a glimpse of what this collection is all about. In essence, the Prospex line is a large catalogue of sports timepieces that showcase the brand's mastery of watchmaking and technological prowess. Limitless is probably the best word to describe this series, with its impressive selection of sea, land, and sky watches.
Why is it called the Seiko Tuna?
As mentioned, Seiko's Tuna models can be found under their Prospex collection. The Seiko Tuna first made an appearance in 1975, amidst all the diving hype in Japan. Seiko created it with the aim of being able to effectively and efficiently carry out its purpose even in extreme conditions. Its (unofficial) name was given by patrons and fans and was derived from its outer case, which resembled a tuna can.
The original Tuna, better known as the Grandfather Tuna, had a very robust and rugged look which was definitely considered an acquired taste by many back then. However, it is precisely because of this peculiar and distinctive exterior that the Seiko Tuna is so well-known today.
Final Thoughts 
Ultimately, the Seiko Baby Tuna is a great diver's watch that boasts a unique look and excellent functionality. With the entire Tuna line, Seiko clearly focused on improving its functions and features, as a selection of pieces that can withstand the most extreme of underwater circumstances.
However, amidst all these technicalities, Seiko was also able to conceptualise a striking design which eventually became a defining aspect of the Tuna series. The Seiko Baby Tuna SRP637 may not be the best dive watch in the market, but its affordable price point, eye-catching appearance, and reliable features make this a watch you certainly don't want to miss.
Hooked on Seiko watches? Then make sure to check out our article on the 10 Best Seiko 5 Sports Watches. 
Photo Credits: Amazon & Seiko Official Website