New & Feature
Seiko Orange Monster SKX781: The Daring Watch for Aquatic Adventures
Jun 29, 2022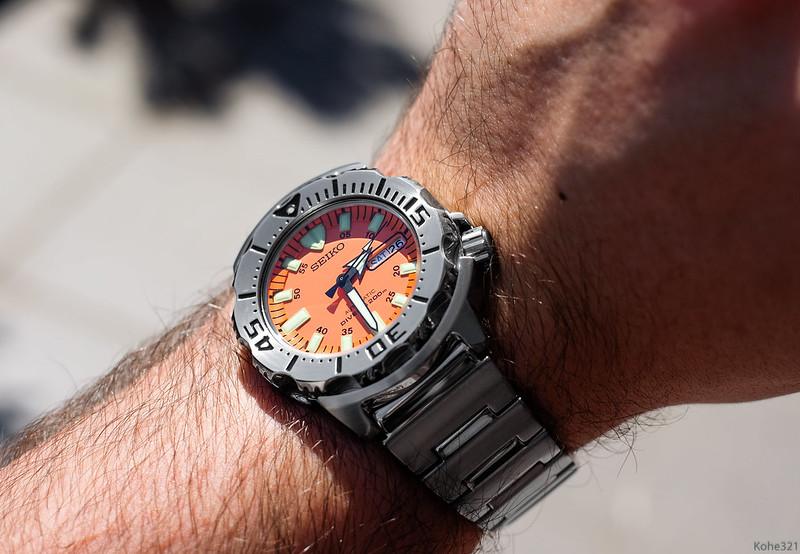 Dubbed the Seiko Orange Monster, nothing can certainly beat Seiko's iconic diver watch, popular for its classic cues and unique appearance. Officially named the Seiko SKX781, the Seiko Orange Monster was first introduced way back in 2001. With its vibrant, eye-catching orange dial, this is a unique and quirky version of the Seiko Monster that stands head and shoulders above its watch peers.
As a top-notch tool watch, the Seiko Orange Monster has also gained much positive feedback from both the brand's patrons and the general public. So, without further ado, let us explore more about the Seiko Orange Monster SKX781 and everything it has to offer. 
First Impressions

The Seiko Orange Monster SKX781 is, without a doubt, a visually appealing timepiece that can easily catch the attention of everyone. Its sleek silver exterior and exceptionally bright orange dial create an ensemble that prioritises maximum legibility underwater. This colour combination also gives the Seiko Orange Monster a professional yet vibrant appeal that is very versatile, so that it stands out easily in a crowd and can elevate virtually any outfit, be it formal or casual. As one of the better dive watch options available on the market, you will certainly not regret adding this highly-functional and budget-friendly timekeeper to your watch collection.  
Up Close with the Seiko Orange Monster SKX781

Case and Bezel
The Seiko Orange Monster SKX781 is a robust tool watch that inherited its catchy nickname from its older sibling, the well-received Seiko Black Monster SKX779. As a first-generation model of the Seiko Orange Monster sub-series, the Ref. SKX781 is packed with all sorts of extraordinary features.
The Seiko Orange Monster SKX781 is presented in a 41mm stainless steel case. Despite its relatively small case size, the Seiko Orange Monster actually has a very thick, chunky build. The case itself measures 12.5mm thick and is augmented by a beefy stainless steel bezel, which is placed on top of the case. A shroud is also incorporated around the top and bottom sections of the bezel, further emphasising this watch's stocky composition. Weighing a hefty 300g in total, this watch's blocky stature gives it a very substantial presence on the wrist. As such, it is best suited for thicker and bigger wrists.
As mentioned, the top of the Seiko Orange Monster's watch is fitted with a large, unidirectional rotating bezel with 120 clean clicks. This bezel has grooved sides that resemble the edges of a bottle cap, which provides wearers with an easier grip so they can hold and turn it more easily. It also bears thick engraved indicators in black for the watch's handy elapsed time scale.
On the right side of the case, you can find a stout steel crown that is surrounded by short crown guards, placed unusually at the 4 o'clock position. The placement of this screw-down crown is such that it rests at an angle against the wrist. This prevents it from digging painfully into your skin, allowing for maximal comfort when wearing the Seiko Orange Monster.
Dial

The most engaging part of the Seiko Orange Monster SKX781 is easily its gorgeous orange dial, which also serves as the source of its nickname. With its vibrant orange finish, this dial quickly captures the attention of any who lay eyes on it.
What is especially noteworthy about the dial's bright orange design is that it is actually backed by scientific research. According to research conducted by Doxa, a well-known Swiss watch brand, orange is actually the most visible and legible colour when seen underwater. Seiko's use of orange in the Seiko Orange Monster's dial, therefore, optimises its legibility so that wearers can read its watch face easily even in the midst of a deep underwater dive.
The dial of the Seiko Orange Monster also has a rather straightforward layout and is fully furnished with thick geometric hour indices and broad, arrow-headed hands. At 3 o'clock, you can find a compact day-date display, outlined in black to distinguish it from the rest of the dial. The text on this day-date complication is mostly printed in black text, aside from the weekends, with Saturday being printed in blue, and Sunday in red.
On top of that, Seiko is also famous for its excellent LumiBrite displays. The hands and indices of the Seiko Orange Monster are all generously coated with lume. When viewed in the dark, the lume on this watch will glow a bright, neon green, which stands out clearly against the orange backdrop. This further boosts the dial's readability in low-light conditions. Finally, a scratch-resistant Hardlex crystal is fitted on top of the dial, protecting it from any scratches or impacts.
Movement
Like many other Seiko dive watches, the Seiko Orange Monster SKX781 is powered by the brand's impressive Calibre 7S26 movement. Held together by 21 jewels, this automatic movement beats at 21,600 vibrations per hour (3Hz) and possesses a 40-hour power reserve.
It should be noted, however, that as a movement released in 1996, the Calibre 7S26 does not come with hacking or hand-winding features. This makes it harder for wearers to reset the Seiko Orange Monster's time precisely.
Bracelet

The Seiko Orange Monster SKX781 is offered in two different bracelet options. For a more daring, sophisticated look, you should opt to get the Seiko Orange Monster with a robust stainless steel bracelet. This bracelet has a standard 22mm lug width, so it will fit quite comfortably around your wrist. It is also equipped with a double locking push-button buckle, which ensures that the bracelet will stay secured to your wrist.
On the other hand, if you want to go for a more casual look, it would be better to pair the Seiko Orange Monster with a simple black rubber strap. The rubber strap alternative is also a great choice for frequent divers since it is completely waterproof and will stretch easily over a wetsuit.
Water Resistance
Since the Seiko Orange Monster SKX781 was designed as a dive watch, a solid water resistance capacity is only to be expected. This watch comes with a depth rating of 200 metres, which is twice that of the official ISO 6425 standard for dive watches. Whether you want to go swimming, snorkelling, or diving, you can rest assured that the Seiko Orange Monster has got you covered.
Price
Patrons familiar with Seiko already know that the brand's impressive watches are always delivered at incredibly affordable prices, making them very value-for-money. The same, of course, applies to the Seiko Orange Monster SKX781. Brimming with outstanding traits and a highly robust build, the Seiko Orange Monster SKX781 retails at just $300 USD.
Final Thoughts
All in all, the Seiko Orange Monster SKX781 is undeniably one of the best and most legendary diver watches in Seiko's catalogue. It is well-received not just for its quirky and vibrant dial, but also for its excellent depth rating and its incredibly sturdy, well-built structure. If you are looking for an iconic dive watch with unique styling, the Seiko Orange Monster SKX781 is definitely a worthy grab. 
All images are credited to Amazon.com.jp.
Featured image courtesy of (Kohe321) on Flickr.
If you want to discover more about watch straps, then do not miss out on our detailed guide about the Different Types of Watch Straps.