New & Feature
Seiko SUP880 Review: Your Versatile And Unique Dress Watch
May 17, 2022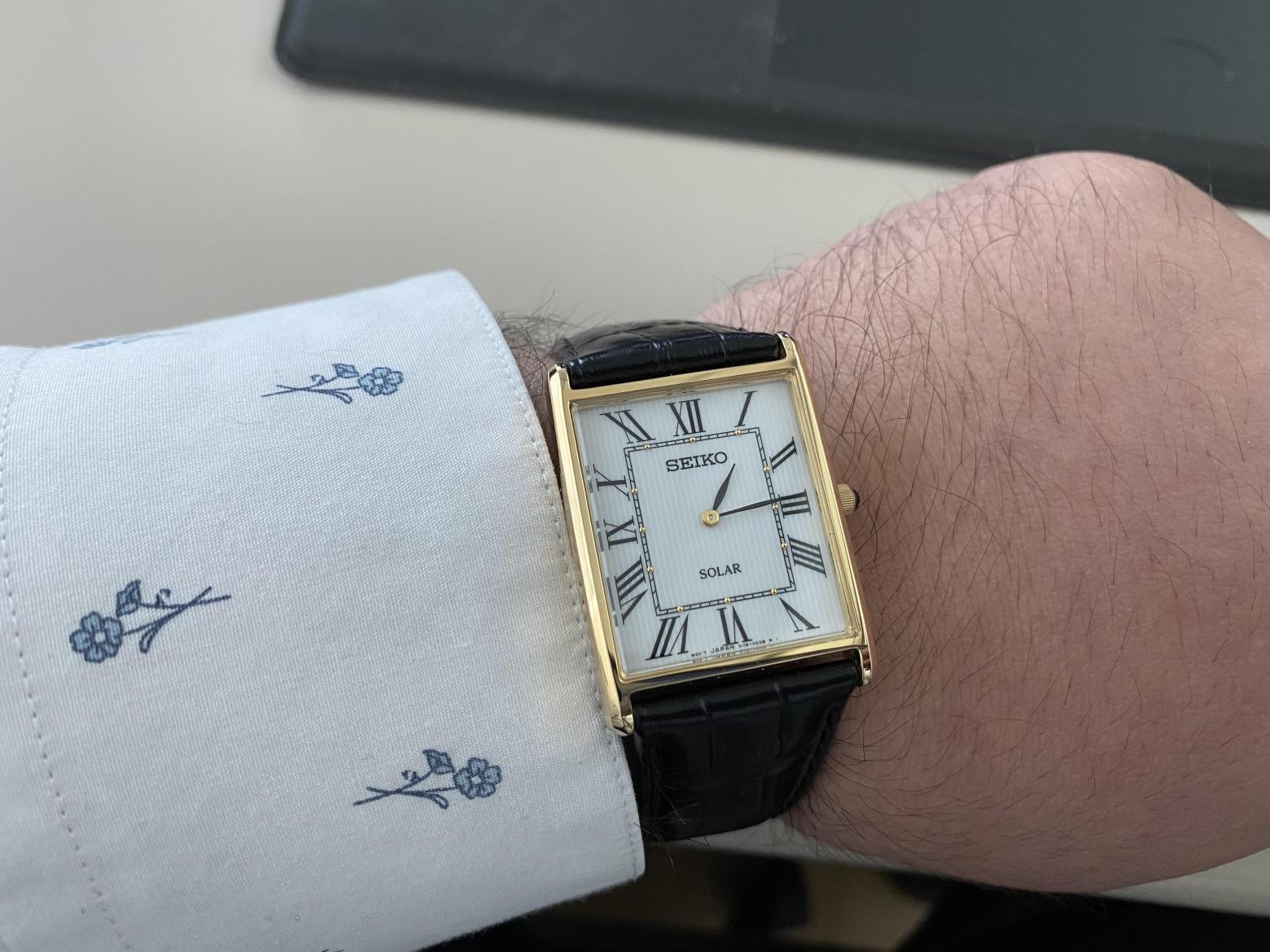 As one of the most famous watch brands ever, Seiko has a lot of stylish, durable, and versatile watches in its extensive catalogue. This brand is one of the few Japanese watchmakers known for its long-lasting yet reasonably priced watches. With its vast and diverse collection of watches, no matter what style and preference you might have, you can rest assured that Seiko has got you covered. 
One of Seiko's most iconic watches is the Seiko SUP880. Unlike most of Seiko's repertoire, which consists of robust tool watches like the Seiko Monster or the Seiko Tuna, this is a versatile dress watch packed with top-tier features and a unique design. Boasting an exquisite, Cartier-inspired style, the Seiko UP880 is an instant stunner made for every white-collar man out there. Without further ado, let us have a closer look at everything the Seiko SUP880 has to offer.
First Impressions

Right off the bat, you can tell that the Seiko SUP880 is an incredibly pretty and straightforward dress watch. Inspired by the Cartier Tank, this watch shows off a similar slender rectangular shape. That said, Seiko also made sure to craft each component with its own signature, making the SUP880 a distinctively Seiko piece. From its gold-tone stainless steel case and black leather strap to its striking white dial with a striped pattern, the Seiko SUP880 is a very fancy dress watch, through and through.
Up Close with Seiko SUP880 

Case, Bezel, and Crown
As mentioned, the Seiko SUP880 is inspired by the Cartier Tank. As such, it comes in a slim, refined-looking 28.5mm rectangular case made of gold-tone stainless steel. This 28.5mm diameter is quite small for a watch, particularly for men's wrists. As such, it is best suited for men who have smaller-to-average-sized wrists. That said, the Seiko SUP880 caters to both men and women, and it is a perfect fit for slender feminine wrists. This case shows off a lustrous polished finish and thin, slanted lugs that add to the Seiko SUP880's fine, reed-like look.
Fitted on top of the left and right edges of the case is a thick fixed bezel, which protrudes outwards noticeably. This bezel almost seems to form a shield around the sides of the Seiko SUP880's case and it protects the watch face from any scratches and impacts. One thing that makes this Seiko dress watch distinct is that it is equipped with a layer of protective Hardlex crystal, instead of the more reflective sapphire crystal that Cartier typically opts for.
Apart from that, Seiko was also inspired by Cartier when it comes to the design of the SUP880's crown. This mid-sized crown comes in the same pretty gold tone as the rest of the case and is furnished with a cabochon stone at its tip. Unlike the Cartier Tank, which typically comes with a blue-coloured cabochon stone, the stone on the Seiko SUP880's crown comes in a jet-black hue that stands out strongly against the gold case.
Flipping the watch over, the back of the Seiko SUP880 is sealed shut with a stainless steel caseback, which keeps the inner mechanisms of the watch safe from any external elements like moisture or dust. It should be noted that, as a dress watch, the Seiko SUP880 is not actually designed for water-based activities. Nevertheless, with its screwed-down caseback and bezel, the Seiko SUP880 has an adequate depth rating of 30 metres, which enables it to survive any splashes or showers it might encounter.
Dial
As befitting an elegant dress watch, the Seiko SUP880 shows off a straightforward and tasteful dial that follows a very simple layout. This dial shows off a soft white finish that bears a striped pattern of alternating light grey lines. It is also furnished with just black-tone leaf hands and pronounced Roman numeral markers in a slanting, stylised typeface. Towards the centre of the dial, you can also find a subtle minute track, with small black indicators and gold dot indices for the hours.
On the whole, the design of this dial is actually rather similar to that of the Cartier Tank, albeit with a slightly more vintage look thanks to its striped finish. In addition, the Seiko SUP880's dial also does away with the seconds hand, such that it looks cleaner and less cluttered.
Movement
The Seiko SUP880 is driven by an excellent in-house V115 movement. This is a solar quartz movement, which can last for up to seven months when fully charged. Furthermore, as a solar movement, this calibre can be charged using any light source. A solar cell is located underneath the watch's dial, which helps convert light energy to electrical energy which the movement then uses to power itself. This impressive piece of technology is very practical and environmentally friendly, as you will never have to worry about having to replace the batteries of your quartz calibre.   
Strap

The Seiko SUP880 is paired with a supple black alligator leather strap, which completes the whole fancy and elegant appearance of the watch. This strap measures around 23mm, which is a standard strap length that enables it to fit nicely around wrists of any size. It also comes with a gold-tone stainless steel pin buckle, which matches well with the Seiko SUP880's case and helps keep the watch securely fastened to your wrist.
Price
Aside from its tasteful stylishness, many watch enthusiasts are fans of the Seiko SUP880 because of its very reasonable price. This is not surprising, of course, as it hails from Seiko, a brand known for its reliable and affordable watches. If you are looking for an elegant dress watch that can be paired with your suit or any other formalwear you have, this $110 USD Seiko dress watch is indeed a worthy grab.
Alternatives to the Seiko SUP880 
Without a doubt, the Seiko SUP880 is a wonderful entry-level dress watch. It has an exquisite design, a robust movement, handy solar charging capabilities, and even a budget-friendly price tag. However, for those who have the budget for something a little more high-end, the Seiko SUP880 might not be your first choice. If so, here are a few more luxurious alternatives to the Seiko SUP880 that you can consider:
1. Cartier Tank Solo Ref. W5200004

First off, we have the Cartier Tank Solo Ref. W5200004 — an exquisite dress watch from the Cartier Tank collection. This particular watch is amongst the famous models that Seiko drew inspiration from to design the Seiko SUP880, which makes it an excellent alternative model. 
This Cartier watch is presented in a 38.4mm rectangular case made of luxurious 18K yellow gold, coupled with a black alligator leather strap and thick, rounded lugs. An 18K yellow gold fixed bezel is wrapped around the case, complementing the matching gold crown located on the right side of the case. Unlike the Seiko SUP880, which has a crown furnished with a black cabochon stone, the crown of this Cartier Tank piece comes with a blue cabochon stone. The dial also shows off a clean white finish and is adorned with blued steel sword hands, bold Roman numeral markers in a slanting typeface, and an unusual minute track with black and white markers.
Powering this watch is a robust in-house Calibre 690 quartz movement. Held together by 8 jewels, this movement has a depth rating of 30 metres, just like the Seiko SUP880.
You can purchase the Cartier Tank Solo Ref. W5200004 for approximately $6,749 USD. 
2. Tissot Heritage Ref. T117.509.16.052.00

For a more stylish, contemporary-looking alternative, take a look at the Tissot Heritage Ref. T117.509.16.052.00. This timepiece is housed in a 49mm rectangular stainless steel case, coupled with an elegant alligator leather strap in black. Its 49mm diameter makes it much larger than the Seiko SUP880 and the Cartier Tank Solo. As such, this is a good choice for those who have bigger wrists or enjoy oversized watches too. On the right side of this case is a stout onion-shaped crown, with grooved edges that provide wearers with an easier grip. In addition, this watch is also fitted with a layer of mineral crystal, which helps add a layer of security to the watch face.
The dial of this Tissot Heritage watch also comes in matte black, perfectly complementing the dial. This dial has a remarkably simple layout. It comprises oversized Arabic numeral markers in a quirky, stylised typeface, silver-tone Mercedes hands, and a minute track with plain white indices that contrast against the black backdrop for maximal legibility.
Underneath this watch face, you can find a first-class Calibre ETA 901.001. This Swiss quartz movement is held together by three jewels and has an outstanding 11-year battery life. In addition, it is also water-resistant up to depths of 30 metres, which is pretty good for a dress watch. 
Priced at $489 USD, this classic Tissot dress watch is certainly worthy of investment. 
3. Hermès Heure H Ref. HH1.110

Famous lifestyle accessories and jewellery brand Hermes also has a wide selection of dress watches you should not miss out on. In particular, the Hermes Heure H Ref. HH1.110 is our top recommendation for you. This timepiece features a unique design with its distinct, H-shaped stainless steel case. Measuring just 30.5mm in diameter, this case has a stylish appeal and blends well with the watch's handsome brown calfskin leather strap. 
The dial of this watch comes in a simple white hue, which goes well with the softer hues of the watch's exterior. It is decorated with Arabic numeral markers in a broad typeface, neatly arranged in the shape of a square, along with silver-tone sword hands. What runs inside this Hermes Heure H watch is a quartz movement that promises to deliver top-notch accuracy. It is also equipped with a 30-metre water resistance rating, to guarantee it can survive showers or downpours.
This Hermes dress watch sells for around $2,049 USD.
Final Thoughts
The Seiko Solar SUP880 is, without a doubt, a classic and elegant dress watch packed with several impressive features. Inspired by the luxurious Cartier Tank, it serves as a more reasonably-priced alternative that makes for an excellent entry-level dress watch. The Seiko SUP880's solar-powered technology is an added convenience that only eliminates the hassle of having to replace batteries from your life. If you are looking for a quintessential dress watch that offers exceptional value, you cannot go wrong with the Seiko SUP880.
Photos are credited to TheWatchCompany.com unless stated otherwise.
Featured image courtesy to user/Emma_Bovary_1856 on Reddit.
If you love delicate-looking timepieces, spend some time reading our article on the Piaget Altiplano: One of the Thinnest Watches in Horology today.