New & Feature
Swatch Sistem51: A Closer Look at the Affordable Automatic Swiss Watch
Sep 16, 2021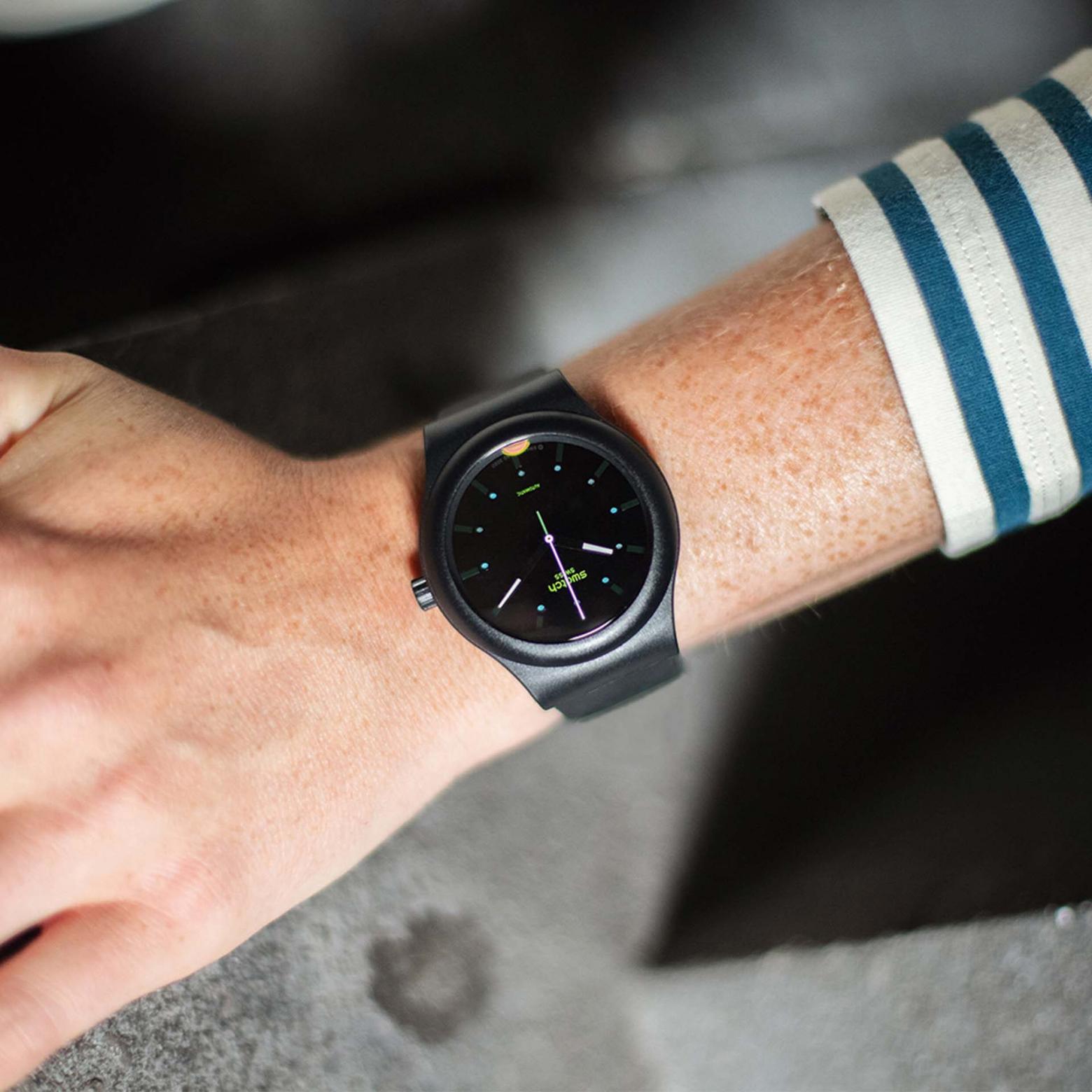 The Swatch brand is one of the most popular Swiss watch brands in the world today. It may not have the same traction and heritage as the likes of Rolex and Audemars Piguet, but it still holds significant relevance in the world of horology. The Swatch watchmaking company is home to some of the most colourful wristwatches in the market. Swatch offers watches that boast unique and bold designs that hold greater variety compared to other established Swiss brands.
One of Swatch's popular watch collections is the Swatch Sistem51. This name might seem bizarre at first, but it is actually inspired by the calibre movement used for these watches—which is also named Sistem51. This is a powerhouse automatic movement that has a total of 51 components with only a single screw down the middle to hold them all together—hence, the Sistem51. The Swatch Sistem51 is marketed as an entry-level timepiece. It is meant to accommodate new enthusiasts looking for a starter watch that sports a sophisticated design with vibrant colours. Depending on each model, the materials used can vary between stainless steel and plastic. This, however, does not compromise the strength and durability of each watch. The delicate structure of the Swatch Sistem51 is in perfect contrast with its surprising durability, giving the wearer a solid impression of the watch's overall characteristics.
That being said, how does the Swatch Sistem51 compare to other luxury automatic watches available in the market? How do these Swatch watches hold up today with their decades of watchmaking expertise and heritage? We will be covering all of these questions in this in-depth review of the Swatch Sistem51 collection.
First Impressions

With its straightforward and simple design, the Swatch Sistem51 might not be for everyone. Most Swatch models usually come in a single colour from the case to the strap. But in the case of the Swatch Sistem51, the designs vary from elegant to sporty, depending on your choice. Indeed, the best thing about the Swatch Sistem51 collection is the diverse variety of models that you can choose from. Plastic cases might not be the most popular choice in modern times, but it certainly does a great job of highlighting the humble roots Swatch originates from, way back in 1983. 
In this review, we will be looking primarily at the outstanding Swatch Sistem51 Sistem Col-ora Ref. SUTB408. This Swatch model inherits the 1983 single-colour plastic design, with a few tweaks here and there to add more uniqueness and incorporate more modern design schemes. The combination of the white dial within a black plastic case and strap creates a nice and sleek contrast of colours. Not only does it have a stealthy design, but the white dial also has an artistic aesthetic with various differently-coloured hour markers, which include light blue, indigo, yellow, green, and purple. This timepiece may not be as vibrant as some other Swatch watches, but there is no doubt that the Swatch Sistem51 Sistem Col-ora Ref. SUTB408 boasts a sophisticated design that sets it apart from the other Sistem51 watches. One of the main focuses of Swatch is comfort, alongside style and functionality, and it can be seen how this is all reflected in the Swatch Sistem51 collection, creating timepieces that are easy to wear, stylish, reliable, and most of all—very affordable.
Specifications
The Swatch Sistem51 does not come with any overly fancy complications or intricate designs. This collection offers a fairly straightforward timekeeping mechanic that allows people of all ages to enjoy and operate a Swatch Sistem51 watch with ease. That being said, let us go over some of the detailed specifications of the Swatch Sistem51. To avoid confusion, we will be talking about one particular model, the Swatch Sistem51 Sistem Col-ora Ref. SUTB408, as a way to generalise the whole collection. Rest assured that while these watches only have a few differences in terms of design, their features and functions are one and the same, across the entire collection.
Case, Crown, Case Back
Swatch is famous for its iconic plastic case that comes in vibrant, bold colours. The Swatch Sistem51, however, breaks the mold by not following this usual design. Instead, Swatch used darker colours to establish a versatile design that can come off as both elegant and sporty at the same time. The Swatch Sistem51 Sistem Col-ora Ref. SUTB408 uses a 42mm black plastic case with a 13.90mm thickness. Despite its larger size, the use of plastic makes this watch fairly lightweight and easy to carry on the wrist. From the way the case was crafted and shaped, it seems to almost merge with the silicone strap, with an absence of any lugs. Indeed, the lack of lugs adds comfort and flexibility to the timepiece, making it a perfect everyday watch. The durability of Swatch watches has often been questioned by watch enthusiasts, as not many people are fans of plastic cases, thinking that these cases will be reduced to pieces with a single drop. But that is not the case for the Swatch Sistem51 series. Despite being made out of plastic, the Swatch Sistem51 Sistem Col-ora Ref. SUTB408 is still sturdy enough to withstand certain amounts of external pressure. In addition, it has an adequate water resistance capacity of 30 metres. Of course, there is only so much you can only do with regard to plastic. That is why it is still highly advisable to take good care of your Swatch Sistem51—do not go knocking it around all willy-nilly. If you are really concerned about durability, rest assured that there are sturdier stainless steel models in the Swatch Sistem51 collection that you can opt for as well.    

The crown of all Swatch watches utilises a simple pull and push mechanic. Like many other automatic watches, the Swatch Sistem51 Sistem Col-ora Ref. SUTB408 offers a simple way of adjusting the time. This allows the wearer to accurately synchronise the time without having to worry too much about the crown. All you have to do is to pull on the crown until you hear a click, and then turn until you reach the desired adjustment. After doing the necessary adjustments, all you have to do is to push the crown back in.
The unusual caseback has apertures that offer a view of the Sistem51 calibre movement. The Swatch Sistem51 Sistem Col-ora Ref. SUTB408 has a particularly stylish caseback that showcases the colourful design also found on the calibre movement itself. The spinning movement has a vivid style that complements the vibrant design scheme of both the dial and the case back of this particular watch. Other Sistem51 models also feature transparent exhibition-style casebacks which fully show off their calibre movements. It is a solid feature that amps up the overall design of the Swatch Sistem51 collection.
Dial
The dial of a Swatch watch tends to be as simple as it can get. It does not have any particularly fancy design scheme that can confuse wearers—especially those who are just beginners in the world of horology. Many people enjoy the minimalist and straightforward Swatch designs which focus singularly on timekeeping capabilities. Such watches are perfect for those who are constantly busy and do not have time to puzzle out how a complex watch works, or those who just want a casual wristwatch that is low maintenance in terms of adjustments and legibility.
Speaking of legibility, the dials of Swatch Sistem51 provide easy readability without the need for a digital dial or any applied markers. The Swatch Sistem51 Sistem Col-ora Ref. SUTB408, for example, uses colourful hour markers that contrast against a white background to increase visibility and legibility. The coloured markers act as their own luminescence, which is an amazing feature to have. This watch also uses a white dial, with red dots at the bottom half of the dial. It has the standard hours, minutes, and seconds hands, as well as a date aperture, which can be found at the three o'clock position. This white dial is the perfect choice for a watch that has a black case and strap-like this one. It truly highlights the stealthy and sleek design of the Swatch Sistem51 Sistem Col-ora Ref. SUTB408. 
Movement

As mentioned before, the Swatch Sistem51 uses an automatic calibre movement that carries the same moniker. In fact, the Sistem51 can be found in many Swatch watch collections. The Sistem51 calibre movement is notable in that it does not have any fancy complications like chronographs or whatnot—instead, it carries just the essential timekeeping functions necessarily. The Swatch Sistem51 Sistem Col-ora Ref. SUTB408, for example, has a date aperture that can be found at 3 o'clock. Other watch models with a Sistem51 movement also have date apertures found either at 3 o'clock or at 6 o'clock. There is one Swatch Sistem51 timepiece that is equipped with a small seconds feature, the Swatch Sistem51 Petite Seconde SY23S403. However, that timepiece uses a calibre movement that is a variation of the original Sistem51 movement.
The Sistem51 automatic calibre movement consists of 51 mechanical parts, hence the name "Sistem51." This mechanism has a power reserve of a whopping 90 hours. It is a very powerful automatic movement that promises longevity as well as precision with its frequency of 21,600 VpH. It uses the ETA C10.111 calibre movement as its base to ensure the quality of the movement. The features of the Sistem51 calibre are not as jam-packed as one might assume, but it is still a relatively impressive automatic movement that is a total bargain for the current price of the Swatch Sistem51.
Price
Watches made by Swatch are bound to be inexpensive due to the materials used and simplified timekeeping features they offer. Since the brand was made as a countermeasure against mass-produced, cheap quartz watches, it only makes sense for Swatch to sell very affordable timepieces. Since 1983, the prices for Swatch watches have remained largely the same. Depending on the model, the prices for Swatch Sistem51 watches range from $150 USD up to $245 USD. With such prices, you hardly need to look for second-hand watches to get a better deal. Indeed, for watches of this calibre, it is optimal to go for a brand new model rather than going for a used watch.
Notable Models
The Swatch Sistem51 has a wide range of models available that offer various designs which might be right up your alley. If the colourful yet minimalistic Swatch Sistem51 Sistem Col-ora Ref. SUTB408 does not interest you, there are a few other notable Swatch Sistem51 models that can be found on the market. These models mostly use the same blueprint but have a few unique design differences that establish elegance and extravagance under affordable price tags. Without further ado, here are a few of the Swatch Sistem51 models that should be considered by the masses.
1983 AM Fifty-One Ref. SO30B400

The Sistem51 calibre movement may have an official Swatch watch collection of its own, the Swatch Sistem51, but it is also prevalent in other Swatch collections as well. The 1983 AM Fifty-One Ref. SO30B400, for example, is part of the original Swatch 1983 collection and also utilises the Sistem51 calibre movement. This watch has a 42mm black bio-sourced case and strap. This is paired with a sleek black dial that features corresponding black luminous hour markers. It may not have a date aperture, but this watch does a great job of revitalising the 1983 design and successfully introducing it into the modern world. The price for this timepiece starts at $150 USD. It is an affordable watch that offers a stylishly understated demeanour without the need for any overly dazzling features.
Sistem51 Sistem Noite Ref. SUTN405

The Sistem51 Sistem Noite Ref. SUTN405 boasts a very intricate dial design that sets it apart from the other Swatch Sistem51 watches. It boasts a 42mm blue plastic case and a matching blue silicone strap. The silicone strap is textured, which adds to the watch's design scheme,  complementing the 3D structure on the blue dial. It also has a date aperture that is located at the 3 o'clock position. The Sistem51 Sistem Noite Ref. SUTN405 has a sophisticated design that is perfect for both casual and formal events, as it can blend perfectly with almost any outfit you choose. The timepiece also retails at $150 USD.
Sistem51 Irony Sistem Fly Ref. YIS404

If you are looking for a more formal-looking Sistem51 watch, then the Sistem51 Irony Sistem Fly Ref. YIS404 will be right up your alley. It deviates from the use of plastics, utilising the durability of stainless steel for its case as well as the classy style of a leather strap. This timepiece features a 42mm stainless steel case that offers the same 30 metres of water resistance that other Swatch Sistem51 watches also have. Furthermore, the brown leather strap also adds to this watch's aura of luxury and elegance. To complete the classy style of this watch, it is equipped with a blue-coloured dial that replicates the look of some of the most luxurious Swiss watches. The price for this watch starts at $195 USD.
Sistem51 Sistem Bling Ref. YIS429G

If the glamour of the Sistem51 Ref. YIS404 is still not enough for you, then the Sistem51 Sistem Bling Ref. YIS429G will surely satisfy your refined tastes. Like most luxurious watches, the Sistem51 Sistem Bling Ref. YIS429G sports a 42mm stainless steel case, while its bracelet and bezel are also made from stainless steel and layered with gold-coloured PVD coatings. As such, Swatch did not actually use real gold for this watch; it is purely for stylistic purposes, and it works remarkably well, giving the watch a gorgeous silver and gold colour scheme that looks positively lavish. The Ref. YIS429G also has a champagne sunburst dial with a small date aperture that can be found at the 6 o'clock position. The Sistem51 Sistem Bling Ref. YIS429G currently costs $245 USD.
Sistem51 Sistem Thought Ref. YIB402

Last but not least, we have the Sistem51 Sistem Thought Ref. YIB402, which brings out the more artistic side of Swatch. It has a 42mm brushed stainless steel case with a black PVD finish. The case is paired with a light brown leather strap that has a half buckle. Instead of going straight for a skeleton dial, the Sistem51 Sistem Thought Ref. YIB402 has gone for something more balanced, simply adding a few apertures on the dial to showcase some of the watch's inner gears. Plus, the date aperture was completely revamped. To indicate the date, the middle part of the dial rotates and stops at specific numerals which circle the centre of the dial. The 3 o'clock numeral was replaced with an arrow for the sole purpose of indicating the date. It may sound a little complicated at first, but it is actually very straightforward once you get the hang of it. This watch currently retails at $245 USD. It is a bit pricey, but the contemporary design makes it well worth the price.
History of the Swatch Sistem51
At some point in horological history, there once came a time where inexpensive Japanese watches became a genuine challenge to traditional European watchmaking. Not only were these Japanese watch models different and unique from their European counterparts, but they were also mass-produced and much more affordable. As such, Japanese watches seemed poised to topple Swiss watches from the height of the market. This became a massive concern for European watchmakers. As a way to conserve their expertise, the Swatch Group was formed in 1983. Nicolas Hayek became the CEO of the group and privatised it to create a more secure understanding of what problems Swiss watchmakers faced. The Swatch Group took in several renowned watch brands such as Tissot, Omega, Blancpain, Rado, Breguet, Longines, Hamilton, Certina, Glashutte Original, Harry Winston, ETA, and Mido. The Swatch brand we are looking at today is another subsidiary of the Swatch Group, and was also founded in 1983—the same year the Swatch Group itself was established. This brand was created for the sole purpose of creating a watch that would help counter the "Quartz Crisis" caused by Japanese watchmakers. Although Swatch deals primarily with quartz watches, they have also manufactured some impressive automatic watch movements over the years—one of which is the Sistem51 calibre movement. As part of the world's largest watchmaking company, Swatch gained popularity almost immediately due to its uniquely bold watch designs. It might not be on par with its fellow Swiss luxury watch brands, but it does a great job of competing with the likes of Casio and Seiko—specifically in the quartz arena.
The Swatch Sistem51 was introduced during the 2013 Baselworld. It boasts a design that exudes a classy yet energetic aura with the slightly darker colours of its case and straps. Another thing worth mentioning is the use of both stainless steel and plastic for the Swatch Sistem51 case. This allows the watch to be versatile while still maintaining a very lightweight structure, and having the average durability of a 42mm watch. The existence of Swatch was solely intended for the purpose of keeping the European watchmaking tradition alive. Swatch maintains a careful balance between the production of quartz movements and automatic calibres in the market. This has proved to be a successful manoeuvre that has stabilised both the supply and demand for Japanese quartz watches, allowing Swiss luxury brands to reclaim their place in the horology world.
Final Thoughts
The Swatch Sistem51 collection is definitely one of the best affordable watches that you can find in the market today. The most common misconception about Swatch is that they are cheap Swiss knockoffs that can be easily broken due to their plastic exteriors. This might have been a problem back in the day, but it cannot be denied that the budget-friendly prices and vibrant designs of each Swatch watch have become the brand's primary strength in this day and age. The release of the Swatch Sistem51 was very timely due to the rise of high-priced Swiss watches in the market. A lot of people who have been looking to get into the watch scene are having a hard time, mainly due to the exorbitant prices of high-end luxury Swiss watch brands. That is why having an affordable Swiss watch brand like Swatch is truly a blessing in disguise. After all, there are not many watch companies who are willing to offer their reliable automatic watches for just $150 USD. The Swatch Sistem51 is accessible, worth every penny, and versatile in terms of both design and utility. It might just be the best affordable watch you can ever find on the market.
Are you still looking for an affordable automatic watch? Check out our in-depth guide on Seiko SNKL23!
All images courtesy of Swatch. Featured image courtesy of Swatch.