New & Feature
TAG Heuer Link: A Look at the Brand's Elegant Sports Watch
Feb 25, 2021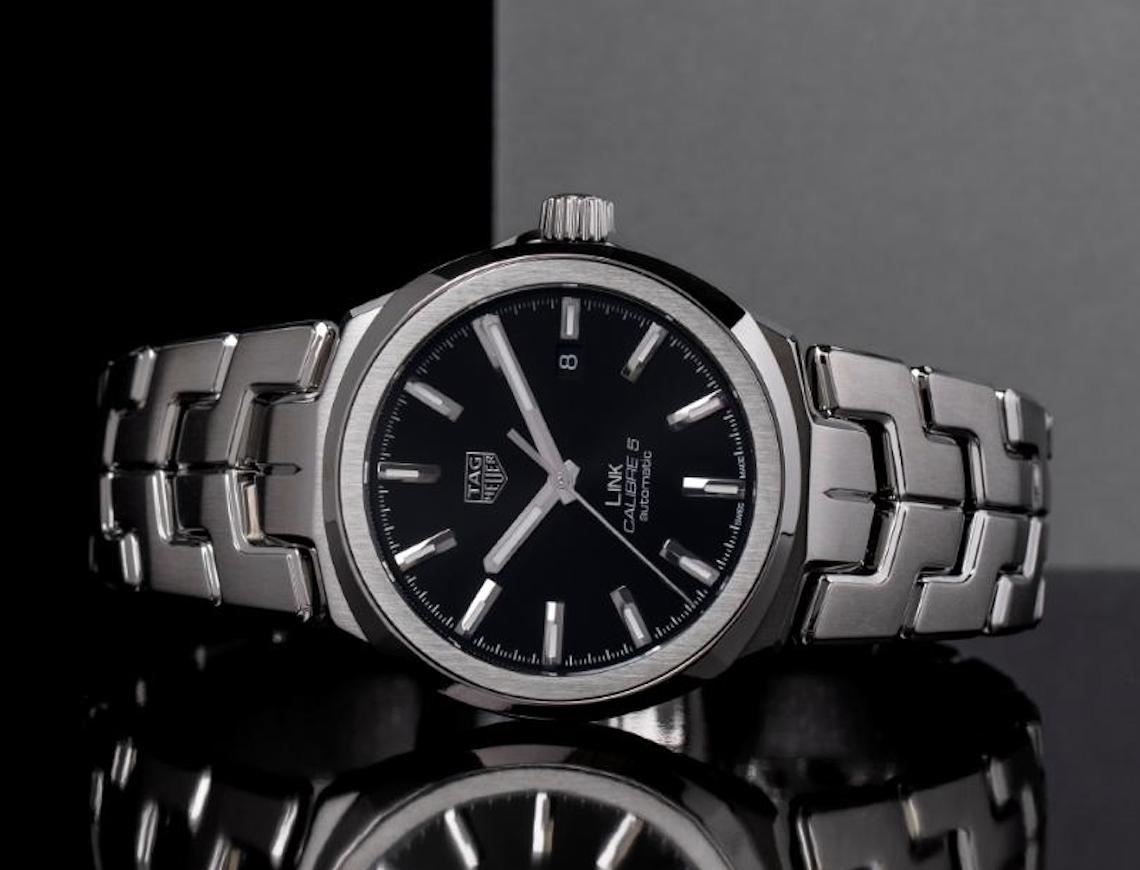 Many people regard Switzerland as the horology capital of the world and for good reason. A lot of the recognised watch brands we know today, both luxury and affordable, originated from the said country, which further solidified its title as a metropolis for watchmaking.
TAG Heuer is among the numerous timepiece manufacturers that emerged from Switzerland and, at present, there's no doubt that it is one of the most famous Swiss luxury watch brands in the market. Over the past decades, TAG Heuer has released multiple models and collections that have garnered attention from the public. Even those who are not entirely familiar with TAG Heuer would probably know their futuristic TAG Heuer Carrera series or maybe the infamous TAG Heuer Aquaracer line, which just shows how well-established they are as a brand. However, in this article, we will be focusing on a more classic-looking collection in TAG Heuer's arsenal called the TAG Heuer Link. 
One of the many things that make TAG Heuer so well-loved is its commitment to creating reliable, precise, and innovative timepieces from the very beginning up until now. Today, let's take a look at the brand's humble beginning, the evolution of its Link series, and more. 
How It All Started 
Established in 1860 by Edouard Heuer, TAG Heuer has been in the watchmaking industry for over 160 years now. It is crazy to think that the esteemed brand we know today started out as a simple shop on Heuer's family farm in Switzerland. However, Edouard Heuer's dedication to his craft paved the way for the company and, in a span of a couple of years, he was able to move the business to the town of Bienne. 
One of the first milestones in Edouard Heuer's career was his first patent for the crown-operated, keyless winding system in 1869. This would further strengthen their foundation and reputation as a brand that aims to exceed people's expectations in all aspects of watchmaking. Furthermore, it would only take the company a couple of decades before it manages to enter the world stage as a competitor and a pioneer in the watchmaking industry. During the industrialisation period, TAG Heuer proved their resilience by keeping up with the constant changes and shifts in technology. They reinforced their commitment to creating quality timepieces through their groundbreaking innovations that would eventually aid in the fields of medicine, transportation, and sports. 
The early 1900s

In 1914, TAG Heuer released their first wristwatch model that boasts the same precision and reliability as their pocket watches. However, they would continue being a brand that specialised in the pocket and stopwatches until the 1930s. A decade later, the company started including the Heuer name in all the dials of the products they make. This helped a lot in increasing the popularity of TAG Heuer, which eventually led to higher sales and more brand recognition. 
The 1940s also came with a lot of changes for TAG Heuer. It was in this decade that they opted to step up their game by delving into other innovative timepieces that catered to an even wider variety of people such as athletes, jet setters, and the like. This was solidified by their launch of the Heuer Solunar which featured the usual solar and lunar time plus more.
From then on, TAG Heuer continued creating innovative and functional watches that would eventually precede their modern-day collections. Some of the notable models they produced were the Seafarer, the Solunagraph, and the Twin-Time watch. 
1950 to Present
From then on, TAG Heuer focused on the production of what they're best at — wrist chronographs, stopwatches, and motorsport timing devices. Come 1962, they would eventually launch the TAG Heuer Autavia chronograph, which was heavily based on the features of Heuer's previous motorsport and pilot watches. This was also the first model in what would be known as the Autavia collection today. In 1963, they released the Heuer Carrera, which took inspiration from the thrill and excitement that came with racing. 
In the years that followed, TAG Heuer would further cement their name in the field of motorsports through its sponsorship of the Ferrari Formula One team. It would also make Heuer the first non-automotive brand to be featured in a Formula One vehicle. As years passed on, TAG Heuer continued to establish its mark in the racing world while trying to create both quintessential and avant-garde timepieces. In 1979, they eventually released a catalogue dedicated to diving watches, which would be known as the predecessor of their Aquaracer line today. 
From then on, they were able to consistently create watches that perfectly captured the essence of sports and sophistication. Many people saw and acknowledged Heuer's progress, development, and commitment to Swiss craftsmanship through the decades. Apparently, LVMH shared the same sentiments, which is why they officially acquired TAG Heuer in 1999. 
As of 2021, there are seven collections being actively produced by the brand, namely the following: TAG Heuer Connected, TAG Heuer Carrera, TAG Heuer Formula 1, TAG Heuer Aquaracer, TAG Heuer Monaco, TAG Heuer Autavia, and TAG Heuer Link. 
All About The TAG Heuer Link Collection

The TAG Heuer Link collection actually dates back to the late 1980s. It was previously called the TAG Heuer S/EL, which stood for sports elegance, and was considered their most successful piece during the time. However, in 1999, they changed the name to what it is known today: the TAG Heuer Link. The TAG Heuer Link was designed by Eddie Schopfer, who is also known as the man behind Heuer's 2000 series.
The reason behind the immense popularity of this particular collection boils down to its bracelet. Yes, you heard it right, its bracelet. The TAG Heuer Link showcased a bracelet made up of stainless steel, S-shaped components that are cohesively linked together. This feature makes this collection stand out with its recognisable and striking style.
Paving the Way in the Luxury Market
Some watch experts would even say that the TAG Heuer Link paved the way for the said brand in the luxury watch market. The TAG Heuer Link collection was a breath of fresh air for both the company and its patrons. It is no secret that Heuer dedicated most of its attention to leaving a mark in the motorsports world. However, while it succeeded in doing so, the brand also needed something that would put them at par with other luxury watch competitors. This is where the TAG Heuer Link comes in; this series has been able to sell over two million pieces since it was launched. This is a pretty sizeable number considering it was only released a little over 20 years ago. 
Much like most good things in life, the TAG Heuer Link started losing the interest of the general public in the 2000s. This is mainly because the brand opted to focus on their other iconic collections, particularly the Carrera series while trying to introduce new models as well. However, TAG Heuer eventually re-established the Link just a couple of years ago. Before we discuss the pieces in the current collection, let's take a look at some of the different generations of the TAG Heuer Link. 
The 1999 TAG Heuer Link 
This particular model of the TAG Heuer Link was quite similar to the preliminary 1998 S/EL model. However, it did look sharper and flatter in terms of the overall design. This watch also had sword hands, enlarged numerals, and stick hour-markers, which are all different from the S/EL. Furthermore, this specific range came in four different models: Calibre 7 Chronometer, Quartz, Automatic Chronograph, and 1/10th second Quartz Chronograph.  
The 2004 TAG Heuer Link
It was only in 2002 that TAG Heuer began including the collection name (Link) in the dial of the watches, which means the 2004 Link series had the aforementioned label. This version was also quite different from the previous one. It features a two-part dial design with the inner and outer circles following different patterns. The 2004 Link also consisted of triangular-shaped hour markers, more refined hands in the dial, and an upgraded bezel to top it off. In addition, this specific series was also the beginning of Tiger Woods' association to the TAG Heuer Link collection. 
The 2011 TAG Heuer Link 
This series was a significantly different one compared to its predecessors. With the 2011 Link, they had a clear goal for the collection, which was to encapsulate refinement through its design. It features an upgraded case, a streak pattern for the dial, and thinner hour markers. 
TAG Heuer Link X Leonardo DiCaprio
In 2012, the brand released a limited-edition TAG Heuer Link Calibre 16 Chronograph with Leonardo DiCaprio's name on the sapphire crystal caseback. It featured a blue dial with silver-coloured indexes and hands. The model also included three sub-dials for the chronograph and a date component at 3 o'clock. Only around 2000 pieces of this watch were made. 
TAG Heuer Link X Tiger Woods
TAG Heuer's partnership with Tiger Woods lasted for many years. The first model with the infamous golfer dates back to as early as 2003. The pieces under this edition would typically include his name and signature either on the dial or the caseback. It came in multiple designs and calibre movements, but most would include the colours red, black, and blue. 
Best TAG Heuer Link Watches to Consider
After seeing how the TAG Heuer Link has evolved through the years, let's now take a look at some of the watches being offered in the market at present. 
1. TAG Heuer Link Calibre 5 Automatic (WBC2110.BA0603)

Let's begin with a simple and classic-looking model. The TAG Heuer Link Calibre 5 Automatic is a great watch for those who prefer straightforward yet elegant pieces. The black dial, paired with the sunray brushed pattern, gives off a very modern and refined vibe to it. The exterior features a steel polished case with a bracelet and bezel in the same material. The dial, protected by sapphire crystal glass, includes a date component and luminous markers and hands. This TAG Heuer Link, priced at USD 2905, has a Calibre 5 automatic movement and a power reserve of 38 hours. 
2. TAG Heuer Link Ladies Quartz (WAT1313.BA0956)

Feminine and dazzling, the TAG Heuer Link Ladies Quartz is the type of watch that would capture your attention even from afar. This is an excellent option for ladies who are interested in vibrant and eye-catching pieces. This particular TAG Heuer Link comes in a 34.5mm stainless steel case paired with the iconic Link-style bracelet in the same material. The pink-coloured dial has a ripple design and is decorated with diamond hour markers. It follows a quartz movement and costs a little over USD 3000. 
3. TAG Heuer Link Ladies Quartz (WBC1311.BA0600)

Here we have a watch that is similar to the previous one. The TAG Heuer Link Ladies Quartz also exudes the same feminine and colourful feel but it is definitely a lot simpler in design. This TAG Heuer Link women's watch features a blue mother of pearl dial with silver-coloured hour markers and hands. The exterior comes in a 32mm stainless steel case and a matching stainless steel bracelet. It also has a quartz movement and a date component at 3 o'clock. You can get this classic yet stunning piece for around USD 1297. 
4. TAG Heuer Link Automatic Chronograph (CBC2110.BA0603)

The TAG Heuer Link Automatic Chronograph has a very robust, powerful, and classic design. It is a good candidate for those who prefer more masculine yet equally luxurious watches. It comes in a 41mm stainless steel case with a matching stainless steel bracelet and a black dial with luminous markers and hands. This chronograph includes three sub-dials featuring a 1/4 second, a 30 minutes counter, and a 12 hours counter. It runs on a Calibre 17 automatic movement and has a power reserve of 42 hours. This piece retails for about USD 4500. 
5. TAG Heuer Link Quartz Watch (WBC131G.BA0649)

Last on our list is the newest model in the TAG Heuer Link collection. There is no other piece in this series that perfectly captures the meaning of elegance and luxury other than this TAG Heuer Link Quartz Watch with diamonds. There is something about the colours and the design of this watch that just draws you to it, which I think says a lot about a watch. The exterior follows the usual modern-day TAG Heuer Link bracelet paired with a 32mm stainless steel case and a diamond-covered bezel. The dial comes in black with a rose gold radial pattern and has diamond-studded indexes plus rose gold hands. Furthermore, it has a date component at 3 o'clock and runs on a quartz movement. Lastly, this masterful piece is priced at USD 4600 and is perfect for all the luxury lovers out there.
Should you get a TAG Heuer Link watch? 
Again, as I have said multiple times, there is no way I can answer this question for you. It will depend entirely on the factors that you personally consider before you make a purchase. However, I can say that TAG Heuer is a well-respected brand that has been in the industry for over a century now, so you won't have to worry about quality and brand recognition much. Based on the history of the TAG Heuer Link, this collection is one of the most iconic ranges they offer. It singlehandedly helped the brand in overcoming certain crises and further securing TAG Heuer's place in the luxury watchmaking industry. 
Furthermore, you will have a variety of pieces to choose from in their modern-day collection. We've only featured five models above, but if you do a quick Google search, you'll find that there is so much more out there. You don't even have to buy a brand new watch as there are many authorised online platforms that sell pre-owned TAG Heuer Link pieces. In terms of price, the TAG Heuer Link collection also ranges from USD 1000 to USD 4000. I would say it is the normal price for a TAG Heuer piece. However, again, it will certainly be worth the price. Ultimately, the TAG Heuer Link is a great collection for those who fancy distinct, elegant, and almost nostalgic timepieces. 
Final Thoughts
Overall, the TAG Heuer Link collection is yet another iconic series by the brand. It also has a colourful history even though it was only launched in the late 1980s. This collection is another proof that TAG Heuer remains committed to its values especially when it comes to creating precise, reliable, and masterful timepieces. It is the perfect timepiece for those who enjoy items with a retro or vintage feel without having to sacrifice function or modern aesthetics.
If you want to know more about TAG Heuer, check out our article on the TAG Heuer Aquaracer.
Photo credits: Featured image from TAG Heuer.