New & Feature
Tissot Seastar: A Must-Have For All Divers
May 03, 2022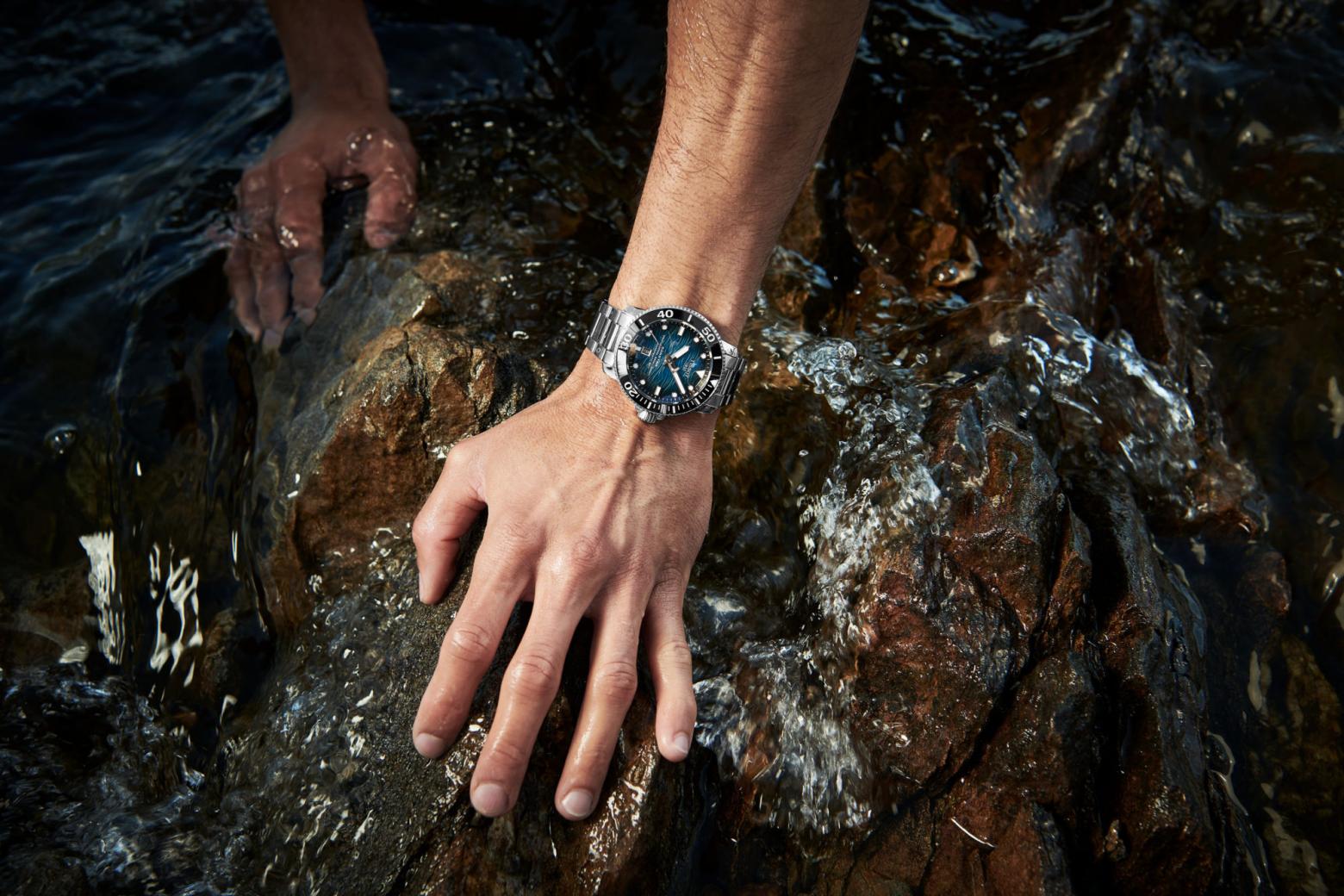 When you are asked about watches that are good value for money, the brands Citizen or Casio are probably amongst the first to jump to mind. Now, let us add Tissot to that list. For those who are not in the know, Tissot has long been one of the best innovators in horology since its founding in 1853. It has made its mark in the industry, creating remarkable designs and trailblazing watch movements. In 2003, the brand launched a new icon: the Tissot Seastar, inspired by the original Seastar watches in the 1960s.
Meant for everyday use and all your fun water adventures, the Tissot Seastar series consists of three outstanding sub-collections: the Tissot Diver Seastar, the Tissot Seastar 1000, and the Tissot Seastar 2000. Today, we will be going through everything you need to know about the Tissot Seastar, including the best watches in this lineup, their prices, and everything they have to offer.
The Beginning of Tissot Seastar
As mentioned above, the Tissot Seastar was originally a collection of affordable yet high-quality timepieces that originated in the 1960s. Back then, the Seastar watches were housed in squared cases with gold tones and simple dials. These watches were designed to be simple and minimal, bearing only standard timekeeping functions and an additional date complication. The Tissot Seastar watches of old were driven by the brand's in-house Calibre 2481, which was also utilised by Omega at the time.
In 2003, Tissot relaunched the Seastar collection with revamped looks and functions. It started out with the Seastar 660, which came with a broad rotating bezel and a 200-metre depth rating. Another line of watches followed, the Diver Seastar, which introduced different dial colours and another improvement on the depth rating, up to 300 metres this time. Most recently, in 2018, the brand released the Seastar 1000 and Seastar 2000.
The aim of the Tissot Seastar collection was to provide aquatic elegance while also being highly functional in the ocean. All of these Seastar timepieces are ISO 6425-certified, meeting the technical standards necessary for dive watches. Besides their high water resistance capacities, the Tissot Seastar watches also offer long-lasting power reserves and handsome, masculine designs that effortlessly reflect the ocean.
The Tissot Seastar: Timepieces Made of the Ocean's Colours
Case and Bezel

The case material is a crucial element of a watch. The durability of the watch depends on it, as well as its life expectancy. Tissot Seastar watches craft their cases using 316L stainless steel, which is considered an excellent case material for modern timepieces. It is commonly used, not just for watches, but for buildings and oceanic projects too. It has proven capable of withstanding scratches, impacts, as well as extreme pressures underwater, making it a fantastic material to use in tool watches like the Tissot Seastar. 
The Tissot Seastar watches come in varying case sizes that fall on the larger side of the scale, from 43mm to 46mm. This makes them perfect for those with average-to-big-sized wrists. Having thicknesses between 12mm to 16mm, balances out the case diameters of the Seastar pieces, ensuring that they are not too hefty and do not fit uncomfortably high on the wrist. Other than the crowns and lugs, the surfaces of the Seastar watch cases are perfectly brushed, giving these watches a sleek lustre.
Fitted on top of each Tissot Seastar watch is a large elapsed time scale bezel, either made of ceramic or aluminium, which helps divers track the amount of time they spend underwater. Aluminium and ceramic are both highly scratch-resistant and impact-resistant materials which are very reflective, giving the Seastars' bezels a satisfying gleam under the light. Each bezel also bears pronounced indicators in either silver or gold, depending on the hue the bezel comes in. These indicators include thick indices and bold Arabic numerals that are placed in intervals of 10. These bezels all rotate unidirectionally, with a secure lock that prevents any form of back play.
Crown and Crystal

The crown and crystal are two of the most important parts of a dive watch. The Tissot Seastar watches come with chunky crowns placed at 3 o'clock, with crown guards that protect the crown from any shocks or impacts. They are designed with ribbed sides so that wearers can grip and adjust the crowns more easily, even when underwater. These crowns are securely screwed-in, preventing any moisture from getting into the Seastar watches and contributing to their water-resistance capacities. 
On top of each Tissot Seastar piece, you can also find a luxurious sapphire crystal. As the most reliable crystal for tool watches, sapphire is incredibly hard, and can only be scratched by diamonds. One problem with the sapphire crystal, however, is that it is highly reflective and can cause distortions when placed under bright light. The light glares produced can make reading the Tissot Seastar's watch face difficult, especially on sunny days.
Dial

Dial colour can play a huge role in the decision-making process when it comes to buying watches. But not to worry, for Tissot has offered you all the variety you could want with the Seastar. The Tissot Seastar is available in several gradient colour variations, including black, blue, turquoise, green, and red. These hues are versatile enough to match just about any outfit you want, especially for men. However, if you want something that can be worn anytime, anywhere, your best choice would probably be classic black.
The layout of the Tissot Seastar is a familiar one, almost resembling the famous Rolex Submariner. The standard analogue Tissot Seastar is simple and highly legible, with just geometric hour markers, thick sword-shaped hands, and a compact circular date window at 6 o'clock. Chronograph models of the Tissot Seastar also have very straightforward layouts. Their dials consist of the aforementioned elements, along with three additional sub-dials that are made with sleek numerals and indices, maintaining the sporty yet elegant look of the Seastar dial. Another difference is that the date apertures for chronograph models are located between 4 and 5 o'clock instead.
The applied hands and indices of the Seastar's dial are all generously coated in luminescent material, which is critical for dive watches since it ensures that the watch face will be readable even in dark sea depths. Each hand and index is painted white and outlined in silver to contrast against the darker-coloured dial, making them easier to read.
Bracelet

The Tissot Seastar watches come with a black rubber strap or a stainless steel bracelet, depending on which model you get. If you have yet to decide on which model you want, you should note that a rubber strap is the better choice for divers, as it is more resistant to water and humid weather. Aside from having a sportier look, rubber straps are also more comfortable on the wrist during rough activities because of their soft and supple texture. In addition, they are lighter and contrast sharply against the stainless steel case. 
On the other hand, the three-link stainless steel bracelet gives the Tissot Seastar a classier dress watch look, which is great for formal events. You can easily tote the stainless steel bracelet around all day, because its polished, smooth edges will not cause any discomfort to your wrist, unlike some stainless steel bracelets from other brands. That said, stainless steel bracelets can be a little heavy when used underwater, so they might not be the best option for serious divers.
Movement
There are two types of movement used in the Tissot Seastar collection: the Powermatic 80 and Quartz EOL.

The Powermatic 80 is an automatic movement developed by Tissot. It is Swiss-made, with an extended power reserve of 80 hours. This means that you can still leave your watch on your desk for three whole days without ever having to worry about winding it. Held together by 23 jewels, the Powermatic 80 calibre comes with a date complication and beats at 21,600 vibrations per hour. It uses an innovative silicone hairspring, which allows the movement to achieve less friction, improve its time-telling precision, and increase its resistance to strong magnetic fields. 
On the other hand, the Quartz EOL (end-of-life) movement powers the Tissot Seastar chronograph models. It comes with a central 60-seconds chronograph hand, along with 30-minute and 1/10th of a second counters. It is also driven by a Renata 394 battery with more than two years of power reserve. If you want a watch that does not need to be wound for continuous use, going for a Tissot Seastar powered by a Quartz EOL calibre would be an excellent choice.
Top 5 Tissot Seastar Watches
Looking for a watch that can support all your deep-sea explorations? Check out the top Tissot Seastar pieces below. 
1. Tissot Seastar 1000 Quartz Chronograph T120.417.11.091.01

The Tissot Seastar 1000 Quartz Chronograph T120.417.11.091.01 is one of the collection's best-selling pieces for professional divers. It blows past the ISO 6425 standards for dive watches with its 300-metre depth rating, which is three times the minimum water-resistance rating needed to pass the ISO 6425. Housed in a 45.5mm case and bracelet both made of stainless steel, this watch shows off a gorgeous gradient green dial that you simply cannot take your eyes off.
The dial of this watch has a clean chronograph layout, with clear white hour markers, thick sword-shaped hands, three sub-counters, and a circular date window between 4 and 5 o'clock. Its impressive lume is also tried-and-tested, capable of illuminating up to 25cm far in total darkness. 
This Tissot watch retails at approximately $525 USD.
2. Tissot Seastar 1000 Powermatic 80 T120.407.17.041.00

The Tissot Seastar 1000 Powermatic 80 T120.407.17.041.00 is another affordable dive watch for men. This timepiece comes in a 43mm case, the smallest case size available in the Seastar collection, along with a rugged rubber strap and a gradient blue dial. It has a simple layout, with clean white hour markers, pronounced sword hands, and a date window at 3 o'clock. With its 300-metre water resistance capacity, impressive 80-hour power reserve, and high resistance to impacts, this is a Seastar watch you can trust for anything.
You can purchase this watch for around $695 USD.
3. Tissot Seastar 2000 Professional Powermatic 80 T120.607.11.041.00

For truly serious divers, the Tissot Seastar 2000 Professional Powermatic 80 T120.607.11.041.00 is a great choice. Featuring a bigger case size of 46mm and an incredible depth rating of 600 metres, or 2,000 feet, this is the tool watch to have for deep-sea explorations.
Aside from its 46mm stainless steel case, this watch also comes with a three-link stainless steel bracelet and a black elapsed time scale bezel crafted from ceramic. The alluring, ocean-inspired dial bears a turquoise finish with a texture resembling rough sea waves. It also comprises luminous hour markers, sword hands, and a rectangular date display outlined in silver at 6 o'clock.
Considering its improved capacity as a dive watch, it should come as no surprise that this is the most expensive timepiece on the list. The Tissot Seastar 2000 Professional Powermatic 80 T120.607.11.041.00 sells for an estimated price of $920 USD.
4. Tissot Seastar 1000 Chronograph T120.417.11.051.01

Are you looking for a masculine black dial dive watch for men? Then the Tissot Seastar 1000 Chronograph T120.417.11.051.01 is the perfect pick for you. Encased in a 45.5mm stainless steel case, this watch showcases a three-link bracelet and a rugged two-tone bezel made of aluminium, in cool black and red hues. Its matte black dial complements its bezel and is adorned with luminous hands, hour markers, a date aperture, and three chronograph counters. Equipped with a Renata 394 quartz movement for longer battery life, this watch has a depth rating of 300 metres.
You can get your hands on this handsome Seastar watch for around$525 USD.
5. Tissot Seastar 1000 Powermatic 80 T120.407.37.041.00

The Tissot Seastar 1000 Powermatic 80 T120.407.37.041.00 is probably the most elegant of all the Seastar watches. It is presented in a 43mm stainless steel case with rose gold PVD coating on the lugs, crown, crown guards, and bezel. This is complemented by a gradient blue dial that sets a lovely contrast against the rose gold hour markers and hands. This watch also stands out as it is the only Seastar model to come with a blue textile strap, to match its blue dial. It should be noted, however, that the textile strap is not a great choice for divers as it is not water-resistant. As such, you should be prepared to only use this Seastar model as a classy dress watch.
This Tissot watch has a retail price of $795 USD.
Best Alternatives to Tissot Seastar
1. Tissot T-Sport Supersport Chronograph T125.617.36.051.01

A more affordable alternative to the Tissot Seastar is the  T-Sport Supersport Chronograph T125.617.36.051.01. This watch has a very versatile look, managing to look both sporty and elegant at the same time — thanks to its 45.5mm black ion-plated stainless steel case and light brown leather strap. It offers multiple complications, such as a tachymetric scale graduated up to 400 k.m.p.h and a chronograph layout with three sub-dials. Its dial shows off a gorgeous sunray black finish and is furnished with thick hour indices, large sword hands, and a small date display at 6 o'clock. Powered by the ETA G10.212 calibre, this watch has a 100-metre depth rating. 
This affordable Tissot T-Sport watch has a retail price of just $351 USD.
2. Seiko Prospex Sea Diver SBDC055 

The last timepiece on this list is the Seiko Prospex Sea Diver SBDC055, which is a classic dive watch for men. It fits very comfortably on the wrist, thanks to its ridged blue silicone strap and smaller 42.6mm case size. This Seiko watch also comes with a 200-metre water resistance rating, so you can easily bring it with you on your diving, snorkelling, or jet skiing adventures. In addition, this watch is housed in a hard-coated stainless steel case and a six-fold screwed-in caseback, so you do not have to worry about its inner mechanisms and movement being damaged.
You can get your hands on this Seiko Prospex watch for approximately $648 USD.
Final Thoughts
The Tissot Seastar watches are best for sports enthusiasts, especially professional divers looking for a solid dive watch below the $1,000 USD price point. They tick off all the essential dive watch requirements, such as an exquisite and classy design, high-performing functions, and top-notch water resistance capacities. While the Tissot Seastar might not look as luxurious as some other divers watch, it is more than capable of outperforming its peers. 
All images, including the featured photo, are from Tissot's official website unless stated. 
Are you interested to know more about the Tissot Powermatic 80? We have written a thorough guide just for you!