Watch Style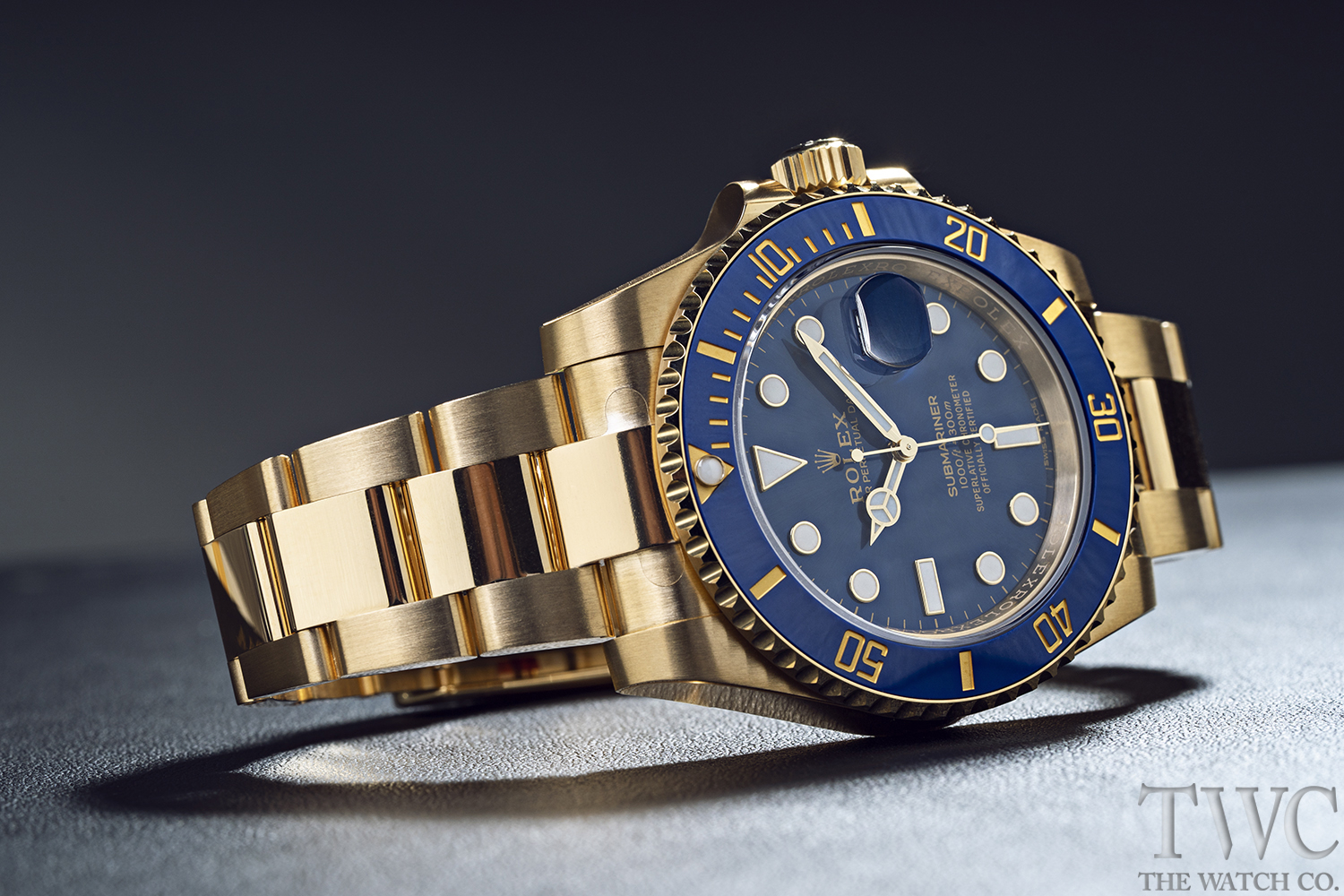 Watches make an excellent fashion statement about the type of person you are and how crucial personal style is to you. Whether you are a marathon runner trying to set your next personal record or a punctual professional, the right watch is the one that serves you best and also looks great.
A gold watch is a status symbol for successful men. There are several nice watches for men made of gold that are available in the market. Various companies make gold watches for men and women's luxury watches to ensure that there is something for everyone. The best luxury watches for men are the ones that sync with the latest trends in fashion to fulfill the desires of the wearers.
Below are some excellent watch brands for men and a highlight of what the design of good watches entail. We also take a look at the types of gold used to make men's dress watches and highlight the different purities of gold used to make watches.
Types of Gold Watches
For an average user, the various names given to gold utilized to make watches might sound like a marketing trick, but the truth is that there are variations in their chemical composition.
Here are the three types of gold that are commonly used in making watches:

Rose gold watch
Rose Gold is mainly composed of copper and copper. The quantity of copper utilized determines the color intensity. However, rose gold sometimes contains a tint of zinc to add a more subdued red tone.
Although it is seen less often, it is increasing in popularity, especially for those individuals who want their watches to have a unique appearance. It works best for vintage-inspired styles. Durability is another aspect to consider when comparing rose gold vs. gold. Rose gold is the strongest among the three types because copper is solid and the resulting alloy is stronger than white and yellow gold
Yellow Gold watch
While we always see yellow gold as pure, the yellow gold used for watch crafting is an alloy made by mixing gold with other metals like copper and zinc. Yellow gold appears nice to everyone, but it is most beautiful when contrasted with dark and olive skin tones.
The other consideration to remember when comparing white gold vs. yellow gold and rose gold is that yellow gold, especially high-karat yellow gold, can be easily dented and scratched. It requires polishing and cleaning regularly.
Yellow gold watches are fantastic for both vintage and modern-inspired styles and is the most malleable among the three types. It is also the easiest for watchmakers to manipulate. It is also an excellent choice for watches that might happen to get resized at a later date.
White Gold watch
The color is achieved by mixing other metals with gold. In watchmaking, the material is mainly palladium or platinum. The metals are often coated using rhodium to achieve the required radiance since white gold alloys look grey and dull.
If you love the appearance of platinum gold but you want to spend less, white gold is the right choice. White gold has a sophisticated and cool gleam that looks nice with all skin colors.
What is the difference between 10k, 14k, 18k, 24k gold watch?
Pure gold is very soft and is often mixed with other metals like zinc, nickel, platinum, rhodium, copper, and silver to form alloys that are stronger and more durable when making watches.
The karat represents the amount of pure gold in an alloy. A higher karat indicates a higher percentage of gold in the metal.
24 k gold is pure gold that is too soft to utilize, so it is mixed with other metals to increase its strength. 18k is the European standard of making male luxury watches and is 75 percent pure. 14k is the most common choice in the United States and contains 58.3 percent of pure gold. However, 10k gold is the most affordable alternative, and it still appears elegant. White gold is the 10k vs.14k gold mixed with various metals to make it look silver-colored.
Why is 18k gold the most chosen by making a watch
18 karat gold contains 75 percent of gold and 25 percent of other metals. It is usually the purest form of gold used to make watches and other wearable jewelry.
The 18 k gold has a yellow appearance that resembles the original color of gold, which makes the material attractive for crafting watches. Since the 18k gold is nearly pure, there is less risk of watches made using this material, causing allergies and irritation among users.
The 18 karat gold looks excellent, with an elegant yellow appearance that most consumers associate with gold materials. However, the 18k gold price is considerably higher than others with a lower percentage of purity.
In short, 18k gold looks fantastic, with the classic yellow appearance that most people associate with gold jewelry. It is a good choice if you are looking for gold watches for men that are as pure as possible while still getting some practicality.
How to tell a real gold watch
Luxury watches are significant purchases. You will get surprised by how standard forged and counterfeit gold watches can be. But it is not difficult to protect yourself. Here is how to tell real gold and avoid an expensive mistake:
18k gold has a Saint Bernard sign that indicates the Karats and the manufacturers registered trademark.
The 750 sign indicates 18k gold
The balance test that involves checking the weight and size of your watch. Gold watches are made to a set of specs, providing you with a point of reference to test the authenticity of the gold. Gold is a dense metal with physical characteristics that are difficult to replicate. That means that the metal used to replicate a gold watch must be less dense, and it would be needed in larger quantities to replicate a particular weight of gold. So the watch will be thicker. Similarly, a fake gold watch with a similar size and profile will be significantly lighter. Knowing the weight and size of your watches will assist you in identifying whether they are real gold watches.
Platinum gold is mainly used in watch crafting to produce straps and cases for the best men's luxury watches that contain complicated mechanical movements. The watches are usually made from 95 percent platinum that is usually alloyed using ruthenium.
Rose gold watch
Rose gold men's gold watches attract the eye with their feel, arousing an antique era of effortless elegance. The warmth brought about by rose gold watches cannot be compared with the hard yellow gold or cold white gold.
To maintain the beauty of its rose gold watches, Rolex developed and patented a unique 18ct rose gold alloy cast in its forge – Everose gold. Since its introduction in 2005, the 18ct Everose is utilized on all Rolex models in rose gold.
Rose Gold Watches for Men
Rose gold watches are from an inexorably famous gold composite that is made by mixing copper with gold. The copper added substance is how it gets its one of a kind shading and profile. We incorporate a couple of various hues to the 'rose gold' toolkit, for example, red and pink gold. As a rule, the more copper there is in the, blend redder the gold will be. The redder the shading, the more vintage the gold shows up.
Other than being all the more speaking to some in the manner that it is one of a kind, rose gold has numerous advantages over ordinary gold. Rose gold is more stringent than white gold. Thinking about monetary value, rose gold is also shockingly reasonable. Even though a few men may think that it is feminine to get a rose gold watch, most lofty watchmakers use rose gold for their men's watches due to the a la mode rosy tone. They have been ascending in notoriety in the course of the most recent ten years, and accordingly, an ever increasing number of watchmakers are making the best watches utilizing rose gold.
Here are some of the best men's rose gold watch brands: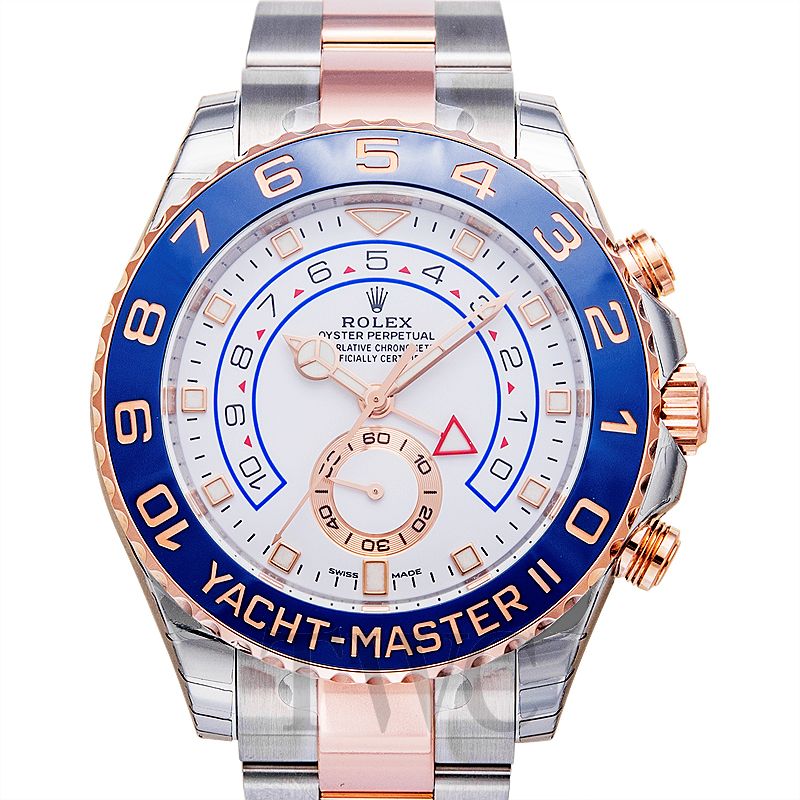 Rolex Yacht Master II
The Oyster Perpetual Yacht-Master II – the main chronograph on the planet with a mechanical memory – embodies the anticipation of imperative minutes. A regatta watch second to none, the Yacht-Master II is a basic device for captains to check their best game-plan.
As agreeable adrift as on board a sailing boat, the Yacht-Master consolidates character and execution.
The waterproof and strong characteristics of the model make it the perfect watch for water sports and cruising specifically.
Described as "The watch of the open seas", this Rolex Yacht Master II 116681-0002, is a luxury rose gold watch by the watch giant-Rolex. The feature that makes this Rolex Everose gold watch appealing to experienced sailors and enthusiasts alike, is perhaps the regatta chronograph. This innovative technology with a unique programmable countdown and mechanical memory is one of its kind. The rose gold Rolex watch comes with a massive 72-hours power reserve and is fitted with Rolex calibre 4161. It showcases other classical elements of Rolex watches like the oyster steel, used in the bracelet, which is a sporty alternative to the conventional steel bracelet of its contemporaries. This watch comes with an analog white dial, with silver-toned luminous hands all encased in the scratch resistant sapphire crystal.

Rolex Sky Dweller
The Oyster Perpetual Sky-Dweller is a unique watch, described by its second-time-zone show on an unbalanced plate on the dial. Besides, its creative framework for setting the capacities, utilizing the rotatable Ring Command clock face, is one of a kind to Rolex. The Sky-Dweller speaks to advancement at its most noteworthy evaluation.
This Rolex Sky Dweller watch 326935-0007 is luxury in every sense. It is fitted onto a solid-link oyster bracelet which combines oyster steel and 18ct rose gold beautifully. The most attractive feature of this watch is the dark rhodium dial which takes the look to another level. The pink gold watch is not only stylish and appealing but also equipped with some great features for the convenience of the user. For an instance, the ingenious Rolex-patented easylink extension allows the wearer to increase the length comfortably. The crystal of the watch has scratch-resistant sapphire and a 42 mm case. The caliber of the watch is one of the most complex Rolex watches developed. This sky watch displays two time zones simultaneously and there is an inverted triangle to indicate the reference time selected by the user.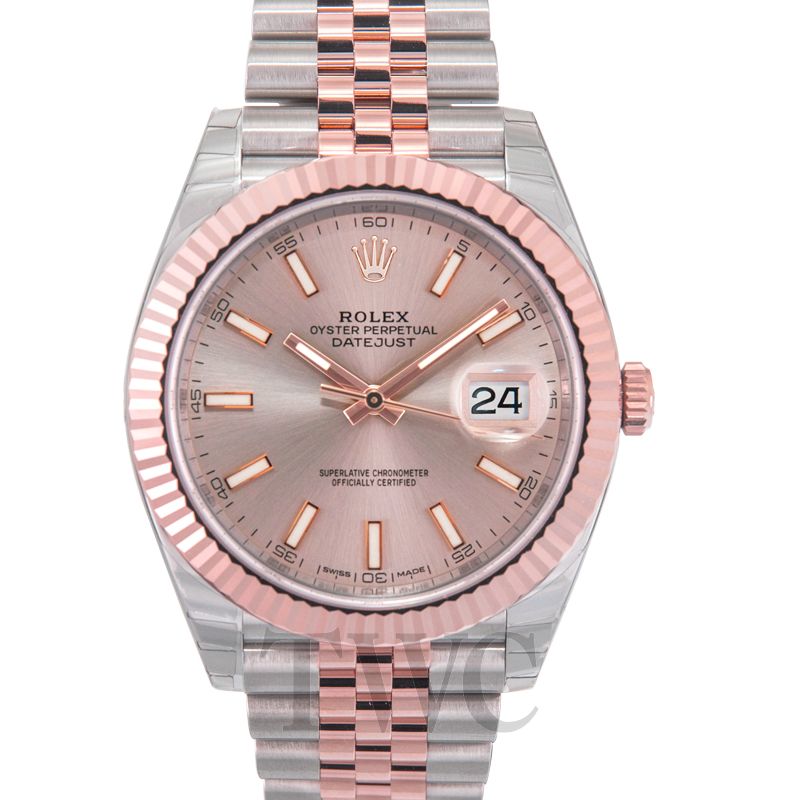 Rolex Datejust
Rolex Datejust is the model of a commendable watch due to its capacities and stylish design. This watch collection was launched in 1945; it was simply the primary twisting waterproof chronometer watch to display the date in a window positioned at the 3 o'clock on the clock face and combined all the significant developments that Rolex had included in the cutting edge wristwatch up to that point. The Datejust has crossed decades while maintaining the excellent codes that make it so in a flash conspicuous. Some of the best watches under this brand include the Rolex Datejust 41 and Rolex Datejust 2.
There are very few Rolex watches that can pull off a rose gold shade the way this watch does. The Rolex Datejust 126331, titled sundust is a fine watch to say the least. With the signature 41mm case of the series. The watch houses in it 10 diamond pieces as hour markers with the remaining two being the crown and date. It has a rose gold bezel matching the dial itself and stainless steel body. The watch runs on the series standard 3235 Calibre movement with a power reserve of 70 hours. It is definitely a beautiful timepiece in all aspects.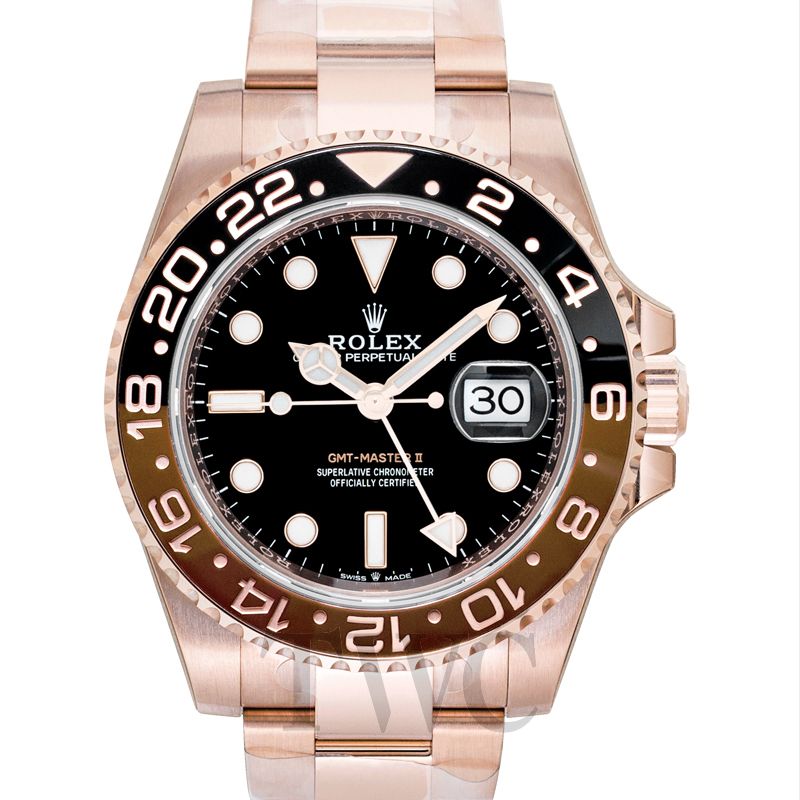 Rolex GMT Master II
The Rolex GMT Master II 126715CHNR-0001 is truly an incredible selection of watches. The simplicity and elegance offered in these watches is a fine example of the company's technical prowess. The GMT Master II in question is a fine Everose Gold variant.
It has a 40mm Everose Rolesor case with Oyster steel monobloc center case, a screw-down Everose gold crown, Everose gold bidirectional rotatable 24-hour graduated bezel with dark colored and dark Cerachrom embed and engraved numerals. It is made from scratch-safe sapphire precious stone with cyclops focal point over the date. It has a dark dial, hour markers set with Chromalight, Rolex bore 3285 self-twisting development with two time-zone hour hand and prompt date. This pink gold Rolex also has around 70 hours of intensity save, an Everose Rolesor Oyster armlet with level three-piece joins and a collapsing Oysterclasp clasp with Easylink 5mm solace expansion interface. It is also waterproof to 100 meters.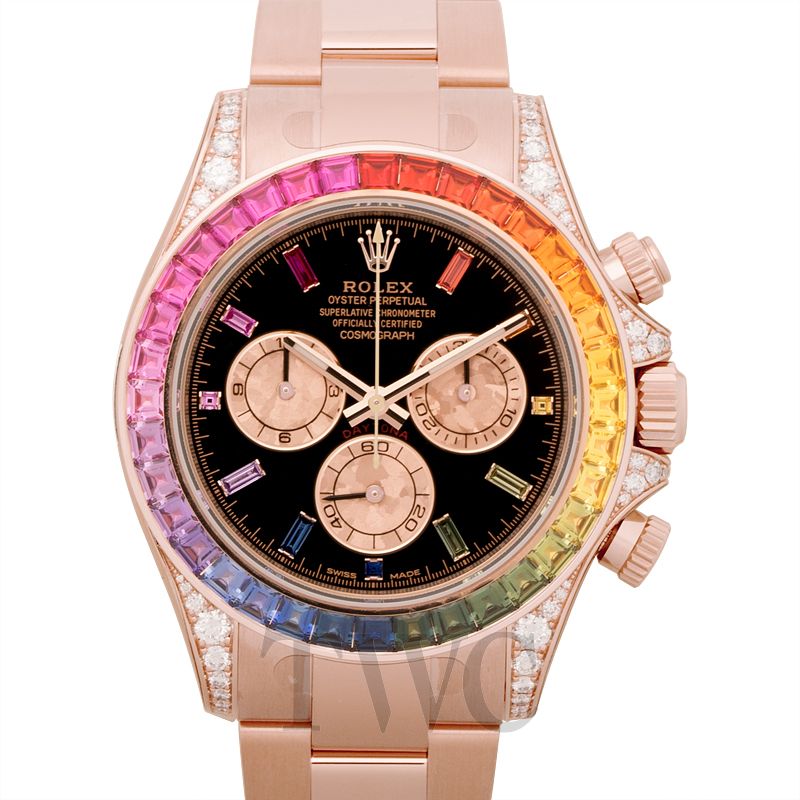 Rolex Cosmograph Daytona
The Oyster Perpetual Cosmograph Daytona is a definitive device watch for those with enthusiasm for driving and speed. Presented in 1963, the Cosmograph Daytona was intended to fulfill the needs of dashing expert drivers. It is a symbol forever participated in name and capacity to the superior universe of engine sport. Over 50 years after its creation, the Cosmograph Daytona stays in its very own class among game chronographs and keeps on rising above time.
The Cosmograph Daytona is fitted with gauge 4130; a self-winding mechanical chronograph development designed made by Rolex. Its engineering consolidates fewer segments than a standard chronograph, along these lines improving the development's unwavering quality. It has a spares space, making it conceivable to house a bigger heart and in this way broaden the power save from 50 to 72 hours. It also features an elegant Rolex bracelet.
A thoroughbred Rolex Daytona at heart and yet dramatically different all at once, the Rolex Daytona Rainbow (116595RBOW) is truly a head turner. 36 baguette-cut sapphires adorn the bezel, which are set in a groove sculpted in Everose god, with folded edges to secure the stones. Each sapphire holds itself up in full radiance, making the watch look truly regal at the outset. The black lacquered dial of the Rolex Rainbow Daytona is the perfect foil to the gem studded exuberance of the hour markers, like the dark space to the constellation of stars. The three sub dials are in customary Rolex Gold and have a speckled texture, like meteorites, completing the ethereal look.
A classy three-link 18k Everose bracelet completes the Rolex Daytona with an Oysterlock safety clasp that prevents accidental opening. The Rolex Rainbow Daytona comes in the sturdy Oyster
case which allows one to wear a delicate looking and ornate watch regularly with confidence. This Rolex Daytona also has blue Chroma light on the pink gold hour & minute hands, which allows you to tell time even in poor light, increasing the practicality and regular usability of the watch.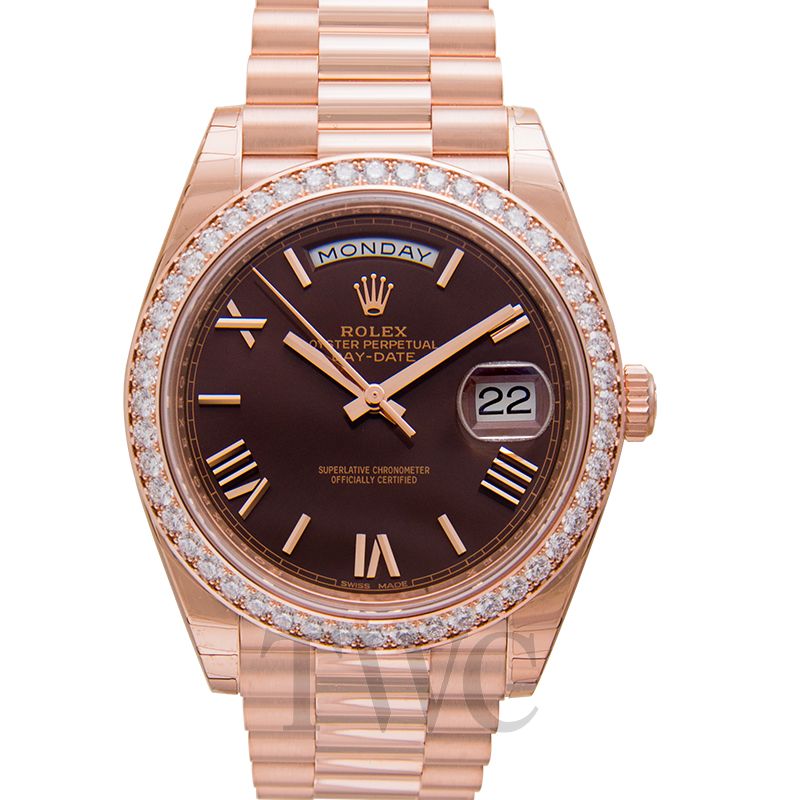 Rolex Daydate
The oyster perpetual Daydate 40 is fitted with another age development, bore 3255, developed and fabricated by Rolex for an excellent level of execution.
This self-winding mechanical development is at the cutting edge of the craft of watchmaking. A quintessential exhibit of Rolex innovation, with 14 licenses, it offers essential gains as far as accuracy, control hold, protection from stuns and attraction, convenience and dependability.
Rolex Day Date 228345RBR-0009 is unique due to the combination of chocolate and Pink color shade. This color combination may sound a bit off track, but when you actually wear it, it will give a status if your own! The 40 mm chocolate dial with rose gold minute hands brings out the contrast in this watch. The dial also comes with Roman Numerals and a separate display for date and day carved neatly on it. The body of the Rolex presidential watch is made from 18k Rose Gold, and it's perfectly suited for any occasions.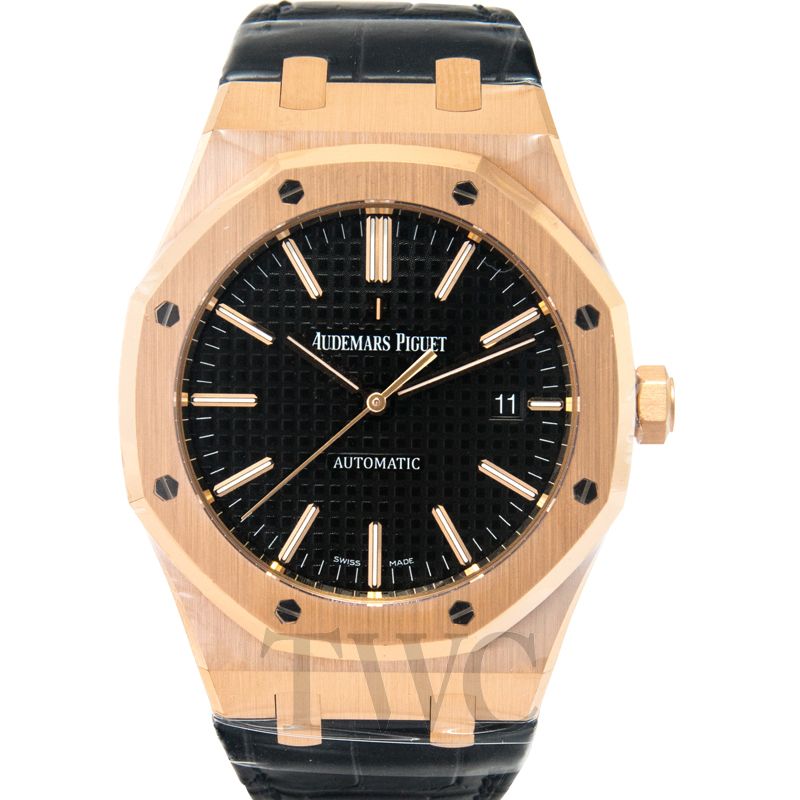 Audemars Piguet
With its steel case, octagonal dial, "tapisserie" dial and incorporated arm ornament, the Royal Oak toppled the predominant codes in 1972 and accepting its legitimate spot as a genuinely present-day symbol.
Audemars Piguet Royal Oak 15400OR.OO.D002CR.01 is a beautiful work of art carved in a 41mm, 18k rose gold case with a fixed bezel. The black dial dons seamless elegance with a scratch resistant sapphire crystal. The beautiful rose gold baton hands are luminescent filledand add to the glory of this trademark AUDEMARS PIGUET watch.
The elegant Crocodile leather band is an icon of style.
The caliber/movement is Automatic AP Caliber 3120 adding a touch of royalty with 40 beautiful jewels. The AP Royal Oak watch bears the water pressure up to 150 ft and has a reserve of 60h of power supply.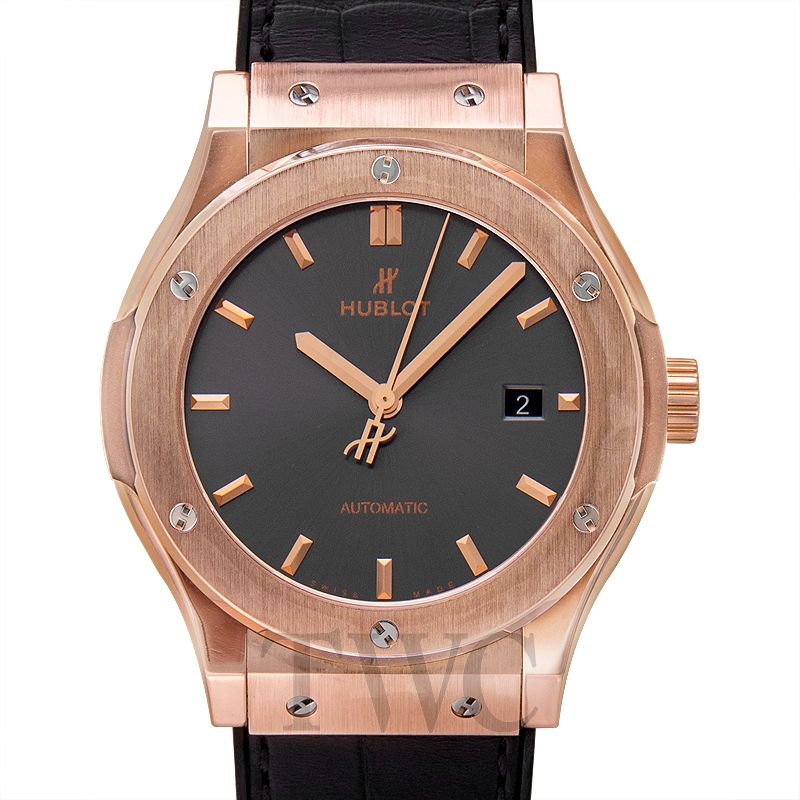 Hublot
With every inch exuding style and class, Hublot Classic Fusion Automatic is one of the best pieces in the Swiss watchmaker's collection. Sporting a well-polished 42mm, 18kt rose gold case, the design of this Hublot 542.OX.7081.LR watch is magnetizing for any wrist wear lover. The casing also has a fixed bezel of the same material—a screw-adorned component that accentuates the watch's enticing façade. The most attractive feature of this watch is its grey sunray dial, which is finished with satin to perfection. The dial exhibits a set of rose gold-plated hands and index hour markers, as well as a prominent date display window at the three o'clock mark. The HUB1110 automatic movement (42-hour power reserve) drives the functions of Hublot Classic Fusion Automatic, which also has robust water-resistance capabilities at 50 meters. It's an extremely durable and elegant piece of wrist wear.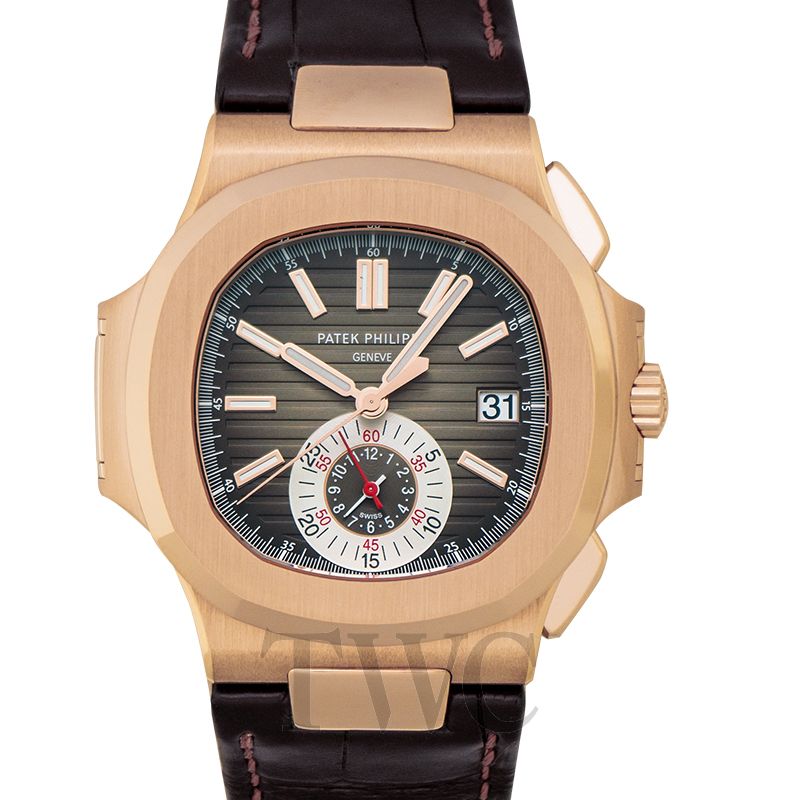 Patek Philippe
Patek Philippe watches are viewed as the world's ideal: full stop. There are other flawless Swiss watchmakers with recognized families and refined watches, yet Patek Philippe has held up itself in the inner voice of watch darlings as the best brand of all. Patek 5711is among the most famous watches under this brand.
As fresh today as when it was launched in 1976, the Patek Philippe Nautilus line continues to impress. Featuring the Caliber mechanical self-winding movement with date, the Patek Philippe Nautilus 5980R-001 has a black-brown dial and gold applied hour markers with luminous coating. The case is rose gold and has a diameter of 40.5 mm with sapphire glass. The bracelet is brown leather with a rose gold fold clasp. The iconic porthole construction and the horizontally embossed dial are the signature features of the Patek Philippe Nautilus Rose Gold sports watch which is made to adorn the wrists of those who love an active lifestyle.
Rose Gold Watches for Women
Whether you cannot leave the house without a watch or want to be on time for once, here are some rose gold ladies watch brands you should consider.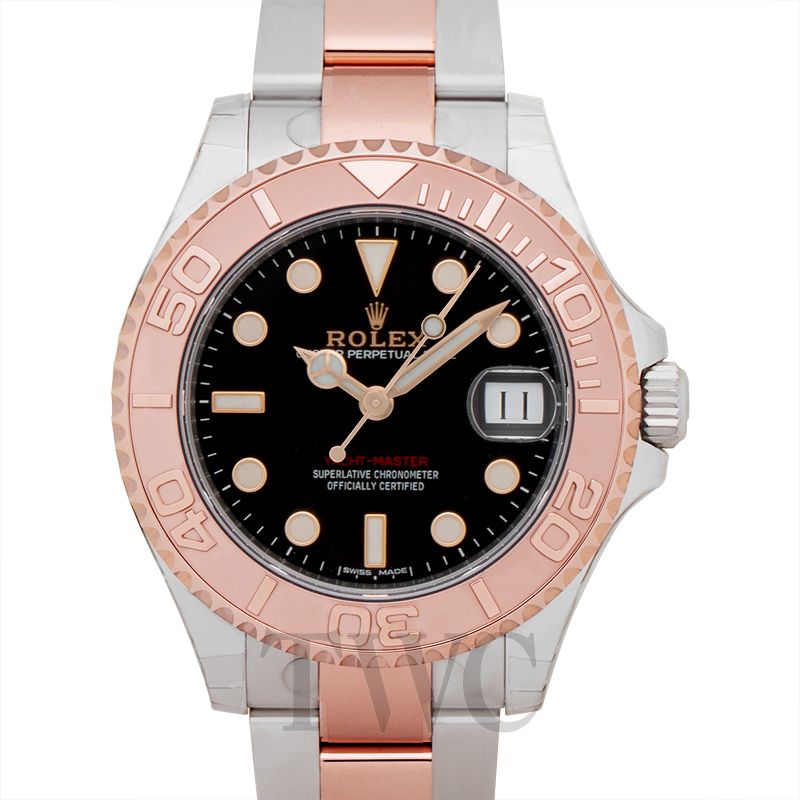 Rolex Yacht-Master
The Rolex Yacht-Master is a game watch made by Rolex, first presented in 1992 with the model 16628 out of 18-karat yellow gold. The distinction between the two models is in the redesigned development in the 168623, and the heavier 18-carat gold connections (the connections in the 68623 are empty).
This Rolex Yacht Master 268621-0004 watch is an ideal choice for water sports and sailing. This timepiece is an impeccable combination of strength, beauty and precision. The watch sports an elegant bracelet made up of stainless steel and 18ct Everose Gold Rolex oyster and a black dial adds to the beauty of the watch. The Rolex timepiece has been minutely crafted to withstand harsh environments and yet look flawlessly beautiful. The watch also has a date display feature which is covered by cyclops lens that magnifies the date display.

Rolex Lady Datejust
Rolex's exemplary ladies watch, the Lady-Datejust is in the genealogy of the Datejust, the meaningful model that has been a precept for style and precise timekeeping since its debut in 1945. The primary ladies' variant of this date chronometer, the Lady-Datejust, showed up in the late 1950s, bringing the legacy of immortal style and usefulness to a littler size splendidly fit a woman's wrist. This Rolex for women is designed to fit in the smaller women's wrists perfectly.
Rolex Lady-Datejust 279175-0005G has a stylish and elegant look. This is an impeccably reliable chronograph. The model is equipped with a mechanism from Rolex caliber 2236. This Rolex watch case is made of 18-carat rose gold. White diamonds, located on the bezel, emit an intense radiance. The Everose gold dial is decorated with white diamond watch indices. The stones are encrusted according to all the rules of jewelry and are famous for their excellent quality. The dial is protected by a durable sapphire crystal and does not glare. The Rolex datejust is completed with a convenient flexible Rolex bracelet in 18-carat yellow gold.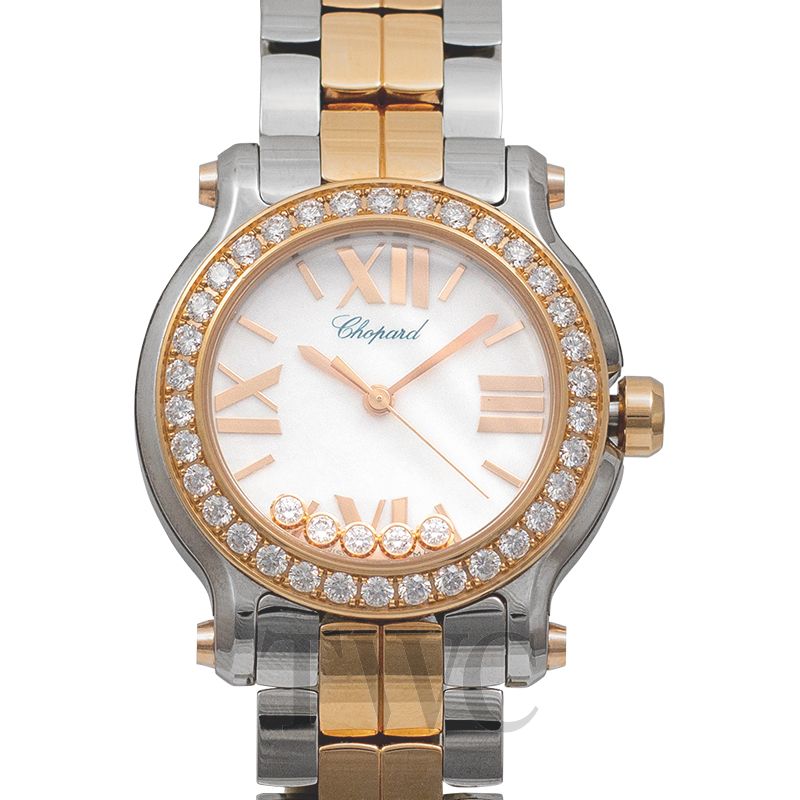 Chopard Happy Diamonds
Female polish and a dynamic style get connected at the hip with regards to the one of a kind Chopard Happy Diamonds gathering. The Chopard watch one of a kind idea of moving jewels has essentially enchanted ladies around the world. Expansions of the watch gathering incorporate the Happy Sport and Happy Diamonds Icons line, which incorporate probably the most well-known watches from the conventional and sumptuous organization.
Chopard Happy Sport 278509-6004 is a two-tone luxury watch that is made of highly-polished steel and 18k Rose gold. Similar with rest of the Chopard Happy Sport watches, the 30mm model has 5 brilliant diamonds which plays around the round mother of pearl dial. Chopard Happy Sport 278509-6004 has its dial with rose gold sword hands and thick roman numerals. The celebrated Chopard watch has a steel/ rose gold bracelet with a steel folding clasp. To stand it out of the rest of Chopard watches, Happy Sport 278509-6004 has a thick unique crown made of rose gold as well. Due to its sturdy sapphire crystal and the tightly-screwed caseback, Happy Sport 278509-6004 can run in water up to a 30-meter depth.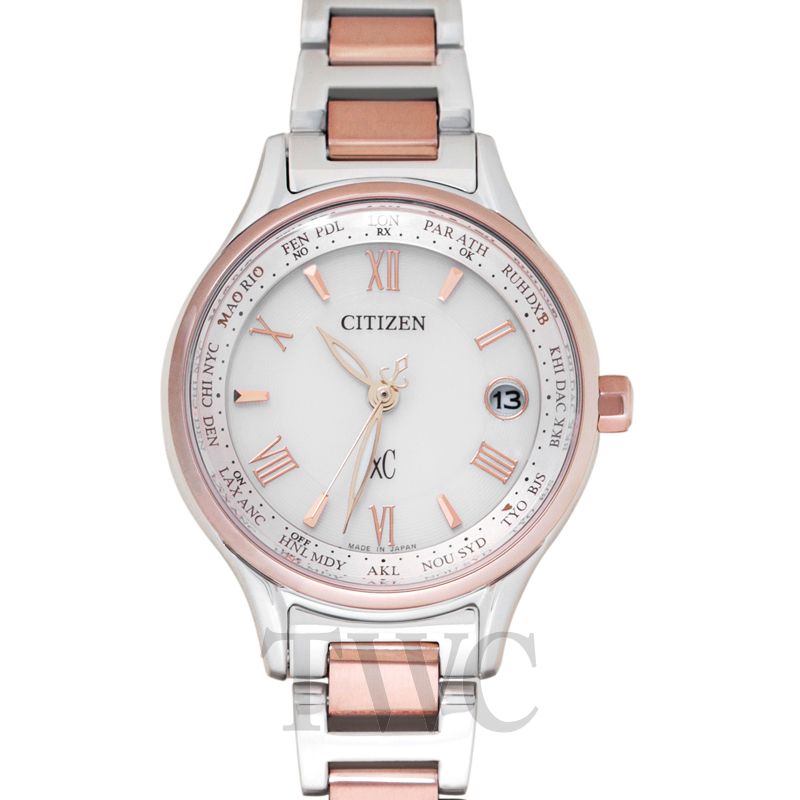 Citizen Rose gold
Add a warm gleam to your closet with these incredibly styled Rose-Gold women's luxury watches that include the Light-Powered Eco-Drive innovation.
Citizen XC EC1165-51W is a two-tone watch featuring a combination of Sakura rose gold and Super Titanium. The 28mm Citizen XC has a stylish classic dial which holds luminous rose gold dauphine hands and a combination of Roman numerals and stick indexes. Citizen XC EC1165-51W houses caliber H246 Eco-Drive movement that can run for up to 6 months from time of charge. Similar to the rest of Eco-drive Citizen watches, the Japan-Made watch can be recharged from any source of light but has an exclusive overcharge prevention function. As a radio-controlled watch, the Citizen XC EC1165-51W is able to offer multiple precision functions, as well as world time. Some of the features the watch offers include a perpetual calendar, regular and summer time, and date at 3 o'clock.
Yellow gold watch
Alongside its old tasteful intrigue, yellow gold additionally has two or three different advantages.
It is the metal in its most perfect structure and in that capacity is more hypoallergenic. To accomplish the various tones of white or rose gold, the base metal must be blended with others, nickel or copper, for example, the two of which can aggravate skin reaction in certain individuals.
Yellow gold, contrasted with different hues is additionally simpler to clean. What is more, particularly now, and especially with watches, it is for the most part, lower valued than different valuable metals.
With vintage timepieces, a model's value depends more on the interest for it instead of the market estimation of its metal. The beating its notoriety has taken as of late methods you will frequently discover instances of exemplary watches in yellow gold less expensive than even their steel reciprocals. To what extent that circumstance will last, however, is not clear.
Below are some of the best yellow gold watch brands:
Yellow Gold Watches for Men
The yellow gold watch remains an exemplary yet strong decision. A proud articulation of riches and style, the plated timepiece reflects conventional practices of watchmaking and is a definitive extravagance accomplice to hoist any outfit.

Rolex Day Date
Introduced in 1956, the Day-Date made its introduction as the primary waterproof and self-winding chronometer wristwatch to offer a cutting edge logbook with an immediate day show, spelled out in full in a window on the dial, notwithstanding the date. The remarkable exactness, dependability, intelligibility, and nearness of this gold Rolex watch model has made it a definitive status watch.
The Rolex Day Date 228238-0004G is a unique combination of 18ct yellow gold with a black face rimmed in 31 diamonds closely fitted together. The index markers are around the face are yellow gold indulgence placed in a bed of black scratch-resistant sapphire. It has a reserve battery of approximately 70 hours. This high-quality watch also comes with 3255 climber Rolex precision and is waterproof up to 100 meters/330 feet. The case is larger than the average Daydate with a width of 40 mm. The band is also yellow gold, fitted with tight interlocking links that will hug your wrist gently.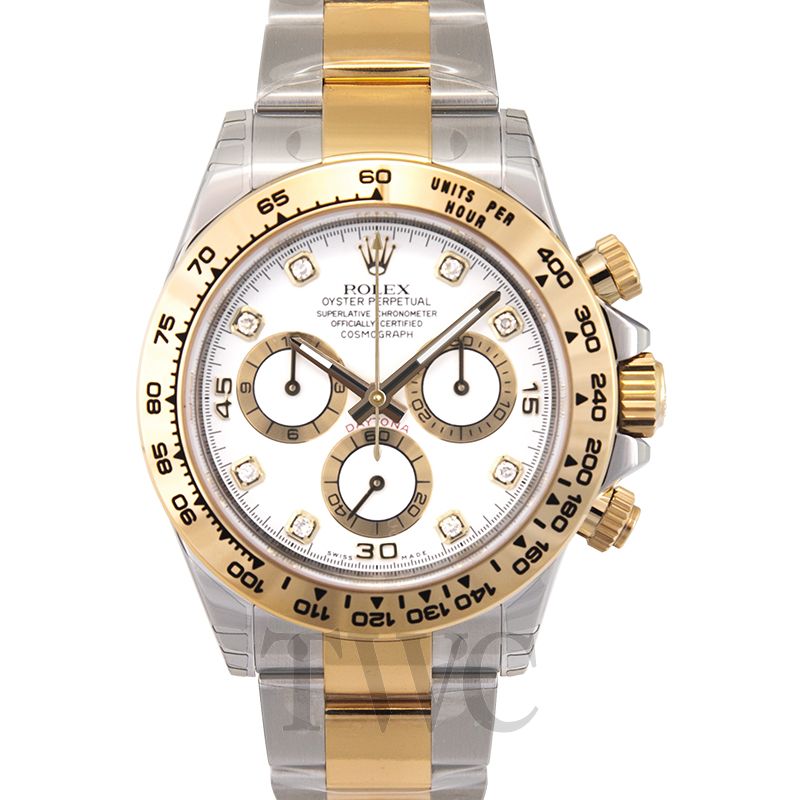 Rolex Daytona
The Rolex Cosmograph Daytona is a standout amongst the prominent line of expert watches to observe Rolex's adoration with car dashing. The Rolex Daytona is viewed as a work of art and is effectively a standout amongst the most perceived models by Rolex.
The Rolex Daytona was presented to the market in 1955, and numerous references have been presented since. Each year, an improved version of the watch is produced.
Rolex Daytona 116503 White G sports an oyster steel bracelet with centre links in gold which make it appealing to the eyes. The Rolex Daytona gold watch looks subtle yet attractive with its white dial set in a 40mm case and 3 additional subdials. It also has yellow gold bezel which enhances the overall look of the watch. As amazing as its looks, the watch has some wonderful features in store. The hands on the dial sport a luminous gold tone and the hour markers have diamonds in place of numerals. This Rolex gold watch has an automatic Rolex caliber 4130 and a power reserve time of 72 hours.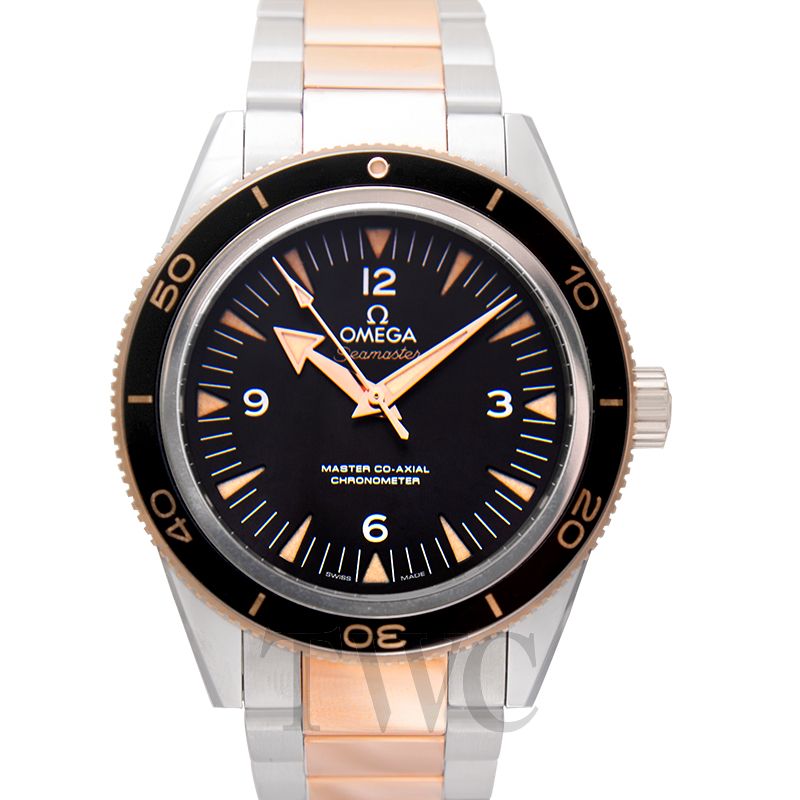 Omega Seamaster
Introduced in 1957, the OMEGA Seamaster 300 Master was designed and fabricated for divers and underwater operators. Recently the company upgraded and enhanced the form of one of its finest products, and today the 233.20.41.21.01.001 watch is truly synonymous with perfection. The 41mm stainless steel case is equipped with a bold and chic 18K gold and stainless steel bracelet. The backcase is transparent and shows the anti-magnetic Omega Master co-axial calibre 8400 mechanism, which has a 60-hour reserve. The black bezel and dial contrast with the lighter tones of the timepiece. The former features a gold outer ring and a diving scale while the latter has rose-gold tone indexes and hands.
Yellow Gold Watches for Women
Since men's yellow gold watches have gotten greater in the course of the most recent decade, just purchasing a men's watch can overpower ladies' littler wrists. Therefore, watchmakers have conveyed game and jump watches with metal, calfskin or elastic arm ornaments that still have haul, however better extent for ladies.

Rolex Lady Datejust
The Rolex Lady Datejust 179173/7 is made of stainless steel oystersteel and 18 ct. gold fluted bezel. It measures 26 mm across and is locked onto your wrist using interlocking stainless steel and oysterstell links. The date is set just to the right of the gold hands and is magnified for ease of viewing. This piece comes with a crystal and sapphire lens adding a touch of elegance and sophistication. The crystal and sapphire blend is scratch resistant, and the piece is waterproof of up to 100 meters/330 feet.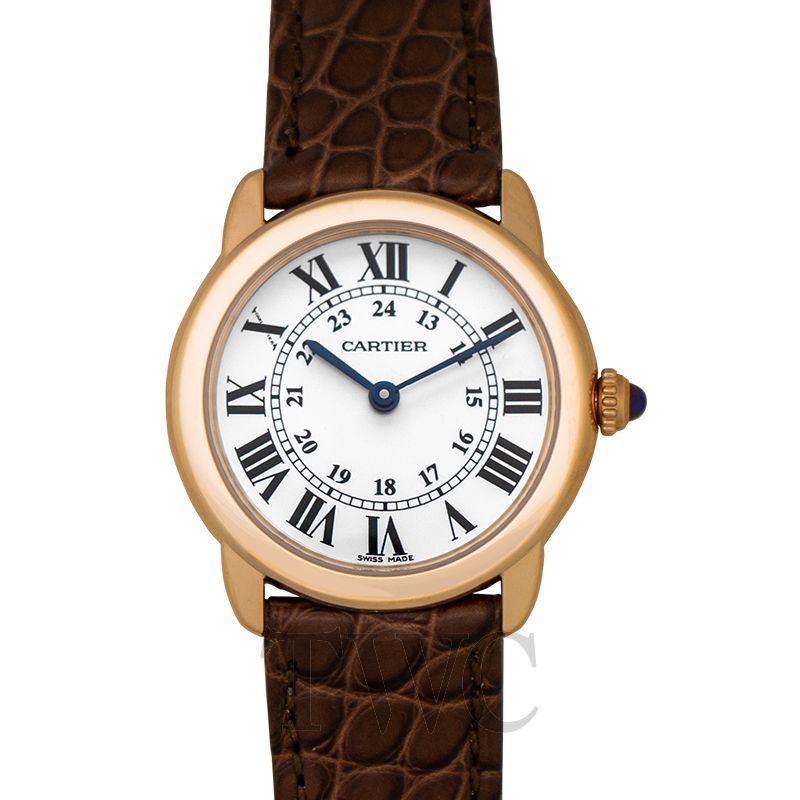 Cartier
Small and precious, Cartier Ronde de Cartier W6701007 has a 29.55mm case made of a combination of steel and rose gold. For extra splendor, the beaded gold winding crown of the Cartier watch has a cabochon spinel set on it. Cartier Ronde de Cartier W6701007 has a silvered opaline dial with a classic display set with a combination of Roman and Arabic numerals in 24-hour. Alongside with the blued-steel hands, the Ronde de Cartier watch offers exquisite precision using its quartz movement. Additionally, its brown round-scale alligator skin strap comes with a rose gold ardillon buckle for extra elegance and exclusivity. With the help of its sapphire crystal, Cartier Ronde de Cartier W6701007 is able to keep out water to up to 100 feet. Thus, excellent for beach swimming and snorkeling as well.
White gold watch
White gold watches are made from one of the most precious alloys because it contains palladium – naturally white and shiny metal that is even rarer than gold. Combining these two valuable metals gives rise to a very stable light-colored metal that makes it a precious alloy for making white gold watches.
Making white gold watches is not an easy task as hot flames, and large kilns are utilized for melting and mixing the metals. The metals are then turned into bracelets and cases that are used in making the watches. Also, the movements of the watches are all hand assembled and tested to ensure the production of high-quality watches.
Here are some of the most famous white gold watches:
White Gold Watches for Men

Rolex yacht master II
The Rolex Yacht Master II 116689 has been designed especially for yacht racing. It has a red coloured hand in the middle with an off-centre subdial with a 10 minute countdown. This countdown can also be done with the help of the rotatable bezel. This rotatable bezel is linked with the calibre 4161, self-winding movement which helps to synchronise the countdown. The Rolex Yacht Master II has a white coloured dial with luminous hour markers and hands and a red coloured seconds hand. The case is made of 18 carat white gold and has a screw-down crown. Undoubtedly, this Rolex watch is a pool of amazing features.

Rolex Daytona
The vibrant Mother of Pearl dial with highly-luminous gold hands and a mix of Arabic numerals and sparkling diamond indexes is what distinguishes Reference 116519-MOP-G. Rolex Cosmograph Daytona 116519-MOP-G possess a white gold case which sheathes the installed caliber 4130 self-winding movement from harsher external environments. The 40mm Rolex watch has a lustrous bezel with black tachymetric scale to help you in fast-calculation of a covered distance. Rolex fitted Daytona 116519-MOP-G with a sturdy sapphire crystal and a tightly-fitted solid caseback which ensures the wristwatch is usable on track- racing and in water. The Rolex watch has a black hypoallergenic alligator skin strap with a gold folding buckle to ensure a cozy and secure fit.

Patek Philippe
Launched in 2017 on the 20th anniversary of the Aquanaut line, the Patek Philippe Aquanaut 5168G comes in a white gold 42.2 mm case. The standout feature of this watch is the embossed checkerboard dial gently grades from black to night blue and contains applied white gold Arabic numerals with luminescent coating. The strap is blue in color to match the dial and is accompanied by an Aquanaut fold over clasp. The watch is a testament to the masculinity of the wearer in spite of the chic design. The original Aquanaut was inspired by the Nautilus and the 5168G represents a coming of age for the Aquanaut line.
White Gold Watches for Women

Rolex lady Datejust
Rolex Datejust 36 and Rolex Datejust 21 are among the most popular Rolex watches for women under this brand.
Rolex Lady Datejust 179179-G-R-P has a 26mm case made of polished 18 carat white gold. It is topped with a white gold fluted bezel and is set with a silver dial. To make it more luxurious, the hour marker of 6 O'clock on the dial are replaced by precious stones. This Rolex watch is powered by a self-winding automatic movement. It is also fitted with a scratch resistant sapphire crystal and is water resistant to 100 meters. This elegant timepiece for ladies also comes with the traditional Oyster Rolex bracelet made of polished and brushed 18 carat white gold.

Omega Constellation
It is a supreme Swiss watch because of its award-winning preciseness. The Omega Constellation is an excellent performer and has a wide range of watches to choose from for ladies.
This stylish watch is preferred by many because of its dramatic and enduring design. Omega Constellation Manhattan 131.10.29.20.56.001 is characterized by its Mono Rang bracelet and half-moons, "claws" on the case. Made from stainless steel, this 29mm model features a bezel engraved with Roman numerals, mother-of-pearl MOP dial with diamond hour markers. The watch is self-winding and has a power reserve of 50 hours. The date window is positioned at the 6 o'clock position. As almost any model of Omega watches for women, this one also features the OMEGA Co-Axial Master Chronometer Caliber 8700, visible through the domed scratch-resistant sapphire crystal. Last but not least, the hands, OMEGA logo, diamond holders, and Constellation star are in 18K white gold.
Platinum watch
Platinum is also a popular material for making watches. It is among the best materials for making watch cases since it is more durable than titanium, gold, and silver. Also, it is a natural hypoallergenic for those who are allergic to other metals used in crafting watches. The watches made from this precious metal are the full description for high-quality and luxury.
Some of the famous platinum watch brands include:
Platinum Watches for Men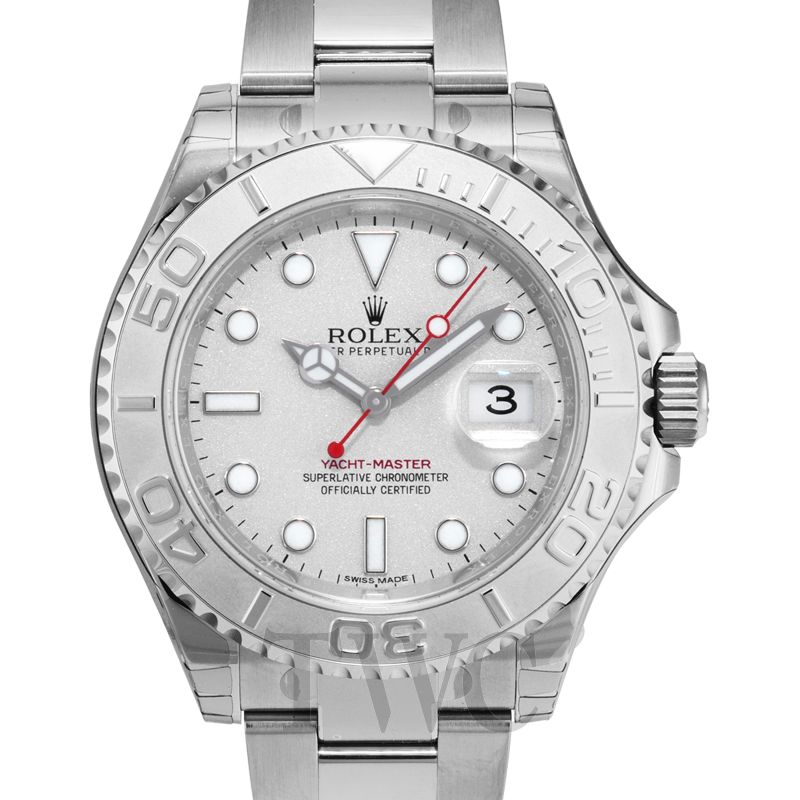 Rolex yacht master
Similar to the stability attached on the platinum metal, Rolex Yacht-Master 116622/2 provides your wrist with steady precision using its Caliber 3135 self-winding movement. The precious wristwatch provides graceful precision of time and date, whilst shining your flair remarkably with the luster of its platinum and Oystersteel case. This pristine combination, commonly known as Rolesium, stands the 40mm Rolex Yacht-Master from the rest of men's luxury watches. Additionally, the Reference 116622/2 has a robust scratch-resistant sapphire crystal and Triplock winding crown which enhances the watch's waterproofness up to 100 meters. Rolex fitted Yacht-Master 116622/2 with an Oystersteel bracelet which has a foldable Oysterlock safety clasp for a secure fit while under water.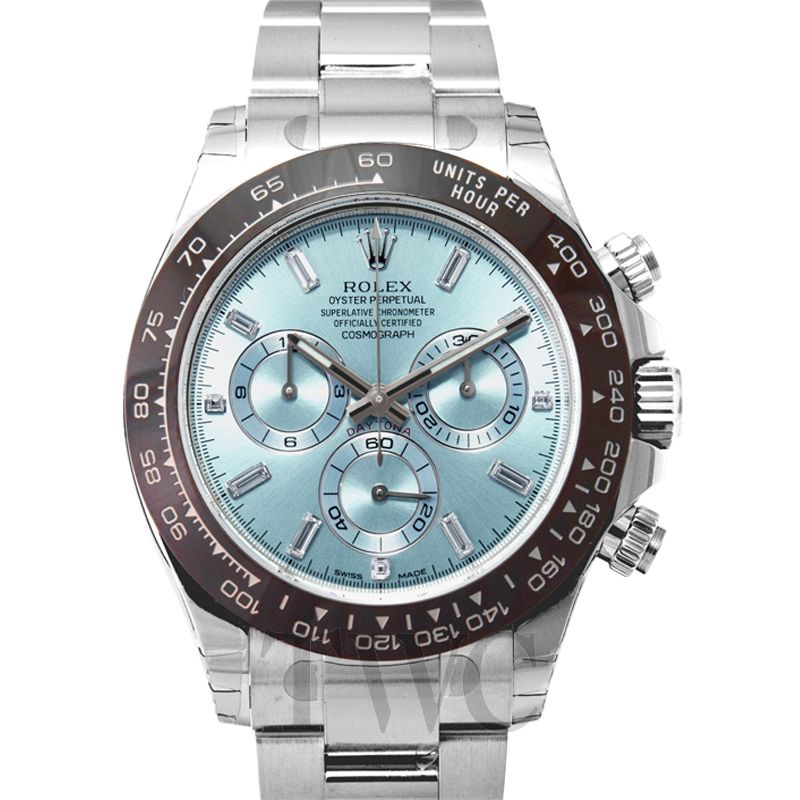 Platinum Rolex Daytona
Rolex Daytona 116506A offers fineness with striking looks. Made from the 950 Platinum metal, the watch has vibrant luminosity along with being great resistance to shocks and temperature changes. The 40mm chronograph watch is accurate to 1/8 of a second and has 12-hour counter at 9 O'clock and 30-minute counter at 3 O'clock position. With Rolex 4130 calibre perpetual movement, this self-winding watch offers a power reserve of approximately 72 hours. The Platinum Rolex Daytona watch is waterproof and the screw-down crown provides extra protection. This Rolex Daytona is presented on a platinum Oyster bracelet secured with Oysterclasp and it offers a 5 mm extension for a comfortable fit.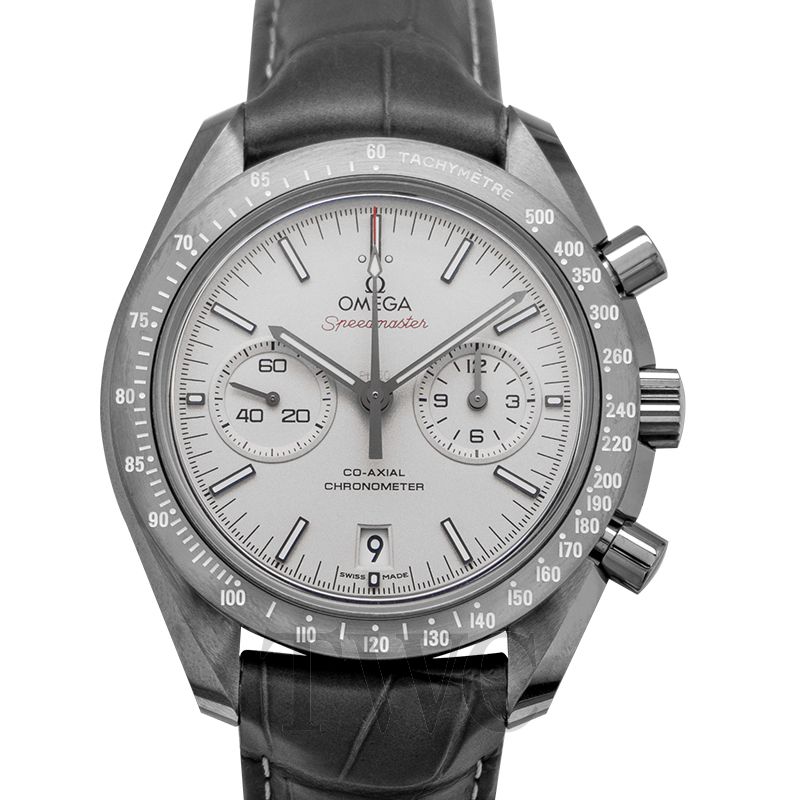 Omega Speedmaster
This model from OMEGA's Speedmaster collection is known as the Speedmaster Grey Side of the Moon. The ceramic bezel has a tachymetric scale and sits atop a grey 44.25mm ceramic case with a transparent back. The strap is made of leather and features titanium and ceramic foldover clasp. The grey sandblasted platinum dial is elegant and chic. It has Moonwatch-style hands and a 12-hour and 60-minute recorder at the 3 o'clock position, as well as a seconds sub-dial at the 9 o'clock position. The 311.93.44.51.99.002 watch is powered by the Omega co-axial calibre 9300, which can endure 5 bar of water pressure.
Platinum Watches for Women

Rolex lady Datejust
The Rolex lady Datejust 279136RBR-0001 is a striking watch made of vibrant silver and white platinum. As one of the heaviest metals in the world, it is resistant to corrosion with an ice blue dial etched with 18 ct gold hour markers they are buffed to high glass to prevent tarnishing. Manufactured by hand to ensure perfection the watch has 2236 movement that is self-winding. The watch is insensitive to magnetic fields and temperature. The lens magnifies the displayed date for easy reading and comes in a case of Oyster. The bracelet is made of platinum semi-circular three-piece links designed to bend and flex.