New & Feature
Experiencing The World Of Gold Rolex Watches
Apr 02, 2019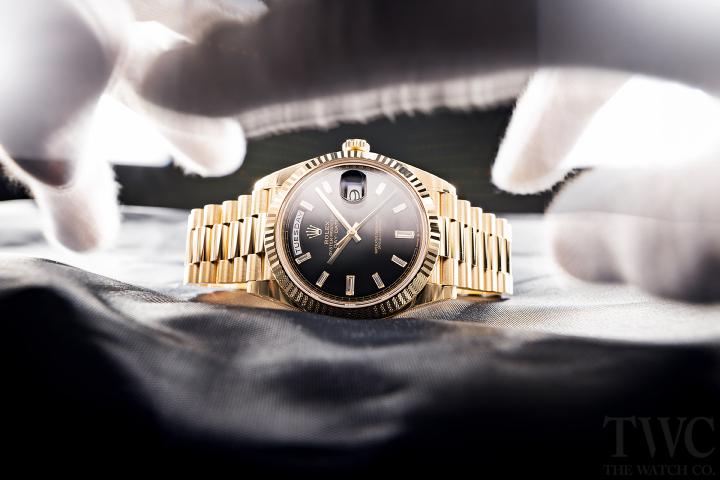 Rolex is popular for creating some of the best watches in history. The variation of watches available is simply mind-boggling and among this greatness is the Gold Rolex watches.
Gold is the classic colour of Rolex. If there's any golden watch that is worthy of being the best, it's definitely a Rolex. Whether it's a sporty or formal watch, Rolex has produced its own popular gold version.
The standard of quality that Rolex delivers makes it the master watchmaker in the world. With the brand's collection of gold watches that are nothing short of iconic, Rolex simply added another treasure for all watch lovers to collect.
3 Popular Classes of Men's Designer Watches

The Rolex Presidential Watch
Rolex's Day-Date watch has been the brand's most popular creation. It has the date at 3 and 12-hour position. The Day-Date is the ultimate status symbol of every rich man. This watch is probably the biggest factor in the success that Rolex has achieved.
The company created the day-date watch in 1956. Over the last 60 years, it has developed this watch into a true icon. It's also a watch that has the highest level of precision in its build and movement.
Rolex subjected watches of this era to an extreme amount of quality testing. This was to ensure maximum precision. Added to its design are several different dial designs, but the bracelet has remained the same over the years.
The Rolex Presidential gold watch variant is used by celebrities and presidents alike. This is why it's dubbed as the "Presidential Watch."

Rolex Daytona
Among the known Rolex watches, the Daytona is the best one in the sports category. This watch is based on the legendary Daytona race track and has quite a history. It's popular with motor racing enthusiasts as it should be.
The watch really has a class of its own. Since its launch 55 years ago, it has developed incredibly. The chronograph used in the Daytona is also very special.
It's interesting that the very first watches in this series had very little fame. Nowadays, the original Rolex Daytona watches are very hard to find. They are also very expensive.
With matching black dials, they are very rare and can also be extremely expensive.

Rolex Submariner
If there's a watch that anyone can use to identify a Rolex based on design, it has to be the Rolex Submariner. Created almost a hundred years ago, this watch has maintained its aesthetics for the most part amazingly.
The virtually unchanged design is a testimony of what a truly classic watch is supposed to be. This watch also has a very significant history, especially in the show business. The most iconic role for this watch has to be when Sean Connery wore it as James Bond.
Another rare iteration of this watch is the version with a saw-tooth bezel that Roger Moore wore in Live and Let Die. This watch was sold in an auction for a massive 365,000 francs in 2015. The Rolex Submariner gold variants are quite popular.
The Rolesor variant is also a submariner watch with high demand.

Rolex Yacht-master
While the Submariner is a watch that is highly functional in its design, the Rolex Yacht-master took a different approach.
Even though it's based on sea adventures, the watch focuses a lot on aesthetics. Rolex developed this watch 30 years prior to its launch in the early 1990s. The exact reason as to why they hid it this long is unknown.
Even though the watch takes cues from the submariner and is 100m water-resistant, it also focused on luxury. The original design is a Rolex Yacht-master gold coloured variant that has smooth edges, an embossed bezel, and a white dial.
Since the major focus was on luxury, Rolex has created a lot of very bold changes to the watch design. Over the years, a lot of very beautiful variants have come to light. The most popular and iconic, however, is the Rolex Yacht-master gold watch with a blue bezel.

Other Popular Gold Rolex Watches
One particularly famous watch by Rolex is the Oyster Perpetual and the gold variant of this watch is quite stunning. It features a gold body and bracelet with a black dial. It's truly one of the most beautiful watches that Rolex has ever created.
If you want to look for a gold watch that is a Rolex and is truly basic, the Rolex Air-King is your answer. Featuring only the time function, it is a watch that shows the true meaning of finding beauty in simplicity.
The rose-gold variant with a blue dial is particularly popular in this category and is truly a watch worth owning. The watch uses the Oyster Perpetual movement. It is a legendary in-house developed movement that ensures unparalleled precision.
The Gold Rolex Experience
Even though all Rolex watches carry high regard for their quality, the gold variants are always a bit special. The radiance that comes from these variants has captivated generations of watch enthusiasts.
Even though a lot of historical Rolex watches don't have gold colour, owning a gold Rolex is an unmatchable feeling. It doesn't matter if you are looking for an extra element of bling or simply want to stand out. If you're wearing a Rolex gold watch, you'll surely achieve your purpose effectively in style.