Watch Guide
Orient Kano: A Review & Complete Guide to the Classic Japanese Diver
Jun 27, 2021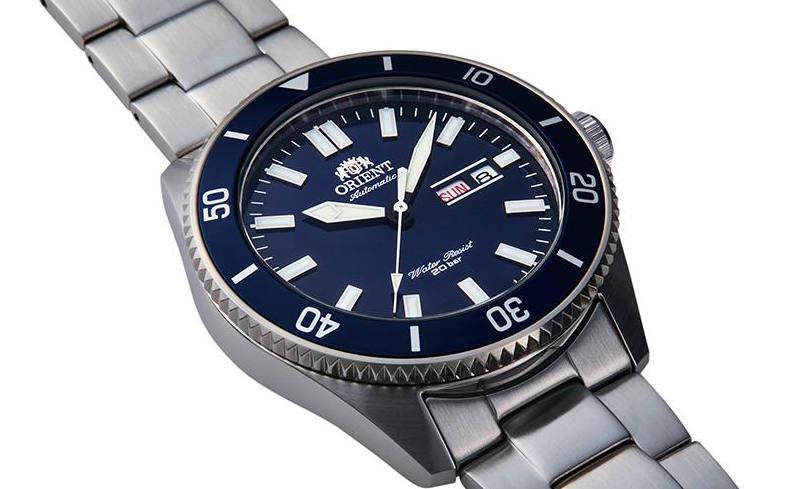 Now, it's not hard to identify an Orient watch from a lineup of brands. Orient makes some of the best value-for-money watches — mechanical watches at that. The Orient Kano proves exactly this. Released in 2019, the Kano hit the mark as one of the most unique offers from the brand. However, the Kano's status as a special timepiece has little to do with the technology that powers this watch, although it is a top-of-the-line watch with all the features a dive watch needs. No, what makes the Orient Kano so unique is its style. Take a look — this is a vintage-style diver.
Introducing: the Orient Kano

Orient doesn't hold back when it comes to doing more with less, producing quality timepieces at modest prices for the average person. Not to be confused with other brands, Orient sits mid-range alongside brands like Citizen and Hamilton. You can expect the prices of this watch to be in the more affordable range, especially for a mechanical diver.
The Kano showcases a more simplified design compared to other Orient watches in the market. We're used to seeing dress watches from the brand, as exemplified by the iconic Orient Star and Orient Classic. This vintage take on a dive watch definitely serves some lasting impressions. Let's take a closer look at the general specs of the Orient Kano.
Case Diameter: 44 mm without the crown
Case Thickness: 12.9 mm
Crystal: Mineral Crystal
Bezel: Uni-directional, 120-click
Movement: Orient Caliber F6922 (Made in Japan)
Movement Features: Self-winding, hand-winding, hacking mechanism
Vibrations: 21,600 VPH/3 Hz
Jewels: 22 Jewels
Power Reserve: 40+ Hours
Functions: Day and Date Window
Water Resistance: 200 metres/660 feet/20 ATM
Bracelet: Stainless steel or silicon strap
Review of the Orient Kano
First Impressions
Orient had one goal when they designed the Kano, and it's incredibly clear. It aims to be a vintage-style timepiece that looks like a million bucks. Here's what I thought when I first saw the watch: Orient did a great job conveying that.
Typically, I would feel negative about watches that resemble other watches. However, the Kano manages to toe the line, invoking a classic Japanese diver feel with its design while still being its own thing. The matte red and black bezel versions of the Kano definitely give off Tudor Black Bay vibes but that's forgivable. It is not a bad thing at all that the Kano has this kind of familiar aesthetic. It remains true to its idea: a nostalgic, vintage-style diver that evokes the image of dive watches of old, while also giving us all the upgraded features of newer dive watches.
The different variations of the Orient Kano all have great designs. Most impressive of all, however, is the blue iteration of the Kano. It definitely stands out in the lineup with stunning colours that would definitely look great underwater. Is a 3 o'clock crown a good idea? For a 200-metre diver, perhaps it could be improved but more on that later.
Do these first impressions last? Let's get into the nitty-gritty details of the timepiece.
All Orient Kano Models

For a little bit of preference, let's take a closer look at the Orient Kano models available today. What sets each of these apart?
RA-AA0008B19A comes with a black dial and bezel with a steel bracelet
RA-AA0010B19A features a black dial, black bezel, and a silicone strap
RA-AA0009L19A features a blue dial and bezel, plus a steel bracelet
RA-AA0912B19B has a black sunburst dial, a red and blue bezel with a steel bracelet
RA-AA0913L19B features a blue sunburst dial against a blue and orange bezel with a steel bracelet
RA-AA0914E19B has a green bezel and sunburst dial with a steel bracelet
RA-AA0915R19B comes with a red dial and a black bezel with a steel bracelet
RA-AA0916L19B has an orange and blue bezel and blue sunburst dial, accompanied by a silicone strap
RA-AA0011B19A comes with a burgundy red bezel against a black dial, also with a silicone strap
Case

The Orient Kano is a relatively large watch. It has a stainless steel case that measures 44 mm in diameter, not including the crown. At 12.9 mm, the thickness of the watch definitely adds weight to the watch; this is a watch that lets you feel its presence on your wrist. The lug-to-lug measurement of 50 mm adds to the impression of the size of the watch, giving it more heft than other watches. The Kano might feel a little too big for wearers with small to medium wrists. However, those with thicker wrists will definitely like the feel of this one. If you prefer wearing larger watches with a bit more weight to them, the Kano is definitely a watch well-suited for you.
Moving on to the crown, it sits at the 3 o'clock position. It's a tad larger than the other crowns from Orient's diver lineup. This is a plus for the Kano, as it provides a little more grip. It is protected by crown guards, so it won't be easily damaged. The crown is also a screw-down crown, for optimal water resistance. This is important, because, as indicated on the dial of the watch, the Kano provides water resistance up to 200 metres. This exceeds the minimum 100m water resistance required for ISO certification, and is definitely the type of depth rating that divers look out for. Thus, the screw-down crown of the Kano is desirable, as it provides greater protection against water pressures even in deeper waters.
Another great thing about this timepiece is its unidirectional rotating bezel. It comes with an aluminum insert and a 60-minute graduation scale. One thing we would prefer in a dive watch that the Kano lacks is a luminous tip at 12 o'clock, for better readability. That's definitely a downside but it's ultimately forgivable considering the other strengths of the Kano. The bezel of the Kano, for instance, definitely makes up for it. It clicks smoothly, with 120 clicks, so you won't have to worry about quick timekeeping. For even better performance, the bezel also has teethed edges. It's sporty, provides an easy grip, and is comfortable to work with even with gloves on.
With regards to the overall feel of the watch, watch enthusiasts are sure to appreciate the finish on the case. The top of the case comes brushed with a satin finish while the sides are polished. To protect the dial of the watch, Orient has also fitted a mineral crystal over it. Of course, we would prefer sapphire, which is sturdier and provides better protection. However, considering the bargain price of the Kano, a mineral crystal is still a good compromise. Furthermore, some shops do offer customisation of watches, so you can always get a sapphire fitted into your Kano, according to your preference. The crystal of this watch is also a tad recessed from the bezel so that it remains well-protected.
Dial

Every dive watch has a certain aesthetic that appeals to wearers who prefer the beauty of simplicity. The Orient Kano follows this same minimalistic design scheme. There are a variety of different colours available for the dial — black, green, blue, and red. When the Kano was first launched in 2019, they only offered dials in two colours: black and blue. Since then, Orient has added new versions of the watch with different dials, and they're all incredibly stunning.
For the markers, the Kano has large applied ones with metal frames. It's filled with bright luminescent material that works wonders in dimly lit places. This, along with the broad, sword-shaped hands that are also applied with luminescent material, gives you great optics with this watch. It is easily legible in the dark, sitting on par with other more expensive dive watches in that regard.
Sitting at the 3 o'clock position is a day and date window. If you do decide to make this timepiece your everyday watch, then this is an excellent feature to have. However, for diving purposes specifically, a date and day window technically doesn't have any added value. These windows are not framed. Instead, Orient opted to design the windows with lines above and below for a sleeker look.
Overall, this is a well-balanced dial with the typical inscriptions of an Orient diver. You'll get the logo, the words "Water Resist" and "20 bar" below. The inscriptions are not at all obstructive, especially for reading time.
Movement

At the heart of the Orient Kano is the Orient Caliber F6922. This is an automatic movement that also comes with manual-winding and hacking seconds functions. According to Orient, this movement has an accuracy of -15 seconds to +25 seconds per day. However, reports have come in from users saying that the movement can be as precise as only -1 to +5 seconds off per day. That is incredibly impressive, especially for the price point of this watch. Finally, this movement also offers a power reserve of more than 40 hours.
This movement has been incredibly popular and Orient watches typically function with a similar movement. More specifically, Ray II, Mako II, and Kamasu also function with this movement. Those are all more expensive Orient watches. So, if you want a watch that really gives you great value for your money, it is the Kano. Moreover, this is an in-house movement. The affordable price point of the Kano, for an in-house Orient movement, is an extremely good bargain.
Price
If you haven't caught on yet, the Orient Kano comes at a pretty affordable price range. Brand-new pieces start at 390 USD. Its most expensive model costs around 425 USD. This applies to models with steel bracelets, namely the RA-AA0008B19A, RA-AA0009L19A, RA-AA0912B19B, RA-AA0913L19B, RA-AA0914E19B, and RA-AA0915R19B models.
Keep in mind that these are retail prices and you can definitely get them for a lot less on authorised dealers. There are certain factors to keep in mind, such as the condition of the watch, so be careful when purchasing. You can also find some pre-owned watches that are still in mint condition. If you want to save some money, it's also a great idea to opt for those.
Orient Kano vs. Kamasu, Mako II, and Ray II
The biggest struggle with Japanese watch brands rests on differentiating models from each other. Unless you've been exposed to these watches for a long time, you can easily mistake one for the other. The Orient Kano can be just as confusing as the other Orient watches. At first glance, it might look very similar to other models, such as the Kamasu, Mako II, and Ray II. So, we'll break down the main differences between these models, and you'll be surprised by just how much they differ.
The Differences

The main differences between these models rest on the look of the watches. To tell these watches apart from one other, take note of the watch's faces. The Orient Kano has two baton markers at 12 o'clock and a single baton for all other hours. The baton marker at 3 o'clock is cut short to make space for the day and date windows. On the other hand, the Orient Kamasu has an inverted triangle or arrow marker at 12 o'clock and elongated trapezoidal markers from 1, 2, 4, up to 11 o'clock. The 3 o'clock marker is entirely replaced by the day/date window. The Kamasu also features a silver frame around its day and date window. This is unlike the Kano, which has two horizontal lines running above and below its day and date window.

On the other hand, the Mako II is a bit of a special case. There are two different looks for the Orient Mako II. This is because there are two versions of the watch, the regular edition, and a special Orient Mako USA II edition. The regular version is characterised by Arabic numerals at the 6, 9, and 12 o'clock markers. This is very different from the Mako USA II, which has elongated pentagons for markers at the 6 and 9 o'clock positions. At 12 o'clock, it features two trapezoids fitted together.

Finally, the Orient Ray II has trapezoids at 6, 9, and 12 o'clock. The day and date windows replace the 3 o'clock marker, and everything other marker comes in a circle shape. This is, perhaps, the easiest watch to identify, along with the regular Mako II.
Not all of these watches carry the same crystal as well. The Mako USA version and Kamasu both have sapphire crystals while all the others have mineral crystals. Apart from these details, these watches are quite similar in every other regard. That is a large part of why people easily confuse one model with another.
Also Known as Ray III
Many reviews you'll come by would have called this watch the Ray III instead of Kano. The reason for this is that when the Kano was released, it did not actually have the name "Kano" attached to it on the company's website. And because it possessed similar functions to the Ray II, people quickly attached the nickname "Ray III" to the watch. Later, however, on the USA website, Kano watches were identified with the "Kano" name. This helped people confirm that the Ray III watch enthusiasts have been speculating about is actually the new Orient Kano.
A Classic Diver with a Modern Heart
Overall, the Orient Kano is easily one of the best divers from the brand. Orient has a long list of divers. However, for the price of this watch, you can get the same functions as more expensive Orient watches. I wouldn't look deeply into the fact that it only has a mineral crystal, which can be easily replaced with sapphire, or that it lacks a luminous marker at the 12 o'clock position. If you need a diver to add to your collection, this watch could be it. It may not be a watch for pro divers but it's definitely beach-ready. You can take it to your next vacation and even wear it to your next corporate meeting. It's a great all-rounder that has everything you need from a basic diver and more. It displays an A-plus aesthetic and a generally luxurious feel that you can't get from any other watch of the same price point.
---
Take a closer look at other Orient watches you might like! Check out our guides to the Orient Star and Triton!
All photos courtesy of Orient's official website.