Watch Guide
A Simple Guide On How To Properly Wind A Rolex Watch
Mar 15, 2019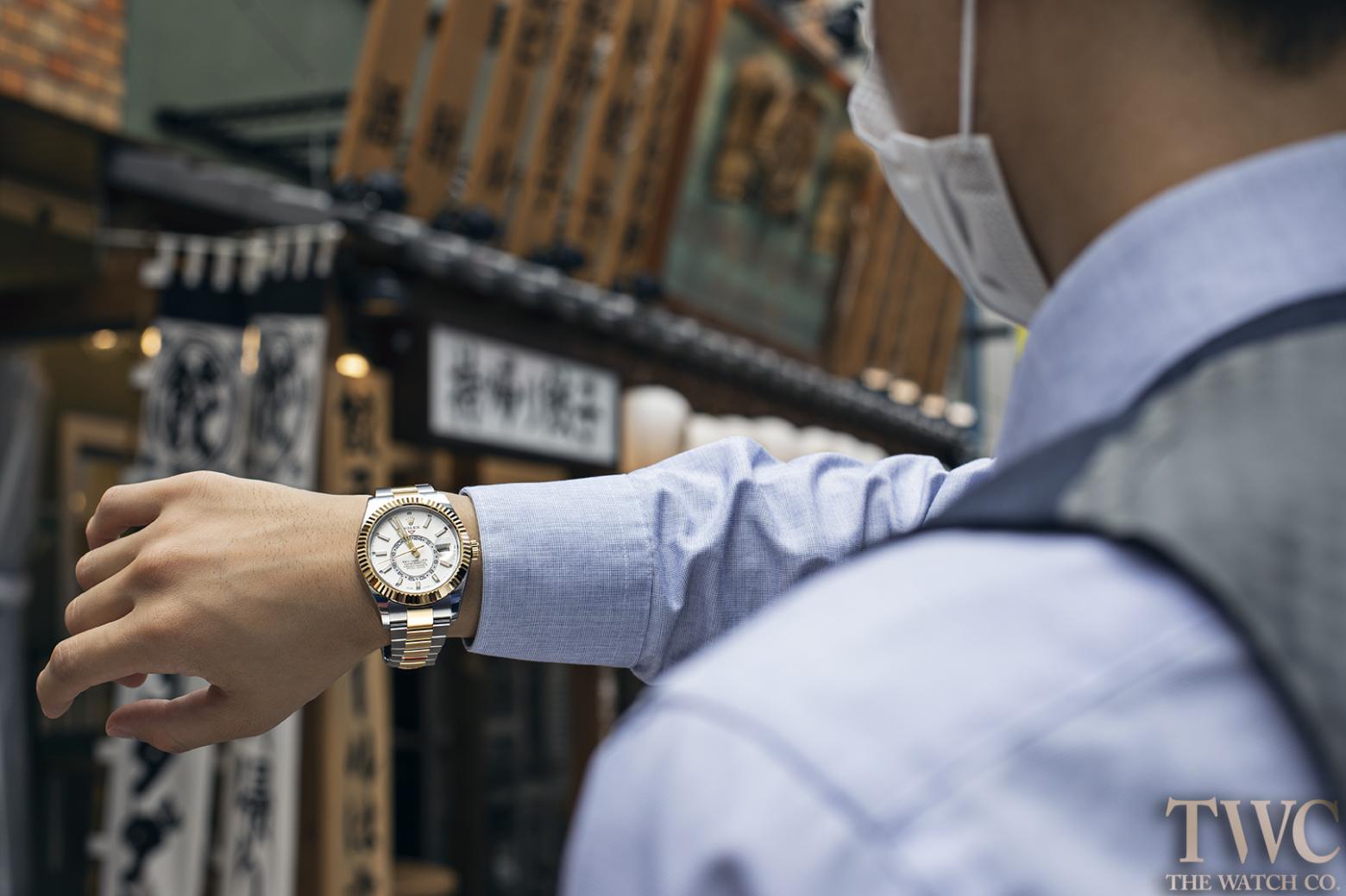 Rolex watches comprise not only state-of-the-art features, but also functions meant to provide a lifetime of service. Rolex always ensures that each of their watches is made perfectly. Each timepiece made with the highest quality materials is ideal as a family heirloom.
Take for instance the Holy Grail Newman Rolex Daytona sold by James Cox. The message engraved on this watch's back, "DRIVE CAREFULLY ME", is one that can inspire wearers for decades.
A robust waterproof Oyster case and the fluted bezel serve as the signature look of a true Rolex watch. Aside from that, a winding crown and invisible perpetual movements are two great features that help enhance the technical prowess of an iconic Rolex watch.
Perpetual Movements

Although invisible to the wearer due to the waterproof case that covers it, the Rolex perpetual movement has remained a staple due to its unmatched chronometric performance.
With all their available in-house parts, Rolex can always ensure the functionality of its self-winding mechanical movements. These movements are certified as authentic chronometers by the COSC (Swiss Official Chronometer Testing Institute). As such, they are noted for their outstanding performance and their adherence to the inflexible requirements in precision, shock-resistance, reliability, easy maintenance, and efficacy in self-winding.
Features
The following are features that enhance the precision, reliability, and robustness of a Rolex movement:
Balance wheel: the balance wheel of the Rolex movement mechanism is fitted with a gold Microstella nut which provides precision and stability.
Hairspring: the hairspring's outmost coil is curled centrally to help counter gravity and aid in balance for greater chronometric precision in every position of the watch.
Optimal frequency: the watch's frequency of 28,800 beats/hour (8 beats/second) allows optimal harmony of both the high precision and superior reliability.
Self-winding perpetual rotor: invented in 1931, this ingenious Rolex mechanism is made up of an oscillating weight in the shape of a half-moon, and provides the watch with constant energy.
High-performance lubricants: Through the help of its in-house team, Rolex has managed to develop its own lubricants to enhance the performance of its mechanical watches.
Through intensive research, Rolex has been able to create and patent the blue parachrom hamstring in their movement. This particular component comprises of a paramagnetic alloy that is shock-resilient for up to 10 times than a traditional alloy. It also protects the mechanism from magnetic fields.
Through staunch dedication as well, Rolex has also been able to develop a new movement called the Calibre 3255. This features impressive double precision than official chronometers as well as a more accelerated self-winding mechanism. If the watch remains motionless for too long however, it won't be able to self-wind.
Winding Crown

Besides an Oyster case and the sturdy display crystal, Rolex has also made sure that the winding crown is well-made as well. This is important to ensure that each piece is water-resistant and can wind properly.
For a piece to be water-resistant for at least 3,900-metres, 11 components comprise the Rolex crown. These include:
The Crown – enhances maximum impermeability
Crown Spring – pushes out the Rolex crown during unscrewing
Piston – a moving part in the clutch ring
Piston Clutch Ring – allows the piston to mesh while unscrewing the crown
Winding Stem – enhances winding and setting functions by linking the crown and the movement
Crown Gasket – a second protective barrier that keeps water out when the crown is screwed down
Second Inner O-ring- component of the 3rd barrier that keeps water out when the crown is unscrewed
First Inner O-ring- component of the 2nd barrier that keeps water out when the crown is unscrewed
Outer Impermeability Gasket- first barrier to enhance water-resistance when the crown is screwed down
Crown Tube- usually screwed on to the watch case to allow the crown to be screwed
Tube Gasket- enhances impermeability along the tube and middle case
Historically, Rolex's signature winding crown is the first of its kind to provide a highly secure interface between the hidden internal mechanism of the watch and outer environmental elements. These elements include not only water but even dust as well. The Twinlock (two sealed zones) and Triplock (three sealed zones) mechanisms secure the inner part of the watch completely.
Twinlock Winding Crown

Introduced in the Rolex Submariner in 1953, the Twinlock winding crown amps up the watch's impermeability. The two O-ring gaskets ensure no water enters the watch even with an unscrewed crown.
Triplock Winding Crown

The Rolex Sea-Dweller watch first featured the Rolex Triplock winding crown in 1970. Unlike the Twinlock, the Triplock mechanism features three sealed zones. Two of the O-ring gaskets are placed inside the Rolex crown tube and the other is located under the winding crown.
To enhance the impermeability of its watches, Rolex refined all of its diving watches in 1977. The Submariner collection thus featured an improved water resistance function of up to 300-metres. The Rolex Sea-Dweller, on the other hand, is now capable of keeping out water for up to 1, 220-metres. Meanwhile, the Rolex Deepsea can resist water up to 3, 900 metres.
Caring For Your Rolex
Designed to last a lifetime, an authentic Rolex watch from a certified Rolex store requires proper maintenance. This includes washing, cleaning, and winding it manually in case it is kept motionless for a long period.
For those who've never used a Rolex watch before, the following are simple steps on how to wind a Rolex watch.
Steps On How To Wind A Rolex Watch

You don't have to wind a Rolex if you wear it every day since it has a self-winding capability. If not worn for 48 hours however, you need to wind your Rolex watch manually before you set the time to help restore its power.
So here are the proper steps on how to wind a Rolex watch:
1. Unscrew the Rolex crown by turning it counterclockwise, without pulling, until you feel it pop out from the watch case.
2. Turn the crown clockwise slowly and in a full rotation using your thumb and index finger.
3. Repeat the process for about 30-40 times for a full wind.
4. Pull the crown out gently by one click and turn the crown clockwise to change the date position.
5. Pull the crown out fully to reset the hands. You can do this either clockwise or counterclockwise.
6. Push down the crown completely before screwing to avoid accidentally adjusting the date.
7. Lastly, screw the crown of your watch back gently and fully to restore the watch's hermetic seal.
Final Words
Knowing how to wind a Rolex watch is easy, but its proper maintenance is a little more advanced.
To preserve the elegance of your watch, you should keep your Rolex clean by wiping it regularly with a piece of cloth. Since it's a waterproof watch, you can even wash the case and its bracelet with soapy water and a soft brush. Remember to follow the steps above properly to ensure that your Rolex can last for generations.
We're glad you enjoyed this guide. For another great reading experience, check out 10 Ways To Tell If A Rolex Is Authentic.