New & Feature
Classic Analogue Watches For Men
Oct 01, 2019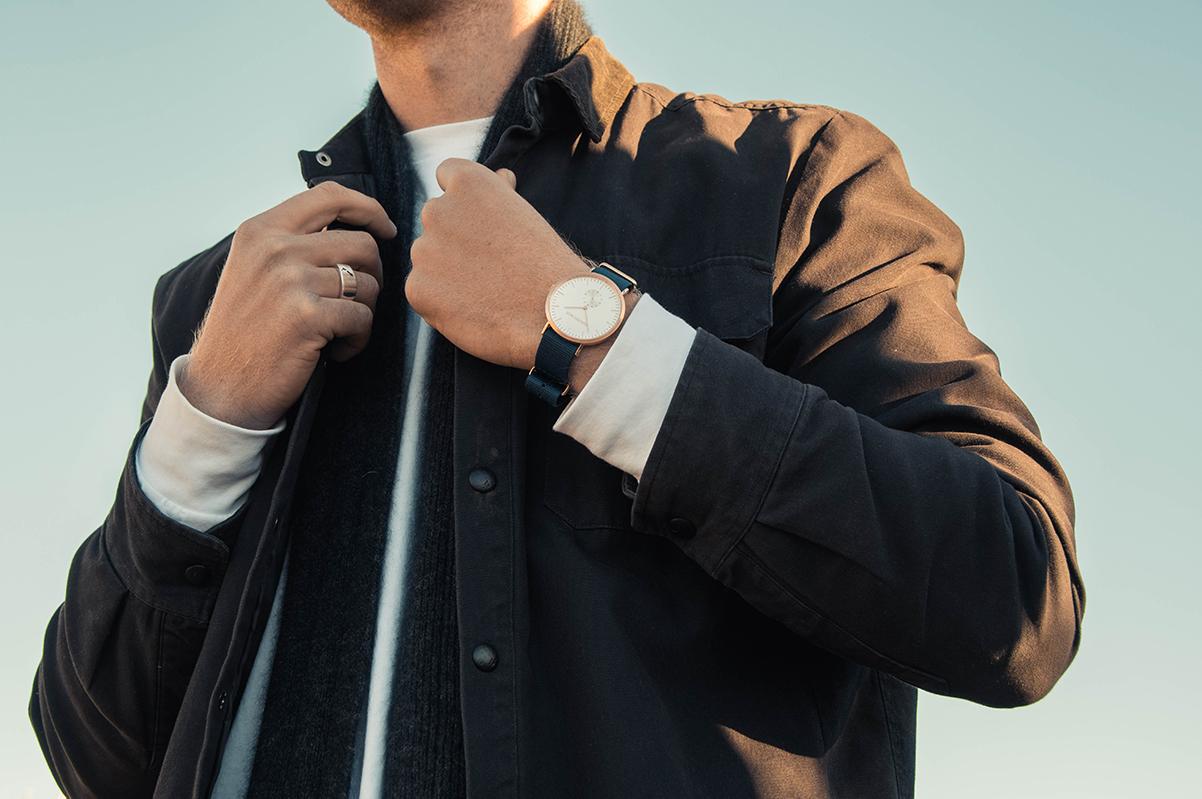 A classic sleek looking analogue watch is the perfect accessory for any man to invest in. There are so many great brands out there that offer classical-styled analogue watches that we shall each explore to find out which one best serves you and your needs.
In this article, we look at some of the most iconic classic analogue watches for men. Some of them come from brands that already are household names while others come from lesser-known brands. Before doing that, however, let's take a quick look at what an analogue watch is.
What Is An Analogue Watch?

Analogue watches are those classic watches that we've all grown up with. These watches use sophisticated mechanisms to move batons around the watch face to simulate movement. The basic design usually consists of the hour hand being shorter than the second hand. And as they move around the watch, you can hear the tick-tock that acts as an indicator of the watch's functioning.
Inside these incredible machines, the gears and motors are driven by electrical currents formed by the interaction of a quartz crystal and the built-in battery. This quartz crystal movement is what makes analogue watches so reliable and precise. It is used by most analogue watches due to its superior efficiency, though there are automatic options that are just as amazing and use similar mechanisms.
Now that you know about the inner workings of an analogue watch, let's look at some potential additions to your wardrobe.
Classic Analogue Watches for Men
What does classic mean to you? For some, it is based on how long a brand has been in existence. For others, it revolves more around the design and style of the watch some of which harken back to bygone eras. However you define it, the watches below are classic in their own different ways.
1. Longines Conquest

Let's start with a company that fits in both definitions of the word classic. Longines is a brand that has been crafting high-quality watches for over a century. Auguste Agassiz, a watchmaker from Switzerland, began this company with the idea of offering high-quality watches for men everywhere. That dedication led to a reputation like no other, and eventually, this company became part of the watch giant Swatch Group.
The Longines Conquest is a beautifully crafted addition to the Longines family. Fitted with an exertion quartz movement and a uniquely designed stainless steel/ceramic case, it is durable and has a certain ruggedness while remaining elegant. Thus, it is perfect to wear for everyday activities as well as nighttime events.
Features
Stainless steel and ceramic round case (43mm)
Screw-down case back
Water-resistant up to 170 feet
Scratch-resistant and anti-reflective sapphire crystal lens
Illuminated indicators
Perpetual calendar complication
Quartz movement (L288 Calibre)
Strap comes in multiple variations
Comes in five variations
Price
$500 – $3,500
2. Tissot Heritage Visodate

The name Tissot has been etched across watch faces for well over a century and holds as much grandeur as the first pieces which were handcrafted by the father-son duo of Charles-Felicien and Charles-Emile Tissot. These watchmakers began their company in 1853 and found themselves travelling the world and fitting some of the most elite people of their time with fantastic watches.
Tissot is synonymous with unique and high performing watches, and with the Visodate, they do not disappoint. This finely built watch is suitable for everyday wear and will have all your friends asking where you got it. Though the design and style of this watch are highly notable, the Swiss quartz movement that powers it is so superb that you can count on being on time to every occasion.
Features
Water-resistance up to 100 feet
Stainless steel round case (40mm)
Domed scratch-resistant sapphire crystal lens
Swiss quartz movement (11 ½" Calibre)
Comes in multiple variations
Price
$200 – $700
3. Grand Seiko SBGA211 SnowFlake

Grand Seiko began its illustrious run in the 1960s. This division of Seiko, which was founded in Tokyo by Kintaro Hattori, was established to do the unthinkable. They started with a mission to craft a timepiece that would be precise, easy to wear, durable, and stylish as well.
Though that seemed like a tall order, the team at Grand Seiko was determined and began manufacturing every new watch with a great design and better functionality. The rest, as they say, is history. Seiko later became two separate companies with Grand Seiko being the luxury line whose built reputation was built innovation.
Though many watches are made of stainless steel, the folks at Grand Seiko decided to craft this stylish piece in titanium. This makes it more durable and gives it a look that at first might seem ordinary, but actually stands out once you look at it closer. Thanks to the brand's mission to be more innovative, the inner workings of the Snowflake make it one of the best analogue watches on the market today.
Features
High-intensity titanium round case (41mm)
Dual curved sapphire crystal w/ anti-reflective coating lens
Spring driven movement (9R65 Calibre)
Power reserve lasting 72 hrs.
335 feet of water-resistance
Screw case back
Screw-down crown
Sapphire crystal case back
Price
$5,500 – $6,500
4. Patek Phillipe Nautilus

This Swiss watch and clock manufacturer was founded in 1839 and has been delivering sophisticated watches from the Valle de Joux ever since. Though originally owned by Patek Phillipe in 1932, it has since been run by the Stern family which has continued Phillipe's dedication to quality and precision.
This iconic watch is crafted in stainless steel and features a uniquely-shaped rounded octagonal bezel and case. Its water resistance is high, and that means that if you are a water sports lover, you won't have to remove it to enjoy yourself.
This watch has a bit of an Art Deco feel to both its design and watch face, which might not be every man's taste. But for those that love a little art with their style, this watch is an excellent one for everyday use.
Features
Rounded octagonal bezel
Stainless steel rounded octagonal case (40mm)
Screw-down crown
Sapphire crystal back
400 feet of water-resistance
Self-winding mechanical movement (26-3300SC Calibre)
Illuminated coating on the dial
Power reserve lasting 45 hrs.
Price
$30,000 – $70,000
5. Tudor Black Bay 41

This brand was originally a trademark in the name of the founder of Rolex, Hans Wilsdorf in 1926. Just ten years later, the man himself founded the company and began to craft analogue watches with the same dedication to quality and details as he did with Rolex.
The Tudor Black Bay Heritage line was brought to the market at BaselWorld in 2012, and since then, model after model has shown the world that this is an analogue watch every collector needs to add to their collection.
Built with high-grade stainless steel and a patented 2824 calibre, this watch is one that stands out in a pack of many. It is an excellent option for those that maybe don't want to spend the money on a Rolex but want the same level of quality and sophistication.
Features
Polished steel round case (41mm)
Self-winding mechanical movement (2824 Calibre)
Power reserve lasting 38 hrs.
Steel-built screw-down winding crown
500 feet of water-resistance
Comes in multiple variations
Price
$2.500 – $3,500
6. Breguet Type XX

Perhaps one of the oldest companies on our list, Breguet began its watchmaking operations in 1775. Founded by Abraham-Louis Breguet, a Swiss watchmaker who had previously studied under master watchmakers for ten years, this company found its home in Paris. It would soon grow to be one of the most reputable watch companies on the planet.
This military-style analogue watch has been often imitated but never copied. Its solid construction and rugged design make it an excellent analogue watch perfect for everyday use. In fact, it was a favourite of various national Air Forces in the 50s and 60s. With its excellent durability and precision timekeeping, the XX stands out in any collection with style.
Features
Steel round case (39mm)
330 feet of water resistance
Self-winding movement (582 Calibre)
Comes in multiple variations
Price
$9,000 – $10,000
7. Rolex Submariner

Hans Wilsdorf wanted to design something akin to a pocket watch but in a way that would be easier to carry. How could he do this? By making them into units that could be wrist-strapped is how. Hence, in 1905 at the younger age of 24, he opened a distribution company and began working on the designs that would be the blueprint for Rolex in the decades to come. Eventually, he would create a movement that would become part of watch history.
This is by far one of the most robust pieces in our guide and is the staple pie in the entire Rolex company's catalogue. First manufactured in 1954, it was built for divers around the world. This was the first watch released for buyers that had the ability to function under 300-metres of water. It has evolved over the decades, but one thing has remained the same, and that is its status in the watch community.
Features
Oystersteel round case (40mm)
Screw-down case back and winding crown
Unidirectional rotatable graduated bezel
Scratch-resistant sapphire crystal lens
1000 feet of water-resistance
Perpetual self-winding mechanical movement (3135 Calibre)
Power reserve lasting 48 hrs.
Price
$9,000 – $38,000
8. Bulova Oceanographer

In 1875, the J. Bulova Company was founded by Joseph Bulova in New Your City. An immigrant from the Czech Republic, Bulova wanted to bring sophistication and elegance to the watch world of America. Eventually, his company would rebrand itself as simply Bulova and find its way into the holdings of the Loews Company. But even with all that, the mission of its founder would remain steadfast throughout the decades.
Bulova's answer to the dive watches released by other companies like Rolex and Seiko was the Oceanographer. This is a large function dive watch that offers a variety of options. Its extensive water-resistance level reaching up to 666 feet is absolutely stunning.
Features
Stainless-steel round case (44mm)
Water-resistant up to 666 feet
Double curved sapphire box crystal lens
Self-winding mechanical movement (Sellita SW 220 Calibre)
Price
$750 – $900
9. Omega Speedmaster

The ever-illustrious watch company Omega did not originally start out as Omega. In fact, its first name was La Générale Watch Co., and it was founded in Switzerland. Way back in 1848, Louis Brandt took his knowledge on the assembly of key-wound pocket watches and began to tinker with his own designs. Using locally sourced parts, he would work his way around Europe building his reputation.
This is one of those watches that is a staple of many watch collections and for good reason. It remains available in many variations and its upgraded versions use a co-axial movement designed for chronographs while still holding onto a classic design.
Features
Steel round case (41.5mm)
Anti-reflective and scratch-resistant sapphire crystal lens
Water-resistant up to 330 feet
Sapphire crystal case back
Self-winding chronograph movement (9300 Calibre)
Power reserve lasting 60 hrs.
Price
$8,500 – $10,000
Final Thoughts
Classic analogue watches for men add a sense of sophistication and style to any collection, and with the iconic models discussed above, you will be sure to walk the streets with confidence.
If you enjoyed this article, then feel free to have a look at A Guy Thing: Stylish Tissot Watches.