特定商取引法/ Specified Commercial Transaction Law
代表者:
Company Representative:
クリスチャン・クウォック・レオン・ヨウ・へイレセン
Christian Kwok-Leun Yau Heilesen
本社(店舗)所在地:
Main shop adderss:
〒164-0001 東京都中野区中野5丁目58-6
5 Chome-58-6, Nakano, Nakano-ku, Tokyo 164-0001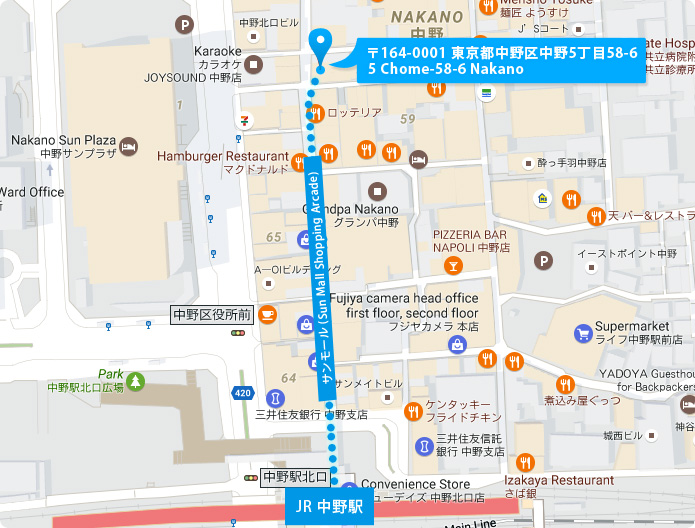 電話番号:
Telephone:
03-5318-9301
電話受付時間:
Telephone operating hours
11:00 - 19:00
販売価格:
Product price:
各商品ページをご参照ください。
Please refer to each product details
商品代金以外の必要料金:
Additional to produce price:
消費税
Consumption tax
お届け時期:
Delivery:
基本的にご注文いただきましたら、最短で配送いたします。お支払い方法により、配送時期が異なることもございます。
Generally products are delivered after payment confirmation has been made. Delivery time may differ according to payment method.
お支払い方法:
Payment method:
銀行振込、クレジットカード、代引き
Bank transfer, credit card, pay upon delivery
返品・交換・キャンセル等:
Return・Exchange・Cancellation:
通信販売のみ、返品交換をお受けできます。場合によってはお受けできないこともございます。 まずはお電話でご連絡ください。
Return and exchange is only available for products purchased through the website. Under circumstances this rule may not be applied. Please contact directly by telephone.
返品期限:
Return validity:
通信販売でご購入いただいた商品は到着日の翌日までにさせていただきます。 店舗でご購入いただいた商品は店舗でご確認いただき、ご納得の上に、お買い求め頂いておりますので、返品はお受けできませんので、ご注意下さい。
For purchases online, please return the goods latest within the next day from the day of delivery. For purchases in the shop, please check the products carefully before making a purchase. Orders cannot be returned after leaving the shop.
返品送料:
Return shipping fee:
お客様のご負担とさせていただきます。
Customers are asked to bear the shipping fee.