New & Feature
Seiko Samurai: A Review of Seiko's Powerful Dive Watch
Mar 27, 2020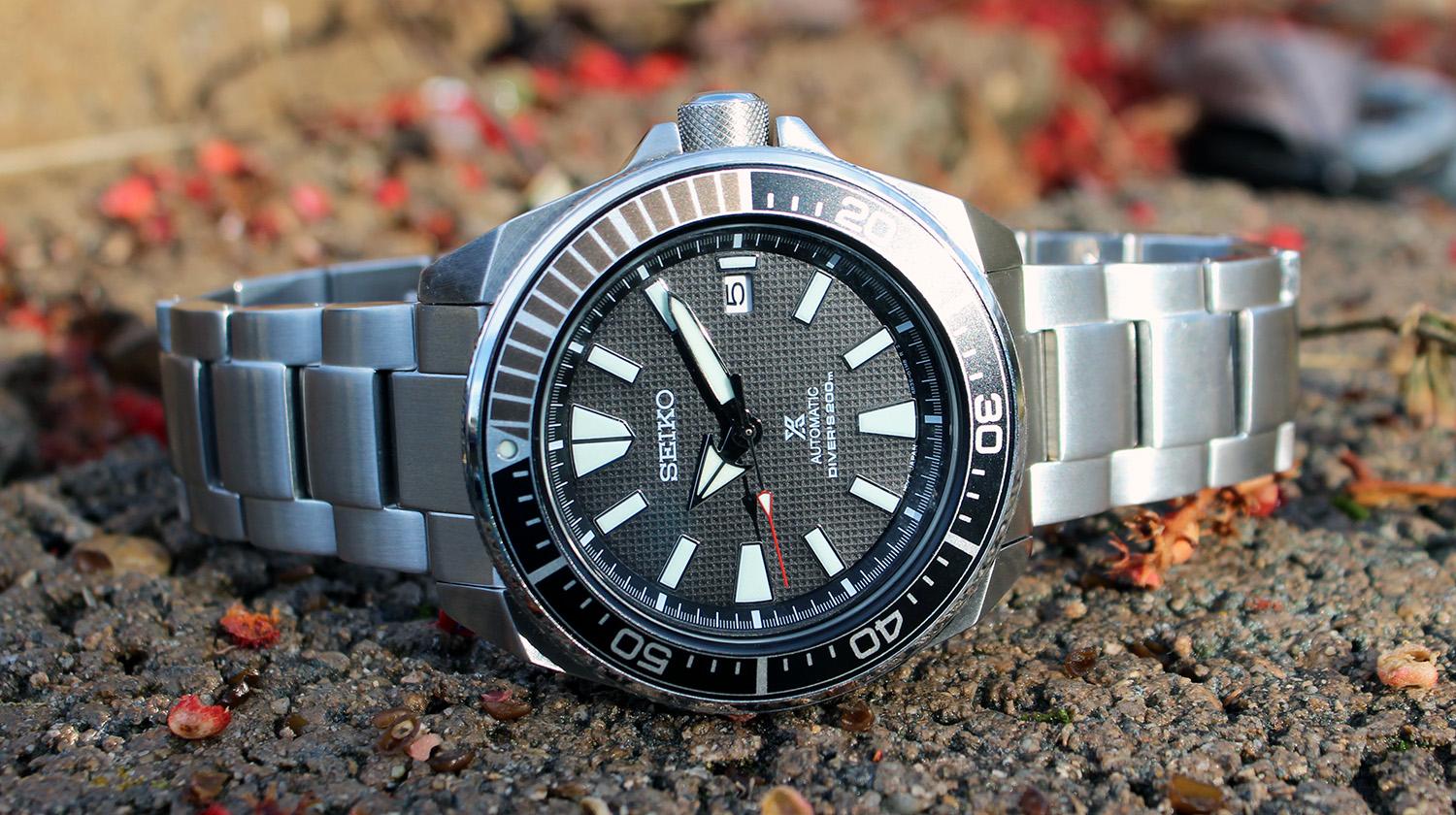 The Seiko Samurai is a dive watch that should not be overlooked. People are often amused with its sharp looks and aggressive lines. But how does this dive watch hold up when exposed to extreme conditions?
Let's find out below if this dive watch lives up to the Code of Samurai.
History of the Seiko Samurai
Back in 2004, Seiko introduced the first generation of the Samurai. It was received by the audience well due to its modern design.
During that time, the Samurai was available in titanium materials, aside from stainless steel. However, Seiko discontinued the production of the later version. This is why we are left with the stainless steel version for this review. But don't worry! The stainless steel is just as good as the titanium one.
As the years went by, its popularity increased and the Seiko Samurai has grown to be one of Seiko's most sought-after dive watches.

Why is it Called the Seiko Samurai?
If Seiko should have another award, it should be for their creativity when it comes to their watches' nicknames. The case of the Seiko Tuna, for example, resembles the shape of a tuna can. Another example is the Ice Monster which has a white and blue colourway that will remind you of the Abominable Snowman or the Yeti. And if you need another example, take a look at the Seiko Turtle, whose case looks like a turtle shell.
The Seiko Samurai is no exception to that rule. If you look closely at the dial, its hour and second hands resemble a sword. And to honour Seiko's Japanese origins, they decided to name it after something that's iconic in Japan. This is why they chose the Samurai instead of the swashbuckling, sword-wielding Knight or Paladin.

First Impression
Comparing it to Seiko's other dive watches, the Samurai features a perfect balance of traditional and modern. It's not as old-school looking as the SKX series. But it's also not as avant-garde as the Monster. And as other people would say, it's not too much and not too little — just like Goldilocks.
Another thing you'd notice right off the bat is how easy it is to read the time. The hour markers, as well as the hands, are thick enough for easy readability.
Finally, the two-tone bezel adds an interesting shade of colour. With that said, the Seiko Samurai will look in place with a shirt and shorts, as well as a scuba diving suit.
Seiko Samurai Specs
We're done with first impressions. Now, let's dig deeper into what this watch has to offer. Here are some of the important details that you have to know about the Samurai.
Seiko Samurai Specs:
Case: Stainless Steel
Movement: Caliber 4R35, Automatic, 23 jewels
Power Reserve: 41 hours
Case diameter: 43.8mm
Height: 48.4mm
Frequency: 3 Hz (21,600 vph)
Strap: Stainless steel bracelet
Buckle: Three-fold clasp
Water resistance: 200m
Based on these numbers, the Samurai is capable enough to be a diver's companion. But let's see below if these numbers are as good in practice as it is good on paper.

1. Case
First off, let's critique the first thing we see — the case. According to the specs sheet, it's made with stainless steel. It's important for a dive watch, or any watch, to have durable housing. That's why Seiko got it right with this.
You will also appreciate Seiko's attention to detail when you look at the case from the side. It has a subtle diamond-shaped pattern that runs all around it. 
Just by looking at the specs sheet, you might be thinking that a 43.8mm case is larger than average. Yes, it's true. However, the lugs were made small and thin, thus making the watch more compact than it actually looks. This is considered an advantage as the watch feels light on the wrist while still remaining robust.
2. Bezel
When it comes to the bezel, the Samurai is equipped with a unidirectional one. You can only rotate it in a counter-clockwise direction. This is to follow the standards of a diver's watch.
To the unacquainted, the bezel is used by divers to track their diving time. However, you can still find that feature useful on land. Some people use it for other daily activities like timing their morning commute or for baking when their kitchen timer is broken.
Another impressive thing about the bezel is that Seiko did not skimp on the design. As mentioned before, it has a two-tone colour scheme. The first quarter of the watch gives off a grey and slightly brown matte finish. Meanwhile, the 3 o'clock up to 12 o'clock positions are in black.
3. Dial
The dial consists of the majority of the watch's design. Visually, the timepiece is very easy on the eyes. The indices, along with the hour and second hands, are thick enough to be read from a distance. They even made the 6 o'clock, 9 o'clock, and 12 o'clock markers thicker than usual so you'd have an easier time figuring out which hour the hand is pointing at.
Furthermore, the dial's functionality goes hand in hand with good design. As mentioned before, we call it the Samurai because its hands resemble a sword. When the two hands overlap each other, they magically turn into a great sword. The minute hand is the blade while the hour hand is the guard or cross. It's too bad that you'll only get to witness it a few minutes each day.
From afar, you'd think that the dial has a plain black background. But if you look closely, you'd notice that it has a subtle square pattern. This simple addition makes the watch a lot more interesting.
4. Hardlex Crystal
Along with legibility, durability is also one of the important aspects of a diver's watch. And Seiko is proud to say that their Hardlex Crystal is protecting the Samurai's dial. For those who do not know, Hardlex crystal is the brand's trademark for its manufactured mineral material. 
This gives the watch a high resistance to scratch and impact while keeping its price tag low. With this in mind, users of the Samurai do not need to worry about bumping their watches against the stones underwater. 
5. Movement
Inside, the Samurai is powered by a self-winding movement called the calibre 4R35. This movement beats at 21,600 vibrations per hour and supports a few useful functions. Among those functions are the hand-wind function and the hacking seconds. To add, this calibre can power your diver for approximately 41 hours when fully wound.
Hacking Function: We've mentioned that the calibre 4R35 consists of a hacking function. What this does is it stops the second hand when you're adjusting the time. This allows the user to set the time accurately up to the second because knowing the exact time is crucial for some activities.
Hand-Wind Function: The calibre 4R35 is an automatic movement. However, you can choose to manually wind it whenever you want. To add to its power reserve, all you have to do is to rotate the crown. 
This is extremely useful in keeping your watch powered without having to wear it daily. To add to that, you also wouldn't need to keep it in a watch winder when you're not using it. Overall, this movement is widely considered as reliable, accurate, and durable.

6. Lume
As mentioned before, readability is extremely important for dive watches. In fact, the ISO requires that a dive watch must be visible at 25cm in total darkness. And when it comes to lume, the Seiko Samurai does not disappoint.
The watch's hour indexes, as well as the hands, are applied with LumiBrite. To the unacquainted, LumiBrite is Seiko's own luminous paint that is bright, long-lasting, and completely free of radioactive substances to ensure safety for people and the environment. A LumiBrite typically lasts for 3 to 5 hours. That is ten times longer than the typical luminous paint.
What's good about the Samurai's lume is that the LumiBrite is applied over the whole marker. Other models of Seikos have the lume over only 80% of their markers.
7. Diving Capabilities
As mentioned above, the Seiko Samurai belongs to Seiko's Prospex line. For the unacquainted, the name Prospex is a combination of the words "professional specifications". This means that the watch was made to survive extreme conditions.
Now, what are the requirements to be a dive watch, and does the Samurai meet the standards?
It should be at least 100m water-resistant.
The Seiko Samurai passes this test with flying colours. In fact, it is water-resistant up to 200m, which is double the minimum requirement. 
It should have a unidirectional bezel.
As mentioned before, the Seiko Samurai has a unidirectional bezel that rotates counter-clockwise. To expound, the bezel of the watch has 120 clicks, which is the standard of dive watch bezels. 
Readability should not suffer in the dark.
A lot of people swear on Seiko's LumiBrite. In fact, it is one of the brightest and longer-lasting lumes in its price range.
It should be resistant to shock.
Thanks to the Hardlex crystal protecting it, the Samurai can take a few bumps here and there. In fact, the Hardlex crystal is even advertised as scratch-resistant.
Pros and Cons of the Seiko Samurai
Everything has its own strengths and weaknesses. With that said, here's a list of the Seiko Samurai's pros and cons.
Pros
Great value for the price: The Seiko Samurai is at more or less $500. At this price point, you're getting a lot of features for your money.
ISO Certified: If you're a diver, you would be delighted to know that this watch passes the certifications of ISO. 
Light: The Seiko Samurai is surprisingly light for a dive watch. This makes the timepiece very comfortable to wear even on a daily basis.
Cons
Bulky: Despite its lightness, the Seiko Samurai can wear big on some people, especially for those with thin wrists. However, it is important to note that dive watches are typically big. In fact, the Seiko Samurai is even smaller than the Seiko Tuna.
Other Seiko Samurai Editions
The watch we reviewed above sports the black-and-grey colourway. But, if you're not big on a monochrome colour scheme, Seiko has given you a few other options. Below are the Samurais that deserve a shoutout.

Seiko Samurai Blue Lagoon Limited Edition
As stated in its name, this Seiko Samurai is a limited edition model that was launched in 2017. Only 6,000 units of the watch were released to the market.
Staying true to its name, the Blue Lagoon sports a dark blue dial. Its metallic finish causes a reflection effect that will make you feel like you're looking into a body of water in real life.
This edition is perfect for those who want a neutral-coloured watch while staying away from the common black colourway.

Seiko Orange Samurai
Want something that's loud and fun? Check out the Seiko Orange Samurai. This watch comes in a bright orange dial that will catch other people's attention.
To some people, bright-coloured dials are easier to read while diving. Whether you're underwater or on land, this watch will definitely stand out from the crowd.

Seiko Samurai PADI (Professional Association of Diving Instructors)
You know the watch is special when it bears the logo of the world's biggest diving association. But the PADI logo is not the only thing that makes the watch stand out.
The Seiko Samurai PADI comes in a Pepsi colourway. Meaning, a quarter of the bezel is red while the rest is blue. If you'll ask us, this colour combination is one of the most popular and most attractive. Apart from that, the wavy pattern on the black dial is a treat to look at.
Final Notes
The  Seiko Samurai has proven time and again that it is a worthy diving companion. It has everything you need to track time underwater. Indeed, its ISO certification will give you confidence that it can handle extreme pressure.
Furthermore, it is bulky while staying comfortable and functional, just like the ancient Japanese Samurai who have learned how to swim while wearing heavy armour. The Seiko Samurai excels both when being worn casually on land as well as underwater.
While you're at it, check out this Tag Heuer Connected watch that can connect to your phone!