New & Feature
Garmin Vivomove: The Smartwatch Brand's First Analogue Timekeeper
Aug 18, 2022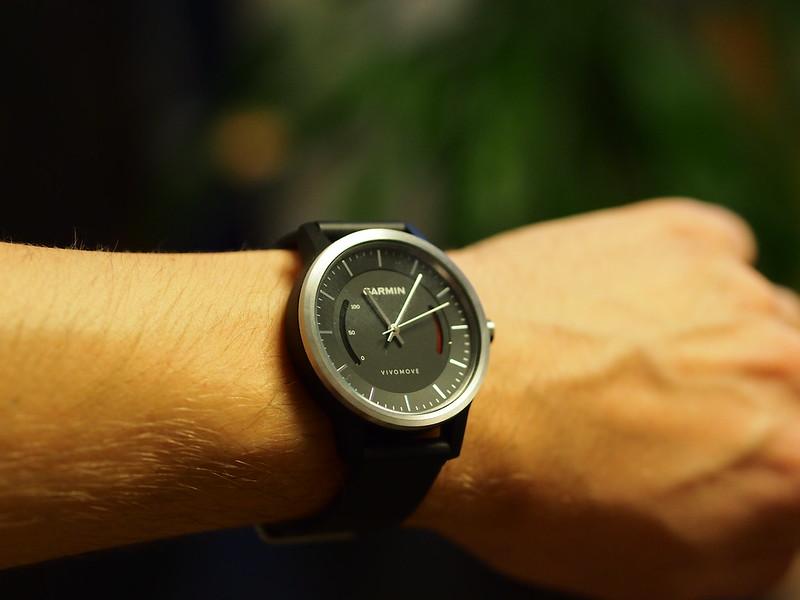 Founded in 1989, the popular technology brand Garmin has developed an impressive lineup of classic, reliable outdoor watches. Its catalogue consists of a diverse range of devices packed with modern features, including smartwatches, GPS running watches, GPS units, and many more. Indeed, Garmin products are designed especially for hardcore athletes and those who lead very active lifestyles. 
One particularly intriguing piece from the brand is the Garmin Vívomove. Eschewing the brand's usual focus on pure smartwatches, the Garmin Vivomove is an exemplary analogue watch that is jam-packed with some of the best fitness tracking features you need. Effortlessly blending a classic analogue look with high-tech fitness tracking capabilities, the Garmin Vivomove has received a very favourable reception from watch enthusiasts since its launch. In this article, we will be looking specifically at the 2016 Garmin Vivomove, its specifications, and everything it brings to the table.
First Impressions

At first glance, you might think the Garmin Vivomove looks like any ordinary timepiece designed for casual everyday wear. In terms of its aesthetics, it does look very much like a traditional wristwatch, with its simple and stylishly minimalistic analogue dial.
A deeper look at the Garmin Vivomove, however, reveals that it is much more than what it seems. It is furnished with essential fitness tracking tools, making it a solid choice for a handsome tracker that can be worn daily. For those who are not a fan of the typical smartwatch, the 2016 Garmin Vivomove can help you keep track of your health in style.
Specifications
Exterior

As mentioned, the 2016 Garmin Vivomove looks entirely like a stylish, refined analogue watch perfect for daily wear. The only element that identifies it as part of Garmin's ever-growing fitness catalogue is the logo that is positioned at the centre of the dial. Otherwise, anyone who comes across the Garmin Vivomove would likely just believe that it is a wristwatch made by a traditional watchmaker.
Launched in 2016, this is the first lineup of Garmin Vivomove watches released. Extraordinarily well-crafted, the Garmin Vivomove timepieces are available in a wide range of finishes and designs. These can be classified into three different sub-collections: the Sports, Classic, and Premium versions.
Each Garmin Vivomove piece comes in a 42mm round stainless steel case. This is a fairly standard case diameter that can fit wrists of virtually all sizes quite well. Depending on the specific model you are looking at, this case can be made from silver stainless steel, black-tone stainless steel, luxurious 18K rose gold, or 18K yellow gold. Coupled with thick straight lugs, the Garmin Vivomove offers a nice heft on your wrist. It is not too heavy or uncomfortable, but it feels substantial enough to distinguish itself from some cheap fitness tracker made out of plastic.
The Garmin Vivomove also comes with a thick, fixed bezel which keeps the watch face safe from any impacts or scratches. This fixed bezel is made of either steel or 18K gold and comes in the same shade as the rest of the case, as per each specific model.
Finishing off the elegant look of the Garmin Vivomove is a handsome, supple leather strap. You can get this strap in either white, black, or rich brown, whichever best suits your tastes and preferences. Wearers have reported that the Garmin Vivomove's strap is extremely comfortable and causes no irritation whatsoever.
Display and Performance

The dial of the Garmin Vivomove is available in two different colourways: matte black and white. Aside from following a straightforward layout, this dial also boasts a very minimalistic flair, almost resembling the German Bauhaus watches.
The Garmin Vivomove is designed with an analogue face and virtually no trace of tech visible. It consists of slim applique hour indices and sweeping stick hands, along with a subtle minute track around the rim of the dial. The hands and indices typically come in polished silver. However, some Garmin Vivomove models offer hands and indices in black, rose gold, or yellow gold hues to match the colour of the case.
One unusual thing about the Garmin Vivomove's dial is the curved indicator bars located on the left and right sides of the watch face. These are the only signs that classify the Garmin Vivomove as a fitness tracker. The right bar is printed in a shade of red and only fills up when you are inactive. To test this out, you can try to walk around for a couple of minutes, and the red bar will immediately empty out.
The white bar on the left, on the other hand, is engraved in white. It helps you to keep track of how close you are to your step goal each day. As you move around and increase your step counter, the bar also fills up with small black chunks, indicating the progress that you have made.
Setup and Navigation
As the brand's first-ever analogue watch, the Garmin Vivomove is a bit of an odd duck. It does possess limited fitness and navigation features, making it more practical than traditional analogue wristwatches. However, the Garmin Vivomove cannot quite match the smartwatch capabilities of other Garmin watches like the Instinct or Fenix.
For instance, the Garmin Vivomove does not come with a vibrate function or any alarms. Since it has an analogue dial and no touchscreen capabilities, this watch is also not able to display notifications. Unlike many other fitness tracker smartwatches, the Garmin Vivomove is not equipped with a GPS feature. That said, it does come with an accelerometer, which allows you to smoothly track your movements and speed.
One thing the Garmin Vivomove does offer is smart data transfer, allowing wearers to transfer their data from the watch to any device. Much like other Garmin watches, the Vivomove can connect to smartphones or any other gadgets using Bluetooth. Wearers can access the Garmin Connect platform to check their past stats, going back as far as months. While the Garmin Vivomove does not offer automatic syncing, wearers can press a pusher button on the right side of the watch's case to manually sync the watch up with their phone.
Finally, the Garmin Vivomove is able to support Android, iOS, and even Windows 10 devices. This allows it to connect to smartphones, laptops, and desktops. As long as your device comes with Bluetooth 4.0, you can connect the Garmin Vivomove to it, anytime you need.
Fitness and Health Tracking Features
As a fitness tracker, the Garmin Vivomove is packed with essential health-tracking tools on top of its traditional analogue face. With this watch, you are able to track and monitor your steps taken, distance, sleep, and even calories burned. Indeed, the Garmin Vivomove comes with everything you need in order to maintain a healthy lifestyle. One thing the Vivomove lacks, however, is a heart rate sensor and a smartphone notification capability, but this is to be expected since the Vivomove is not a typical smartwatch.
The Garmin Vivomove also lacks the digital display typically seen on fitness trackers. Instead, it uses a rather ingenious method of displaying fitness information: e-ink screens. On the left and right sides of the dial, you can find two small, secondary e-ink screens that indicate fitness record data. The bar on the left displays how close you are to reaching your step goal set every day. The e-ink screen on the right is an inactivity bar, which fills with red after every 900 seconds of inactivity.
Battery Life
If there is one notable feature about the Garmin Vivomove, it is the fact that the watch is extremely low-maintenance. This is not surprising, as it displays fitness data using an analogue interface, which is not as battery consuming as a digital or smartwatch. 
The Garmin Vivomove is equipped with a CR2025 coin cell battery, which is a very popular battery frequently used by analogue quartz watches. It can last up to 365 days (one year) when fully charged. On top of that, this battery is also water-resistant up to depths of 50 metres. This allows you to bring the Vivomove along on your trips to the beach or to other watersports activities you might enjoy playing. 
Price
Despite its stylish aesthetics and handy fitness tracking features, the Garmin Vivomove actually retails at a very reasonable price. All three Vivomove models are offered at different price ranges, differing due to the materials used in each watch. The entry-level Vivomove Sports costs around $150 USD, the Classic model is available at $200 USD, while the Vivomove Premium variant sells at approximately $250 USD.
On the whole, regardless of which Vivomove model you prefer to wear, you are guaranteed an excellent timekeeping experience, with an analogue watch that has the capability to deliver some of the best basic fitness tracking features.
Final Thoughts
We cannot deny that Garmin did a great job crafting its first-ever analogue watch with some basic fitness features. In a market that is flooded with traditional wristwatches and high-tech smartwatches, the Garmin Vivomove offers something impressively different, and manages to look great while doing so.
This is a classic watch built for casual and everyday use, and its affordable price is the icing on top of the cake. If you hate the look of digital timekeepers but still want something practical that is able to help you monitor your health and fitness stats, then the Garmin Vivomove is simply the perfect compromise. 
All images are credited to Amazon.com unless otherwise stated.
Featured image courtesy of (Geenius Meedia) on Flickr.
If you are an outdoor enthusiast searching for the best utilitarian tactical outdoor watch, the Suunto Core might be the best one for you.