New & Feature
Best Calculator Watch for Your Dress-Down Days: Top 15 Picks
Dec 13, 2021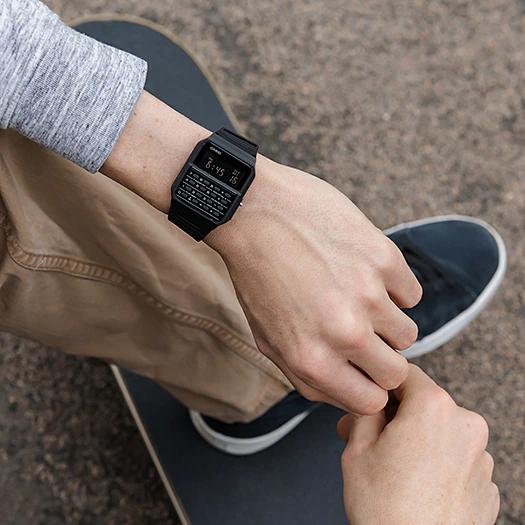 Before the invention of smartwatches loaded with features and apps for all kinds of purposes, we had digital wristwatches. At the time, digital wristwatches were considered some of the most high-tech pieces of horology you could possibly find. Apart from having some added complications like alarms and timers, digital watches were affordable, unique, and most importantly, reliable. 
There are many versions of the digital watch, but one type that truly screams vintage class is the iconic calculator watch. Fortunately enough, there are a number of brands that still offer this casual yet cool gadget. If you are seeking a handy digital timepiece that comes with a sleek retro look and a useful calculator, stick around as we look at the 15 best calculator watches on the market today. 
What is a Calculator Watch?
In the most basic sense, a calculator watch is a digital timepiece equipped with a built-in calculator. Its case composition is made up of a relatively large, rectangular watch face containing small buttons that resemble the design of a calculator, albeit on your wrist.
A calculator watch is capable of doing basic arithmetic functions such as addition, subtraction, multiplication, and division and can either operate up to 6-digit, 8-digit, or 10-digit numbers. Some calculator watch models like Casio's CFX-400 and Citizen's 49-9421 can perform more advanced mathematics functions, such as trigonometry and scientific calculations. Calculator watches typically use quartz movements, making them highly accurate while requiring little maintenance. Although the calculator watch looks a tad different from other digital watch variants, they function in relatively the same way, outside of the calculator complication. 
History of the Calculator Watch
The calculator watch first made an appearance in the 1970s — three years after the birth of the LED wristwatch. One of the earliest calculator watch models to reach the market was Hamilton's Pulsar Time Computer Calculator 901, which was launched in 1975. This model had buttons that were so small, the wearer could only access the calculator by using the stylus that came with the watch. Being made entirely out of 18K solid gold, this digital Hamilton Pulsar watch sold for around $4,000 USD.
A year after the release of the Pulsar Time Computer Calculator 901, Hewlett-Packard, more commonly known as HP in the information technology industry, unveiled a calculator watch of their own known. They called this piece the Hewlett-Packard HP-01. 

The HP-01 was a unique digital watch for several reasons. Apart from being HP's only watch, it could also make mathematical calculations based on time, date, and time intervals. It was equipped with a calendar that could display any day of the week between the years 1900 to 2099 and an exclusive stopwatch. On top of that, it was the brand's first algebraic calculator. But even with its numerous outstanding features, the HP-01's hefty price of $2,500 USD to $3,200 USD was just way too much for the average consumer. As HP's first venture into the horological realm, the HP-01 failed to bring the calculator watch into the mainstream.
It would not be until the 1980s that the calculator watch became a true hit. During that time, Casio ushered in a vast line of extremely affordable, plastic-cased calculator watches, such as the Casio C-80 and the Databank. One notable feature of the Casio calculator watch was that it came with sizable buttons that wearers could easily press without needing a ball-point stylus. Additionally, the Databank calculator watch was also able to store appointments, addresses, names, and phone numbers, making it very convenient indeed. These kinds of calculator watches became a must-have for anyone who needed something more techie. 
What Happened Next?
In the 1990s, the demand for calculator watches started to decline with the introduction of cheap mobile phones and personal digital agents (PDAs) that could carry out similar functions. Modern-day advancements such as the smartwatch and other such technological inventions simply replaced the calculator watch in mainstream consciousness. Fast forward to today, and the calculator watch is now more of a collector's item. Special, vintage calculator watch variants from brands like Casio and Timex can even fetch a premium price on the second-hand market. 
15 of the Best Calculator Watches in the Market
As times have changed, the calculator watch is no longer as popular as it used to be. With the development of more advanced, modern digital watches and smartwatches, most brands no longer produce or sell calculator watches. Nonetheless, there are still a few calculator watch models out there, either sold by Casio or available on the second-hand market. With that being said, here are 15 of the best calculator watches money can buy you.
1. Casio CA53W-1 Databank

Our list starts with an iconic calculator watch known for its affordability and its special appearance in the blockbuster sci-fi movie Back to the Future (1985). With its recognizable 8-digit calculator, the Casio CA53W-1 Databank is a black resin watch that embodies the 1980s digital aesthetic. Apart from having a built-in calculator, this Casio timepiece also has an automatic calendar, a daily alarm, a stopwatch, an hourly time signal, and a dual time function.
Equipped with 30m of water resistance, the CA53W-1 is able to withstand raindrops and light splashes without receiving any damage. Its black case is paired with a matching black resin strap that feels smooth and comfortable on the wrist. With an approximate battery life of 5 years, this is one of the most cost-effective digital watches in the entire industry.
You can purchase the CA53W-1 for just $25 USD.
2. Casio CA56-1 Databank 

Compared to the CA53W-1, the CA56-1 Databank has a sportier look. Ready for all kinds of action, this calculator watch comes in a 45mm silver resin case and is accompanied by a black resin strap. Its display window uses scratch-resistant mineral glass to provide a clear view of the digital dial.
Operating underneath the watch is a quartz movement fitted with a 5-year battery supply. The calculator of the CA56-1 can count up to 8 digits and is easy to utilise, thanks to its sizable and clearly-labelled buttons. This timepiece also has a fully automated calendar, along with a chronograph function, dual time, and a daily alarm. Resistant to splashes and raindrops, the CA56-1 has a water resistance capacity of up to 30m.
Like the CA53W-1, the Casio CA56-1 costs around $25 USD.
3. Casio DBC-32-1A Databank

An 8-digit calculator watch capable of displaying information in 13 different languages, the Casio DBC-32-1A is a multilingual databank watch built for all purposes and people. It has a large, high-contrast LCD screen that displays two different time zones as well as the day and date all at once. What's more, this calculator watch has a 25-page database in which wearers can store names, addresses, phone numbers, and appointments. The glass covering this LCD screen is made of mineral, providing the watch face with ample scratch and shatter resistance. 
Running on a quartz movement, the Casio DBC32-1A has a powerful battery that can last up to 10 years. Other functions of this digital timepiece include a stopwatch, five multi-function alarms, and a currency converter. 
This calculator watch fetches a price of $70 USD.
4. Timex T2N239 Calculator Watch

Timex is another brand that also made many calculator watches back in the day. One of its most popular calculator watch models is the Timex T2N239 Calculator Watch. Contained in a green 35mm resin case, the Timex T2N239 boasts a rectangular digital screen sheltered by mineral glass. The calculator function can count up to 8 digits and the watch's screen displays the current time as well as the month, date, and year.
Powering the watch is a highly reliable quartz movement. Paired with a matching green resin strap, this Timex watch has a depth rating of 30m, which is enough to ward off light splashes and raindrops. Although the brand no longer sells the Timex T2N239 Calculator Watch in stores, you can still purchase this timepiece from the second-hand market. 
The Timex T2N239 Calculator Watch is worth approximately $30 USD.
5. Digitech #WW064 Databank Watch 

The Digitech #WW064 Databank is a resin-cased calculator watch with a handful of notable features such as 12/24-hour time, a daily alarm, world time, a stopwatch, a countdown timer, and a useful currency converter. These functions make it the perfect digital watch for frequent travelers. Aside from its core functions as a watch and a calculator, the Digitech Databank also has other modes such as phone, email, and schedule mode. Wearers who need to note down various things can easily make use of the watch's substantial 50-page databank.
This calculator watch is operated by a quartz movement equipped with a battery that can last for years. Without a doubt, the Digitech Databank is a very versatile digital timepiece. Keep in mind, however, that this wristwatch is not water-resistant. As such, you should make sure that you place it somewhere safe before you go washing your hands or taking a shower. 
You can purchase the Digitech Databank for around $20 USD.
6. Casio DBC-611-G Databank

If you are looking for a suave calculator watch with a luxurious gold tone, have a look at the Casio DBC-611-G Databank. This timepiece features an amber-coloured LCD screen that matches nicely with the Databank's gold-tone stainless steel case and bracelet. When worn in the dark, wearers can also easily press the automatic light switch to illuminate the LCD screen. 
This digital wristwatch comes with a 1/100-second stopwatch, five daily alarms, dual time, a calendar, and a 25-page databank. Additionally, the DBC-611-G supports a total of 13 different languages, so it can be used by people all around the world. Below the calculator watch face is a decent quartz movement with an accuracy of +/- 30 seconds per month. Its CR1616 battery can power the timepiece for up to 3 years. 
This Casio timepiece retails at around $75 USD.
7. Casio CA53WF-8B Databank

One fun thing about the Databank catalog is that it offers calculator watch models in a variety of exquisite colours. As the latest addition to the series, the Casio CA53WF-8B shows off a vintage off-white resin case coupled with a matching resin band. Its calculator watch dial has a jet-black LCD screen with white text protected by mineral glass.
Operating the timepiece is a quartz movement with a CR2016 battery that can last for five years. This calculator watch has a stopwatch feature that can measure elapsed time, split time, and 1st and 2nd-place time. Other functions include a daily alarm, an hourly time signal, dual time, and a fully automated calendar.
The Casio CA53WF-8B sells for approximately $27 USD.
8. Seiko C153-5007 Calculator Watch

In the 1970s, Pulsar and HP were not the only brands selling calculator watches. One of the few early calculator watch models is the Seiko C153-5007 Calculator Watch. Equipped with a ball-point stylus, this stainless steel Seiko calculator watch comes with an exclusive integrated stainless steel bracelet. As you might have guessed from all the neatly-labelled buttons and math symbols on the watch face, this calculator watch is capable of more than just basic arithmetic, as it comes with percentage, square root, and even memory functions. 
Operated by a quartz movement, the Seiko C153-5007 Calculator Watch is a remnant of the past and quite rare nowadays. For those looking for something with a bit more pizzazz, the Seiko C153-5007 is also offered in gold and steel. However, this variant is even harder to find than the regular stainless steel model. 
On the second-hand market, the stainless steel Seiko C153-5007 can be purchased for around $150 USD. 
9. Casio CA506G-9AVT Databank

A gold-tone stainless steel calculator watch with scratch-resistant mineral glass and a depth rating of 30m, the Casio CA506G-9AVT Databank is a charming piece of nerd gear that can serve you in many ways. Its special complications include an eight-digit calculator, an alarm, a chronograph feature, and a stopwatch. The quartz movement that runs under its watch face ensures accurate timekeeping as well as long-lasting reliability.
The gold-tone stainless steel band this Casio watch comes with is adjustable, allowing wearers to fit the timepiece comfortably and securely on their wrists. While this wristwatch has a lot of practical purposes, its simple and versatile design also makes it quite fashionable, especially as an accessory to casual outfits.
This Casio calculator watch costs around $65 USD. 
10. Casio DBC-611-1 Databank

Casio also offers a standard version of its gold-tone DBC Databank, known as the Casio DBC-611-1 Databank. Although it does not have a striking gold exterior and amber LCD screen, the Casio DBC-611-1 Databank performs just as well as any other Casio calculator watch.
Encased in stainless steel, this Databank piece shows off a sleek design, from its black number pad with gold and neon accents to its stainless steel bracelet. It also comes with an illuminating light function which allows wearers to view the LCD screen clearly even when in the dark. This watch has an 8-digit calculator accompanied by a stopwatch, five alarms, and an automatic calendar. Underneath the calculator watch face, you can find a quartz movement with an accuracy of +/- 30 seconds per month and a 3-year battery life. 
You can purchase this calculator watch for $65 USD. 
11. Casio CA53WF-3B Databank

Another edition of the original CA53W, the Casio CA53WF-3B features a simple yet stylish military green resin case paired with a matching green resin band. The watch bears an 8-digit calculator with an LCD screen protected by a layer of mineral glass. Made for all occasions, its functions consist of a daily alarm, a stopwatch, an automated calendar, and an hourly time signal.
Operating beneath the calculator-style watch face is a reliable Module 3208 quartz movement featuring accuracy of +/- 15 seconds per month and a CR2016 battery that can power the watch for five years. It is also water-resistant up to depths of 30m.
This timepiece retails at just $27 USD.
12. Casio CA506B-1AVT Databank

Measuring 40mm in diameter, the Casio CA506B-1AVT Databank is a black stainless steel calculator watch. This is paired with a black-tone stainless steel strap, which is in keeping with the watch's rugged all-black aesthetic. It also has a layer of scratch-resistant mineral glass that protects and gives a clear view of the black-and-white LCD display. 
One downside to this watch is that it only has a water resistance rating of 10m, so be sure to store it somewhere safe if you are going for a swim. Operated by a quartz movement, the CA506B-1AVT features an 8-digit calculator, a stopwatch, an alarm, and a chronograph function.
The Casio CA506B-1AVT fetches a price of around $65 USD.
13. Casio CA53WF-2B Databank

A navy blue calculator watch that can go well with any style, the Casio CA53WF-2B is an affordable and versatile timekeeper that you can bring anywhere. Its calculator dial showcases cleanly-labelled keypad buttons that are large enough to be easily pressed without any fumbling. Matched with a navy blue resin strap, this calculator watch has a stylish and suave look that can elevate any outfit.
This Casio calculator watch is powered by a quartz movement with an impressive accuracy of +/- 15 seconds per month and a battery that can last up to five years. Other functions include a stopwatch, a daily alarm, an hourly time signal, and an automated calendar.
This navy blue calculator watch sells for approximately $27 USD.
14. Casio DBC-32D-1A Databank

Want a different version of the DBC-32 wristwatch? Check out the highly capable Casio DBC-32D-1A Databank. Encased in stainless steel, this Casio watch features a 10-digit keypad calculator with a mineral glass LCD screen. In addition, it has a 25-page databank that supports characters from 13 different languages.
This Casio Databank is water-resistant to depths of 30m, allowing it to withstand light splashes and raindrops without breaking a sweat. Its automatic light function provides legibility for wearers using the timepiece in the dark. A currency converter, 1/100-second stopwatch, and multi-function alarms are some of the many capabilities of the Casio DBC-32D-1A Databank. 
You can get this digital wristwatch for an estimated price of $60 USD.
15. Casio CA53WF-4B Databank

The final entry on this list is the red version of the CA53W Databank — the Casio CA53WF-4B. Boasting a vintage red exterior, this calculator wristwatch comes in a resin case, which Casio pairs with a matching resin strap. The dial features an 8-digit calculator with a 10-number keypad and a black LCD screen protected by mineral glass.
To access the watch's numerous functions, wearers can utilise the pushers at the sides of the case. Powering this calculator watch is a reliable quartz movement fitted with a battery that can last 5 years. The Casio CA53WF-4B is water-resistant up to depths of 30m and has an accuracy rate of +/- 30 seconds per month.
This smart digital Casio piece sells for around $27 USD. 
Final Thoughts
While they do not offer as many technological features as a modern-day smartwatch, calculator watches carry a retro aesthetic that no other timepiece can pull off. It is interesting to see brands like Casio keeping the legacy of the calculator watch alive while also innovating to fit contemporary standards. Practical, extremely affordable, and very reliable, calculator watches are great vintage-style digital timekeepers that just about anyone can own.
Although there are not many of them out there, these 15 calculator watch models are some of the best choices you can still find to this day. Simply take a pick of your favourite material, colourway, and functions offered, and you can acquire the ideal calculator watch for all your dress-down days.
Featured Image By: Casio
Need a watch that's a little tougher? Have a look at 15 of the Best Carbon Watches in the Market.