New & Feature
Sapphire Crystal vs Mineral Crystal: What's the Difference?
Aug 02, 2020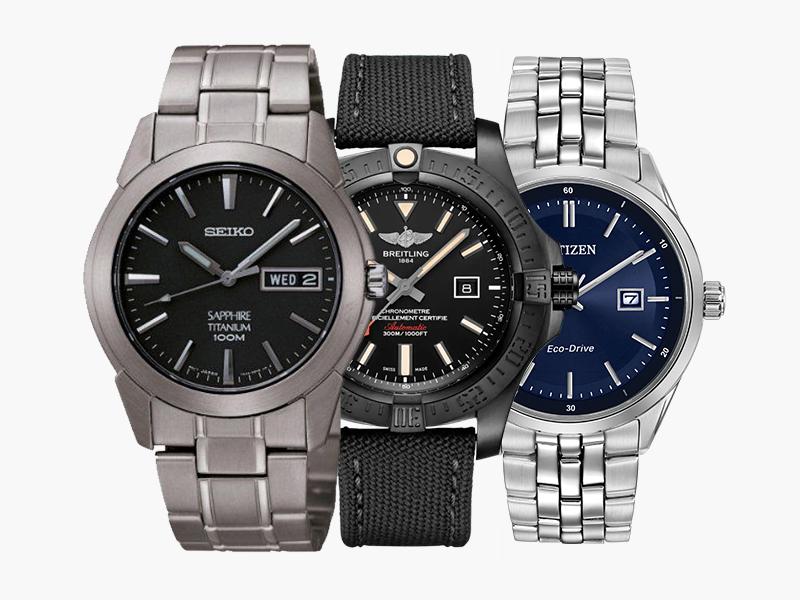 Among all components, a watch's 'crystal or glass' perhaps receives the most wear and tear. It's the transparent protective covering of the watch's dial that comes in various shapes and sizes. There are a number of designs for crystals, depending on the watch and the manufacturer. But, more importantly, a watch's crystal also comes in various materials. A crystal of a watch comes in either of the following materials: sapphire crystal, mineral crystal, plexiglass, or acrylic hesalite crystal.
Companies not only consider the material of a crystal but also its cost. This, in turn, shifts the overall price of the watch. Depending on the crystal used, the watches can have dramatic differences in value and price.
So, which one is actually the best choice for the crystal on a watch? Quick answer: sapphire crystal, of course. Read on to learn more about the best crystal for your watch.
What is a Sapphire Crystal?
In general, sapphire crystal is the most expensive of all watch crystals. Highly regarded in the industry, sapphire crystals revolutionised watch crystals in general. This is actually not glass but a material made by crystallising pure aluminium oxide at very high temperatures. This transparent material has a hardness comparable to natural sapphire gemstones, thus its name. However, with the absence of colouring agents, it doesn't have any hues or chroma.
How are sapphire crystals made?
During the process of its creation, pure aluminium oxide undergoes extremely high temperatures. This allows for the material to crystalize and later form around masses. Diamond-coated saws then cut small pieces from the masses. This result in disks that, when ground and polished, turns into the watch crystal we see on our watches.

What makes sapphire crystals expensive?
Firstly, it's an expensive process to manufacture sapphire crystals. Pricey tools and equipment are used to polish and cut this material to its by-product. In addition, sapphire's scratch and shatter resistance prove its status as one of the hardest substances on earth. To further prove this, it measures 9 on the Mohs scale. That's pretty close to Diamond that measures 10 on the scale! This makes sapphire crystals virtually scratchproof. However, anything harder than sapphire can scratch it. So, unless it comes into contact with a diamond or silicon carbide, you're all good. Scratched sapphire crystals, however, can't be restored. Instead, it is replaced.
Are sapphire crystals reflective?
Yes, sapphire crystals are highly reflective. It is, in fact, more reflective than mineral crystal. However, an anti-reflective (AR) coating can be a quick solution for this. These coatings will limit the reflection to a significantly low level. Most luxury watches put their AR coating under the sapphire crystal. This avoids scratching on the surface of the coating. Sapphire crystals with AR coatings over are prone to scratches. While the sapphire crystal has a low possibility to be scratched, the AR doesn't.
What is a Mineral Crystal?
Mineral crystals are a tad more expensive than the plastic or acrylic option, but way cheaper than sapphire crystal. It is, however, more scratch-resistant than acrylic and plastic. Most mid-range watches feature this crystal as a cost-effective choice of glass. These days, most mineral glass watch crystal is tempered. Mineral, when heated at high temperatures, increases its scratch resistance. Scratched mineral crystal, like sapphire, cannot be polished or repaired. It has to be replaced.

How to Tell Sapphire from Mineral Crystal
There are various means to tell a sapphire crystal and mineral crystal apart. For a quick take, a simple touch can tell it. Both crystals are cool to the touch. However, the mineral crystal shouldn't be as cool as the sapphire crystal. This could be the vaguest means but it works for some people. If you have a watch with plexiglass, you may also compare it with the two and rank its clarity. Sapphire crystal, of course, has the best clarity while the mineral crystal is clearer than plexiglass.
If you're buying a second-hand watch, a sapphire crystal must have a few or no scratches at all. Mineral crystal, on the other hand, may have a few scratches here and there. Another option is to do a scratch test. However, this is not recommended, and do this only at your own risk. If your crystal indeed is sapphire, it might cost you more if you damaged it. Scratching a mineral glass with a fingernail will produce a high-pitched noise. Meanwhile, you may attempt to scratch your sapphire crystal with metal. If it's mineral or plexiglass, it will leave a scratch.
If you obtained the crystals independent of a watch, you may compare the colours of the crystals. Mineral glass has a blue tint to it. Meanwhile, the sapphire crystal should have a pinkish tone or milky hue to it. You may also use water. A drop of water on a sapphire crystal will create a defined blob while water spreads on the mineral.

Are Sapphire and Mineral Crystals Waterproof?
Due to their innate hardness, sapphire crystals and mineral crystals don't have 'flex' on them. Unlike plexiglass, they don't bend when inserted into a steel or titanium case. For a sapphire and mineral crystal to fit, a gasket around it acts as a sealant for better water resistance. They are made of nylon that comes in either a straight linear 'I' shape or an angular 'L' shape to retrofit the crystal to the case.
The application of the gasket is pretty straightforward. After a crystal, press tool puts the crystal in place on a watch case, the gasket squeezes on the gap between the crystal and the case rim. This is one of the most durable waterproof options for a watch. Yes, these gaskets break, so it's best to have them replaced every few years.
Sapphire or Mineral Crystal: Which One to Choose?
The easy answer is sapphire crystal, of course. This is the ultimate choice for you and for any manufacturer. Nonetheless, considering its cost, a mineral crystal does a pretty decent job of protecting your watch. It should, however, be understood that a sapphire crystal adds quite a bit to the overall price of your watch. This assures excellent legibility as well as protection for your watch.
10 Best Watches with Sapphire Crystal
Most luxury timepieces have sapphire crystals, but picking just one among all those can be daunting. There are also a lot of pretty affordable watches with sapphire crystal. With that said, we pooled 10 watches with sapphire crystal according to your budget. From the most affordable to the most extravagant watches, here are the best watches with sapphire crystal:

1. Citizen Eco-Drive Corso
Japanese brand Citizen has been making waves as one of the most innovative brands today. The brand takes pride in its Eco-Drive line, a series of watches powered by the sun. These solar-powered watches have a Japanese quartz movement, making it an affordable choice of watch. Given that it has a sapphire crystal makes it durable and ready for most external forces. One of the most affordable Eco-Drive watches is Corso. It has a classic design and stainless steel case. To further its features, it also has a water resistance of 10 bar or 100m, so you can take it for a recreational swim or snorkelling.

2. Seiko Sapphire Titanium Watch
Seiko has truly revolutionised the watch industry through its timepieces. At present, Seiko is a colletor's favourite with the brand being one of the firsts — if not the first — on their respective collection. Seiko usually uses mineral crystal for their mid-range watches but this sapphire titanium watch is an exception. For a fairly affordable price, you get to enjoy a 38mm titanium watch with a durable sapphire crystal on top of that. It's also water-resistant for up to 100m, so it's safe to wear in the shower or for a swim.

3. Tissot T-Classic Chemin Des Tourelles Powermatic 80
Established in 1853, Tissot is one of the most prominent brands in the industry. It has quite a range for its selection of watches with a price range starting from a few hundred to thousands of dollars. Needless to say, they're one of the affordable Swiss manufacturers in the industry today. Their T-Classic Chemin Des Tourelles Powermatic 80 watch is a classic Swiss-made watch with scratch-resistant sapphire crystal. It also runs on quartz so accuracy wouldn't be a problem for the watch. It has an elegant design that gives it a luxurious feel despite its price range.

4. Invicta Sapphire Lady Diver 7066
Aside from a sapphire crystal, the Invicta Sapphire Lady Diver 7066 has a unidirectional rotating stainless steel bezel, as well as luminescent markers so it will remain legible underwater. With its quartz movement, it's still on the more affordable size. With its push/pull crown, it is water-resistant for up to 200m or 660 feet. The date window at 3 o'clock also has a magnifier for better reading. Perhaps, Invicta's divers are one of the most affordable in the market today. To invest in one of their watches surely gives you value for your money.

5. Victorinox Swiss Army FieldForce Sport Chrono
Marrying together the legendary Victorinox design and its gear-shifting display technology, the Victorinox FieldForce Collection is a true force to be reckoned with. Each timepiece from this collection is bold in design with distinct numerals and enhanced hand sizes and markers using the brand's Super-LumiNova technology. Like any of their designs, each of the watches under this line is true to its Swiss Army Knife heritage. The FieldForce Sport Chrono sports a modern feel through its colourful design that doesn't only enhance its look but also improves its function. Each watch embraces versatility with either a steel bracelet or a sturdy rubber strap, perfect not only for an adrenaline rush but also for sweeping a business deal.

6. Tag Heuer Formula 1 Chronograph
Moving to the more expensive range, we present the Tag Heuer Formula 1 Chronograph. Splurge a little in these racing-inspired watches with notches that are an emblematic feature of TAG Heuer's Formula 1 collection. It's the only series emblazoned with the coloured TAG Heuer shield. Moreover, these watches are tailor-made for both racers and race enthusiasts. This watch has a metal bracelet with a driver extension to fit over the sleeve of a racing suit. The watch is also extremely shock-resistant after going through more than 60 quality tests. This monochromatic hue makes it a perfect fit for any and all occasions.

7. Longines Master Collection Chronograph Automatic
Longines is a versatile brand with almost two centuries of experience on their sleeves. The brand is surely a giant not only in the Western market but all over the world. In fact, just the name itself resounds with great models under its collection. On its Master Collection, we find the Chronograph Automatic that dons a classic design and a certain vintage feel to it. As additional functions, the sub-dials include a central 60 seconds hand, moon phase display with 12 hours counter at 6 o'clock, and a 30 minutes counter with day and month display at 12 o'clock. Its automatic or self-winding mechanical movement beats at 28,800 vibrations per hour and has 54 hours of power reserve.

8. Breitling Avenger Blackbird
Breitling has a great affiliation in the aviation and racing industry. The Breitling Avenger Blackbird is just one of their watches that pay homage to this affiliation. The Avenger Blackbird comes in either 44mm or 48mm light and sturdy titanium cases. It also has a highly resistant black carbon-based treatment that gives it a stealthy look, perfect for a sporty and adventurous look. In addition, the watch has a unidirectional rotating bezel with rider tabs to monitor dive or flight times extremely accurately. The Avenger Blackbird reflects military-style with an anthracite strap in an ultra-durable high-tech fabric.

9. Rolex Datejust 41
The Rolex Oyster Perpetual Datejust 41, or simply Datejust 41, spans Rolex's legacy in one elegant timepiece. Overall, this watch encapsulates the brand's philosophy and heritage in one. However plain and simple it looks, it surely embodies the essence of accuracy and sophistication. The most popular you'll see on the market today is perhaps the References 126333 and 126334. Powering through each Rolex Datejust 41 watch is the Calibre 3235. It has 70 hours of power reserve and an accuracy of -2/+2 seconds per day. The Datejust 41 is, as expected, quite pricey. You may expect reference 126300 to cost from about 8,500 USD to 10,000 USD, depending on your bezel of choice. Meanwhile, the most expensive Datejust 41 could cost from around 14,000 USD to 20,000 USD.

10. Omega De Ville Hour Vision
The Omega De Ville Hour Vision displays nothing but top-notch sophistication and craftsmanship. It's seen through the delicate simplicity and complex mechanisms of each watch. The watches under the Hour Vision collection are all certified as a 'Master Chronometer'. The line is highly regarded by industry experts. They passed eight exhaustive tests arranged by the Swiss Federal Institute of Metrology (METAS). The dials are luxury right at your wrist — available in opaline-silver, brown, bronze, or blue. Each case is 41mm in diameter and comes in 18k Sedna™ gold or classic stainless steel. Its remarkable dial is shielded by a scratch-resistant sapphire crystal. Straps come in a variety of black, blue, or brown leather options. The wearer also has the option for an 18K gold-encrusted and polished-brushed 9-row bracelet with a butterfly clasp.
Final Thoughts
It can be quite a splurge to spend on a watch with sapphire crystal. However, this is a small price to pay for a more reliable watch, especially if it's something you'll take on all your adventures. But it should also be remembered that there are affordable choices available in the market. Though there's a bit of sacrifice on the movement, the protection the sapphire crystal gives will keep you at peace.
---
Learn more about watch-related terms. Check out our complete guide on COSC certification and watch bezels.