Watch Guide
The Ultimate Guide to Buying a Vintage Rolex
May 29, 2020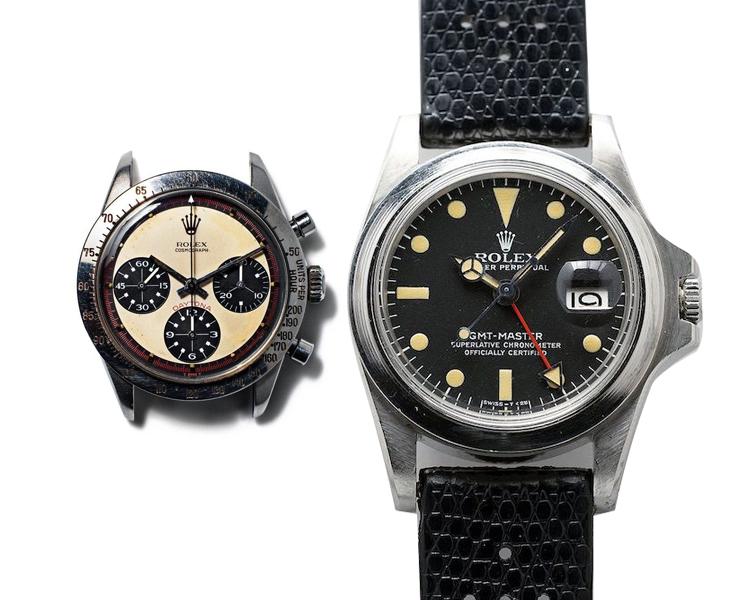 Rolex is, without a doubt, an icon in the industry. Its collections, such as the Daytona, Submariner, and Air-King, are famous not only for their luxury and prestige but for their quality that transcends time. We can go back as far as the 1930s to find vintage Rolex watches that will surely catch any collector's attention.
However, a vintage Rolex can reach up to 8 digits expensive. But with new Rolex watches already expensive as it is, this is generally very plausible. But what makes each Rolex watch so expensive?
Pricing a Vintage Rolex

We already know that Rolex also played huge roles in pop culture with its cameos in various movies. We've seen the Rolex Submariner 6358 accompany Sean Connery in taking down Dr. No in 1962. Timothy Dalton also wore a famous Submariner in License to Kill in 1989. If these Bond movies aren't enough to convince you, you might also want to use the watches as references. The production of each part of the watch certainly adds up to its market value.
From the research that goes into designing a watch down to its assembly, every detail should be as precise as the timepiece itself. There are a lot of efforts that go into producing one watch alone. The materials, for example, make a huge difference already. In addition, any Rolex buyer should know that their watch is held only by experts. Even with robots that help in some phases of production, experts still do the most crucial parts. Vintage Rolex watches are no stranger to this, but there's more to them than these criteria.
1. Previous Ownership
Vintage Rolex watches also get to enjoy top-of-the-line production even if they're made in the '30s. Most of the vintage watches in the market play vital roles not only in history but in the lives of very important people. From royalties to celebrities, a vintage watch from the company basically gained fame for their previous owner. You'll see familiar names in their registries such as Paul Newman and Marlon Brando, as well as Eric Clapton and Steve McQueen. In essence, names play significantly huge parts in hiking prices up.
2. Rarity

While most watches today are made in bulk, some watches are just rare in itself. Either they're made in small batches or are simply limited-edition pieces. But these aren't the only things that indicate rarity. Some watches just have become rare in the market for various reasons. This could be due to the negligence of previous owners or the many struggles these watches have witnessed. Some vintage watches become rare as they slowly fade into the buy-and-sell cycle that most collectors delve into. But the peculiarity of certain features may also be great reasons for rarity. After all, the devil is always in the detail.
3. Condition
Like any collector's item, vintage Rolex watches also rely on the condition to indicate their price. They may not be in mint condition but they should uphold the classic Rolex quality people adore them for. However, you may find vintage watches with faded or cracked dials. Some of these features are actually prominent in the collectors' conventions. Some watches can also be over-polished which could take a digit out of its price. Generally speaking, whatever the condition of the watch is, it still surely adds up (or subtracts) to its astronomical price.
4. Purchasing Setting

More often than not, the most expensive Rolex vintage watches can be found in various places. Every collector, after all, has the freedom to use any platform they deem right to sell their goods. Some can be found on the Internet (which can be a lot cheaper) or in auction houses. Buying from auction houses already is a risk in itself. You have competition and the highest bidder always wins. Auctioning a vintage watch alone causes its market value to skyrocket. However, bidding also happens on the Internet through various auction sites. But before doing this, you have to make sure you're paying for a real one. Which begs the question: how exactly do you spot an authentic vintage Rolex?
Authenticity of a Vintage Rolex
This is the million-dollar question to any vintage purchase: is it authentic? This could make or break your purchase. If you're offered a vintage Rolex watch, your best bet is to go to a trusted source to compare and contrast fakes versus real ones. There are specific cases where counterfeits can be quite believable so take your time on this one. By comparatively placing a real Rolex and a supposed vintage together alone can do the job for you.

You would want to take a close inspection of the logo and the dial. Surprisingly, this alone can do the job of telling which one is fake and which isn't. Firstly, you should check the size and shape of the logo. For any brand, logos are crucial and can explicitly tell a fake from an authentic piece. Secondly, make a quick research on whether the model you're going for should have a printed or applied logo. Finally, take a close look at the lines on the dial. The main lines can easily be missed or mistaken so this step would take a while. However, with close looks and comparison to a real Rolex, you should get your answer in the end.
With this said, other aspects of the watch should also be greatly examined and considered. What specifically are we looking for every each part? Read on to learn more.
Inspecting the Parts
After reassuring a vintage Rolex's authenticity, let's get down to the nitty-gritty details. Every part of the watch is highly crucial in telling its value, as well as added authenticity. These are the places that we mostly miss due to negligence or misinformation. So, before taking on this task, do your homework and research. Take a plunge into forums and learn about the watch you're about to buy first before inspecting one. While there are experts who can do this for you, they also cost a lot. So, if possible, you can be the expert yourself. Here are some things you should take into consideration before making that purchase.
1. Dial's Age and Condition

As aforementioned, the condition of the watch can be one of the price indications of a vintage. Again, not all dials age equally. Dials, especially that of a vintage Rolex, can turn to a dark brown. This isn't because it's badly aged but simply because of sun exposure. We call these dials "tropical dials" for obvious reasons, of course. Some also have cracks on them which are called spiders as they look like webs on the dial. Collectors either love or hate them, and there's simply no getting in between. One should also consider whether the patina on the hands of the watch corresponds to the lume of the indexes. It should either be a match (or particularly close) or contrasting. The latter is probably due to a differently aged service part or replacement.
Rolex provides replacement parts for its watches. Its abundance in the market can either be a good or bad thing for watches — good for new ones and bad for vintage watches. Bad because it significantly decreases the value of vintage watches. But how do you spot a replacement part? Lucky for you, there's one explicitly stated part to look out for: the lume. Yes, you just have to check what luminous material is used on the watch.
Specifically, there are different luminous materials used for different eras or years. Firstly, until the early 1960s, Rolex used radium for its lume. Then, it was tritium until about 1998. After that, Luminova was the main luminous material used from 1998 to early 1999. Rolex used the Super-Luminova thereafter and then started applying Chromalight on watches in 2008. Moreover, inscriptions on dials tell what luminous material is on its markers. Find the word "SWISS" for radium-illuminated watches and "T SWISS T or T SWISS T<25" for tritium. Transitional Luminova also has the word "SWISS" on the underside of the dial. Thereafter, we find the word "SWISS MADE" on the lower part of the dial.
Certain peculiarities also boost a vintage watch's price. You may find double brandings such as with the Tifanny & Co. Rolex or the Cartier Rolex watches. Sellers usually point this out and highlight this part but you should still be on the lookout for such rare oddity.
2. Engravings on the Watch

There are certain places to look for the right engravings in a vintage Rolex watch. Firstly, the lugs. At the top lugs or at 12 o'clock, you'll find the reference number of the watch. At 6 o'clock or the bottom lugs, the serial number of the watch. Until 2010, Rolex used random serial numbers that indicate the watch's production date. But the serial number doesn't only indicate the production date. With a quick research, you may also find if the watch is declared stolen. Service cases, however, have "44" in the beginning. So, if you find "44" at the start of the serial number, that can decrease the price significantly. However, some rare models have the serial number and reference number on other parts such as with the Oysterquartz. Its engravings can be found on the outer side of the caseback or underneath the lugs.
Moreover, the bracelet of the watch serves the purpose of indicating its appropriateness and production date. On the first link near the top lugs, you'll find an engraved reference number. You may also find a number on the external side of the end links. This indicates the model of the watch the bracelet is for.
3.  Caseback

The caseback can tell you a lot about the watch more than you'd think. Besides the engravings on the inside of the caseback, you may also tell how the watch was previously treated. Improper openings cause illegibility of the engravings as well as signs of forced openings. If you're a seller, you might want to use proper Rolex tools to open the caseback. The key is to always be extra careful.
4. Crown

Checking the crown is typically missed because of its simplicity. Rolex crowns indicate the water-resistance for each watch. For a quick reference, a Triplock crown has better water-resistance than the Twinlock. To know if the crown is authentic, you should find the word "brevet" on the underside of the crown. Similarly, you may also find a Twinlock and Triplock symbol over a line (or trio of dots for stainless steel watches) for water-resistant models such as the Submariner.
5. Every Document Necessary and Unnecessary

As with any luxury item, Rolex watches come with papers. But not all papers and boxes are necessary to the purchase. For one, papers and boxes can easily be bought online. However, inspecting the details that come with them can be crucial to the authenticity of the watch. Check if the serial numbers match, from the watch to the box and paper. If there are additional documents to prove the watch's provenance, you might find yourself looking at a more expensive watch. But this should also indicate better value for your money.
Where to Buy Vintage Rolex Watches
There are tons of places you can buy a vintage Rolex from. You'll find a bunch online but not every seller is credible. You may also personally know a seller but you can't just dive into a deal without research. Here are some places where you can buy legitimate vintage Rolex watches from.

1. Auction Houses
Surely, auction houses are some of the places where vintage watches are found. Usually, they are owned by the houses themselves or a collector is unloading a piece through them. While authenticity holds a great deal here, the prices of vintage watches from auction houses are sky-high. Because of the bidding process, you might find yourself in a competitive environment when purchasing one. In fact, auction houses hold the most expensive vintage Rolex watches.
2. Dealers or Collectors
If you know a dealer, you would want to check their credibility twice or thrice. There's no harm in asking the seller for references for previous deals they made. Moreover, a lot of forums talk about dealers a lot. You may identify their credibility through such means.
3. Online
Online auctions and dealers can be just as risky as personal collectors or dealers. You should always look for trusted sellers with a great reputation if you plan on buying online. Surely, if they have nothing to hide, they'll help you by any means in authenticating a watch. Sites like Amazon and eBay can be home to fakes so unless you did some research, you would want to think twice about purchasing a vintage there.
Top 5 Most Expensive Vintage Rolex Watches Ever Sold
Vintage Rolex watches have a knack for shocking people for their astronomical prices. So, unless you're ready for that, you might want to turn around. With all the criteria above in mind, the watches in this list aimed at the highest prices possible. In the future, we may find them even more expensive than the day they were sold. Take a deep breath before diving into this list because you might drown at the expense of each.
5. Marlon Brando's Rolex GMT-Master ($1.9 M)

Malon Brando, an icon of cinema, probably weighs heaviest on the price of this watch. The most recent one on the list, the Rolex GMT-Master being worn by Brando in Apocalypse Now is the first on our list. Bought at a Phillips auction in December 2019, it's a true scene-stealer. Manufactured in 1972, the Rolex GMT-Master sold above its expected price.
In the movie, Brando wore the watch without a bezel and a black strap. Director Francis Ford Coppola insisted Brando remove the bezel as it stands out too much for a war film. Brando also engraved his name on the caseback of the watch. In addition, if it helps, the Apocalypse Now won many various coveted awards such as the Palme d'Or in Cannes Film Festival. After intense 15-minute bidding, the hammer went down at $1,952,000.
4. Rolex Antimagnetique Ref. 4113 from 1942 ($2.5 M)

The oldest watch on the list, the Rolex Antimagnetique Ref. 4113 dates back to 1942. Initially, the watch celebrated the victory of a racing team for its creation. In 2016, in Geneva, the watch sold for almost $2.5 million. For a watch made in the '40s, the watch had an extraordinarily large case. In fact, this is the biggest case Rolex made at 44 mm. In addition to this, there are only 12 watches under Reference 4113 that exist in the market today. This sale is significantly higher than its last selling at Christie's for $1.16 million.
3. Rolex Bao Dai ($5.1 M)

Fans of luxury watches will almost instantly recognise the Rolex Bao Dai even from a great distance. It's undoubtedly a notable model that every collector wants to have. Based on Reference 6062, the last emperor of the Nguyen dynasty in Vietnam in 1954 initially owned the watch. At the time, the Rolex Bao Dai was the most expensive Rolex model to ever exist. Due to its rare gold case and black dial, its value easily skyrocketed. Among the three watches with such oddity, the Rolex Bao Dai is the only one with diamond markers on the even hours. In 2017 in Geneva, the hammer fell at $5.1 million.
2. Rolex Daytona Ref. 6265 "Unicorn" from 1971 ($5.9 M)

Even among all Daytonas, you'll find this 1970 watch rare. Made with 18K white gold, the Ref. 6265 gained its nickname "Unicorn". In the '70s, cases of most Daytonas are in stainless steel. The worth of its case alone gave the watch a price that's way above clouds.
1. Paul Newman's Rolex Daytona ($17.8)

Still being the most expensive Rolex watch to ever exist, Paul Newman's Rolex Daytona is unbeatable. Not only is this the most expensive Rolex but it's also the most expensive watch ever sold. The 1943 Patek Philippe Perpetual Calendar Chronograph that sold for $11 million in 2016 is no match for this one. This watch also has the highest jump in a selling price, which makes its auction quite an interesting one.
What started at $1 million turned $10 million real quick by the first bidder alone. This astounds everyone at Philipps in 2017. But the shock doesn't stop as another bidder raises the bid and the fight ensues. The bid ultimately settled at $17.8 million.
You might be wondering… why? Why on earth would a watch cost so much? Unfortunately, it's not as rare as people put it to be. In fact, it's just your regular old Daytona. However, collectors settle mostly for its story. Joanne Woodward gave the watch to her husband Paul Newman during the filming of the movie Winning. This very watch that his wife bought at Tiffany & Co had a black-and-white dial. With Newman wearing the watch, it ultimately gained an association with the actor. Later, it was nicknamed Paul Newman Daytona.
Final Thoughts on Vintage Rolex
While most Vintage Rolex watches are sold at such astronomical prices, there are still some that you'll find in the market that's quite affordable. If you want to own one, it only takes some research before you find one. Ultimately, it's up to you what measures you take to guarantee its authenticity and condition. Don't buy any vintage watch rashly or over nice photography. Always communicate with the seller and don't be afraid to ask. After all, this can tell if you're putting your money to good use or not. However good a story may be, its value still falls on its condition and prime.
---
Want to learn more about buying Rolex watches? Check out our ultimate guide to the Rolex Day Date and the Rolex Batman.