New & Feature
Accutron Spaceview 2020: The Modern Interpretation of the Iconic 1960 Accutron Watch
Apr 11, 2022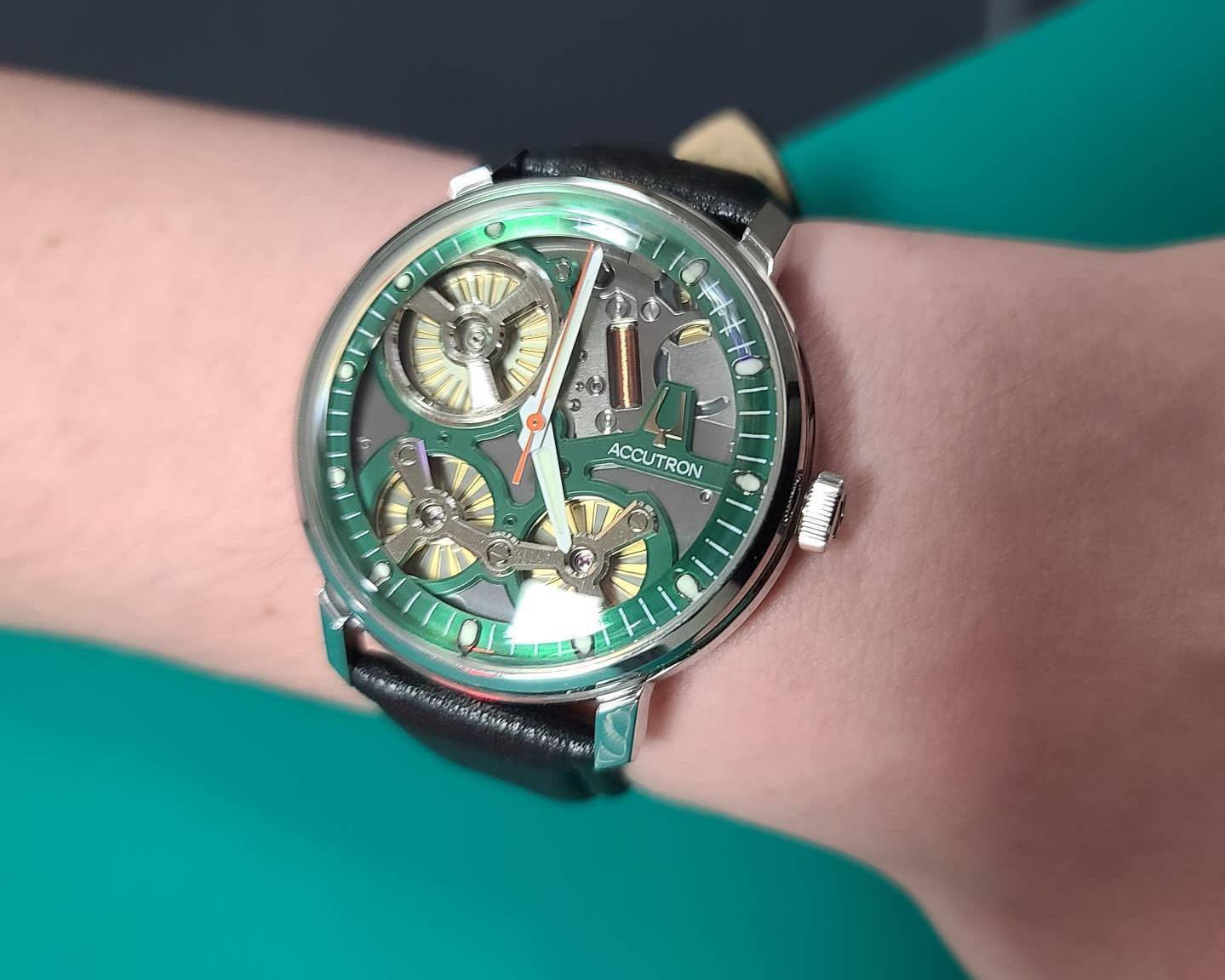 Bulova has long been respected as one of the most trailblazing watch brands in the industry. Of the brand's many achievements, one of the most notable is its creation of the world's first-ever electronic watch — the revolutionary Bulova Accutron. Since then, Bulova has rarely ventured into the realm of electronic watches, with the Accutron collection expanding to include quartz and mechanical watches instead.
However, in 2020, Bulova took another stab at electronic watches, producing the Accutron Spaceview 2020. This is a modern interpretation of the original, now-iconic Accutron watch first released in 1960. Built upon the tradition of innovation advanced by the original Accutron, the Accutron Spaceview 2020 runs on an avant-garde electrostatic calibre that took over five years to develop. Showing off a similar design as the original Accutron watch, the Accutron Spaceview 2020 is a true heir to the magnificent heritage of the 1960 Bulova Accutron.
Now, let us take a closer look at the excellent specifications of the Accutron Spaceview 2020 and everything it has to offer.
First Impressions

Aside from bearing the innovative spirit of the 1960 Accutron watch, the Accutron Spaceview 2020 also shows off the same sophisticated, exquisite style as the original. This modern interpretation of the Accutron instantly stands out in the crowd, thanks to its striking open-face dial and dazzling green accents. Bulova's pride in the Accutron Spaceview 2020 is also clearly evident, as this electronic watch boldly displays its three unusual electrostatic motors for all to admire. 
On the whole, the Accutron Spaceview 2020 is a wonderful reinterpretation of the first-ever Accutron electronic watch. It effortlessly combines the technical genius of the original Accutron with modern design elements that cater more to contemporary audiences. This is the perfect timekeeper for those seeking a stylish watch that delivers unmatched accuracy.
Anatomy of the Accutron Spaceview 2020
Bulova released three different versions of the Accutron Spaceview 2020. All three Accutron Spaceview 2020 models are identical in terms of their internal mechanisms and functions, offering the same innovative electrostatic calibre. Indeed, the differences between each variant are purely cosmetic and are limited to the dial and case. We will now go through these differences in greater detail in this section.
Case and Bezel

Much like the original 1960 Bulova Accutron, each Accutron Spaceview 2020 piece comes in a traditional round case that fits grandly on your wrist. This case measures 43.5mm in diameter and 15.9mm in thickness, which is a fairly standard size that is well suited for wrists of all sizes. On top of its classic design, this case is well-polished, giving it a gleaming lustre. It is also coupled with a protective fixed bezel that keeps the watch face safe from any external damage and thick, angular lugs that slant outwards, giving the timepiece more presence on your wrist.
On the right side of the case, you can find a sizeable screw-down crown that is carefully engraved with the brand's signature bull-head logo. The back of the case is also sealed shut by a solid screw-down caseback, which is also etched with Bulova's emblem. Both the crown and the caseback are tightly sealed, protecting the watch's inner mechanisms from being damaged by external elements like moisture or dust. Thanks to the crown and caseback, the Accutron Spaceview 2020 has a useful depth rating of 50 metres, which is quite standard for a dress watch like the Accutron.
One way in which the three different models of the Accutron Spaceview 2020 differ is in terms of their case materials. Two versions of the Accutron Spaceview 2020 come with cases that are crafted from strong 316L stainless steel, which is exceptionally resistant to scratches and impacts. The third version, however, offers a more luxurious alternative — a case that is crafted out of luxurious 18K yellow gold.
Dial 

Aside from its electrostatic movement, another highlight of the Accutron Spaceview 2020 is definitely its dial. Bulova's engineering team skillfully designed this watch's open-heart dial layout and the painstaking effort placed into crafting this dial is evident from just a glance.
The Accutron Spaceview 2020's dial is very visually appealing. Inspired by the original green dial of the 1960 Bulova Accutron, this dial boasts contrasting smokey grey and emerald accents that stand out strongly against each other. It also shows off subtle yellow gold accents embedded in the three visible rotors, which blend well with the rest of the dial while also enhancing its sophisticated, complex aesthetic.
The dial itself comprises three armed refined bridges, through which you can observe the watch's finely brushed generators and motors. The large motor is placed between the 9 and 11 o'clock markers, while the twin generators are positioned on the bottom half of the dial. The rotors of the watch resemble a turbine's sharp blades, with alternating silver and gold plates. These rotors spin briskly at all times, offering wearers a beguiling, flickering visual that plays with the light ingeniously. Placed near the 3 o'clock marker is the Bulova bull-head logo, which is painted in gold against a mesmerising green backdrop.
Aside from that, this refined dial is also adorned with simple time-telling components. These include silver-tone javelin hands that are coated in mint green lume and luminous dot indices that can be found on the rim of the dial, allowing for optimal legibility even in the dark. Adding a burst of vibrant colour to the dial is a vivid orange seconds hand, which is a design element inherited from the original Bulova Accutron Spaceview.
As mentioned, the three different models of the Accutron Spaceview 2020 also have slight differences in terms of their dial designs. Of the two stainless steel versions, the regular model comes with a transparent minute track. The limited-edition stainless steel model, on the other hand, has an emerald-green minute track, giving the watch a stylish look that almost seems to mimic the iconic Rolex Milgauss.
Movement
Without a doubt, the star of the Accutron Spaceview 2020 is the in-house proprietary movement that powers it. This modern Accutron model is driven by a robust Calibre S30-Y8A. This is a high-tech electrostatic movement that comprises 28 jewels.
The Calibre S30-Y8A is powered by electrostatic energy generated from the motion of the wearer's wrist. Instead of using a balance wheel, this electrostatic movement has fast-rotating twin turbines that are attached to two electrodes. These electrodes deliver energy to an accumulator, which then charges two tiny motors. One step motor is used to power the hour and minute hands, while the other electronic motor controls the smooth motion of the second hand
The synchronisation of the watch's two motors allows for an accuracy rate of +/-5 seconds per month. This is a truly exceptional accuracy rate. It exceeds all standard quartz watches, which are known for their highly accurate timekeeping, and even gets close to the precision of the famous Grand Seiko Spring Drive watches.
Strap 
The Accutron Spaceview 2020 is offered with a supple leather strap. The great thing is that the brand offers this strap in three different colourways: black, green, and orange. It gives enough options for wearers to pick what colour best suits their preferences. Each strap is equipped with a deployant buckle with push buttons, which keeps the strap securely fastened to your wrist. 
Price
As mentioned previously, the Bulova Accutron Spaceview 2020 was released in three different versions. The Accutron Spaceview 2020 Ref. 2ES6A001, which comes in a stainless steel case and transparent minute track, is the only model available in regular production. It sells at a price of just $3,450 USD.
Next, we have the Accutron Spaceview 2020 Limited Edition Ref. 2ES6A002. There were only 300 pieces of this limited-edition stainless steel model released. What makes this timepiece particularly distinctive is the stylish, emerald-green minute track that runs along the rim of its dial. This watch costs you around $4,000 USD.
The last variant is the Accutron Spaceview 2020 ElectroStatic Gold Watch Ref. 2ES7A001. This is the rarest version of the Accutron Spaceview 2020, with only 60 pieces ever produced. With its 18K yellow gold case and bezel, this is the most exorbitant model of the Accutron Spaceview 2020, retailing at around $19,600 USD.
Alternatives to the Accutron Spaceview 2020
1. Grand Seiko Ref. SBGP015

The Accutron Spaceview 2020 is notable not just for being a rare electronic watch, but also because it shows off outstandingly precise timekeeping that is not matched by most watches in the industry. In fact, the only calibre that exceeds the accuracy rate of an electrostatic movement is the Grand Seiko Spring Drive movement. This is why we have the Grand Seiko Ref. SBGP015 as our first alternative to the Accutron Spaceview 2020. While they have very different designs, these two watches are similar in terms of their accuracy in timekeeping.
This Ref. SBGP015 is a limited-edition piece released during the 60th anniversary of Grand Seiko, with only 2,000 pieces available. It is presented in a 40mm stainless steel case and three-link bracelet, both of which have undergone the brand's signature Zaratsu polishing, giving the watch an impeccable lustre that plays with the light wonderfully. Fixed on top of the case is an unusual fixed ceramic bezel in dark blue, which strikes a strong contrast against the all-silver exterior.
The dial of this watch shows off an exquisite sunburst blue finish which goes extremely well with the ceramic blue dial. It is furnished with applique rectangular hour indices, silver dauphine hands, and a date display outlined in silver at 3 o'clock.
Powering all of these functions is the brand's newest quartz movement, the Calibre 9F85. This movement possesses an absolutely unparalleled accurate rate of +/-10 seconds per year. On top of that, it also has a magnetic resistance of 16,000 A/ma and a depth rating of 200 metres, making this quite a durable dress watch indeed.
As a limited-edition watch, the Grand Seiko Ref. SBGP015 is available at $3,659 USD. This is a very affordable price considering its rarity and its top-notch specifications. 
2. Bulova Classic Ref. 98A177

For something that showcases a similar style to the Accutron Spaceview 2020, check out the Bulova Classic Ref. 98A177. This watch has a similar appeal to the gold Accutron Spaceview 2020, showcasing a similar gold-toned case and sophisticated open-heart dial.
This Bulova watch is housed in a 46mm rose gold-tone stainless steel case, coupled with a black silicone strap and matching black-plated fixed bezel. On the underside of the watch, you can find a transparent caseback, which allows wearers to admire the watch's movement in action.
The black skeleton dial of this watch also boasts a very refined appeal, as it gives wearers an up-close and personal view of the front of the watch's calibre. This dial is also decorated with rose gold-tone skeleton hands, luminous rose gold hour indices, an oversized Roman numeral marker at 12 o'clock, and white minute indicators against a black track on the rim of the dial.
Driving this Bulova Classic watch is the powerful in-house calibre 8N26 movement. Held together by 21 jewels, this movement has a 40-hour power supply and a solid water resistance rating of 100 metres, which is quite good for a dress watch. 
This Bulova skeleton watch has a very budget-friendly price tag of just $339 USD.
3. Hamilton Ventura Elvis80 Ref. H24535331

Finally, we have the Hamilton Ventura Elvis80 Ref. H24535331, which flaunts a truly bold and unique appearance. This masterpiece is created as an avant-garde tribute to the legendary singer, Elvis Presley. It utilises a 42.5mm stainless steel case that stands out with its unusual, robust triangular shape and a matching black rubber strap. The case is also coated in a layer of black PVD, giving it a sleek black tone and bolstering its resistance to scratches. Flipping the watch over, you can find a sapphire crystal caseback that allows you to view the watch's movement in all of its glory. 
This Hamilton Ventura watch also showcases a precise skeletonised dial. This dial is adorned with black zigzagging patterns that are scattered all across the dial, giving the watch face an edgier, quirky look. Running horizontally across the centre of the dial is the same zigzagging pattern, this time in bright red, serving to add a touch of vibrancy to this stylish watch face. Aside from that, this dial also contains luminous dauphine hands and white hour indices on its rim.
This Hamilton watch runs on a first-class Calibre H-10-S. Held together by 25 jewels, this movement beats at a frequency of 21,600 vibrations per hour (3Hz) and has an extended power supply of 80 hours. It also possesses a 50-metre depth rating, allowing this watch to survive any splashes and showers.
If you love wearing eccentric watches, this Hamilton piece retails at around $1,519 USD.
Final Thoughts
The Accutron Spaceview 2020 is more than just a high-end watch packed with premium features. Paying tribute to the original Accutron watch, this modern interpretation is a true successor to the legacy of the first-ever electronic watch, showing off the same precision and aesthetics as the original Bulova Accutron. If you are searching for a reliable and truly unique timepiece to add to your collection, then the Accutron Spaceview 2020 should definitely be at the top of your list.
Photos are credited to Accutron's official website unless otherwise stated.
Featured image courtesy of (u/TheRealJusticeJew) on Reddit.
Searching for another high-end Bulova watch? Spare some time to read our article about Bulova's Iconic Grammy Watch.