New & Feature
15 Best Atomic Alarm Clocks Guaranteed to Wake You Up
Jan 11, 2022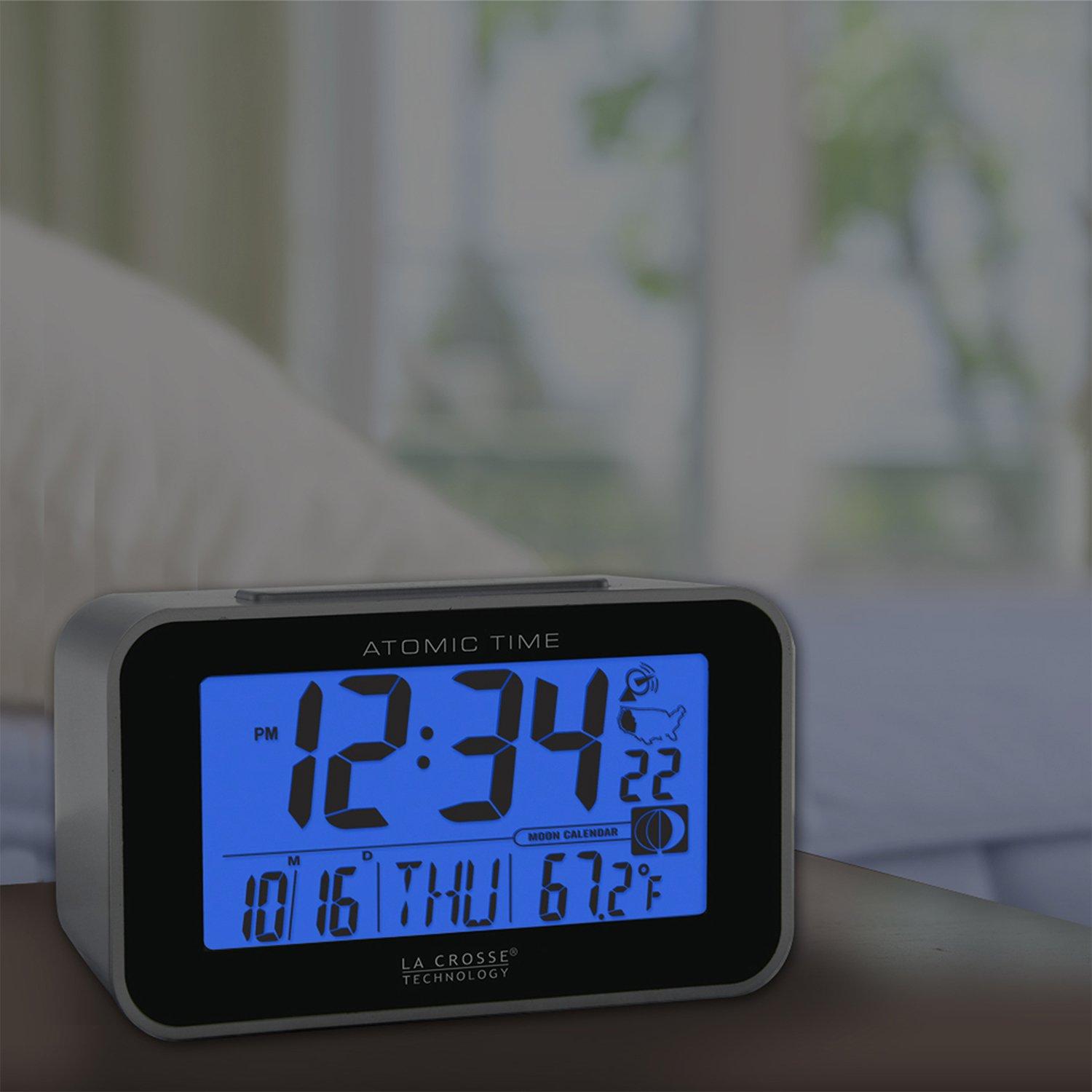 Before the popularization of smartphones, atomic alarm clocks were a staple appliance in offices and homes. These atomic alarm clocks offer extremely precise timekeeping and designs that look good no matter where you place them. Additionally, they come with a loud alarm that many people argue wakes them up better than a smartphone ringtone.
Although plenty of people today prefer to use their smartphones as alarms, there are others who still use atomic alarm clocks. If you are looking for a highly accurate digital timekeeper for your workstation or bedroom, stick with us as we look at 15 of the best atomic alarm clocks on the market today.
What is an Atomic Alarm Clock?
An atomic alarm clock is essentially a radio-controlled quartz clock that automatically synchronises itself to a time code transmitted using radio waves. The clock typically receives its radio waves from a national or regional time transmitter or multiple transmitters used by satellite navigation systems such as GPS.
After acquiring the transmissions, the atomic alarm clock will automatically calibrate itself to match the time zone it currently resides in. Compared to standard quartz watches and clocks from brands like Citizen, you can say that the atomic alarm clock is slightly more accurate thanks to its automatic time synchronization.
15 Best Atomic Alarm Clocks
1. Sonic Alert Bomb Alarm Clock

Are you a person who finds yourself sleeping through countless alarms in the morning? If so, Sonic Alert has the perfect atomic alarm clock to help you wake up on time. With an extra-loud dual alarm and a whopping 113dB, making people jump out of their beds is the specialty of the Sonic Alert Bomb Alarm Clock. You might ask yourself, "What if I just sleep through this alarm too?" Fear not for the alarm duration of the Bomb Alarm can last from a minute to almost an hour, depending on how you adjust it. 
If the blaring alarm somehow does not wake you up, the Bomb Alarm also comes with built-in super bright red strobe lights and has one of the most powerful bed shakers in the industry. It is safe to say that you will not be missing any shifts or appointments with this bad boy. On top of that, the Bomb Alarm's atomic timekeeping feature ensures that the time displayed is utterly precise.
This atomic alarm clock sells for approximately $57 USD.
2. Seiko QHR018K Radio-Controlled Travel Alarm Clock

Not all alarm clocks can be carried around on the go. Unlike the smartphone, some atomic alarm clock models are just too bulky to fit properly in a backpack or purse. But with the Seiko QHR018K Radio-Controlled Travel Alarm Clock, you will not have to worry about bringing this atomic alarm clock along with you. Measuring 8.5cm tall, 5.6cm wide, and 1.4cm thick, this modest alarm clock is smaller than some modern smartphones and very easy to carry around. Apart from its global radio-controlled timekeeping, this Seiko atomic alarm clock also has a beep alarm, a calendar, and a thermometer.  
This clock is capable of displaying two different time zones at once, a function that you can freely customise. For its second time display, the Seiko QHR018K has world-time access to a total of 29 major cities. It looks pretty simple, but this compact alarm clock has an appeal that fits anywhere between a bedroom and an office.
Another factor that many of you will like about this atomic alarm clock is its affordability, as the Seiko QHR018K retails at just $15 USD.
3. PICTEK Projection Alarm Clock

New technologies have allowed atomic alarm clocks to illustrate time in innovative ways. One such way is through the projection of light. PICTEK is a brand that utilises this innovation in its PICTEK Projection Alarm Clock. Aside from displaying the time on its 5-inch LED screen, this atomic alarm clock has the ability to project the time on any surface by using a light projector. The light from the LED screen and the projector can be adjusted between four different levels of brightness: dim, medium, bright, and off. This ensures that you can view the time clearly in all sorts of lighting conditions. 
As an atomic alarm clock, the PICTEK Projection Alarm Clock has the ability to reset itself, making sure that the time it displays is always precise. For those who like to charge their phones while they sleep, this PICTEK device also has a USB charging port for your mobile devices. Even with its multiple brightness modes, the PICTEK alarm clock is easy to use for people of all ages. 
You can purchase the PICTEK Projection Alarm online for approximately $35 USD. 
4. Emerson Radio SmartSet Alarm Clock

Who says an atomic alarm clock cannot look stylish? The Emerson Radio SmartSet Alarm Clock is a multi-functional timekeeping device that can make any room look modern. This digital timekeeper has an FM radio with a memory bank capable of remembering up to 20 different radio frequencies. Its automatic time setting system allows this Emerson alarm clock to reset itself to the correct time, day, date, month, and year. Those that want to charge their mobile devices can also use the USB charging port, which is compatible with both Apple and Android devices. This alarm clock has a cyan LED time display that can be adjusted to a brighter or dimmer setting.
Another convenient function of the Emerson atomic alarm clock is its Bluetooth compatibility. To adjust the time using this feature, owners simply need to pair their mobile devices to the Emerson clock. The alarm setting can also be programmed to trigger on specific dates rather than the whole week.  
The Emerson atomic alarm clock costs around $30 USD. 
5. AcuRite 13024 Atomic Dual Alarm Clock

The AcuRite Atomic Dual Alarm Clock is a digital alarm clock that boasts an illuminated multi-colour display that shows the time, date, day, and indoor temperature. As its name implies, this AcuRite device has two alarms that can be programmed to ring on weekdays, weekends, or even both. On top of its highly precise timekeeping, the AcuRite alarm clock also has very accurate temperature tracking. Able to measure temperatures between 32°F to 122°F, this temperature tracking feature has an accuracy of  +/- 2°F. If seconds equal to Fahrenheit, this means that this alarm clock's temperature reading is as precise as a Superlative Chronometer rating from Rolex.
In the event of a power failure, the AcuRite atomic alarm clock has a backup battery to keep itself active. A USB port is also available on the AcuRite so that owners can plug in and charge their mobile devices. As with other atomic timekeepers, this clock automatically adjusts itself to the Daylight Savings Time (DST). 
This AcuRite model will cost you an estimated $54 USD. 
6. La Crosse Technology 617-1270 Atomic Alarm Clock

La Crosse Technology is known worldwide for its wide selection of clocks. One of their best-selling models is the La Crosse 617-1270 Atomic Alarm Clock. This digital alarm clock is capable of providing precise atomic time, along with accurate temperature readings of your area. Other features of the La Crosse alarm clock include a calendar, a 12/24-hour time setting, and even a moon phase indicator. 
All the information you need, including the atomic signal reception and moon phase display, is shown on the clock's LED screen, which lights up in a bright blue glow. Powering this clock is also very simple as it only needs two AAA alkaline batteries. The alarm function comes with a snooze button, so you can have a bit more time to "really" wake up.
You can get the La Crosse 617-1270 Atomic Alarm Clock for only $26 USD. 
7. BALDR Atomic Alarm Clock in Colour

With its ability to indicate moon phases and measure indoor temperatures as well as humidity levels, the BALDR Atomic Alarm Clock in Colour is the ideal timekeeping device for those who want to track more than just the time. The BALDR atomic alarm clock showcases a vivid LED screen with a display of bright colours similar to those you can see in Garmin's Vivoactive watches.
Apart from displaying the current temperature and humidity level, this BALDR clock also records the highest and lowest temperature and humidity readings it has received throughout the day. On top of the clock are the snooze button and the white light feature, which allows you to control the brightness level of the LED screen. Whether on top of an office desk or hanging on a wall in your study room, this atomic alarm clock's universal and modern design looks good anywhere you put it.
The BALDR Atomic Alarm Clock in Colour retails at around $36 USD. 
8. Sharp Atomic Desktop Clock

Accurate timekeeping down to the second — that is the reliability that the Sharp Atomic Desktop Clock guarantees. With its built-in receiver that synchronises to the National Institute of Standards and Technology, this Sharp alarm clock is always updated with the correct time. Its LED screen has a blue backlight that adds some brightness and colour to the display. The LED screen also lights up when the alarm goes off. 
Other functions of the Sharp Atomic Desktop Clock include an indoor temperature feature and a calendar display that shows the day, date, and month. This clock has a hang hole and a nightstand that allows its owners to place it on a wall or a tabletop. Its buttons are also long and somewhat protruding, allowing for very easy use.
This atomic alarm clock fetches an approximate price of $25 USD. 
9. Marathon Atomic Travel Alarm Clock

Marathon is known in the watch community for its robust military timepieces that can rival the durability of models from famous watch brands such as Luminox. However, Marathon is not just capable of making wristwatches. Here we have the Marathon Atomic Travel Alarm Clock. This is an atomic alarm clock that can swap between six time zones and display information in five different languages.
This clock's acrylic LED screen has an amber-coloured backlight with a built-in sensor that can detect if it has been placed in a location with poor lighting. On top of illustrating the time in 12 and 24-hour formats, its extra-loud alarm ensures that you will not miss your clock-in at work or any other important meeting.
The Marathon Atomic Travel Alarm Clock is available online for just $25 USD. 
10. Sangean RCR-22 Atomic Clock 

How about an atomic alarm clock with a more vintage aesthetic? The Sangean RCR-22 Atomic Clock is a bulky, silver radio-controlled clock with a preset memory that can save up to 7 FM and AM radio stations. Its blue LCD display is relatively easy to read and comes with an adjustable backlight for optimal readability, no matter the lighting conditions. This Sangean device also features a sleep timer, a nap timer, a programmable snooze function, and two alarms that owners can freely set.
In the event of a sudden power disruption, the RCR-22 has a supercapacitor that can power it for an extra hour. This model also holds an auxiliary input for additional audio sources. Even with its vintage looks, the Sangean RCR-22 can fit nicely into any modern setting.
You can purchase this atomic alarm clock for approximately $39 USD. 
11. I-Box Dawn

Available in black, grey, and pink, the I-Box Dawn incorporates the innovation of wireless charging into a nifty and fashionable bedside alarm clock. Simply put your smartphone on the device's charging pad, and you are good to go. Even if someone else is using the charging pad, you have no need to fret, as the alarm clock also has a USB charging port. 
The I-Box Dawn has a dual alarm function that allows for two different alarm settings. It also has a 5-level dimmer, so you can adjust the brightness of its LED display. Owners of this I-Box device can enjoy playing their favourite songs from their phones using Dawn's Bluetooth connectivity feature. It is also equipped with two speakers with subwoofers for higher-quality music and sound.
The I-Box Dawn sells for around $53 USD. 
12. Newentor Atomic Projection Alarm Clock

For another atomic timekeeping device with a projector, have a look at the Newentor Atomic Projection Alarm Clock. Its built-in projector uses a soft red light that illustrates the time as well as the temperature. While it can automatically calibrate itself to the time code given by radio waves, owners can also set the time on this clock manually. 
This Newentor device is paired with a remote sensor, which allows it to detect the temperature in a given location. Its LCD screen features a vibrant and colourful display that presents the time, date, day, month, temperature reading, and weather forecast. Its two-alarm function makes it possible to have separate alarms for different hours and days.  
The Newentor Atomic Projection Alarm Clock retails at an estimated price of $39 USD. 
13. Magnasonic EAAC475W USB Charging Projection Alarm Clock

The Magnasonic EAAC475W is a contemporary projection alarm clock that possesses a handful of convenient features. To start off, it has a USB charging port that can power smartphones, tablets, and even MP3 players. The alarm clock also has access to AM and FM radio stations and can store up to a total of ten of each radio frequency. 
Depending on the version you get, the LED screen of this alarm clock can either be white or blue. With regards to its alarms, this Magnasonic device features dual alarms for different time selections. Each alarm can also be set to ring a buzzer or to automatically tune in to your favourite radio station. If you need to know your daylight savings time, this clock automatically updates itself each spring and fall.
The Magnasonic EAAC475W is worth around $33 USD. 
14. Oregon Scientific RM330P Projection Alarm Clock

This Oregon Scientific model is an atomic alarm clock with a very unique, round x-shaped build. To make sure its time is always precise, the Oregon Scientific RM330P automatically sets itself to the local time. Owners will not have to make unnecessary turns in bed to view the time as the RM330P comes with a projector that displays the time in soft red light.
This clock is capable of showing the time, day, date, and month, as well as the temperature. Like most alarm clocks, it comes with a snooze function so you can have some extra minutes of sleep. While it works as an ideal atomic timekeeper for yourself, its exclusive and compact design also makes it a great gift.
If you are looking to purchase this timepiece, the Oregon Scientific RM330P fetches a price of $30 USD. 
15. DreamSky Auto Time Set Alarm Clock

The final atomic alarm clock on this list is the DreamSky Auto Time Set Alarm Clock. Once plugged in, this clock will automatically set itself to one of four US time zones. Equipped with a full-range dimmer, this auto alarm clock has a large 4.3-inch LCD screen that displays the time, date, and temperature. 
An ascending soft-beeping alarm ensures that you wake up naturally. A snooze function is also present and gives the owner an additional eight minutes of sleep before triggering the alarm again. Finally, this clock has a USB charging port that is compatible with smartphones, tablets, and MP3 devices. 
You can buy this atomic alarm clock for around $23 USD. 
Final Thoughts
Even with all the modern technological advancements, atomic alarm clocks will always have a place in everyone's homes and workstations. Just from the models we have listed above, you can see that these alarm clocks are no longer limited to their core time-telling functions. Many of these atomic alarm clocks come with new, innovative features that set them apart from regular timekeeping devices, whether it is the Bluetooth function, FM radio, lamp, or a light projector. 
The atomic alarm clock is not always the most convenient object to tote around, given their sizes. Indeed, if you want something easily portable and just as accurate as an atomic alarm clock, Casio has several wristwatches in their G-Shock line that are also equipped with atomic timekeeping. That said, if you are looking for something that can decorate your tabletops or walls, keep impeccably precise time, and make sure you get to your appointments on time, then the atomic alarm clocks we have listed above are all great buys.
Featured Image By: La Crosse Technology
Need an affordable and reliable calculator watch you can bring wherever you go? Have a look at some of the Best Calculator Watches in the Market.