Watch Reviews
An Extensive Review of the Dive-Worthy Certina DS PH200M
Jan 10, 2022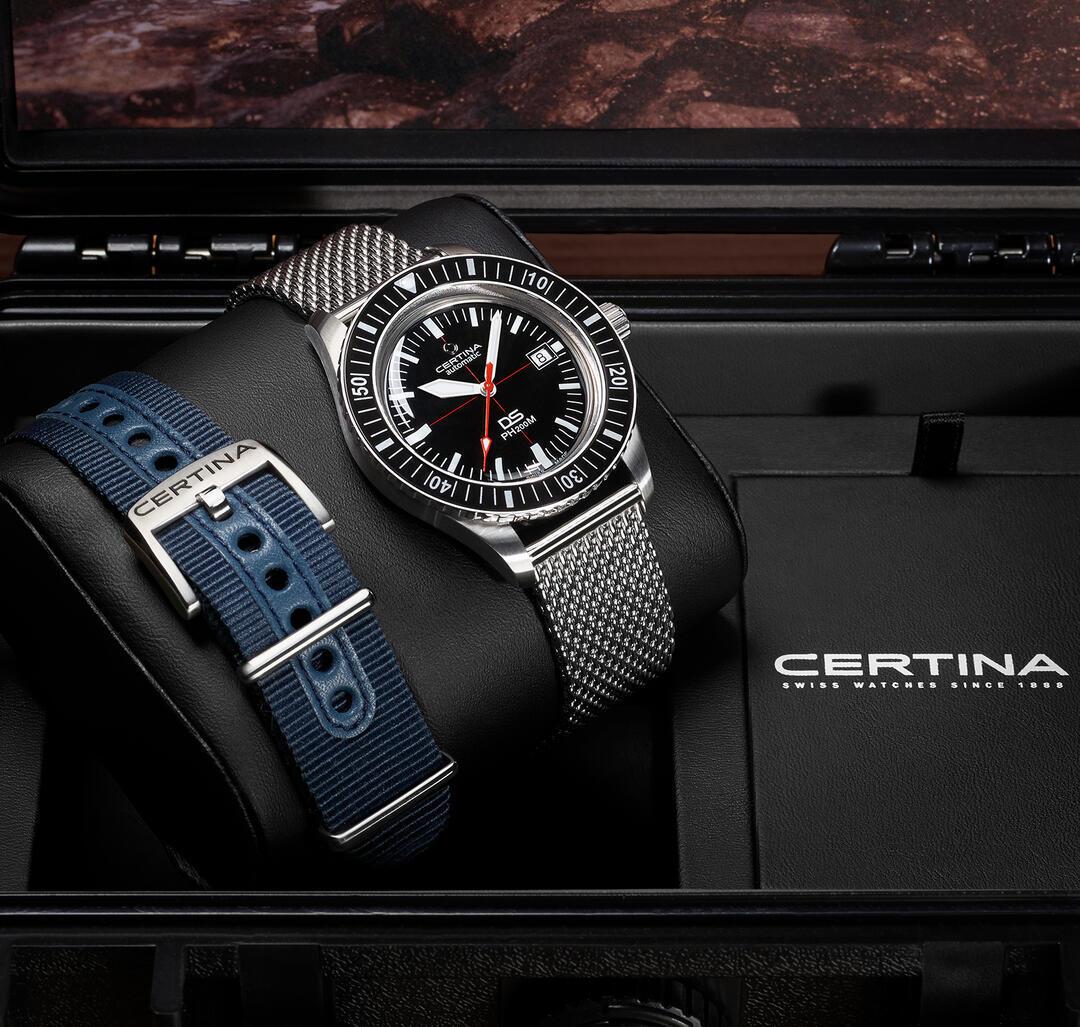 Dive watches are, without a doubt, some of the most sought-after watches in the market. Those who are less familiar with the watch community might think that owning a good dive watch is not that important if you are not into diving or swimming. However, what they do not know is that a dive watch is not simply used for diving. Instead, they are also highly valued by watch enthusiasts and collectors because of their luxurious aesthetics and historical value.
Take the Rolex Submariner, for example. The most famous dive watch in the world, this Rolex watch has an iconic, trend-setting look and a very rich history, which have contributed to its undying popularity amongst both older and younger generations of watch fans. Since the rise of the Rolex Submariner, dive watches have gained a certain reputation for being symbols of luxury in the watchmaking world. As such, over the years, every watch brand of note has developed their own unique take on the dive watch. Certina, of course, has its own version: the Certina DS PH200M.
Like the Rolex Submariner, the Certina DS PH200M maintains a certain reputation, capitalising on its relatively long heritage too. As a heritage dive watch, the Certina DS PH200M is not quite as high-functioning as some other dive watches in the market, such as the Rolex Sea-Dweller. Nevertheless, with its strength, versatility, and historical value, this is definitely a watch that any Certina fan should check out. Without further ado, let us take a closer look at everything the Certina DS PH200M has to offer.
First Impressions

Right off the bat, the Certina DS PH200M distinguishes itself by not just being a rehash of the Rolex Submariner, unlike most other dive watches in the watchmaking world. Certina effortlessly establishes its originality, opting to give the DS PH200M its own sportier, more casual style instead of just being a Submariner lookalike. As a result, the Certina DS PH200M does not look quite as luxurious as some other dive watches. However, its hefty case, iconic diver bezel, and straightforward dial all provide top-notch clarity and ease of use to the wearer.
Specifications 
Case, Caseback, and Crown
The Certina DS PH200M comes in a 42.8mm case made of sturdy 316L stainless steel that has a satin finish. This is a standard size for a watch, so it can fit comfortably on wrists of any sizes. However, the DS PH200M also comes with long, relatively thick stainless steel lugs, which gives the watch the impression of being bigger and bulkier than it actually is. 
On the right side of the watch, you can find an unprotected, protruding crown. In addition to how long it is, this crown comes with deeply grooved edges, which gives wearers with a better grip so they can turn and adjust the crown more easily, even when dressed in a diving suit. This crown is securely screwed-in, to protect the interior of the watch from any external elements like moisture or dust. In addition, as its name suggests, the Certina DS PH200M has a water resistance rating of 200 metres. This is perfect for all sorts of water activities, including recreational diving and swimming.

Fitted on top of the case is a unidirectional bezel that comes in stainless steel. It has a scratch-resistant black aluminium bezel that is marked with an elapsed time scale in bold white indicators, which allows divers to quickly and easily keep track of how much time they spend underwater. At 12 o'clock, there is also a luminous pip, which gives wearers greater legibility when they are looking at their watch underwater.
On the underside of the Certina DS PH200M, you can also find a solid stainless steel caseback. Like the crown, this caseback is tightly screwed down to allow for further protection from any water droplets. The caseback is engraved with a large image of a turtle, an emblem that symbolises the Certina DS watch collection. This turtle is the perfect embodiment of what the DS PH200M is supposed to be — it reinforces Certina's motto of crafting highly durable watches that are mobile and extremely functional underwater.
Dial
Dive watches typically have very well-organised, clean dials, since divers need to be able to tell the time with just a glance while they are underwater, or they risk spending too much time submerged, which can be dangerous. In addition, having an easy-to-read dial will surely help you achieve your tasks quickly and efficiently. In keeping with that, the Certina DS PH200M's dial has a simple, straightforward layout that is perfect for those constantly on the run.
This watch comes with a sleek jet-black dial. Two straight red lines run through the centre of the dial, almost like a target board, adding a bit of character to this otherwise monochrome watch face. It is also adorned with a minute track and larger rectangular hour indices, both in white to provide a better, more readable contrast against the black dial. The sword-shaped hour and minute hands and the vibrant red seconds hand are all coated in Super-LumiNova for optimal legibility in the dark or underwater. In addition, a date window with black text and a white background can be found at the standard 3 o'clock position.
Movement
The Certina DS PH200M is driven by the famous Powermatic 80 movement. This is an automatic calibre manufactured by Tissot. It offers a stunning 80-hour power reserve that ensures your watch will not be at risk of dying, no matter where you are. It has a tried-and-tested accuracy rate of +/- 2 seconds per day, which allows you to keep very accurate time with the Certina DS PH200M.
Bracelet
As of the moment, there are three available variations of bracelets for the Certina DS PH200M. The first one is the NATO strap which gives the watch a more casual look. The second is the steel pressed mesh to provide a more classy design. And lastly, a leather strap is also available for those who prefer the classics. All three of these straps provide a certain degree of style which makes the Certina DS PH200M versatile in terms of fashion as well as usage.
Historical Value: the Double Security Concept 
Certina has been in the watchmaking business since 1888. Much like Casio, Certina's craft revolves more around the impressive durability of their watches rather than flamboyant or sophisticated designs. Certina manages to pull this off with, in particular, its famous Double Security concept. 
The Double Security concept, otherwise known as Double Safety, is integrated into every watch from the Certina DS collection. Created in 1959 and remade in 2019, the 62-year old Double Security concept is a mainstay in Certina. It guarantees that the watches in the DS range are all exceptionally durable watches that can survive virtually any environment. Of course, the Certina DS PH200M also continues the brand's long tradition of highly resilient Double Security watches.
One outstanding innovation that is part of Certina's Double Security is the encasement of its movements in a shock-absorbent ring, made of elastic, that looks like an O-ring gasket. This elastic ring absorbs any kinetic energy produced by vibrations or shocks that the watch experiences so that it will not be damaged by them. It also has a "floating movement concept", in which there is a cushion of air set between the case and the movement so that the movement can move in all directions. Finally, the caseback is made of reinforced stainless steel, which Certina promises is virtually unalterable.
Price
For a highly durable dive watch, the Certina DS PH200M retails at a relatively affordable price. You can get your hands on this piece for just $800 USD. If you are looking for a sporty and reliable dive watch that is under $1,000 USD, then the Certina DS PH200M is an excellent choice.
Alternatives to the Certina DS PH200M
1. Longines HydroConquest Ref. L37813587

For those looking for alternative dive watches, Longines also has an impressive option up its sleeves. The Longines HydroConquest Ref. L37813587 is the perfect example of a stylish dive watch with a classier vibe better suited for dinner parties than the Certina DS PH200M.
The Longines HydroConquest Ref. L37813587 comes in a 41mm chrome steel case with a matching stainless steel bracelet that has exquisite rose gold centre links. This is paired with a striking rose gold bidirectional bezel which has a black elapsed time bezel fitted on top. These rose gold accents, along with the solid rose gold crown, serve to enhance this watch's air of elegance. Unlike the Certina DS PH200M, this watch comes with shapely stainless steel crown guards. Although these crown guards help keep the rose gold crown safe, they are also quite large and can make it a little difficult for wearers to grab and turn the crown.
The dial of this Longines HydroConquest watch is very straightforward. Its jet-black backdrop is adorned with circular hour indices, large rose gold Arabic numeral markers, and a small rectangular date window at 3 o'clock. The hour indices are filled with luminous material, as are the diamond and sword-shaped hands, and these help provide greater legibility when underwater or in poor lighting conditions. Powered by a Longines Calibre L888 automatic movement, this watch comes with a solid 62-hour power reserve.
The Longines HydroConquest Ref. L37813587 also has an excellent depth rating of 300 metres, which is greater than what the Certina DS PH200M offers. You can purchase this dive watch for around $1,699 USD. Although this is considerably more expensive than the Certina DS PH200M, it is still quite affordable compared to other dressy dive pieces like the Rolex Submariner.  
2. Seiko Prospex Divers Ref. SBDC101

Another highly accessible alternative to the Certina DS PH200M is the Seiko Prospex Divers Ref. SBDC101. This sturdy, dependable Seiko piece shows off a quintessential dive watch build that promotes both comfort and professionalism.
This Seiko Prospex watch utilises a 40mm stainless steel case paired with a matching three-link bracelet made of the same material. This is contrasted against a sunburst black dial and a classic black unidirectional rotating bezel that is fitted with an elapsed time scale in white markings. On the dial, you can find stocky silver-tone hands and thick rectangular hour indices, all of which are coated with lume, providing superb visibility in the dark. In addition, a date aperture can be found at the standard 3 o'clock position
As a dive watch, this piece has a 200m water resistance capacity, which is more than enough for recreational swims and dives. Retailing at $1,449 USD, the Seiko Prospex Divers Ref. SBDC101 is the cheapest alternative to the Certina DS PH200M on this list.
3. Omega Seamaster Aqua Terra Ref. 220.20.41.21.06.001

For another classy Certina DP PH200M substitute, take a look at the Omega Seamaster Aqua Terra Ref. 220.20.41.21.06.001. Its two-toned colourway gives it a luxurious touch which is perfect for formal events. It also bears a simple and straightforward layout that enhances its versatility, making it a watch virtually anyone can appreciate.
 This Omega Seamaster watch comes in a 41mm stainless steel case and a three-link bracelet with stainless steel outer links and rose gold centre links. Unlike most dive watches, it has a fixed bezel, also made out of rose gold, which pairs perfectly with the rose gold crown at 3 o'clock. The black dial of this watch is striking, as it features a teak pattern of uneven horizontal lines, resembling the floorboard of an old sailing boat. The dial is also furnished with triangular hour indices and arrow-shaped hands, both in rose gold, which adds to its elegant vibe. To top it all off, a small date aperture with a black background blends into the dial at 6 o'clock. 
The Omega Seamaster Aqua Terra Ref. 220.20.41.21.06.001 is powered by the Omega Calibre 8900. This gives it a solid 60-hour power reserve and a water resistance capacity of 150 metres. You can purchase this luxury dive watch for approximately $7,750 USD. 
4. Rolex Submariner Ref. 116610 LN

Last on the list, we have the pioneer of outstanding dive watches, the Rolex Submariner. It is widely regarded as the quintessential dive watch, setting the standard that has yet to be beaten by other luxury brands. By using the blueprint of its predecessor, the Rolex Oyster, the Submariner exemplifies class, elegance, and utility. One model that stands out, in particular, is the Rolex Submariner Ref. 116610 LN, with its top-notch durability and quintessential aesthetics. 
This Rolex piece has a 40mm stainless steel case and bracelet, both made out of the brand's proprietary Oystersteel material. In addition, its unidirectional rotating Oystersteel bezel is also fitted with a black Cerachrom insert that is marked with an elapsed time scale, allowing you to accurately monitor the duration of the dive as well as when decompression stops. The watch's stylish black dial complements the bezel perfectly and is adorned with geometric hour markers, a magnified date window at 3 o'clock, and the signature Rolex Mercedes hands.
Most significantly, the Rolex Submariner Ref. 116610 LN is equipped with a water resistance rating of 300m, making it perfect for extreme water sports like high impact diving or deepsea skin diving. With its renowned heritage and excellent features, it is no surprise that this dive watch carries a fairly expensive price tag of around $15,349 USD. Although it might not be everyone's first choice when it comes to beginner dive watches, this Submariner piece is definitely an excellent watch investment.
Final Thoughts
The Certina DS PH200M is an exceptional dive watch that should be considered by both beginners and experienced prominent divers. Its sporty design and superb durability make this a viable option for those seeking a reliable dive watch that can last them a long time. It might not quite reach the Submariner's standards in terms of value and history, but the Certina DS PH200M can certainly do the job without a hitch. Even better, you would not have to spend a fortune to get this highly versatile and dependable Certina dive watch. 
Images courtesy of The Watch Company, unless stated otherwise.Featured image courtesy of Certina.
If you are still looking for the right dive watch, have a look at our in-depth review of the iconic Rolex Bluesy Ref. 126613.