New & Feature
Rolesor Guide: Are Rolex Two-Tone Watches Worth Buying?
Nov 15, 2021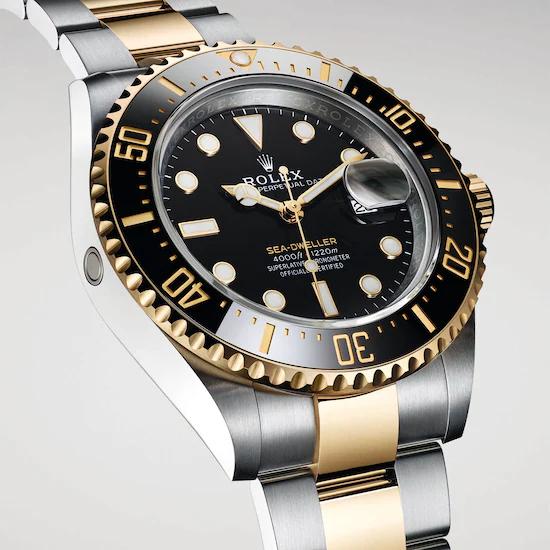 Rolex is one of the first brands most people think of when they consider the realm of luxury watches. Each timepiece the brand crafts showcases authentic Swiss watchmaking at its finest, exhibiting innovation and design that is nothing short of iconic. For many, having a Rolex is the ultimate symbol of success.
Truthfully, you cannot go wrong with anything from Rolex. Throughout the years, its watches have displayed top-of-the-line resilience and stylishness that never falters. That said, if you want a timepiece that places you as a cut above the rest, you would need a watch truly emblematic of this prestigious brand: the Rolex two-tone Rolesor. 
What are Rolex Two-Tone Watches?
Today, the Rolex two-tone watches are commonly known by the name Rolesor — a blend of the brand's name and the word "Or," which means gold in French. To put it simply, the term Rolesor describes a watch that is made up of a combination of Rolex's stainless steel along with any form of gold. The two metals are not merged together to form an alloy but are instead used to make different components of a Rolex timepiece.
When viewing a Rolesor, you would typically see a stainless steel case with an 18-carat gold bezel fixed on top. Rolex two-tone watches also typically have patented Oystersteel bracelets, with stainless steel outer links and 18K gold centre links. 
This Rolesor design is not just limited to the yellow gold Rolesor you see in many Rolex watches, either. Some Rolex two-tone watches are crafted using stainless steel and white gold, or stainless steel and pink gold, earning them the titles "White Rolesor" and "Everose Rolesor" respectively. The brand even offers luxury timepieces boasting another variation of two-tone called Rolesium — a combination of stainless steel and platinum. Due to its popularity and iconic aesthetics, the Rolesor is one of the most coveted looks in watchmaking history and is a signature design of the Rolex brand. 
When Did the Rolesor Style Begin?

You might be surprised to find that Rolex was not the first brand to make the two-tone watch. Some watchmakers had already been using the two-tone designs even before the 1920s. However, Rolex was the first major brand to start creating and utilising two-tone designs. Some of the earliest Rolex models that sport the two-tone look can be found in the Rolex Prince collection, which has existed since 1928. 
In 1933, Rolex patented the term Rolesor. The brand started making Rolex two-tone watches since then, but the design had its first major release in 1948 with the Oyster Perpetual Datejust. With its looks being a crucial contributor to the watch's enormous success, the Rolex two-tone aesthetic has been a mainstay of the brand's selection ever since.
In 1984, Rolex unveiled the very first two-tone Submariner, known as the Ref. 16803. It features a 40mm Oystersteel case with a yellow gold crown and unidirectional rotating bezel fitted with an aluminum insert on top. The bracelet that it came with also sported the Rolesor look, with stainless steel outer links and yellow gold centre links.
Fast forward to today, the Rolesor look has evolved into one of the most distinct and ever-present designs in the brand's modern collections. Although several other brands now have their own watches with two-tone designs, enthusiasts will always recognise the combination of gold and stainless steel as a Rolex signature. Whether it is white gold, pink gold, or conventional yellow gold, Rolex two-tone watches are truly in a league of their own. 
Where Can I Find the Rolex Rolesor? 
If your interest is piqued, you can find different kinds of Rolex two-tone watches in a majority of the brand's collections. Some of the most recognised Rolesors can be found in iconic series such as the Submariner, the Datejust, the Cosmograph Daytona, and the Sky-Dweller, just to name a few. Now, if you are looking for a luxury timepiece with the Rolesium design, you can refer to the Rolex Yacht-Master series.
15 of the Best Rolex Two-Tone Watches
Having been making Rolesor watches since the early 1930s, Rolex is home to a vast amount of two-tone luxury timepieces. As mentioned previously, these models can be found in several collections, making it quite difficult to jot down each two-toned watch. Instead of going through every model they have, we've narrowed down a list of 15 of the best Rolex two-tone watches in the market.
1. Rolex Datejust 41 (126303-0009) – $11,385 USD

Starting off our list is the Rolex Oyster Perpetual Datejust 126303-0009, which features a luscious champagne-coloured dial and a smoothened yellow gold bezel. The yellow gold Rolesor combination, from its high-grade stainless steel case to its 3-link Oyster bracelet, gives this watch an alluring and exceptionally lustrous look. With its screw-down crown and caseback and sapphire glass, the timepiece is sturdy and secured from all angles, with a depth rating of 100m.
The watch's champagne dial is what really brings everything together. Its gold stick hands and indices are applied with the brand's blue Chromalight to provide long-lasting luminescence in dark environments. Underneath the glossy dial is a Rolex 3235 Superlative Chronometer calibre. It boasts an accuracy rate of +/- 2 seconds per day and a power reserve that can last for approximately 70 hours.
2. Rolex Submariner (126613LN-0002) – $18,835 USD

As the latest reinterpretation of the historic Submariner Ref. 16803, the Rolex Submariner 126613LN boasts the familiar Rolex two-tone yellow gold and steel design. This is accompanied by state-of-the-art innovations that further bolster the watch's reliability and performance. Donning yellow gold on its bezel, crown, and bracelet, this yellow Submariner Rolesor exudes a sense of opulence that solidifies its status as a luxury diver's watch. 
On the jet-black dial, you can find applied hour markers in the shapes of triangles, circles, and rectangles. Paired with Mercedes-style hands and a magnified date window at 3 o'clock, the dial is gorgeous and highly legible. Its beauty is preserved by a layer of sapphire crystal, which is a type of synthetic crystal proven to be virtually scratch-proof.
3. Rolex Cosmograph Daytona (116503-0004) – $28,305 USD

There are not many watches that are as elusive as the Rolex Cosmograph Daytona. Arguably the most in-demand Rolex model in modern history, the Cosmograph Daytona is extremely rare, and trying to acquire one from an authorised dealer will result in a 10-year waitlist. That said, if you have your heart set on getting this watch, why not try for a Rolesor two-tone version of the Cosmograph Daytona? 
Known as the Cosmograph Daytona 116503-0004, this two-tone watch features an Oystersteel case with yellow gold on its bezel, pushers, crown, and bracelet. Its dial contains small applied gold indices and stick hands. This is paired with gold chronograph sub-dials that contrast nicely against the black surface, blending high-end luxury with a high-performance look. As a racing watch, you can also find a tachymetric scale in black markings on the gold bezel. This Rolex two-tone watch is powered by an in-house Calibre 4130 Superlative Chronometer with a 72-hour power reserve.
4. Rolex Lady-Datejust (279171-0017) – $10,725 USD

Here is an example of a watch with a different kind of Rolex two-tone design. Crafted from stainless steel and Everose gold, the Rolex Lady-Datejust 279171-0017 is an immaculate piece that is as beautiful as it is dependable. It comes with a supple and dazzling 5-link jubilee bracelet which has stainless steel outer links and rose gold inner links. The fluted bezel on top of the timepiece also comes in rose gold and wonderfully complements the overall elegant aesthetic of this Lady-Datejust piece.
Protected by a layer of sapphire glass, the dial of this Rolesor watch boasts a chocolate sunray finish with applied rose gold hands and indices. A magnified date complication can also be found at 3 o'clock. This Rolex two-tone watch is run by a Calibre 2236, which has a silicon hairspring and a 55-hour power supply.
5. Rolex Sky-Dweller (326934-0001) – $27,650 USD

Made to take on the extreme conditions of the sky, the Rolex Sky-Dweller 236934-0001 is a robust pilot watch that brings lavishness and convenience to a traveller's wrist. At first glance, the Sky-Dweller does not really look like a Rolex two-tone watch, given its all-silver exterior. In reality, this watch is a true Rolesor, made of stainless steel and exquisite 18K white gold. It boasts a white gold bezel fixed on top of its Oystersteel case, proving that looks can be deceiving. In addition, this bezel is equipped with the brand's Ring Command technology. This allows wearers to utilise the bezel to interact with the watch's 9001 Superlative Chronometer movement. 
This Sky-Dweller piece also shows off a stark white dial with a dual time zone display at the centre. The red inverted triangle fixed at the top of the 24-hour disc pinpoints a chosen reference time, allowing wearers to keep track of two different time zones simultaneously. It also boasts a classic three-link bracelet, with the central links being made from 18K white gold too. Finally, despite not being a diver watch, this Rolesor piece has a substantial water resistance capacity of 100m. 
6. Rolex Explorer (124273-0001) – $14,660 USD

Explorers, scientists, and mountaineers from around the world can all attest to the tenacity and resilience of the Rolex Explorer. These watches have gone through everything that mother nature has to offer and still come out unscathed. If you are looking for an Explorer with a more sophisticated style, have a look at the Rolex Explorer 124273-0001.
The dial of this Rolex two-tone Explorer contains signature Mercedes hands paired with a mix of applied gold rectangular hour markers and Arabic numerals. Beneath the watch face is a Rolex Calibre 3230 that promises a precision rate of +/- 2 seconds per day. Covered in a 36mm case of stainless steel with yellow on its bezel, crown, and central links, this Rolesor watch is waterproof up to 100m.
7. Rolex GMT-Master II (126711CHNR-0002) – $26,890 USD

Initially designed as a navigational instrument for professionals who travel across the globe, the Rolex GMT-Master II is a timekeeper that you can always trust. With its Superlative Chronometer Calibre 3285, 70-hour power reserve, and Oystersteel case, its durability and reliability are guaranteed to surpass expectations.
Apart from its simple yet iconic black dial, one of the greatest highlights of the Rolex GMT-Master II 126711CHNR-0002 is its Everose gold bezel. This exquisite rose gold bezel is plated with a red-and-black Cerachrom insert, which has led to this watch being nicknamed the "Rolex Root Beer". The bidirectional rotating bezel features a 24-hour time scale, which the dial's GMT hand points to when displaying the alternate time zone. On top of the case is a layer of sapphire glass equipped with a cyclops lens, providing a legible view of the dial and its date window.
8. Rolex Datejust 41 (126331-0002) – $16,465 USD

Dazzling and sleek in every aspect, the Rolex Datejust 126331-0002 boasts an ageless and elegant look complemented by the brand's blend of polished stainless steel and lustrous Everose gold. Its stainless steel case is paired with a fluted Everose gold bezel and screw-down crown. These perfectly match the watch's rose gold-and-steel jubilee bracelet. The scratch-resistant sapphire glass on top gives a clear and protected view of the watch's glossy chocolate dial.
Running the multiple mechanisms in this Rolesor timepiece is a self-winding Superlative Chronometer Rolex Calibre 3235. It produces a beat frequency of 28,800 vibrations per hour and has a power reserve that, when fully wound, can last for almost three days. Sealed by a solid steel caseback, this Rolex two-tone watch has a depth rating of 100m.
9. Rolex Lady-Datejust (279174-0005) – $9,090 USD

If there is a watch that we would consider as the ultimate lady's timepiece, it would have to be the Rolex Lady-Datejust 279174-0005. Crafted using Oystersteel and white gold, this Rolex two-tone piece carries an unmatched pristine look that easily outshines its other adversaries. Paired with an Oyster jubilee bracelet, this Rolesor watch in its entirety gives wearers a perfect sense of extravagance and comfort. 
With its silver sunray finish, the glistening dial plays with the light rather well. It possesses a clean and crisp design that goes well with its applied silver stick hands and hour markers. The Rolex Superlative Chronometer Calibre 2236 that powers the watch has an accuracy of +/- 2 seconds per day and a power reserve that can last up to 55 hours. 
10. Rolex Submariner (126613LB-0002) – $22,320 USD

You know a watch is iconic when enthusiasts give it its own nickname. Sometimes referred to as the Bluesy, the Rolex Submariner 126613LB-0002 is a first-rate dive watch with a design reminiscent of the blue Ref. 16803. As you might expect, the watch's Rolesor combination of yellow gold and stainless steel also plays a role in its emblematic image. Apart from completing this Submariner's look, the Rolesor design paired with the watch's blue bezel and dial give wearers a feeling of affluence and quirky fun. 
As one of the latest models in the Submariner line, the 126613LB-0002 contains some of the most high-tech components that Rolex can provide. Its screw-down crown has a Triplock waterproofness system, which greatly contributes to the watch's 300m depth rating. The yellow gold elapsed time bezel on top of the timepiece also uses a Cerachrom ceramic insert to keep the ring from receiving any scratches. This Rolex two-tone piece is a superlative diver and performs well both underwater and at dressy dinner parties. 
11. Rolex Sea-Dweller (126603-0001) – $20,125 USD

Need a Rolex two-tone that can go through the darkest waters? Look no further than the Rolex Sea-Dweller 126603-0001. With its Triplock screw-down crown, screw-down caseback, and Oystersteel structure, this Rolesor Sea-Dweller piece has an incredible total depth rating of 1,220m. The timepiece also has a helium escape valve, which allows the watch to depressurise itself after a really deep dive.
In terms of its aesthetics, this rugged dive watch is quite stunning to behold. Its sleek Rolesor exterior of yellow gold and stainless steel, along with its rugged black dial and bezel, make up a signature style that exudes luxury and sophistication. Safely hidden inside the luxury timepiece is Rolex's favourite self-winding Calibre 3235, complete with its Parachrom hairspring and 70-hour power reserve. As with the Submariner model mentioned above, this Rolex two-tone watch also uses a yellow gold unidirectional rotating bezel with a black Cerachrom insert. 
12. Rolex Yacht-Master (126621-0002) – $18,155 USD

Aside from its famous affiliation with 007, Rolex also associates itself with the world of yachting. Indeed, its affinity with the dynamic nautical sport dates back all the way to the 1950s. To commemorate its love for yachting, Rolex developed the Yacht-Master collection. The Yacht-master watches exhibit excellent waterproofness and steadfast durability, making them the ideal timepiece for sailing or any other form of water sport.
The Rolex two-tone watch we have here is the Yacht-Master 126621-0002. It features a 40mm case with an Everose Rolesor bezel and bracelet. Guarded by scratch-resistant sapphire glass, its dial contains applied Everose gold indices and hands that glow appealingly in the dark. With the help of the screw-down crown's Triplock system and its screw-down caseback, this Rolesor Yacht-master has a water resistance rating of 100m.  
13. Rolex Datejust Turn-o-Graph (116263 WH) – $12,220 USD

The Rolex Datejust Turn-o-Graph 116263 WH is a variation of a Datejust timepiece that highlights a rotating bezel — something that you do not see in a majority of Datejusts. Made out of yellow gold, the bezel is tuned to 60 clicks and can be used to measure elapsed time. Water-resistant up to depths of 100m, the Rolex two-tone watch also comes with a stainless steel case and jubilee bracelet with yellow gold centre links.
Moving on to the watch face, the dial boasts a clean white surface with gold stick hands and rectangular indices. Its second hand, Turn-o-Graph signature, and date window are all coated in red, giving the dial a bit more vibrancy and legibility. Underneath the dial is an automatic Rolex Calibre 3135 equipped with a power reserve that can run for up to 50 hours.
14. Rolex Datejust 41 (126334-0002) – $14,875 USD

When light refracts around the Rolex Datejust 126334-0002, you cannot help but be amazed at how well this Rolesor timepiece plays with it. The 41mm Oystersteel case showcases skillful finishing from lug to lug and is paired with an equally lustrous white gold fluted bezel. On top of that, the Datejust comes with a layer of scratch-resistant sapphire glass and a jubilee bracelet crafted from steel and white gold. 
The gleaming exterior of the watch contrasts and highlights its blue sunray dial. Adorned with silver stick-shaped hands, applied hour markers, and the signature Rolex crown at 12 o'clock, this watch face is simple and pleasing to the eyes. The self-winding Calibre 3235 that powers this Rolex two-tone watch is protected by a solid steel caseback, which helps give this Datejust piece its 100m water resistance capacity.
15. Rolex Daytona Cosmograph (116503-0003) – $27,085 USD

Our final Rolex two-tone model is the Rolex Cosmograph Daytona 116503-0003. As a high-end racing watch featuring a champagne dial and a yellow tachymeter bezel, this Cosmograph Daytona piece epitomises affluence of the highest order. The in-house Calibre 4130 that runs the timepiece and its chronograph features is Superlative Chronometer-rated, ensuring that the movement is impressively precise at all times.
At the back of this Rolesor watch, you can find a solid screw-down rear case which, along with the Triplock screw-down crown and sapphire glass, contributes to the watch's 100m depth rating. Coupled with a three-link bracelet made of stainless steel and yellow gold, this Rolex two-tone Cosmograph Daytona has a power reserve that can last for approximately 72 hours.
Final Thoughts
There are not many luxury watches that carry status and character like a Rolex. Unparalleled, unwavering, and gorgeous, the Rolex two-tone watches are the epitome of luxury on the wrist. And with numerous variations to choose from, you are sure to find an exquisite Rolesor model that matches all your preferences.
The 15 Rolesor models we have listed above are but a few references from a vast selection of Rolex two-tone models. If you are searching for the perfect Rolesor timekeeper, it would be wise to do a bit of research on your own before arriving at a final decision. Rolex two-tone watches also tend to sell out pretty fast, so you want to make a decision quickly to get your hands on a Rolesor piece of your own. 
Featured Image By: Rolex
Looking for a watch you've seen on the big screen? Here are 20 of the most iconic watches in movies.