New & Feature
Seiko SNK803: Everyone's Favourite Vintage Military Watch 
May 11, 2022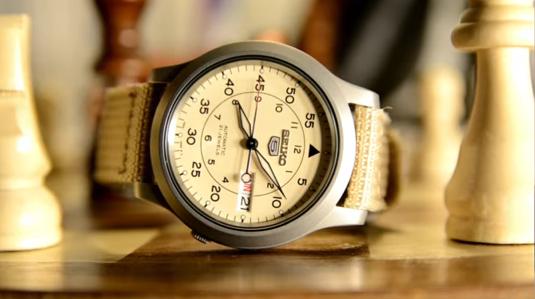 When it comes to field watches, Luminox and Victorinox are some of the best brands to start with. However, while they do dominate the field watch market, there are some top-notch military watches that can be found under brands too. One great example would be Seiko's SNK803. 
The Seiko SNK803 makes for a lovely entry-level military watch choice. With its sturdy durability, casual style, and incredibly budget-friendly price, there seems to be a lot to love about this Seiko watch. As such, it is no surprise that the Seiko SNK803 has become one of the most popular go-to military watch options today. Without further ado, let us take a closer look at the Seiko SNK803 and everything it has to offer, to see if this famous military watch truly lives up to the hype.
Specifications
Case
When field watches were first developed for the trenches of World War I, they tended to be created with watch cases that measured around 40mm or more in diameter. This was the average size of men's wrists during that time. As such, the mass production of field timepieces that measured around that size allowed soldiers to quickly and easily get field watches that would, firstly, fit all their wrists quite nicely, and secondly, be robust and sturdy enough to survive the battlefield. As a result of this, watch cases that measured 40mm and above became the norm for field watches, and that is a tradition that has lasted up till today.
The Seiko SNK803, however, stands out from its peers by utilising a watch case that is considerably smaller than the standard for field watches. The Seiko SNK803 is presented in a 37mm stainless steel case. This is quite a slender case size even today. As such, the Seiko SNK803 is actually best suited for men with smaller-to-average-sized wrists, or for women, who have slimmer wrists. Its smaller size means that the Seiko SNK803 is also much less heavy than the average field watch, so you can easily tote this piece around all day as a companion to your daily routines.
Another thing that makes the Seiko SNK803 a truly distinctive watch is its peculiar crown. Unlike many watches today, which prefer oversized crowns that protrude visibly out from the cade, the Seiko SNK803 opts for a mid-sized crown that is hidden by its thick case, almost invisible to the eye at first glance. This allows the watch to enforce an illusion that it does not have any crown at all, reinforcing its slim and compact look. In fact, it is only by looking closer that you will be able to discern the hidden crown sitting at the case's 4 o'clock position. This crown also has nicely grooved edges, which provide wearers with a firm grip when winding the crown.
Flipping the Seiko SNK803 over, you can find a see-through sapphire crystal caseback. This offers viewers a clear view of the movement at work inside the Seiko SNK803, while also giving the watch a more sophisticated style. Like the crown, this caseback is tightly screwed-down, preventing any moisture or dust from getting into the watch.
Thanks to the screw-down crown and caseback, the Seiko SNK803 has a depth rating of 30 metres. While this water resistance capacity enables the Seiko SNK803 to survive any accidental splashes or showers, it is a little lacklustre for a modern field watch.
Dial

An important priority for a field watch is having a clean and maximally legible dial. This is because, back when field watches were being used in World War I, soldiers in the heat of battle needed to be able to read their field timepieces with just a quick glance. As such, field watches have always been designed with very straightforward dial layouts and the Seiko SNK803 is no different.
The Seiko SNK803's dial comes in a soft cream colour that complements its polished silver-tone case while also enhancing the watch's lovely vintage vibe. It has a sector dial design, with a simple black circle separating the centre of the dial from its outer segment. The inner dial circle bears Arabic numerals in a small black typeface for the hour markers, along with luminous diamond hands that are outlined in black.
On the outer ring, you can find Arabic numerals in a larger black font for the minute markers, which are displayed in five-minute intervals. On the very rim of the dial, you will also notice a subtle minute track with small stick and dot indices. The dot indices on this minute track are all filled with lume, which will cause the watch face to light up bright green when viewed in the dark, allowing for optimal legibility. Finally, a long, rectangular day-date window replaces the 3 o'clock markers, so that wearers can keep track of more than just the time.
Movement
Powering the Seiko SNK803 is the in-house Seiko Calibre 7S26. This automatic movement is quite a staple in Seiko watches, having also been used in watches such as the Seiko SKX007 and Seiko SNKN01. Held together by 21 jewels, this non-hacking movement can last for up to 41 hours when fully wound. In addition, it has an accuracy rate of +49/-20 seconds per day, although wearers have reported experiencing higher and more regular accuracy rates. 
Strap
The Seiko SNK803's sporty, casual look is finished off with a rugged beige canvas strap which wonderfully complements the watch's dial. If you are not familiar with canvas straps, this type of strap is frequently paired with outdoor watches due to their portability, comfort, and most importantly, its waterproof capabilities. Straps made of nylon, fabric, and leather perform terribly when exposed to wet surfaces, which can result in damage to the strap. As such, canvas straps are a much more recommended alternative for field watches like the Seiko SNK803.
Price
Aside from its hardy durability and simple appeal, another thing you can look forward to with the Seiko SNK803 is its budget-friendly price. Seiko has always been known for manufacturing affordable, reliable timepieces that are perfect for the masses, and the Seiko SNK803 is no different. For just $195 USD, this automatic field watch will surely satisfy all your outdoorsy needs. 
Alternatives to the Seiko SNK803
Below are some of the best alternative models to the Seiko SNK803.
1. Luminox Atacama Ref. XL.1761

As mentioned before, Luminox is one of the best go-to brands when it comes to reliable military field watches. One top-notch model from the brand is the Luminox Atacama Adventurer Field Ref. XL.1761. Hailing from the Luminox Atacama Field collection, this is a robust field watch that shows off a very understated and sleek charm. 
This watch is housed in a 42mm case made of 316L stainless steel, which is a much more standard field watch case size than the Seiko SNK803. With its 42mm diameter, this watch can fit easily on wrists of any size. It also comes with thick, slanting lugs and a comfortable black textile strap.
Complementing the black strap is a matching black sector dial. This textured dial is segmented into two parts, with a slightly submerged inner dial. This inner dial also consists of Arabic numeral markers for the 13th to 24th hours, long sweeping sword hands, a distinctive small seconds sub-dial at 6 o'clock, and a compact date complication at 3 o'clock. Luminox's logo is also applied at the 12 o'clock position of the dial. The outer ring of the dial, on the other hand, is furnished with larger Arabic numeral markers for 1 to 12 o'clock.
This Luminox watch is driven by a quartz Ronda 6004.D Calibre. This reliable quartz movement has a battery life of about 40 months. 
The Luminox Atacama Adventurer Field Ref. XL.1761 is priced at around $675 USD.
2. Luminox Atacama Field Automatic Ref. XL.1901

Another great Luminox watch is the Luminox Atacama Field Ref. XL.1901. As with the aforementioned Luminox Atacama Adventurer Field Ref. XL.1761, this timepiece is one of the most popular Luminox watches on the market.
This Luminox watch utilises a 44mm stainless steel case, coupled with a handsome black leather strap that enhances the timepiece's classy style. It also shows off a matte black dial, which is adorned with minute markers on the rim of the dial and long, silver-tone sword hands.
A silver chapter ring is placed around the centre of the dial, bearing bright red indicators for the 13th to 24th hours. Along with the watch's vibrant red seconds hand, these red indicators are highly legible and serve to add a pop of colour to this monochrome watch face. The dial is also adorned with tritium gas tubes that serve as hour markers. These tritium gas tubes will light up in the dark, allowing wearers to read the watch's face even at night. 
This Luminox watch runs on the SW220-1 automatic calibre. This is one of the most ubiquitous movements in the market, with a solid 38-hour power supply.
You can purchase the Luminox Atacama Field Ref. XL.1901 for around $990 USD. 
3. Victorinox FieldForce Classic Chrono Ref. 241928

Victorinox is a brand that is known for specialising in tool watches with opulent looks and excellent functionality. As such, those looking for a more elegant-looking watch should check out the Victorinox FieldForce Classic Chrono Ref. 241928. This is a fresh take on the classic field watch, equipped with additional complications and a very traditional, quintessential style.
This Victorinox piece comes in a 42mm stainless steel case, along with a suave and supple brown leather strap. Fixed on top of the case is a black aluminium bezel, which bears legible white indicators for a handy tachymeter scale.
Complementing the watch's black bezel is its dial, which showcases a similar jet-black finish. The layout of this dial is a lot busier than the previous field watches listed in this article. It comprises silver applique hour indices, sweeping sword hands, and three chronograph sub-dials that are neatly lined up against each other, for the 60-minute, 30-minute, and 12-hour counters. Overlapping the 12-hour sub-dial is a small rectangular date aperture. This date display stands out against the black dial with its white background. Underneath this refined watch face, you can find a reliable quartz movement.
The price for this Victorinox Fieldforce piece starts at $450 USD, which is quite a reasonable price for such an attractive watch.
Final Thoughts
While the Seiko SNK803 was discontinued quite a few years ago, it has never left the hearts of watch fans and Seiko patrons. Hardy and affordable, this watch has a simple, versatile charm that makes it an excellent choice for an everyday watch. With any luck, Seiko will turn around and pick up the Seiko SNK803 again, introducing it to newer generations of watch enthusiasts.
All images courtesy of The Watch Company, unless stated otherwise.Featured image courtesy of Seiko.
If beige is the one true colour for you, be sure to check out our review on the classy Timex Waterbury watch—it will surely be a fancy addition to your watch collection!