Watch Reviews
Seiko 6309: A Review of the Vintage "Seiko Turtle" Dive Watch
Jun 21, 2021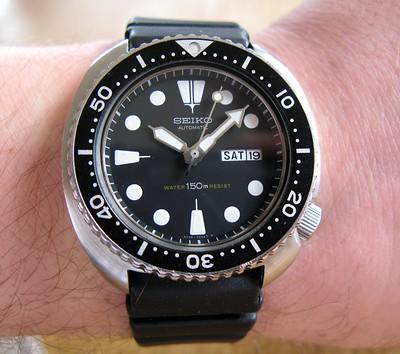 It is undeniable that Seiko has been so popular in the world of horology since its inception. The Japanese brand has always been highly regarded for producing a wide variety of distinctive and high-caliber watches out of its excellent craftsmanship and innovation. But one particular collection that is most acclaimed is its series of the Seiko 6309 dive watches or better known as the Seiko Turtle. The Seiko 6309 line successfully resulted from the brand's effort to upgrade its 6105 movements, creating a more robust and functional timepiece that can last even for a lifetime.
For sure, any Seikoholic or even regular watch enthusiast can tell you that the brand offers numerous dive watches in its extensive catalog, such as the Seiko Prospex, but no model can be as exquisite as its Seiko 6309-7290/7049 version. Although there's no longer refreshed version of it after its production had stopped in 1988, its vintage models still remain sought-after among Seiko fans to be used on their next scuba diving adventure. As noted, it has always been a perfect watch buddy for divers, either novice or professional. So, if you're looking for a vintage dive watch to use on your next diving adventure or even if you just want to wear something casual yet sturdy and durable, this top-notch Seiko 6309 will not disappoint, especially since it also comes at a very affordable price. 
A Quick Look at the Seiko 6309's Existence
Seiko first-ever released its original version of the "Turtle" dive watch collection back in 1976, with a reference number of 6306-7000/1. At first, this version was only produced to meet the needs of the Japanese market, but the brand decided to take it to the next level, conquering the global market. This dive watch could easily provide a better quality service with its 150m water-resistant feature to any recreational diver or any watch aficionado who just wished to own and wear a casual timepiece for everyday use. It is powered by a first-class in-house 6306A caliber and features a 60-click bezel around its black dial. Considering that this version was designed for the Japanese market, Seiko designed it in an English/Kanji day-date wheel, a feature that is most loved by its patrons.
Later on, Seiko made its new version with a reference number of 6309-7040/9 for its global customers. There is only a very minimal distinction between a Seiko 6306A and Seiko 6309 version — the latter does not feature a hacking movement. Otherwise, the two versions are almost alike, offering robust and top-notch functionality over the years.

It was exactly in the 1980s when a version of the sought-after 6309 diver watch came into existence. Seiko introduced it into two case variations: a Seiko 6309-7049 (with a cushion-cased) and a Seiko 6309-7290 (with a slimmed-down case). The 6309-7290 version features a few changes from the usual Turtle diver watch shape, and it is entirely the starting point of a new series to be launched and made its own iconic and distinctive identity. It was more well-known as the "Slim Turtle" Seiko 6309 dive watch that features an angular and sharper case. It was officially introduced in 1982 and just existed for only a few years. However, that didn't stop it from being a collectible among many avid watch fans.
Moreover, these turtle dive watches were even recognized as the go-to watch back in the 1980s. It was even spotted in the prominent film The Abyss in 1981, wherein its famous actor Ed Harris wore a Seiko 6309 throughout the film, which was set underwater. Aside from that, the dive watch collection has been praised for its versatility in the cultural realm that even English singer Mick Jagger was spotted wearing one.
Apart from that, this Seiko 6309-7290 diver watch also represented the first-ever glimmer, which later became the SKX007 and Seiko SKX007K1 version, two of the most in-demand dive watches in the entire collections of the brand.
Up Close with the Seiko 6309 Dive Watch
Despite having a new fresh version of dive watches available in the Seiko's collection, the vintage Seiko 6309 dive watch remains such a legendary timepiece accessory for divers who love to conquer the world underwater. Even non-divers are also big fans of these series with its finest quality and powerful caliber, reassuring anyone that they're wearing such the best of the best timepiece on their wrist. It is no wonder these dive watch series became an icon back in the 1980s and even up to this time. With its exceptional features to offer that you cannot find in other dive watches, this is indeed a piece of accessory that you must own.

Case: Stainless steel
Case Dimension: 45 mm
Dial: Black
Water Resistance: 150 meters
Case and Crown
The iconic Seiko 6390 series comes with two variants, featuring a thick stainless steel cushion and a slimmed-down face. Although it comes with a large size, approximately 45mm in width, 48mm in length, 13mm in thickness, and22 mm in lug width, owners still claim that it is, indeed, a very comfortable timepiece to wear. The original factory version of its case finish displays a circular brushing on the upper part and features a straight brushing on the bottom part. But one part that has always been remarkable is its stunning and classy sharp line, defining its top brushed portion. With its large size case for a vintage model, there is no doubt why it is still the most favored dive watch among most Seikoholics and watch aficionados across the globe. 
On the other hand, the Seiko 6309's best feature to offer is its crown, which is solidly screwed down for maximum water resistance. This is, in fact, its huge distinction from the previous 6105 models, which wasn't securely screwed down. Its crown pops up a bit due to the fact that it is attached using a two-piece spring-loaded stem and is made thickly and horizontally attached to the watch's case. But just note that its crown tube is not replaceable, so ensure not to strip it out as it seems not to be fixed.
Bezel
Each Seiko 6309 dive watch features 60-click, bi-directional and non-locking bezel. It displays a black-painted aluminum bezel, a silver marking, and a deep-set round pip. Despite that, some claim to have seen the version of 6309-704X divers watch featuring blue-and-red "Pepsi" bezels that remain uncorroborated. Seeing a Pepsi bezel on any 7040/7049′ diving watch is assumed to be modified by its owner. One good thing about it is the bezel in the Seiko 6309 dive watch is removable, and you can always have the option to replace or upgrade it to the ones you prefer.
If you take time to look closely at the bezel's bottom part, you'll discover that the original bezel isn't flat. But instead, it features a tiny dimple/incision which is positioned on the centerline of its rectangular grips, which sometimes you cannot find in the aftermarket bezels. 
Caseback

Another much expected top-notch feature of the Seiko 6309 dive watch that deserves to be part of this rundown is its caseback, which is crafted from the brand's standard 6-slot screw-type caseback variation. Boasting a stainless steel material and displaying a stamp of the whole size of Seiko's tsunami wave image located at the center of the caseback, its quality is always guaranteed to offer a life-long service. You can identify if that vintage Seiko 6390 dive watch you own is authentic if there are carved words around the wave's image stating; ST. STEEL 6309-7290 (or 7040 depending on which model you want to own) SEIKO (spelled in larger font) WATER RESIST.
The early version of the 6309 dive watch, perhaps from 1976 to 1980, features the word "Japan A", followed by water resistance. The next version from 1980 to 1988 displays an "A" instead of the previous Japan A. But whichever case, a Suwa logo should be engraved next to these words.
Dial

Even at first glance, you can already distinguish how stunning the Seiko 6309 dive watch is, boasting power and practicality with its black dial. Anyone can easily identify its face as it is dressed up by round hour markers, bell-shaped hour markers displayed at 6 & 9 o'clock, and a two-piece rounded triangular 12 o'clock marker separated by its inverted cross. Instead of featuring a 3 o'clock marker, it displays a rectangular day and date window. 
When taking a closer look, you'll discover that its day/date wheel not only features a combination of English and Spanish, but is also available in English/French, English/Arabic, and many other combinations. Of course, you'll also find a combination of English/Kanji as its original version was released for the Japanese market. On Seikos 6309-7040's & 7049 dive watch versions, there are written words "SEIKO AUTOMATIC" displayed on its whitish silver-hued under the 12 o'clock marker, followed by WATER 150m RESIST painted in red-hued. The earlier version of the 6309 dive watch released around 1976-1980 features a Suwa logo below those words and just the upper part of the 6 o'clock marker. Other versions of the Seiko 6309 released around 1980-1988 do not feature a Suwa logo, but instead, it features a dial marked "HONG KONG," a caseback with a visible A mark.
Furthermore, there are five specific dial codes available, depending on which market the watch was originally created, whether it's for Japan, America, or any other country. These five codes are classified into:
The first dial code of 6309's dive watch version, where the ones created for the Japanese market, read as JAPAN 6309-704LT. It features a Suwa symbol located above the watch's 6 o'clock marker.
The second dial code was created for the American market and read as 6309-704X T (Suwa Symbol) MOVT, AND DIAL JAPAN CASED HONG KONG. It is engraved stretchy from the watch's 7 o'clock marker up to its 5 o'clock marker.
There is also a shortened version read as 6309-704X T (Suwa symbol) MOVT JAPAN CASED HONG KONG.
The next available dial code is the shortened version of Japan, and the Hong Kong dial code reads as 6309-704L T (Suwa Symbol) MOVT JAPAN CASED HONG KONG.
The last available dial code is created for the Singapore market read as 6309-704 M T (with a very small Suwa symbol at the left).
Crystal and Hands
Equipped with a Hardlex crystal and crafted flat, the Seiko 6309 dive watch's crystal is, indeed, impressive. It is crafted very well to protect the timepiece's dial from any scratch or possible damage. Considering the timepiece age, sometimes it is difficult to find an original Seiko crystal in the aftermarket. But still, with continued searching, you can always find an authentic one so rest assured you can get the best dive watch in the best condition. Also, knowing that regardless of age in the watch industry, it can still offer highly commendable features and functionalities for a dive watch.
Meanwhile, each hand of the 6309 diver watch is crafted from metallic materials and displays a silver-hued in particular. You'll find that its hour and minute hands feature a huge lumen inserted in the middle of the watch. Its second hand only features a lumen dot displayed nearby its outer finish. The original version of the 6309 dive watch's hand featured a completely flat shape and very sharp point edges resulting from its accurate stampings.
Movement
Aside from mentioned above, another great feature the Seiko 6309 offers is its first-class movement, the brand's workhorse 17 jewels 6300 automatic series caliber. Each variant features a similar movement, and note that this type cannot be manually wound. It has a crown-operated enclosure to its day/date calendar mechanisms. It is highly noted for its accuracy and precision to offer even in the most challenging environment underwater. What's more, this Seiko dive watch offers up to 47 hours of power reserve.
Bracelet/Strap
Originally, the Seiko 6309 dive watch featured a black, straight rubber bracelet. Available in long and short straps crafted from silicone rubber compound, the first one features 11 adjustment holes, and the Seiko tsunami wave is displayed next to its holes stamped inside a deep-set circle near its rounded tip. The latter features a 3 vent separated by its flat ridges, 3 offset rows, and unattached rectangular strap-guard. Both ends are equipped with a small traditional bucket set, where you can also find its underside words like SEIKO.ST.STEEL.JAPAN.Z.
Today, there are numerous replacement rubber straps from different sources, which is also a great option. All you need to do is carefully search for an authentic vintage Seiko 6390 dive watch. Even if its production had stopped long ago, back in 1988, it is still a favourite among counterfeiters because of its massive popularity. 
Price Point
The main highlight of the Seiko 6309 dive watch series is its affordable price, considering it's a sought-after vintage model among watch enthusiasts. Just ensure you're getting an authentic piece to have an actual experience of all of the outstanding features it offers. For its Seiko 6309-7040 version, you can purchase it for only $ 392 USD, while the Seiko 6309-7290 is available for $139 USD. Other variants are also inexpensive, so if you're looking for a high-caliber vintage dive watch, opting for this series is a great deal. 
Final Thoughts
While there is a wide variant of dive watches in the Seiko collection, particularly with its Seiko Prospex collection, nothing still beats its vintage series of the Seiko 6309 dive series, particularly its 6309-7290/7049 version. These dive watches showcase the exact definition of durability and functionality with their impressive attributes. There should be no question why many watch collectors covet this iconic dive watch from the Seiko 6309 series and why it still remains a favourite in the vintage realm.