Watch Guide
A Closer Look at the Seiko One Piece Watches
Oct 26, 2022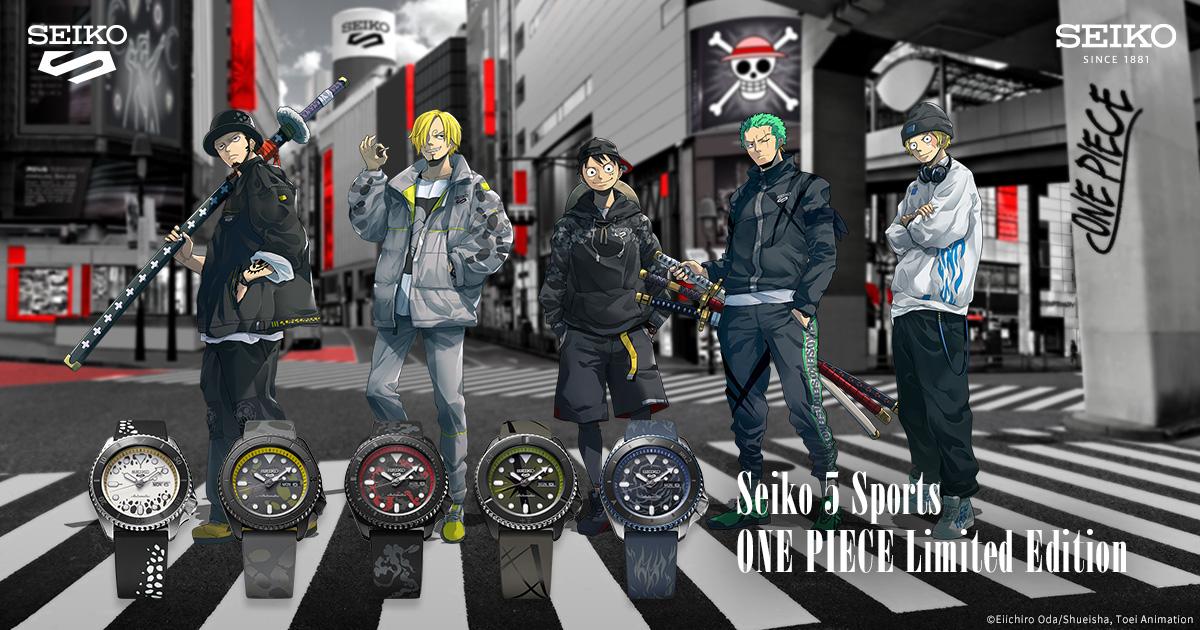 For decades, watches have become increasingly prevalent in pop culture. Many iconic names that have brought entertainment to the masses have teamed up with certain watch brands to create a unique merchandising product that both fans of the franchise and watch lovers would delight in having. Some famous examples include popular movie and gaming franchises such as Seiko Pokemon series, the Citizen Star Wars watches, and more. 
In this article, we will be looking at Seiko's collaboration with one of the biggest anime and manga series ever: the Seiko One Piece. Consisting of five timepieces that wonderfully encapsulate the most prominent characters in the franchise such as Luffy, Zoro, and more, the Seiko One Piece watches are perfect pieces of merchandise that fans of the anime and manga will love to own. With their subtle character-inspired designs, the Seiko One Piece watches double as great fan accessories and very reliable timekeepers. 
Without further ado, let us delve deep into the Seiko One Piece collection and everything it has to offer. 
Seiko's History of Pop Culture Collaborations 
Of all the brands in the watch industry, Seiko is one of the companies best known for collaborating with various big pop culture names. For instance, Seiko has teamed up with the popular arcade game Street Fighter and the iconic anime series Naruto. 
Most of Seiko's collaborative efforts are housed under the brand's Seiko 5 Sports line, and the Seiko One Piece is no different. Established more than 50 years ago, the Seiko 5 Sports offers rugged, casual watches that are great for everyday use. The name "5 Sports" stands for the five key features that epitomise this product line: automatic movement, day-date display, water resistance, recessed crown, and durable case and bracelet. 
Introducing the Seiko One Piece Watches
In late 2021, Seiko signed a partnership deal with TOEI Animation, prompting them to produce limited edition One Piece watch merchandise under the brand's 5 Sports collection. This collaboration commemorates One Piece's 1,000th episode – an incredibly rare feat for animes and one that was a long time coming for One Piece, which debuted in July 1999. 
The Seiko One Piece series offers five distinct timepieces. Each model represents the main characters of this long-standing anime series through design elements inspired by them. Tailored for modern streetwear, these Seiko One Piece watches also show off an attractive, colourful aesthetic that is very reminiscent of the show's animation style. Let us take a look at each of the five Seiko One Piece models now: 
Luffy

(Seiko Watches) 
Monkey D. Luffy, otherwise known as Captain Straw Hat Luffy, is the main character of One Piece. He is on a lifelong journey, searching for the legendary "One Piece" of treasure on his quest to become the Pirate King, giving him the most freedom in the world. To celebrate this character, Seiko released the Seiko 5 Sports One Piece Limited Edition Ref. SRPH65. 
This Seiko One Piece watch comes in a standard 42.5mm stainless steel case that measures 13.5mm thick, coupled with a silicone strap. The watch case and bracelet both come in black, giving this watch a very sleek, understated look. Seiko based the overall design of this watch on the released steam that appears whenever Luffy utilises his weapons, the Gear. As a result, the dial and strap of the watch are both patterned with smoky gray steam that curls all over the watch, adding to the watch's sense of mystique. 
Fixed to the top of the case is a black-tone bezel. The elapsed time scale on the bezel tells a story, too. As we move along the scale in a clockwise position, you will notice that its subtle gray indicators gradually increase in size. This is synonymous with how Luffy's strength increases as he moves up in Gears. A sizable screw-down crown is also placed, quite unusually, at the 4 o'clock position of this watch. As a simple and more muted way of paying tribute to Luffy, this crown bears an engraving of the scar under Luffy's left eye.
As mentioned, the watch's black dial shows off a mysterious steam design. The red and gray hues of the steam pattern make for a striking and incredibly stylish combination which would not look out of place when paired with your daily streetwear. This dial is also adorned with thick geometric hour indices, large arrow hands, and a day-date window at 3 o'clock. 
Flipping this Seiko One Piece watch over, you will see a translucent red caseback. It is embossed with Luffy's signature mark straw hat, along with a famous quote from him, "I'm gonna be… king of the pirates!". This cashback offers wearers a clear view of the in-house Seiko 4R36 movement inside. This automatic movement has a solid 41-hour power supply. 
The Seiko 5 Sports One Piece Limited Edition Ref. SRPH65 is available for about $360 USD. It comes with a special collection box that displays Luffy's distinct features, which are also used in the watch's design. This box also includes a card which allows users to download an original illustration created for this collaboration. 
Zoro 

Next up, we have the Seiko 5 Sports One Piece Limited Edition Ref. SRPH67, which serves as a homage to the character Roronoa Zoro. Also known as the Pirate Hunter, Zoro is a fighting member of the Straw Hat Pirates and one of their two swordsmen. Aside from being one of the most powerful Straw Hats, this character is also known for his signature swordsmanship style, the Master of Santoryu. 
Zoro's Seiko One Piece watch is presented in a 42.5mm black-tone stainless steel case and a military green silicone strap. The strap is marked with gray slashes, in recognition of Zoro's status as an honorable swordsman. On top of the watch case is a matte black bezel which is peppered with design elements inspired by Zoro. For instance, there are three V-shaped scales of different sizes at 4, 8, and 12 o'clock, meant to mimic the appearance of Zoro's three iconic katanas. You can also find the kanji for ten, thirty, and fifty scratched elegantly onto the bezel. They reference Zoro's special power, the Haoshoku Haki. 
The dial of this watch shows off a dark green sunray finish that blends well with the black and military green exterior. It is furnished with an image of a sword slashing with Zoro's Arms Haki attack, along with luminous geometric hour indices, thick arrow hands, and a day-date display. Zoro's mastery of the sword is also acknowledged through the watch's crown, which is engraved with the emblem of a sword's eye-piercing.
On the underside of the watch is a caseback made of translucent green Hardlex crystal. It is etched with Zoro's vow, "I'm going to be the world's greatest swordsman!", along with graphics inspired by the Wado Ichimonji sword that Zoro inherited from his friend Kuina. This caseback guards the watch's in-house Seiko 4R36 automatic caliber, which comes with a 41-hour power reserve and a solid 100-metre depth rating. 
As another limited edition piece, there are only 5,000 pieces of the Seiko 5 Sports One Piece Limited Edition Ref. SRPH67 available worldwide. You can buy this watch for just $360 USD. 
Law

Third on the list is the Seiko 5 Sports One Piece Limited Edition Ref. SRPH63, which is based on the character Trafalgar Law. As part of the Worst Generation, Law can manipulate the configuration of anything using his power, the "Op-Op Fruit". 
This Seiko Ref. SRPH63 has a very quintessential appeal with its classic black, silver, and white colourway. It sports a 42.5mm silver-tone stainless steel case and a black silicone strap. Both the silicone bracelet and the watch's dial show off a pattern of patchy dots, which is inspired by Law's signature black and white hat. 
The white dial of this watch also has a textured finish, further mimicking Law's hat, which is made of regal, soft ermine fur. This dial contains geometric hour indices, large arrow hands outlined in silver, and a day-date aperture at 3 o'clock. The only hint of colour on this Seiko One Piece watch comes from the bright golden chapter ring placed on the rim of the dial. Marked with a black minute scale, this chapter ring comes in the same shade of yellow gold as Law's favourite shoes.  
On the right side of the watch, you can also find a stout screw-down crown. This crown has a simple cross logo, which recalls the scabbard pattern of Law's favourite sword. The back of this watch case is sealed shut by a layer of translucent gold Hardlex crystal. This caseback showcases the mark of Corazon, Law's benefactor, along with Law's well-known quote, "I'm fulfilling someone's long-held desire!!" A Seiko 4R36 automatic movement can be spotted behind this caseback. It provides a 41-hour power supply and a stop-seconds function, so you can reset the watch's time more accurately. 
With only 5,000 pieces available, this limited edition Seiko One Piece watch is priced at $360 USD. 
Sanji

Coming up next is the Seiko 5 Sports One Piece Limited Edition Ref. SRPH69, which pays tribute to Sanji. Sanji is the third son of the Vinsmoke Family who dreams of finding the mystical ocean All Blue. As the cook of the Straw Hat Pirates, he also dons the Raid Suit to fight alongside his teammates. 
This Seiko One Piece watch utilises a 42.5mm black-tone stainless steel case and a comfortable black silicone strap. Both the watch's strap and dial are subtly embossed with a pattern of large footprints, in recognition of Sanji's powerful kicking attacks. While the strap bears only simple black prints, the dial, on the other hand, offers a little more variety, with its prints coming in black and military green shades. 
The dial also follows a classic Seiko 5 Sports layout, consisting of geometric hour indices, luminous arrow hands, and a day-date complication at 3 o'clock. On the rim of the dial, you can also find a vibrant yellow chapter ring. Inspired by Sanji's bright yellow hair, this chapter ring adds a burst of energy to this otherwise dark-toned watch
. 
As with the previous Seiko One Piece offerings, this watch's crown also bears an emblem representative of its character. In this case, the crown is etched with a motif of Sanji's distinctive, curling eyebrow. The translucent yellow caseback of this timepiece is also marked with the logo of the Pirate Cooks and Sanji's battle cry, ""I'm going to find the ALL BLUE."
The Seiko 5 Sports One Piece Limited Edition Ref. SRPH69 retails at $360 USD. 
Sabo

Finally, we have the Seiko 5 Sports One Piece Limited Edition Ref. SRPH71. This blue-themed watch takes its design cues from Sabo, the sworn brother of notorious pirates Luffy and the late Portgas D. Ace. This character is also the Revolutionary Army's chief of staff and is second only to the Supreme Commander and the 'World's Worst Criminal'  – Monkey D.Luffy's father – Monkey D. Dragon. 
This Seiko One Piece watch uses a 42.5mm stainless steel case and a stylish blue silicone strap. With its fairly standard size, this timepiece weighs just 103 grams in total, so you will not have any trouble toting it around all day. The strap and dial of this watch also show off gray flame detailing. Not only is this a tribute to the signature move Sabo inherited from Ace, "Flame Fist", but it also gives the watch a very modern, fashionable look that pairs incredibly well with everyday streetwear. 
The dial comes in dark blue and consists of luminous geometric indices, sizable arrow hands, and a day-date window. Apart from that, this Seiko One Piece model is also equipped with a unidirectional elapsed time scale bezel. While the bezel itself comes in matte black, its bottle-cap sides showcase a metallic blue hue that adds to the watch's cool vibe and is in keeping with the blue-black colourway of the timepiece. The words "No. 2" is also scratched into the bezel, referencing the fact that Sabo is second-in-command of the Revolutionary Army. 
Flipping this Seiko One Piece watch over, you will see a translucent blue caseback, which allows wearers to admire the Seiko 4R36 Caliber ticking inside. This movement can run for up to 41 hours when fully wound. Printed on the caseback is an image of Ace's old hat, along with Sabo's words "It's up to us… …to continue living out his will!!!" Finally, the crown of this watch is engraved with a flame motif, representing the "Flame-Flame Fruit" Sabo received from Ace. 
This Seiko One Piece Sabo watch costs approximately $360 USD. 
Final Thoughts
Following the success of their partnerships with Naruto and Street Fighter, Seiko has scored another collaboration with the One Piece franchise. These Seiko One Piece timepieces show off detailed, character-based designs and stylish aesthetics that go perfectly with everyday streetwear. As such, they are not just wonderful fan merchandise, but also lovely accessories that will surely elevate your daily wear. 
If you consider yourself a fan of the One Piece saga, then getting one of these watches under the Seiko 5 Sports collection is a must. Just make sure to act fast before these limited edition Seiko One Piece watches sell out!
Header and product images by Seiko Watches.
If you are interested in more anime-inspired offerings from Seiko, check out its line of Naruto and Boruto watches here!