New & Feature
JLC Reverso: A Complete Guide to the Reversible Watch
Aug 23, 2020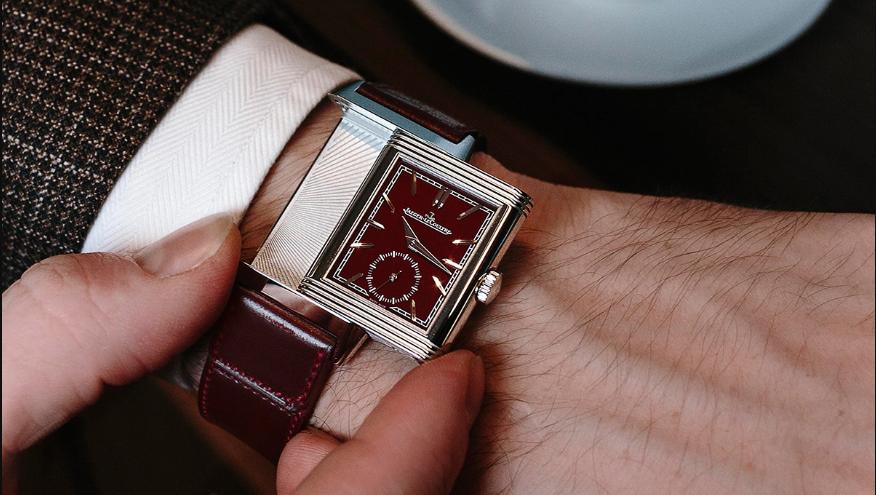 The classy rectangle shape isn't the only thing that makes the JLC Reverso stand out. Neither is its name, which is synonymous to being "the watchmaker's watchmaker". Although these things alone are enough to make the watch great, what caught the people's attention is its reversible dial. Yes, you can flip the dial over to reveal the other side of the watch!
Read on to find out what prompted Jaeger-LeCoultre to put this unique feature on the JLC Reverso.
A Brief History of the JLC Reverso

A Watch Fit for Polo Matches
You would be surprised to know that one of the most famous dress watches is actually not a dress watch. At least, not originally. In fact, the JLC Reverso was considered a sports watch. Despite its elegant looks, it was first produced in the 1930s for polo players to wear during a match.
Back in the day, British Army officers in India played polo to pass the time. As we all know, the sport can be brutal at times. Players often find themselves accidentally smashing the crystals of their wristwatches.
During one particular polo match, these British officers challenged César de Trey, a watch collector, to devise a watch that could withstand a whole polo match. César de Trey then collaborated with Jacques-David LeCoultre and designer René-Alfred Chauvot to design and create the watch.
The result was surprisingly impressive. Instead of using a protective grill (common protection used for WWI watches), they designed a reversible case that displays the caseback of the watch. With this, the polo players can use the reverse side in order to protect the fragile crystal and dial of the watch.
Sporty Yet Elegant
As mentioned above, the JLC Reverso is sometimes mistaken as a dress watch. It's mainly because the watchmaker intentionally designed it with class in mind so the officers can still wear it with their dress uniforms.
However, by today's standards, the JLC Reverso's Art Deco style is seen as a perfect match with either a suit or a tuxedo. In fact, it is even regarded as one of the most elegant wristwatches in the market.
If you're shopping for a new watch to wear for special occasions, here are a few models of the Reverso that you should check out.
Best JLC Reverso Models

1. JLC Reverso Classic Small
Why Is It Good?
The JLC Reverso Classic Small stays true to its name — 100% classic. Indeed, wearing this timepiece will make you feel like one of those British officers who first donned the Reverso. In addition, it comes in a small case, just as how people rock their watches in the past.
Its timeless dial features a vertical satin finish at the top part. Meanwhile, the minute track is subtle and gives off an elegant vibe. Its hour markers are also made with black Arabic numerals in a simple font. All of these are set against an opaline background.
Completing its look is a blue leather strap. It boasts an alligator pattern that goes well with the whole ensemble. Although originally a sports watch, the JLC Reverso Classic Small is the perfect companion to wear with tailored suits if you want to emulate a vintage look.

2. JLC Reverso Classic Large
Why Is It Good?
Do you adore the classic look of the Reverso but hate its size? Fortunately for you, they have an upsize of your favourite watch — the JLC Reverso Classic Large. The Reverso is traditionally small, but Jaeger-LeCoultre refuses to stay outdated so they invoked their beloved model in a 45.6mm case.
When it comes to the dial, it looks exactly like the classic Reverso. It bears that same Art Deco-inspired design that gives off that classy vibe. The centre part also contains a subtle diamond-pattern, making it more visually appealing.
The only difference between this and the Reverso Classic Small is the strap. While the smaller model comes in a light blue one, the large model dons a black leather strap. To conclude, this watch is perfect for the classy gentleman who prefers a bigger watch.

3. JLC Reverso One Quartz
Why Is It Good?
The JLC Reverso One Quartz offers a more feminine look. In fact, it is inspired by the first Reverso models made for women back in the '30s. With that said, it has a thin and elongated case with delicate features.
Its dial comes with a sunburst pattern that is only noticeable if you look closely. Apart from that, its Arabic numeral hour markers give the illusion that it's drawn manually by hand. This small detail fairly lends a large amount of charm to the watch.
As its name suggests, the Reverso One Quartz comes with a battery-powered movement instead of a mechanical one. The switch to a quartz calibre ensures the watch's accuracy and precision when it comes to timekeeping. It is also easier and cheaper to maintain compared to its mechanical counterparts.

4. JLC Reverso Classic Small Duetto
Why Is It Good?
With the entry of JLC Reverso Classic Small Duetto, Jaeger-LeCoultre took advantage of the watch's reversible feature by offering not just one, but two faces! This attribute was considered a marvel when it comes to the world of watchmaking.
The first face features a classic Reverso design like the other models in this list. It bears that Art Deco style with minimalist lines. At the centre, its dial has a guilloché pattern that adds an elegant touch to it.
When you flip it over, the watch transforms into something more dramatic. Instead of the pearl white background, you get a black one with a subtle sunburst pattern that's hardly noticeable. Most of the hour markers are gone, saving the 12 and 6 o'clock positions. In addition, the rail track minute tracker is replaced by a solid silver circle. Lastly, a few pieces of gems are set at the top and bottom of the case.
Like the other models, this one comes with a blue alligator leather strap. It's rather ideal for people who want to have two watches in the body of one.

5. JLC Reverso Classic Medium Small Seconds
Why Is It Good?
The JLC Reverso Classic Medium Small Seconds somewhat resembles the other classic models, thanks to its Art Deco style. However, the only difference is the added small seconds feature at the bottom of the dial.
In spite of its miniature size, the small seconds sub-dial is quite easy to read. It also bears Arabic numerals as the seconds marker. And like the minute and hour hand, the second hand also comes in a metallic blue colour.
Another unique thing about this model is that you can purchase it with a specially made leather strap from the Fagliano Collection. It was designed by celebrated Argentinian bootmakers and is known for its hand-sewn leather and its tone-on-tone stitching.
All things considered, the JLC Reverso Classic Medium Small Seconds is perfect for people who want a refreshing change on the design brought about by this model's unique small seconds dial.

6. JLC Reverso Tribute Small Seconds (Navy Blue)
Why Is It Good?
Looking for a bolder dial colour? You should check out the JLC Reverso Tribute Small Seconds (Navy Blue). Instead of the usual white, this one boasts a navy blue dial that appears as elegant as the other models. In fact, it was inspired by the very first Reverso timepiece that was created in 1931.
Unlike the other watches, the minute tracker of this model runs around the perimeter of the dial. This gives it a simpler yet sophisticated look. Apart from that, the small seconds sub-dial comes in a round shape instead of the usual rectangle. On top of that, the hour markers are polished and plated with rhodium to complement the blue dial.
Like the previous Reverso models in this list, the strap of the JLC Reverso Tribute Small Seconds is part of the Fagliano Collection. It comes in a dark blue hue and an alligator pattern for that added dash of elegance. But do note that it's not all for show. The strap also provides comfort and flexibility so you can don the watch for hours.

7. JLC Reverso Tribute Moon
Why Is It Good?
Jaeger-LeCoultre also made something special for lovers of the moon phase complication. The JLC Reverso Tribute Moon was inspired by the original 1931 model but with the added moon phase and date indication.
Its dial appears in silver with a grained finish. And to add a pop of colour, its applied hour markers come in metallic blue. Meanwhile, at the 6 o'clock position, you can see a moon phase dial that's entirely hammered by hand. It also bears a hand with a crescent moon tip that indicates the date.
Additionally, it brings in the Duo concept! This innovation features a single movement that powers two dials, thus having two time zones. With that said, the second time zone can be seen on the reverse side of the dial. It retains a navy blue background with a  "Clous de Paris" guilloché pattern. At the bottom, you can see a day/night indicator.
Last but not least, it comes with a navy blue leather strap that matches both faces of the watch. Its alligator pattern definitely adds an extra touch of class and elegance. The JLC Tribute Moon will definitely win the hearts of enthusiasts who love complication watches.

8. JLC Reverso Classic Medium Thin
Why Is It Good?
JLC offers extra finesse with the introduction of Reverso Classic Medium Thin. The face bears the signature Art Deco lines that are similarly existent on other classic Reverso models. Its Arabic Numeral hour markers are quite easy to read while the blue hands add a pop of colour.
Unlike the other models, this watch features a stainless steel link bracelet. It boasts different materials that come with various finishes and reflections. But if you're not into steel bracelets, JLC also made calfskin leather straps specifically for this model.
Under its slim case lies the Jaeger-LeCoultre Calibre 657. It's a battery-powered quartz movement that consists of 43 parts. In addition, it is one of the brand's thinnest movements at only 2.15mm. This allows the watch to maintain its slim case.
To conclude, this watch is perfect for occasions that require a strict dress code. Its thin case would easily fit under your dress shirt's cuff. 

9. JLC Reverso Tribute Tourbillon
Why Is It Good?
The JLC Reverso Tribute Tourbillon is heaven-sent for enthusiasts of watch complications. It combines two outstanding watchmaking techniques and placed in a single, sophisticated body.
Firstly, it houses Jaeger-LeCoultre's own Duo concept. This simply means that the watch carries two distinct dials with two different time zones. The front one displays a sunray blue dial and is complemented by silver hand-applied hour markers and a set of dauphine hands. Meanwhile, the flying tourbillon at the 6 o'clock position is a surefire treat to look at.
The flying tourbillon spectacle even continues when you flip the face over. Just like the main face of the watch, the reverse side is a marvel for watch enthusiasts. To demonstrate, it boasts a grained texture and Geneva stripe finish. It also houses a few other iconic functions — a day/night indicator at 2 o'clock, a second timezone, and a small seconds tracker.
Indeed, the JLC Reverso Tribute Tourbillon is a great display of the brand's watchmaking excellence. This model will undoubtedly impress even the most snobby watch fans.

10. JLC Reverso Small Seconds (Burgundy)
Why Is It Good?
Another model that takes on a bold colour is the JLC Reverso Small Seconds in Burgundy. Instead of the usual white, it bears an intriguing wine-red dial. Its deep red hue will certainly attract anyone who comes near it.
This model retains the silver hand-applied indices and dauphine hands. Their colour is a nice compliment to the boldness of the red. Meanwhile, the 6 o'clock position has a small seconds sub-dial.
An oxblood leather strap exquisitely completes the look. If you look closely, its hue is somewhere between red and brown. Thus, it offers a good balance between standing out and keeping it classy. Indeed, this watch is perfect for those who want to deviate from the norm without being too loud.
Final Notes
The JLC Reverso is a truly magnificent spectacle when it comes to watchmaking. Its unique construction, finesse, and complication are not something you typically see elsewhere. Paired with an interesting history, the Reverso is no doubt a conversation starter. With that said, having a JLC Reverso in your watch arsenal will never be a mistake.
If you love science fiction movies, check out our review of the Interstellar Watch!
Photo credit: Featured | 1 | 2 | 3 | 4 | 5 | 6 | 7 | 8 | 9 | 10