New & Feature
Grand Seiko SBGA413: One Of The Best Spring-Inspired Watches
Jan 25, 2022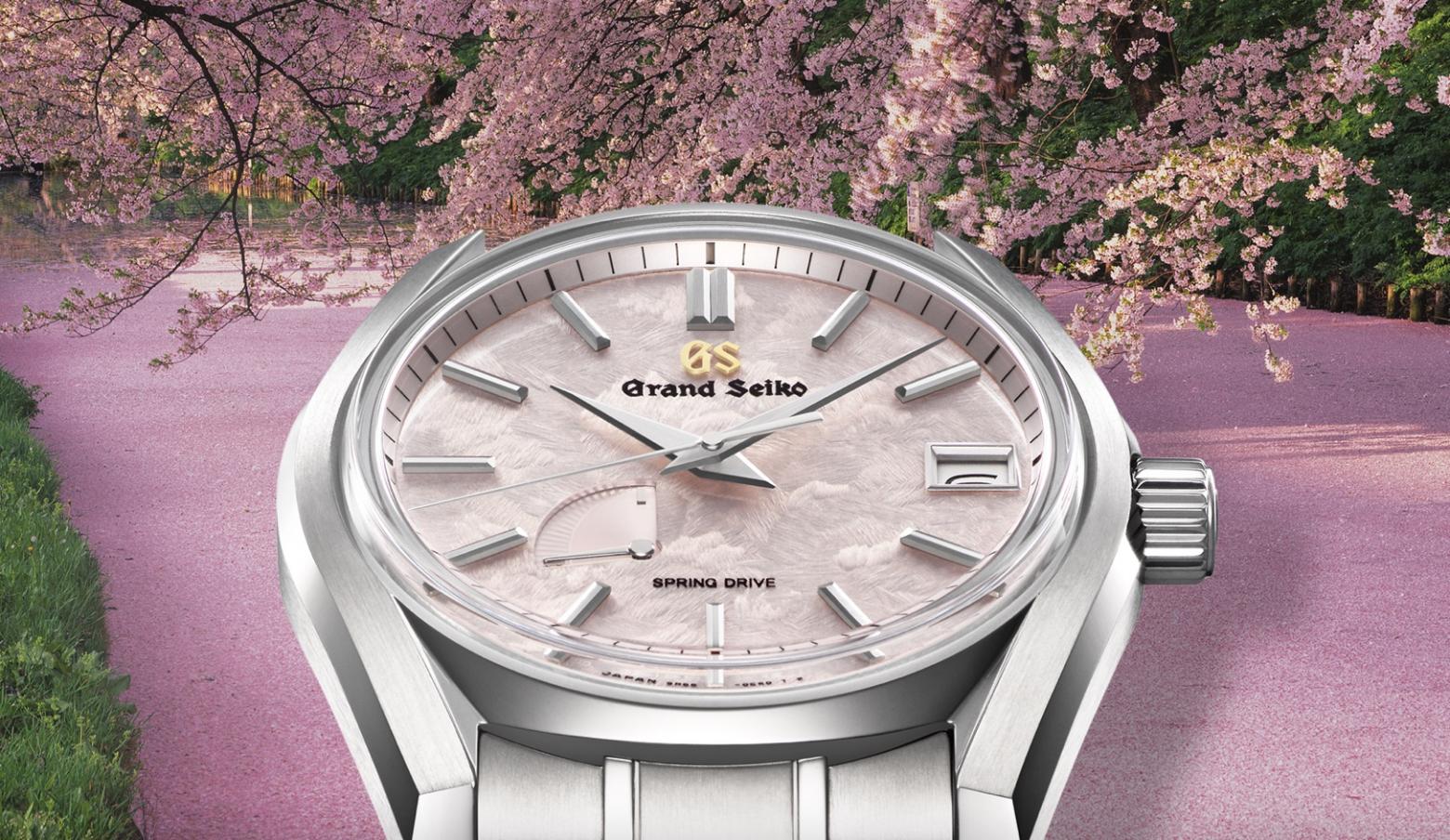 Grand Seiko is a legendary Japanese brand, well-known in the watch community for having an amazing selection of beautifully-crafted dress watches in its arsenal. One thing that especially intrigues Grand Seiko fans is how the brand frequently uses whimsical, captivating sights of nature as the inspiration behind its models. The model that is the focus of our article is no exception.
Today, we will be taking an in-depth look at the Grand Seiko SBGA413, also known as the Grand Seiko Shunbun, which draws inspiration from the vibrant image of springtime. Like the other classy watches under Grand Seiko's flag, the SBGA413 is a perfect representation of excellent, unparalleled Japanese craftsmanship and creativity. Without further ado, let us go through everything the Grand Seiko SBGA413 has to offer and see what the hype is all about.
The Concept Behind The Grand Seiko SBGA413 
Before we go into the Grand Seiko SBGA413 proper, let us briefly discuss the concept behind this watch. This Grand Seiko Shunbun is actually one of four Japanese Seasons Special Edition models, released under the brand's Heritage Collection. Each of these four watches was specially designed to reflect a specific season, with the range as a whole epitomising the nature of time and its passage. Indeed, when you look at all four models side by side, you will be taken on a visual journey as the design of each watch changes from one season to another.
A Closer Look at the Grand Seiko SBGA413 Shunbun

The Grand Seiko SBGA413 is also known as the Grand Seiko "Shunbun" — this word refers to the vernal equinox, which marks the opening of spring. As you might guess from its name, the SBGA413 was designed with the image of the exquisite Japanese spring in mind. It is a very specific phenomenon that can only be replicated by those who have experienced it. The team of Grand Seiko craftsmen that developed this watch envisioned a beautiful spring landscape of pure, blooming sakura flowers, or cherry blossoms. This image was then brought to life through the Grand Seiko SBGA413.
Case
The Grand Seiko SBGA413 comes in a 40mm case made of high-intensity titanium, which guarantees superb durability and resistance against scratches and impacts, while also being very lightweight. It has pretty standard proportions, with a thickness of 12.8mm and a lug-to-lug distance of around 47mm. As such, this is a watch that will fit comfortably on wrists of every size, so anyone can enjoy wearing the SBGA413.
The design of this case is actually a modern-day reinterpretation of the iconic Grand Seiko 62GS, which was released back in 1967. It is characterised by the wide dial opening, the lack of a bezel, and the lovely polished finish achieved through Seiko's famous Zaratsu polishing technique. This Zaratsu-polished finish is a Grand Seiko signature, giving the SBGA413 an unmistakable lustre that you simply cannot take your eyes off.
This model also features a see-through sapphire crystal caseback, which has the image of Grand Seiko's emblem, a bold golden lion, printed on it. Underneath this lion, you can see the watch's movement at work. Protecting the watch face is a luxurious, box-shaped sapphire crystal, which is treated with layers of anti-reflective coating on both sides.  This prevents any light glares from distorting the watch face, thus improving its readability.
Bracelet 
Moving on, the Grand Seiko SBGA413 comes with a three-link bracelet made of the same high-intensity titanium material as the case. This bracelet also shows off the same Zaratsu-polished finish, so it has an impeccable and luxurious sheen. Aside from this, the bracelet also comes with a three-fold clasp with a push-button release, which allows you to quickly and easily take off this watch while also ensuring that it stays securely on your wrist. All of these elements greatly contribute to the SBGA413's lightweight profile, its hypoallergenic properties, and its versatility.
Dial

Now, let us talk about the star of the show: the SBGA413's intricately-crafted watch face. As mentioned earlier, this model is inspired by springtime in Japan. It features a delicate, textured light pink dial that almost seems to resemble a pattern of soft clouds. This gorgeous dial is based on an image of cherry blossoms falling on water, which then creates a gorgeous flower raft known as hanaikada in Japanese. The exquisite design was crafted to represent the fleeting sakura season in Japan that comes and goes in the blink of an eye.
Aside from this, the dial is also furnished with elegant silver accents, including slender dauphine hands, thin hour indices, a date window at 3 o'clock, and a power reserve indicator that is made to look like a fan. These silver elements blend in perfectly with the dial's gentle pink backdrop, creating a very harmonious, calming watch face.
Movement
Like the other watches in the Japanese Seasons Special Edition line, the Grand Seiko SBGA413 is equipped with a  powerful and well-crafted 9R65 Calibre, which was fully assembled in the brand's Shinshu Watch Studio. This automatic movement incorporates the brand's ground-breaking Spring Drive technology, giving it an unparalleled accuracy rate of +/-1 second per day. Held together by 30 jewels, it comes with manual winding abilities and a whopping 72-hour power reserve. Indeed, this masterful, sophisticated Grand Seiko Calibre is respected as an impressive technological feat in the watch industry.
Price
The Grand Seiko Shunbun SBGA413 retails at around $6,600 USD, which is a very fair price for such a beautiful timepiece. With this watch, you are getting so much more than just a luxury dress model with excellent specifications. Rather, owning the Grand Seiko Shunbun means that you are also acquiring a well-crafted product that tells a beautiful story and is a part of Grand Seiko's rich heritage.
Should you get it? 

If you are still not fully convinced, here are some of the reasons you should definitely consider adding the Grand Seiko Shunbun SBGA413 to your collection.
Beautiful Concept. One of the most unique things about the SBGA413 is the concept behind it. While nature-inspired timepieces are not really new, no one can do them the way Grand Seiko does. The brand is able to bring its ideas and designs to life in a poetic manner that just hits the sweet spot. In addition, there are not many watches out there that have so exquisitely employed a cherry blossom concept, making this timepiece truly one-of-a-kind. If you value both functionality and artistry, you cannot go wrong with the Grand Seiko Shunbun. 
Pinnacle of Japanese Craftsmanship. This point goes hand-in-hand with the previous one because the entire watch, from its concept to the actual product, is truly a representation of unparalleled Japanese craftsmanship. On top of using high-grade materials and a detailed watchmaking process, Grand Seiko also incorporates Japanese culture and art into the very essence of the SBGA413, from broad themes like its sakura concept to little details like its fan-shaped power reserve indicator. The SBGA413 is perfect for those who want a watch with both excellent specifications and meaning.
Interactive Experience. Another thing that makes the Grand Seiko SBGA413 different from other watches is that even just looking at it feels like an interactive experience. Every time you see the dial, you can't help to be reminded of the spring season in Japan. It is an intricate and well-crafted design that can simply summon the image of the hanaikada landscape into your mind, even if you have never experienced it first hand. This makes the SBGA413 a true work of art rather than just a simple time-telling tool.
Sophisticated and Timeless Design. Despite being inspired by something so specific, the Grand Seiko Shunbun offers a classic design that is bound to transcend time. The SBGA413 is something that you can pass to future generations and it would still be able to retain its aesthetic value. With its quintessential design, 50 years down the line, this timepiece would still be perceived as just as elegant and intricately-crafted as it is now. 
Worth The Price. Lastly, one of the reasons why you should definitely get the SBGA413 is because it comes at a good price for such an amazing timepiece. For around $6,600 USD, you can get your hands on one of the artsiest and most detailed watches in the market. It also comes from a highly-regarded luxury brand that is at the forefront of watchmaking. What more could you ask for? 
Alternative Models 
While the Grand Seiko Shunbun SBGA413 is a lovely watch, it may not be easily accessible to some due to factors such as budget, or the fact that it was a US-exclusive release up until late last year. This is why we have listed 4 models that would make for great alternatives to the SBGA413. 
1. Montblanc Heritage Ref. MB119944

The Montblanc Heritage Ref. MB119944 is a lovely watch with a perfect mix of classic and contemporary vibes. As an interesting reflection of the Grand Seiko SBGA413, this watch is a part of Montblanc's own Heritage collection. As such, it bears a vintage-inspired design while running on advanced modern technology.
This Montblanc Heritage watch comes in a 40mm stainless steel case paired with a Sfumato alligator leather strap in dark grey. It shows off a salmon dial with an elegant metallic finish. This dial follows a straightforward layout, consisting of anthracite Arabic numerals, dotted hour indices, and luminous dauphine hands. Underneath this watch face, you can find an automatic MB 24.27 movement with a 38-hour power reserve.
Retailing for around $2,490 USD, this can serve as a dressy alternative to the SBGA413. Although its watch face comes in a slightly darker hue, the Montblanc Heritage Ref. MB119944 makes up for it with its exquisite versatility.
2. Timex Exclusive Crystal Bloom 

Next, we have the Timex Crystal Bloom, with its delicate, feminine appeal. This Timex watch has a more straightforward design that is clearly inspired by a floral theme. It is a decent alternative for those who enjoy the SBGA413 because of its cherry blossom motif. 
The Timex Crystal Bloom is presented in a slender 36mm brass case paired with a genuine leather strap in soft pink. The clean white dial features a vibrant and colourful floral design, Swarovski crystal accents, applied rose gold indices, and slim stick hands. Powering this dainty watch is a quartz movement with a solid 30-metre depth rating. 
Priced at just $60 USD, the Timex Crystal Bloom is a girlier, more affordable option.
3. Burberry Ref. BU9124

The Burberry Ref. BU9124 is another dainty watch with a classic aesthetic. It is similar to the Grand Seiko SBGA413 because of its light pink dial and homogenous exterior. However, like the Timex Crystal Bloom, this Burberry watch leans more towards the feminine side and is crafted specifically for the ladies. It is a good option for women who want something slightly similar to the SBGA413 but in a smaller size. 
This Burberry watch comes in a 34mm stainless steel case and a three-link bracelet paired with a pink stamped dial. The watch face is simple, consisting of applied hour indices, thin blunt hands, and a date window outlined in silver at 3 o'clock. Underneath this quaint structure is a quartz movement that powers all its functions.
With a price tag of just $215 USD, this is another affordable alternative to the SBGA413 for the ladies out there.
4. Rolex Oyster Perpetual Ref. 276200

Last but not the least, we have the Rolex Oyster Perpetual Ref. 276200, which is the most expensive alternative on this list. This model is very close to the SBGA413 in terms of color, build, and reputation. Both watches are from well-established luxury brands and have quite a similar aesthetic. 
This Rolex Oyster Perpetual piece features a slender 28mm stainless steel case and a three-link bracelet, paired with a soft pink dial bearing a metallic sunburst finish. This watch face is adorned with luminescent hands and applied hour indices, along with an applique of the Rolex crown logo at 12 o'clock. Underneath this classy exterior, you can find an excellent Rolex Calibre 2232, with 31 jewels and a frequency of 28,800 vibrations per hour.
This watch also comes at a similar price point as the Grand Seiko SBGA413, with a price tag of around $6,925 USD.
Final Thoughts 
The Grand Seiko Shunbun SBGA413 is one of the most artistic and meaningful watches in the market today. It boasts impressive specifications with its well-sized build, high-grade materials, and spring drive movement. However, there is more to the Grand Seiko Shunbun than just its technical details. It was intricately crafted by a masterful group of watchmakers who were able to capture the true essence of Japanese culture craftsmanship in this watch. Hopefully, after reading this, you will have more interest and appreciation for well-crafted, artistic timepieces like the SBGA413. 
Photo Credits: Grand Seiko Website & The Watch Company
If this has gotten you hooked on watch reviews, check out our article on the Iconic Rolex Bluesy.