Watch Reviews
A Closer Look At The Rolex Cosmograph Daytona Rainbow
Sep 17, 2019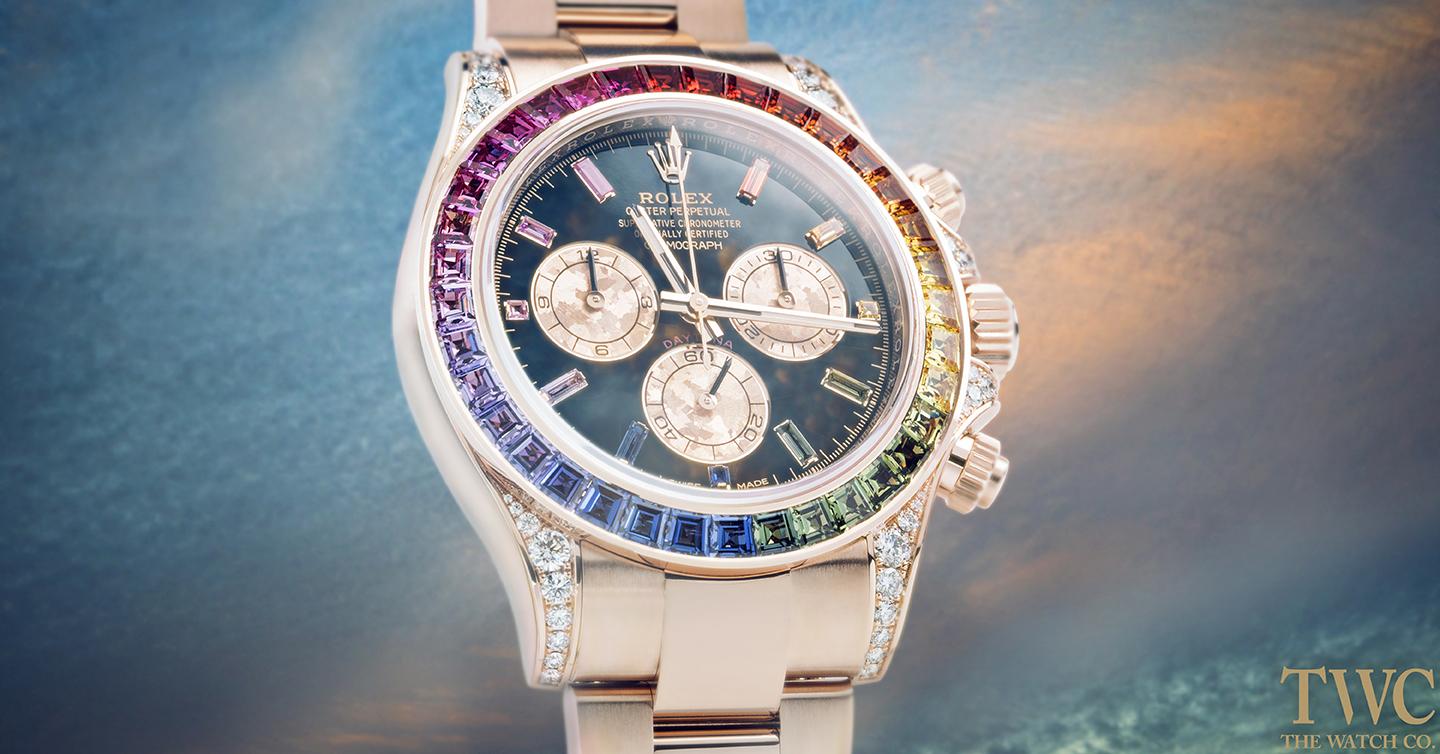 If you are watch collector you might be asking yourself, "Does this watch really need a review?"
Rolex Cosmograph Daytona is possibly one of the more popular models from what may very well be the most well-known luxury watch company in the world. Rolex Submariner fans would tend to disagree but that is another topic altogether. To answer the question though, yes of course it does. The Cosmograph Daytona or better known as the Rolex Daytona is always a pleasure to write as well as read about. It comes in various styles but it is the Rolex Daytona 116595 RBOW that will be discussed in particular.

Features and Specs
First of all, what mechanism is powering this bejewelled beauty? Rolex has its in-house manufactured Calibre 4130 movement installed into its 40mm case. It is an improvement on the 4030 which was based on the Zenith El Primero. This automatic chronograph Rainbow Daytona keeps on ticking with this increased efficiency and more accurate system. It is more serviceable too.
There are some parts that are easier to relubricate during maintenance servicing. It can be disassembled and repaired individually. Other brands with the same such parts cannot be touched. This would lead to inevitable wear and tear, which makes the Rolex Daytona Rainbow a more suitable choice.
Calibre 4130 movement:
Superlative chronometer
Hours, minutes, seconds
Column wheel
Vertical clutch
72-hour power reserve
Design Details
 The Rolex Daytona Rainbow is anything but low-key. It has its design to obviously thank for that. Made out of beautiful 18k Everose gold, it comes either in white or yellow. What sets this apart from most Rolexes or any watch for that matter is its bezel. There are 36 sapphires that adorn its circumference. Each piece is meticulously selected in order to mimic the gradient effect of the different colours of the rainbow.
While the bezel is the most eye-catching detail of this timepiece, there are more aspects that are not to be missed. The white diamonds which fill the sides of the casing provide a somewhat cooling effect. It offsets the strong impact of the rainbow gemstones and gives the entire piece a more balanced appearance. Looking closer and into its dial you will find 11 baguette-cut, rainbow-coloured sapphires on the hour markers. Commanding the 12 o'clock position, however, is the Rolex insignia.
The timepiece is held in place by the trademark, three-piece link Oyster bracelet. It comes in Everose gold, which is brushed and polished to perfection. The bracelet is clasped together by an Oyster buckle with an Easylink option. There is no doubt that it will retain its lustre even when set against its colourful centrepiece. The centre polished links make the bracelet stand out as it is complemented on either side by satin-finished side links.
Point of Comparison
A watch that this should be compared to are other Rolex Daytonas. What is being gauged here is if the Rainbow can be considered on the same level of usability as its popular cousins. All are essentially tachymeters. They have relatively the same dials and knobs, though different in colour. Yes, there are those exotic Paul Newman dials out there but this touches more on the subtle differences. The main reason that these nuances were brought to light was because of the iconic status lent to the watch through its well-known connection with the actor.
There is also the record-setting price the actual Daytona fetched at auction in 2017. It was reportedly sold for around USD 18 million. In any case, these backstories have made Rolex Daytonas among one of the most coveted luxury timepieces in recent history.
Anyway, the main difference the Rainbow has with them is clearly its bezel. It had to sacrifice the engraved numbers which all models have, to make room for its statement piece. Granted that it would be challenging to accurately perform its time tracking functions without them. Buying any kind of Rolex Daytona, however, is honestly more about making a statement than tracking racing time. Nothing wrong with that. What better way to make an impact than with the Rainbow?
Opinion
Purists would definitely have a lot to say about this watch in terms of how true it is to the racing concept of a Rolex Daytona. They have a point. Some collectors, however, might have a different take on the matter. This watch is not so easy to make. The gems themselves need to be of a particular hue which can only come from scarce natural resources. They cannot be manufactured and each needs to be able to complement the others to create the desired rainbow effect.
This makes each timepiece unique in its own special way.
Regardless of what critics may say about the Rolex Daytona Rainbow, owning one is not so easy. Its price would already limit the number of individuals who can afford it. On top of this, Rolex itself has limited its production. It is attributable mainly to the availability of the correct gemstones. This makes its future collectability and values a very interesting prospect to consider. If you are hesitating whether to get this or a regular Daytona, get both. There is no law against it. You will probably sleep better knowing that it is off the market and on display in your rotating watch box.