Watch Guide
Richard Mille Watch Prices: On The Value of a Luxury Watch
Jul 12, 2021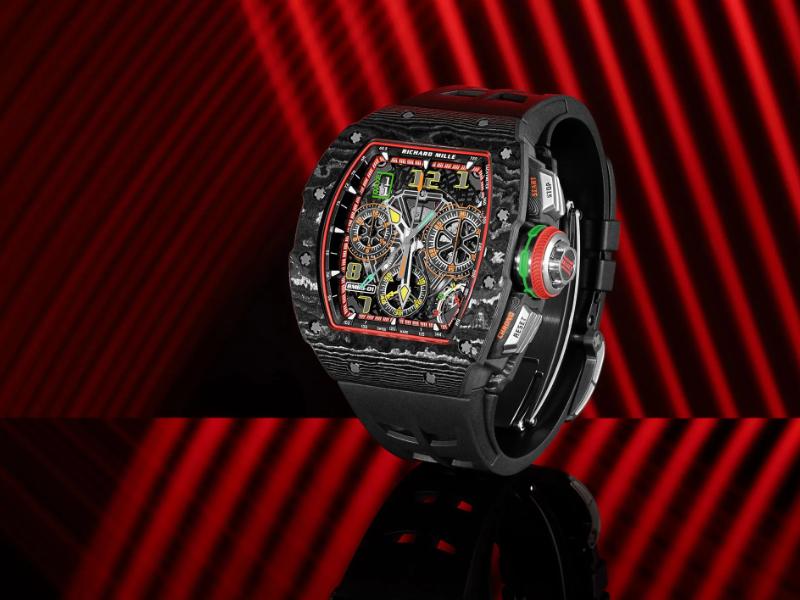 "Why are Richard Mille watch prices so high?" has been one of the prevailing questions surrounding this Swiss luxury brand. People are endlessly intrigued and fascinated by Richard Mille watches, and it's easy to understand why. Aside from the exorbitant prices that comes with Richard Mille timepieces, they are also the watches of the rich and the prominent. Many celebrities, athletes, and even royalty have their own Richard Mille timepieces to brag about. For Richard Mille, watches priced at around $40,000 USD would even be considered a steal. The retail price for this brand usually starts around $80,000 USD and can go as high as a couple million dollars. Richard Mille watch prices can surprise you in all sorts of ways.
To put things into perspective, Tourbillon models from this brand cost around 500,000 to 800,000 USD. Even for a luxury watch brand, that's quite a lot. So, that begs the question: just why are Richard Mille watch prices so high? What are the most expensive Richard Mille watches and what are the most affordable? Let's take a look at the answers to all these questions while also examining the history and the broad anatomy of Richard Mille watches.
The Brand: Who is Richard Mille?

Richard Mille started his journey studying marketing in Besançon. After Mille's graduation, he started working at Finhor, which was a local watchmaking company back in 1974. This company was later bought by Matra in 1981. During that time, Mille was promoted to manager. Mille was in charge of handling two brands under Matra, Yema and Cupillard Rième. Sometime after that, however, every watchmaking effort by Matra was acquired by Seiko, and this led Mille to leave the company in 1992. From there, he started a watchmaking arm for the company Mauboussin.
Mille rapidly worked his way up into becoming a shareholder at Maubossin. Not long after, however, he had a disagreement with the company, which led him to leave his position and begin working on his own brand. It was in 1998 when he spoke to his friend Dominique Guenat, who was the owner of Montres Valgine at the time. The two had met in Besançon at Compagnie Générale Horlogère (CGH) back in 1988. The relationship between these two men grew from a simple professional relationship into a friendship established by similar interests. The two both loved cars, aeronautics, as well as mechanics. This led both to unite in a partnership, with the intent to launch a new watch brand. Guenat and Mille did so with the support of a lawyer that had been in the watch industry for a long time, Lucien Tissot.
A year later, the two launched a plan in collaboration with the Guenat S.A., Montres Valgine, and APR&P (Audemars Piguet, Renaud et Papi). In the years that came, they kept working on the brand's concept, taking inspiration from aeronautics, automobiles, and even sailing. The innovations they came up with truly shook the world. As equal partners, Mille and Guenat launched Horométrie SA. This later turned into the brand we know today, after one member of the duo that established the brand — Richard Mille.
Why are Richard Mille Watches Expensive?
1. Design
The Richard Mille watch is an outstandingly unique timepiece. All it takes is a single glance, anywhere around the world, and you'd be able to recognise a Richard Mille watch. It features an idiosyncratic design reminiscent of a Formula 1 race car, which has been used as the biggest inspiration of the brand from the beginning. Their watches have an impossibly futuristic design, which means they are not likely to look old or outdated any time soon. However, the design doesn't only refer to the overall aesthetic of a piece. The design also refers to the way materials are put together and it's safe to say the Richard Mille has that covered as well.
Richard Mille watch prices are justified by their bold and unique looks, but that doesn't mean that they are too heavy or bulky. In fact, Richard Mille watches are incredibly light due to the materials used in them. In addition, they are also very ergonomic and fit well over any type of wrist. The designs of Richard Mille watches are quite complex, which is why it takes a lot of effort to develop and manufacture every single timepiece. People refer to it as a sandwich-style design with three layers that are all curved to meet the way every wrist curves. With a Richard Mille watch, you can hardly find a flat surface, making it extremely difficult to craft in the first place. Moreover, you can be sure that Richard Mille watches are dust and waterproof due to the way each component is put together. In fact, each part of the watch fits together with extreme precision — within 100th of a millimeter.
2. Materials
If a watch took a lot of effort to design, then it deserves to be made using only the highest-quality materials. We're talking about avant-garde materials that aren't typically used in the watchmaking industry. Materials used by Richard Mille are typically used in the aerospace, automotive, and even nautical industries. This means that the materials used for Richard Mille watches are reliable and trustworthy since they are typically used in high-risk industries that tend to require extreme precision and quality components. These materials tend to be lightweight — as a result, Richard Mille watches, on average, tend to weigh around 40 grams and are extremely easy to carry on your wrist. This combination of a lightweight profile that still guarantees a sturdy, durable timepiece is one major reason that justifies Richard Mille watch prices being so high.
Materials used in Richard Mille watches include carbon nanotubes hardened with ceramic also known as NTPT® carbon. They also use gold fused with carbon and quartz, which they named Gold Carbon TPT®. Silicon nitride and perfluoroelastomer are also very common in Richard Mille watches. Indeed, the materials used to forge Richard Mille timepieces are truly an alchemist's dream. 
3. Movements
A Richard Mille watch isn't just about a sturdy, gorgeously futuristic appearance. The inner mechanisms of Richard Mille watches are just as exquisite and finely built. If you think that the high-quality materials we previously mentioned are only used in Richard Mille watch cases, think again, as Richard Mille applies the same principle to their movements. A good movement with high accuracy isn't enough. It should also be just as durable as the rest of the watch. Typically, a Richard Mille movement would use about 90% grade 5 titanium, 6% aluminium, and 4% vanadium. These are not materials typically used in watches, but as usual, Richard Mille aims to outdo its competitors by changing the game.
Moreover, there are certain crafting techniques that only this company employs, such as Anglage and hand-polishing. They also apply satin finishes on the bridges of their watches, as well as on burnished pivots and wheels. With great execution, a watch can easily cost 10 times more than a watch build without any real precision or effort. The delicacy and quality craftsmanship that is put into each Richard Mille timepiece ensures that it should last you for generations to come, so you are certainly getting your money's worth with one. 
4. Scarcity
Richard Mille watches are complex and it takes a long time for each watch to be crafted. That's why all their watches are effectively limited edition pieces. The company only produces around 5,000 watches each year. There's no exact number released by the brand, but you can be sure that it's a highly exclusive number. Combined with how sought-after Richard Mille timepieces are, and this drives Richard Mille watch prices up, you can be sure that only the truly rich and famous can afford one of these watches. To put things into perspective, fellow luxury watch brand Rolex produces around 800,000 watches a year.
With such a limited supply, it's easy to understand why there is so much demand for their watches. Collectors flock to collect at least one Richard Mille watch. Such a limited number of Richard Mille watches available also boosts the sales of their watches on the second-hand market. It drives a craving for Richard Mille amongst watch enthusiasts, and for such a relatively young brand, this is a powerful move indeed.
5. Status Symbol
Given all the aforementioned reasons, it is easy to see how Richard Mille has earned the reputation of being a brand that's for the powerful and the prominent. They are the chosen timepieces of celebrities and even royalty. All that said, it is no wonder why Richard Mille watch prices are so exorbitant — because these aren't just watches. More than anything else, a Richard Mille timepiece is a luxury statement and a status symbol made for the upper-class.
5 Most Expensive Richard Mille Watches
1. Richard Mille Tourbillon RM 56-02 Sapphire at $2 Million USD

Launched in 2014, the Richard Mille Tourbillon RM 56-02 is the most expensive watch from the brand today, coming in at $2 million USD. If you're wondering how a Richard Mille watch got up to such a price, here's why. Firstly, it comes in a transparent, all-sapphire case that's far different from your typical watch. Yes, it's the same sapphire that you usually see protecting the face of a luxury watch's dial. The RM 56-02's all-sapphire casing is a bold move that allows wearers to see right through the case into the intricacies of the delicate movement inside. The case itself, being made from sapphire, is sturdy and more resistant to scratches and impacts.
The RM 56-02 is a reiteration of the RM 56 that came out in 2011. Much like the RM 56, the RM 56-02 features a manual winding Tourbillon movement with functions such as hours, minutes, and a tension indicator.
2. Richard Mille RM 56-01 at $1.85 Million USD

The next member of this list is yet another iteration of the RM 56. Here, we have the RM 56-01, which was launched in 2013 with a manual winding Tourbillon movement. Like the RM 56 and RM 56-02, this watch features hours, minutes, and a function selector. Moreover, it comes with a sizeable power reserve and torque indicators perfect for any watch connoisseur. This timepiece is a truly unique limited edition, with only 5 pieces released on the market. Just like the RM 56-02, the case of this watch is carved out of blocks of sapphire. Aside from that, this timepiece also has a sapphire crystal baseplate that supports the entire manual winding Tourbillon movement. The case itself is almost completely transparent and makes use of the same sandwich-design technique that we can also find on other Richard Mille watches.
3. Richard Mille Panda RM 26-1 at $1.6 Million USD

You'd be hard-pressed to find another luxury watch as cute as this one. Just like there are watch enthusiasts, there are also panda enthusiasts all throughout the world who find pandas extremely adorable and friendly creatures. With the Panda RM 26-1, Richard Mille found a way to bring these two very different groups of people together. Richard Mille designed this exquisite, diamond-set watch to showcase the adorable nature of pandas. There are only 15 pieces of this delightful timepiece in the world today. This watch features a manual winding Tourbillon movement, which gives the wearer standard hours, minutes, and power-reserve indicators.
This watch also comes with a lavish black onyx baseplate. This is a variety of chalcedony composed of silicon dioxide from the cryptocrystalline quartz group. Even more luxurious is the 18k white gold panda set entirely with diamonds and black sapphires. It sits in front of bamboo trees painted by hand and hand-sculpted from yellow gold. This endearing, carefully crafted design makes this watch the very definition of opulent.
4. Richard Mille Red Skull RM 52-01 at $1.41 Million USD

If edgier, more cynical designs are your thing, then the RM 52 series is a great way to start your Richard Mille journey. The watches from this series all feature an elegant skull crafted into the dial. For this list, we're zooming in on the Red Skull RM 52-01. It features a manual winding Tourbillon caliber built on a PVD-treated grade 5 titanium baseplate. It uses TZP ceramic and carbon nanotubes for its case, bezel, and caseback. As befitting its name, it features an 18K red-gold skull on the dial. Only 30 pieces of this cold, sharply-designed watch were ever made, which explains why this Richard Mille watch is priced at $1.41 million USD.
5. Richard Mille RM 018 Boucheron at $1 Million USD

Richard Mille, in celebration of Boucheron's 150th anniversary, crafted a timepiece that is worth, quite literally, a million bucks. Boucheron is the most famous jeweller of the Place Vendome and Richard Mille definitely displayed the brand's savoir-faire with this watch. Only 5 pieces of this watch are produced every year, and as of right now, only a limited 30 pieces exist in this world. Interestingly, this watch was not just made for Boucheron. Richard Mille and Boucheron actually both collaborated on the creation of this timepiece. Indeed, the semi-precious and precious stones set into the watch were all chosen and embellished by Boucheron itself.
3 Most Affordable Richard Mille Watches
1. Richard Mille RM 005 at $45,000 USD

You can find some pre-owned Richard Mille watches in the market selling for $45,000 USD and that's nothing new. They do, however, tend to appreciate over time. That's why buying a Richard Mille watch as an investment is a great idea. The RM 005 is an excellent example of that. It increases in value every year, although it has remained at a more humble price range compared to other Richard Mille watches. You can purchase this watch in either titanium or rose gold. Either way, the end result is the same: a solid, dependable timepiece that looks stunningly futuristic.
2. Richard Mille RM 016 at $50,000 USD

Now, this watch is especially different from the other RM watches, and for good reason. We already know how Richard Mille watches are lightweight and ergonomic. However, the brand stepped that up even more with the RM 016. This is known among watch collectors as the Ultra Thin watch. It has a paper-thin design, weighing in at only 8.25 mm thick, so you can barely feel any heft around your wrist. It features titanium or rose gold cases and costs around $50,000 USD.
3. Richard Mille RM 002 at $350,000 USD

The RM 002, as you'd expect, is one of the first watches Richard Mille produced. It has the same design as all Richard Mille watches, paired with high-grade materials that will last you and your offspring a long time. It also functions with a Tourbillon movement. This is fairly basic for a Richard Mille watch, which is why this timepiece comes at a relatively lower $350,000 USD price tag.
Richard Mille: The Watch that Begs its Price
Richard Mille watch prices have changed a lot over the years but there's one thing to remember: this is an ultra-luxurious watch brand. You can expect its watches to cost a lot more than the likes of Rolex or even Omega. However, they're also a fairly new brand. The most expensive Rolex ever sold cost $17 Million USD, and we haven't seen Richard Mille watch prices that high yet. But who's to say what the future holds for this brand? Certainly, the quality of Richard Mille watches and their prices have not yet hit their ceiling. We can only imagine what the future holds horology industry with Richard Mille watches around.
---
Want to learn more about expensive watches? Check out our list of the 10 most expensive watches that are over 1 Million USD.
All images courtesy of Richard Mille.