Watch Reviews
A Review Of The Rolex Submariner Black 116610LN
Sep 18, 2019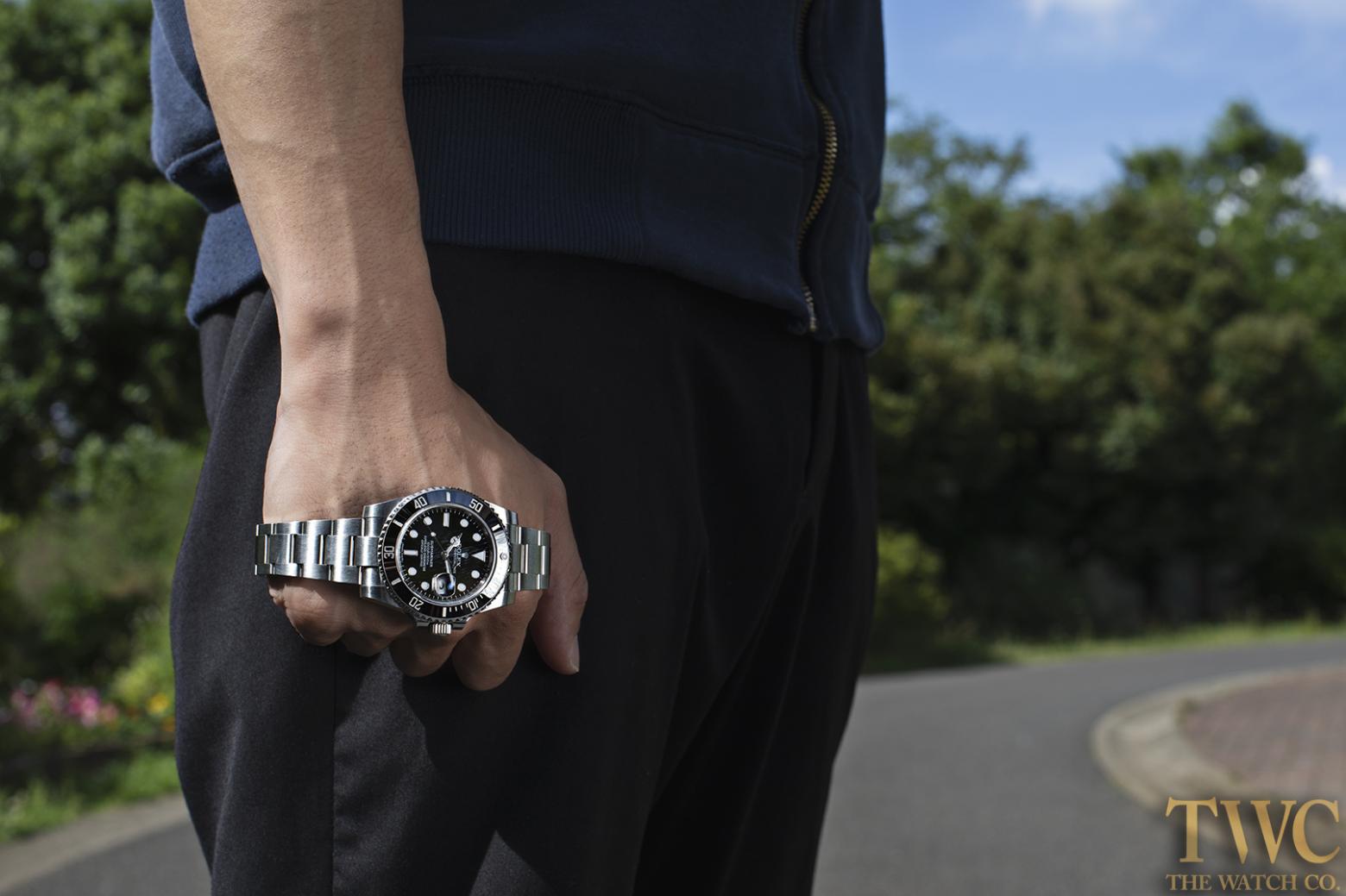 Rolex remains one of the most famous and recognisable watch brands in the world. Most people attribute this to its technologically maintained and durable watches. Others, meanwhile, point to Rolex's ability to achieve high quality and precision in its products.
Among the brand's many lineups said to have exemplified its standards is the Rolex Submariner. First introduced in 1954, the Rolex Submariner makes itself known to be highly water-resistant. It is also sturdy even in the most perilous of diving conditions. As a result, the Rolex Submariner lineup remains widely popular among diving enthusiasts and swimmers.

There have been numerous Submariner models over the years. But in this article, we shall review the different aspects of the famous Rolex Submariner Black 116610LN.
Although they have similar model numbers, the Rolex 116610LV and Rolex 116610LN are two very different watch versions. Nevertheless, they both share some similar design features. Upon its release, Rolex listed the Submariner Black 116610LN at a sticker price of USD$8,550. Meanwhile, the brand listed the 116610LV at a price of USD$9,050.
Except for the Rolex Kermit 16610LV in 2003, all the Submariner models released by Rolex have been initially designed with either a blue or black profile. The Rolex Submariner Date 116610LN is no exception to this trend.
With its black and chromalight-blue hands and markers, new collectors can consider this a worthy Rolex purchase. Additionally, this modern 2010 model looks somewhat similar to the discontinued Submariner Date 16610LV.
Rolex Submariner Black 116610LN Design
In comparison to its predecessor, the Submariner 16610LV, Rolex designed the Rolex 116610LN with much more sophistication. This involved blending aspects of traditional design and modern technology. As a result, features which are considered essential in a typical dive watch, such as long-lasting luminescence, are available in this model.
Let's have a look at the structural composition of this iconic watch.
Oyster Steel Case

Similar to the 16610 Submariner Date and the Rolex 116610LV, the Rolex 116610LN comes with a robust 904L Oyster steel. The case enhances the timepiece's resistance to corrosion, guaranteeing it an outstanding shiny appearance after polishing. Thus, it can also maintain its brilliant elegance even after exposure to harsh environmental conditions such as dust. 
The case size of the Rolex 116610LN measures 40mm which is the same as that of the 16610LV. However, the newer model has a larger winding crown and a wider lug width.
Black Rotatable Bezel

The material of the bezel greatly distinguishes the 116610LN model from its predecessor. Although still colouring it in black, Rolex decided to design the new Submariner with a ceramic insert (officially known as Cerachrom). This was in contrast to its previous aluminium design. In addition, a set of four click-springs also replaced the single click-spring from the 16610 Submariner Date. As a result, it is now easier to adjust the bezel.
Manufactured by Rolex's in-house team, the rotatable bezel of the modern black Rolex Submariner is designed to be more supportive for deep divers. Its knurled edges ensure that the watch maintains an excellent grip even when underwater. The Chromalight capsule on the Zero marker also enhances its usability in the dark depths of the sea.
The Rolex Submariner Black 116610LN's ceramic bezel is also etched with 60-minute platinum calibrations. Thus, diving time tracking becomes enhanced and decomposition is aptly and precisely prevented.
Ebony Black Dial

The 116610LN Rolex Submariner's black bezel is designed with an ebony black dial. There are hour markers and hands made of 18-carat gold and Chromalight material. The Chromalight material offers an untarnished long-lasting luminescence. Also included is a "Maxi" dial setting with larger hands and hour indicators. The luminescence emitted in dark backgrounds is bluish instead of green.
Like other authentic Rolex watches, the Submariner 116610LN's dial is handmade by the Swiss brand's in-house team. Thus, your watch ensures that it is exquisitely precise whilst possessing a traditional but modernised elegance.
3135 Self-winding Movement
To guarantee high precision to its wearer, the 116610LN Rolex Submariner Date uses in-house calibre 3135 mechanical movements. This precision of this model's movements is guaranteed as it has undergone various precision tests by the COSC. It is also a certified Swiss chronometer, operating by 31 jewels and a top-notch oscillator.
Known as the guardian of time, the oscillator is composed of a balance wheel and a blue Parachrom hairspring. It makes sure that the watch remains impeccably accurate even in the face of magnetic fields or temperature variations. The Parachrom hairspring has 10 times higher accuracy than the traditional hairspring even when exposed to shocks. Thus, it makes the 3135 auto movement to be exceptionally remarkable and reliable.
Oyster Bracelet

The Rolex 116610LN's bracelet provides its wearer with a robust and ultra-cozy diving experience. The 904L Oystersteel bracelet also features a glidelock to facilitate fine adjustments. This makes the watch simplified and not in need of the use of any additional tools. As such, it proves itself to be really essential even when worn over your diving suit. 
The bracelet links of the 116610LN Rolex Submariner Black Dial Watch are entirely solid. Its Oysterlock clasp also offers the best security on the wrist without any accidental opening.
Conclusion
It might seem that there are not many differences between the 116610LN Rolex Submariner Date and its previous model. Nevertheless, the modern model still possesses some unique features that make it stand out. As such, it is a perfect to-go-for upgrade when you want to experience better exhilaration and precision.
Let's recap:
With its 904L Oystersteel case, this model is highly resistant to corrosion. As such, it proves itself to be both durable and protective. Additionally, its rotatable Cerachrom bezel insert is scratch-proof and is resistant to external harsh environments, including UV rays, and chlorinated water/ seawater.
With its perpetual 3135 calibre mechanical movement, this watch also guarantees the wearer of high-precision time and quick date adjustment. Its bidirectional self-winding feature and 48-hour power reserve also prove to be highly convenient.
What's more, this watch's ebony black dial makes it highly legible in the dark due to its long-lasting luminescence. It is also waterproof up to 1000 feet due to its sturdy sapphire crystal, oyster steel case, and Triplock winding crown.
Overall, as an upgrade from the black Rolex 16610LV, it can be said that the 116610LN consists of enhanced functions and aesthetics as compared to its predecessor. With perfect precision, it allows all divers and dive enthusiasts to pursue great bodies of the sea without fear, even in incredibly deep depths.
If you enjoyed reading this review, be sure to check out our list of the Top 9 Oris Watches.