New & Feature
A Comprehensive Guide to the Edgy Seiko Ananta Watch
Feb 22, 2022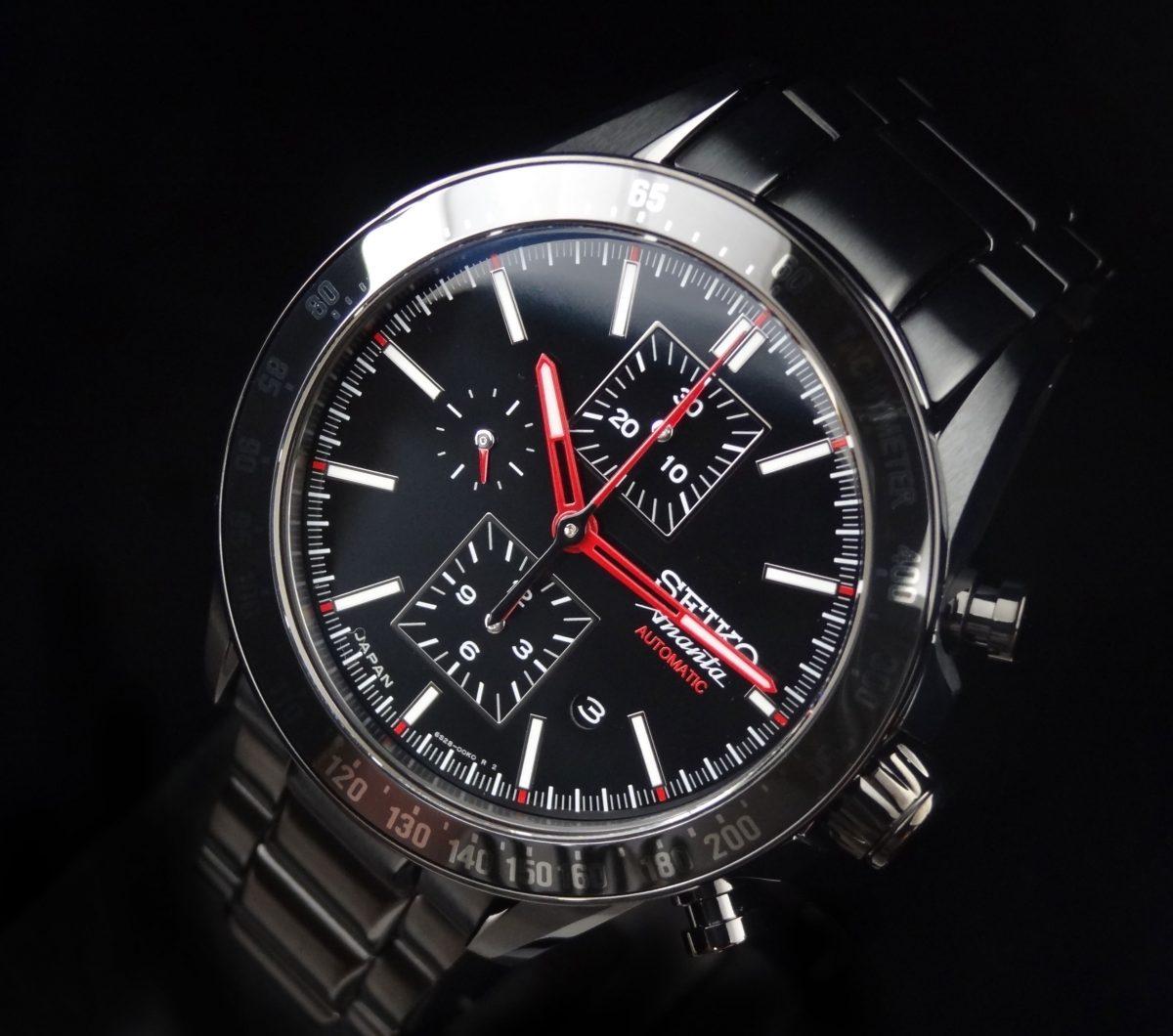 Among the Japanese watch brands in the market, Seiko is one of the most popular, known for its collection of fine chronographs and dive watches. Seiko is a pioneer in the watchmaking industry, setting a high standard for producing affordable yet top-quality timekeepers. And during the 2009 Baselworld, the Japanese company once again made waves by introducing the extravagant Seiko Ananta. 
The Seiko Ananta is a katana-inspired series of luxurious men's timepieces, with numerous admirable features to offer. It is equipped with high-grade Japanese mechanical movements and state-of-the-art Spring Drive technology, which delivers unmatched precision. With its sharp, bold looks, the Seiko Ananta has a timeless aesthetic suitable for today and for all time.  If your curiosity has been piqued, let us take an in-depth look at the Seiko Ananta, its history, excellent specifications, and everything else it has to offer.
History of the Seiko Ananta
Seiko has been offering patrons new watch styles and models since 1892, crafting a reputation for innovation and reliability over the years. At the Baselworld 2009, Seiko proudly announced its newest series of high-end men's chronographs, the Seiko Ananta collection. This watch range draws inspiration from the katana sword, as well as old Japanese sword-making traditions, incorporating so much Japanese heritage and history in one timepiece.
Over the years, many different Seiko Ananta versions have graced the market, such as the special edition chronograph introduced in 2013, for Seiko's 100th-year celebration. With its timeless looks and traditional, nostalgic influences, it is no surprise why the Seiko Ananta has gained such favourable recognition from watch collectors around the world.
The Artistry of the Seiko Ananta
Before going into a rundown of Seiko Ananta's excellent features, it might be better to start with a discussion of the chronograph's roots and how Seiko came up with the name "Ananta". As mentioned, the very first version of the Seiko Ananta was inspired by the katana and by Japan's oldest sword-making traditions. But what exactly is a katana?
According to Japanese history, the katana is described as a single-sided curved blade designed to be used in a single motion. It was developed over 800 years ago, by the ancient art of sword-making in Japan. The katana remains incredibly iconic and distinctive today as it offers a sharp look that you simply cannot find in other swords. This was because the katana is produced out of a unique forging process, combining both innovative technology and the handicraft skills of the maker. Even to this day, katana swords continue to be recognised for their precision and beauty. 
The principles of bold curves, sharpness, artistry, and precision were all applied to the Seiko Ananta during the brand's development of this timepiece. In fact, if you have managed to have a close-up look at the Seiko Ananta, you might have noticed that the side of the case features a distinct curvature and a remarkably smooth and flat finishing, much like that of a katana sword.
Anatomy of the Seiko Ananta

Case 
It is important to note that, as previously mentioned, the Seiko Ananta is available in many variations. Many of these chronographs are made of different materials, which is great, as it speaks to the diversity of options that patrons get with the Seiko Ananta. Two of the most commonly used materials for the Seiko Ananta's case are titanium and solid stainless steel, both of which ensure durability, impressive scratch resistance, and life-long service. In addition, titanium is lightweight, so Seiko Ananta pieces made using this material will not feel too hefty on your wrist.
Each Seiko Ananta piece measures 46mm in diameter. This is a fairly large size, so the Seiko Ananta is best suited for those with average-to-large sized wrists, or those who prefer wearing bigger watches. In addition, each Ananta timepiece is outfitted with a layer of luxurious anti-reflective sapphire crystal, which adds extra protection to the handsome dial.
In keeping with the katana inspiration, you will also notice that the Seiko Ananta has an incredibly flat surface, created through three painstaking stages of blade polishing. The side of the case also features a distinctive parabolic curve, much like the edge of a katana. On the whole, the Seiko Ananta's case is a remarkably innovative interpretation of the legendary sword.
Dial 
The Seiko Ananta's dial is a true show-stopper, possessing sleek beauty and understated elegance. The technique used to craft the dial is similar to the one used for the case, giving the dial an extremely flat surface. Some rumours have even spread, suggesting that the luminous, sword-shaped hands of the dial are exclusively made to be as sharp as a real katana sword, although we would not suggest taking your timepiece apart just to check.
Since the Seiko Ananta is a chronograph watch, all Ananta dials have a chronograph layout, although they differ in terms of the number of sub-dials they have. The majority of Seiko Ananta watches tend to have two to three sub-counters for varying purposes. They also come with luminous indices that help light up the watch face in poor lighting conditions. The Seiko Ananta's dial comes in a variety of colourways, including blue, white, and silver, but most Ananta models feature a powerful black hue.
Movement 
One interesting thing about the Seiko Ananta is that it became an avenue for the brand to showcase its expertise in mechanical watchmaking. This series of high-end men's watches come with three different, top-notch mechanical calibres. All of these are tried-and-tested movements equipped with Spring Drive technology that offers superlative precision, with an accuracy rate of +/- 1 second per day. Seiko's engineering team made sure to design each calibre at a profound level of quality, so owners of the Seiko Ananta could have an experience of what outstanding craftsmanship and unparalleled timekeeping really means.
These are the three powerful mechanical movements that run inside the Seiko Ananta:
5R86 Spring Drive Calibre; 
8R28 Automatic Chronograph; and the 
6R24 Double Retrograde Calibre.
Each of these three calibres has a beat frequency of 28,800 vibrations per hour (VpH). However, they differ in terms of the number of jewels they have and their power reserves. The first movement, the 5R86 Spring Drive Calibre, is the most powerful. Held by 50 jewels, it boasts a power reserve of an impressive 70 hours. The 8R28 Automatic Chronograph, on the other hand, contains 34 jewels and can run for up to 45 hours when fully charged. The 6R24 Double Retrograde Calibre has a similar 45-hour power reserve and is held together by just 31 jewels.
Bracelet
The Seiko Ananta is typically paired with a comfortable black leather strap, which blends in perfectly with the overall handsome appearance of the watch. However, those who want something a little more sleek and professional can also opt for a black-plated stainless steel bracelet. Both watch straps are proven to offer great comfort to your wrist.
Price 
As you can see from above, the Seiko Ananta is equipped with powerful features, including a uniquely crafted case and dial and the impressive Spring Drive technology. Indeed, Seiko's innovativeness and superb craftsmanship are all visible in the Ananta collection. The price of the Seiko Ananta corresponds to the admirable functions it offers. Expect to pay a fair price of approximately $4,000 USD for each Seiko Ananta piece.
Best Seiko Ananta Models for Your Wrists
1. Seiko Ananta Chrono Spring Drive SPS009

Features and Complications:
Outer 24-hour GMT and minute tracks
Guilloche seconds, 30-minute, and 12-hour registers
Date window
Self-winding hybrid movement
Column wheel chronograph
Calibre 5R86, 72-hour power reserve
Sought-after for its bold and eye-catching all-black appearance, the Seiko Ananta Chrono Spring Drive Ref. SPS009 certainly deserves to be on your radar. This chronograph was one of the very first Seiko Ananta versions released during the 2009 Baselworld. It boasts a 46mm black PVD-coated stainless steel case, which perfectly complements its stunning matte black dial. It is furnished with a layer of sapphire crystal to make sure that the dial is protected all the time. A handsome black alligator leather strap completes the watch's rugged, suave look. 
The Seiko Ananta Chrono Spring Drive SPS009 is equipped with a powerful Japanese calibre 5R86 automatic movement, which drives the watch's chronograph features. Aside from this, it also has an extensive power reserve of a whopping 72 hours, along with a solid 100-metre depth rating that ensures it can withstand some wet environments. 
2. Seiko Ananta SAEK001

Features and complications:
Second hand
Seconds subdial
Minute hand
Hour hand
Chronograph (incorporates a sub-dial for hours and a minute with a minimum resolution of 1/4 second and a maximum duration of 720 minutes)
Date window 
Calibre 8R28, 28,800 BPH, 45-hour power reserve
The next Seiko Ananta model on this list offers a more sophisticated, casual look. The Seiko Ananta Ref. SAEK001 comes in a 45mm stainless steel case, paired with a lovely black analogue dial with a chronograph layout and a black alligator leather bracelet. Fitted on top of the case is a robust-looking stainless steel bezel that is marked with a handy tachymeter scale in black indicators.
This particular Seiko Ananta chronograph is equipped with a self-winding 8R28 mechanical calibre, which has a beat frequency of 28,800 vibrations per hour (VpH). It offers a substantial 45-hour power reserve and 100-metre water resistance capacity.
3. Seiko Ananta SPS007

Features and complications:
Second hand
Seconds subdial
Minute hand
Hour hand
Guilloche seconds, 30-minute, and 12-hour chronograph
Date window
Calibre 5R86 movement, 50 jewels
28,800 BPH, 70-hour power reserve
The last option on this list of recommendations is the Seiko Ananta Ref. SPS007, which shows off an unusual rugged yet elegant aesthetic. It comes in an oversized 46mm black PVD-coated stainless steel case, bracelet, and tachymeter bezel, which set up a classic contrast against the stark white dial. The clean watch face is decorated with luminous sword-shaped hands, silver hour indices, three slightly submerged silver sub-dials for the chronograph function, and an arched power reserve indicator at 7 o'clock.
Ticking inside this watch is the first-class Japanese calibre 5R86 movement. It guarantees unmatched precision, a 100-metre depth rating, and an outstanding 70-hour power reserve.
Alternatives to the Seiko Ananta
The Seiko Ananta is undeniably a great timepiece packed with exceptional features and a rich, Japanese-influenced heritage to offer. However, although it is a one-of-a-kind watch, the Seiko Ananta just might not be to everyone's tastes, maybe due to its price or its dressy style. As such, we have curated a list of the best alternatives to the Seiko Ananta for your perusal. 
1. Breitling Colt Ref. M133881A/BE99

The Breitling Colt Ref. M133881A/BE99 is probably the closest alternative to the Seiko Ananta Chrono Spring Drive Ref. SPS009, as it has a matching all-black aesthetic and similar features. In addition, it retails at a similar price range as the Seiko Ananta, costing around $3,969 USD.
This Breitling Colt watch is housed in a 43mm PVD-coated stainless steel case, paired with a striking black dial and a rugged black canvas strap with red stitching. The dial is furnished with luminous sword hands, short hour indices, three sub-dials for the 60-second, 30-minute, and 12-hour functions, and a date window outlined in white at 3 o'clock. In addition, this Breitling timepiece also runs on a top-notch in-house Calibre 13. This movement offers a 42-hour power reserve and a 200-metre depth rating, which is greater than what the Seiko Ananta provides.
2. Citizen Eco-Drive Ref. CB5001-57E

Next up, we have the Citizen Eco-Drive Ref. CB5001-57E, which is a handsome timepiece packed to the brim with useful practical features. It comes in a 45mm stainless steel case and three-link bracelet of the same material, which contrasts well against the busy black dial. Aside from its chronograph layout with three sub-dials, the watch's stocky black bezel also bears an aviator slide rule and indicators for 24 different cities, allowing you to track 24 different time zones. The dial is decorated with silver sword hands, luminous hour indices, and a date window at 4 o'clock.
Powering all these is the Japanese calibre E660. This incredible movement has solar-charging capabilities and a massive 300-day power reserve, so you will not have to worry about this timepiece running out of battery. It also provides a 200-metre water resistance capacity, which is useful for all sorts of water-type sports activities. Best of all, this Citizen watch retails at a very affordable price of just $548 USD. If you want a watch that will make sure you get your money's worth, then you should definitely check out the Citizen Eco-Drive Ref. CB5001-57E.
3. TAG Heuer Formula 1 Ref. CAZ2017.BA0647

Right off the bat, this TAG Heuer Formula 1 Ref. w CAZ2017.BA0647 is a good-looking timepiece equipped with innovative features. This timepiece features a 44mm stainless steel case and a three-link bracelet. The gray dial is furnished with silver-tone luminous hands and stick indices. It is also fitted with three incredible sub-dials, which mainly use 60-second, 30-minute, and 12-hour chronographs. A solid sapphire crystal is also incorporated on the top of the dial to provide an extra layer of security from any external threat.
This top-tier TAG Heuer Formula 1 watch also relies on a first-class in-house Calibre 16 to deliver approximately 42 hours of power reserve. With its whopping 200-metre depth rating, you can expect to use this top-tier watch for some of your fun watersports activities. Retailing at just $3,199 USD, this high-end TAG Heuer timepiece is a worthy grab.
Final Thoughts
Seiko is home to many iconic chronographs you can find today. In particular, its iconic Seiko Ananta is proof of the company's innovativeness and outstanding craftsmanship. The Seiko Ananta has always exceeded the expectations of many watch enthusiasts across the globe, with its incredible performance and features. If you want a timepiece that incorporates both a prestigious heritage and excellent features at a very fair price, the Seiko Ananta is a great watch choice. 
Featured image courtesy to Photo from Watchuseek.
Looking for more options of the icon and top-notch Seiko watches that you should never miss adding to your collection's list? Check our articles about the Seiko Credor and Seiko 5 Sports.